"My jewellery and sculptures are composed of so many intricate components that you often need a magnifying glass to be able to see them all. Each design is about structure, proportions, details, texture and composition. It's like with a Rubik's Cube – each piece dependent on the next one to compose the whole. All of the above characteristics give my jewellery a special touch and character that sets it apart from everyone else's. I feel inspired when my clients tell me how their jewellery or sculptures that they own continue to fascinate them year after year, as they keep discovering new details on them," says Alex Soldier.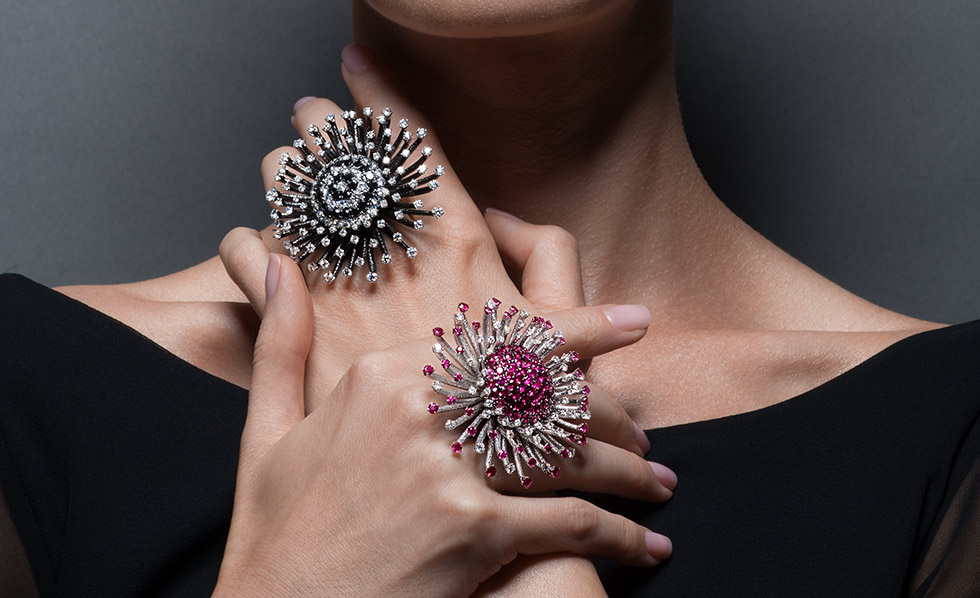 The jeweller was born in the Urals of Russia, an area rich in deposits of different gemstones. Alex received a technical education, although since childhood he was fond of drawing, carving and sculpture. In 1981, he stepped into the professional world of jewellery, and soon after, in 1990, he founded Alex Soldier brand when he came to the United States and has been creating his handmade masterpieces in NYC ever since.
Having met many designers, who have not had any formal education in jewellery designing, I noticed that they all had an absolutely innovative approach to jewellery making – and this is their 'trump card.' So, it should come as no surprise that the work of Alex fascinated not only the clients, but the industry professionals as well. As a result, in 1998, Alex was awarded Platinum Passion Award by the Platinum Guild, and in 2002 he received the Spectrum Honor Award from the American Gem Trade Association. What lead to such success? I believe it is the three strong points that make the jeweller stand out: unique talent combined with love for precious stones and unconventional approach to design.
Looking through a variety of Alex Soldier jewellery, I could not help noticing the intricate details, which embellish not only the façade of a jewel, but also its reverse side – like the shank of a ring.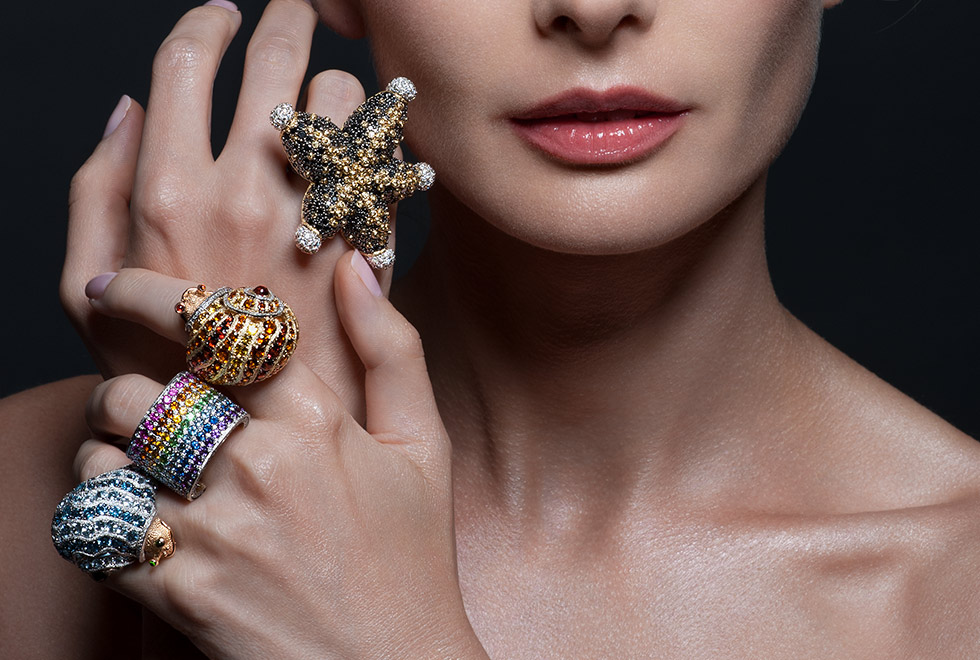 What comes first when an intricate ring is born – its design or a centre stone crowning a jewel? "Usually, the concept comes first and then the stone follows. But sometimes, if I see a beautiful stone, it inspires me to make an unusual design. Every piece that I create bears my signature artistry and precision and represents a constantly evolving combination of shape, colour and texture, making each piece as individual as its wearer. I design with a passion for distinction, using innovative proprietary techniques for decorating metal surfaces to achieve an effect of original texture and detail that surpasses the boundaries of traditional craftsmanship. The beauty of my jewellery lies in merging fine ornaments and miniature sculpture. My work is precious poetry that speaks to the heart," says Alex, as describes his pieces. And this is how I see them too.
Whimsical snails, bright starfish, painting-like sunflowers, colorful butterflies and delicate leaves – nature transpires in many of Alex Soldier's jewels. But, of course, it is not the only source of inspiration of the jeweller, who can masterfully create statement men's jewellery as well as some avant-garde designs. "Life itself in its daily manifestation is an ultimate source of inspiration to me. I constantly work at my bench and the momentum in which the thoughts materialize through creative process never ceases to surprise me. Most of it comes from my mind – as soon as I have an idea, I can visualize it in its 3D shape. Then I sit down and make a wax model, using sketchpad only for clients when they ask to see a few variations of a design."
For 25 years, Alex has perfected many a unique technique when working with metal, made many a client happy with his creations (including celebrity clientele) and has won several awards. However, he does not rest on its laurels and is always looking for new jewellery and sculptures ideas, unusual shapes and unique stones to create wonderful and one-off pieces.