The Avakian family actively collaborates with some of the most glamorous actresses in the world. Perhaps this is the reason they selected the Cannes Film Festival 2017 to present the new watch. The inspiration for Lady Concept was the limited men's collection of Concept One, which was release in honour of the brand's 40th birthday. The models from this collection could easily be recognised by their characteristic barrel shape, which is also reflected in the women's watch. They are jewel encrusted interpretations of a "barrel" and serve as an example of how Edmond Avakian digresses from aesthetic standards and adheres only to his own ideals.
Avoiding the traditional round dials, Avakian created a luxury design with original watch face and the high precision quartz mechanism ETA 10 1/1-F05.111. However, the women's model Lady Concept is not only different in the dial design, but also in what surrounds it. For example, to create the watch bracelet strap, Avakian has developed a new technique that turns the classic rubber strap into a mosaic structure with a pearly reflection. And for fans of traditional features, the model is presented with a crocodile leather strap.
The new Lady Concept comes in five colours: white, blue, orange, khaki and pink. Designers at Avakian decided to "colour" the straps brightly and introduced the mother of pearl on the dial that makes every model less eccentric. This way the designers avoided a tonal imbalance and removed any pretentiousness from the bright models.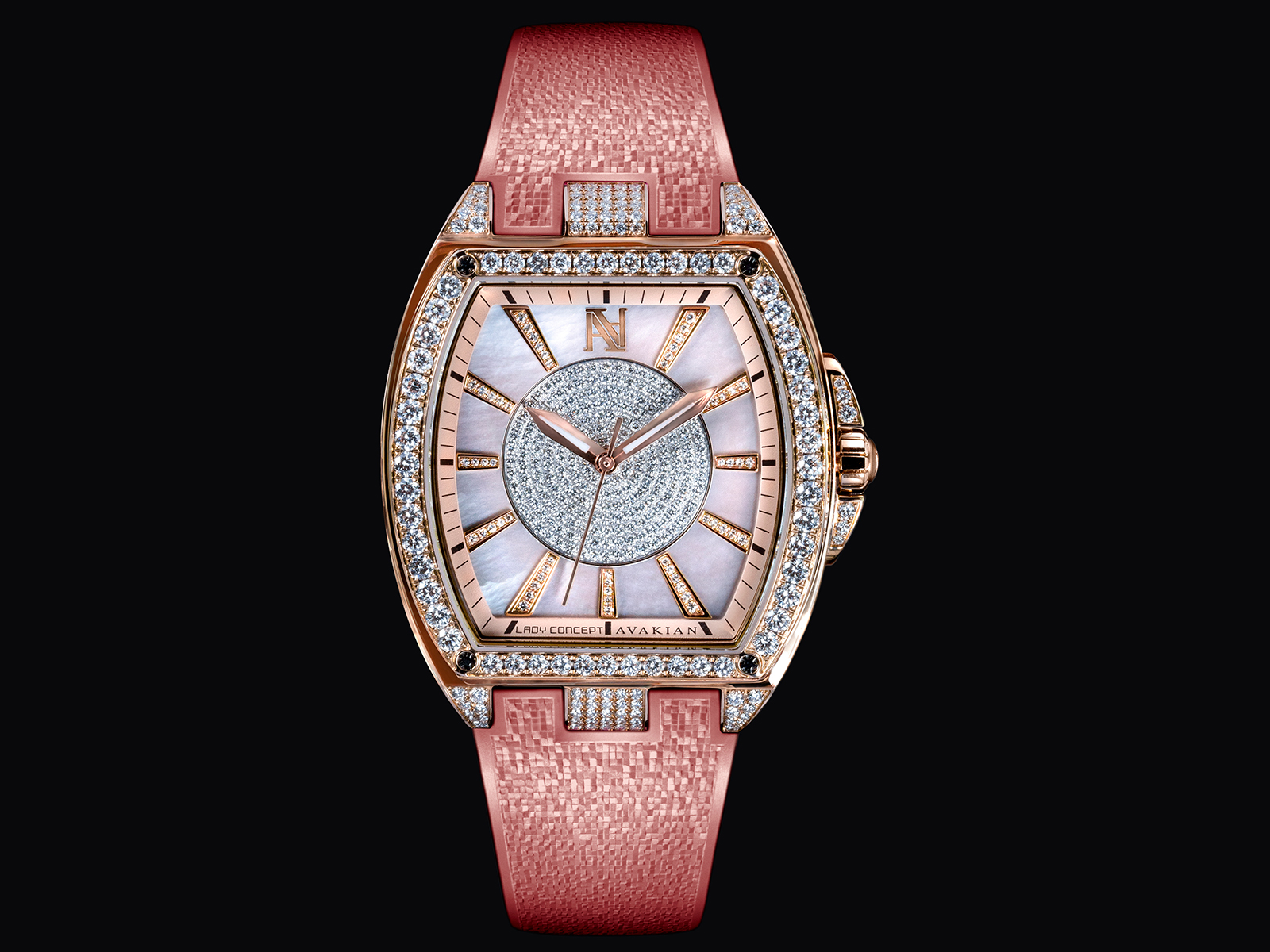 When encrusting the white or pink gold cases, the Avakian designers employed various diamonds and blue sapphires. Some parts of the models are completely covered in diamonds, including the bezel, the lugs holding the strap, the numbers and the circle under the arrows in the centre of the dial. A more subtle version is embellished only with diamonds around the dial, and the most modest models are sprinkled with very few stones decorating the numbers alone.
Haig Avakian, Vice President of the company, notes: "At the heart of this collection is the creation of an exclusive and modern Avakian watch, whose design matches perfectly our audacious jewellery. As with our jewellery, we tried to make Lady Concept look great both in the daytime working environment and also in the evening environment of social events."
Lady Concept watches are particularly expressive and elegantly embody their creators' love in bright colours. This model is released in a limited series and is made for dynamic, free-spirited women who know how to appreciate exclusivity.