I had a pleasure of meeting Amina Ghali, Head of Azza Fahmy Design and daughter of the brand's founder. Our passion for jewellery turned into a few-hour long discussion that I have tried to condense into this interview, while covering some key facts. You will find out why Amina uses a mixture of silver and gold in her designs, what stories lie behind some iconic jewels and what inspires her.
K.P.: What is the necklace that you are wearing today? It's stunning!
A.G.: It is actually one of my latest creations, a silver necklace from the 'Third Eye On The Universe' collection with Mozambique garnets (below you see another version of it with green stones) . It took me three weeks to find the matching stones in dark blood-red colour for this piece. I believe they give such a luxurious feel to this statement necklace.
K.P.: You are also wearing one of your iconic rings, the 'Key of Life,' aren't you?
A.G.: Yes, it is one of my favourite pieces since 'Key of Life' is an old symbol of ancient Egypt, embodying life and eternity. For me, it is very challenging on how I can turn something that is now regarded as a souvenir into a sophisticated statement piece.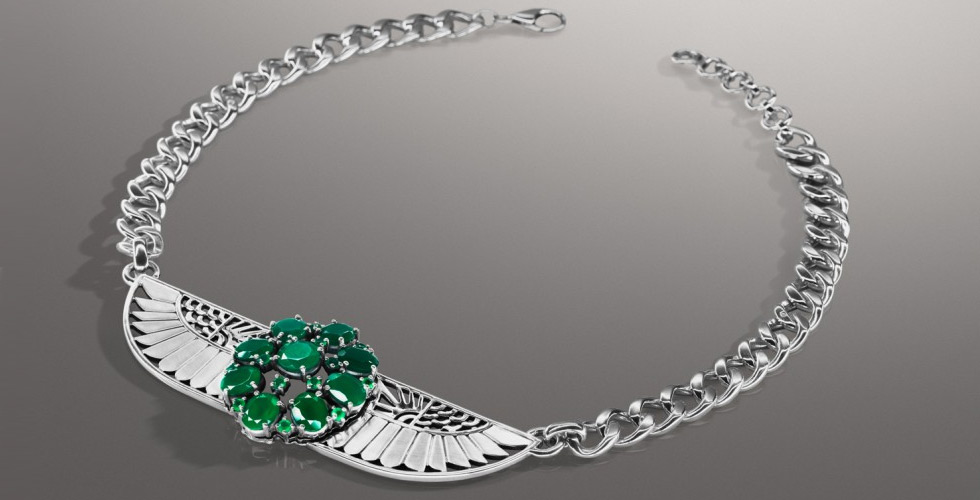 K.P.: Do you think that an increased interest in statement jewellery over the last few years has something to do with abundance of jewellery on catwalks?
A.G.: I think the perception of jewellery is changing overall. In the Arab world where our jewellery is very popular, most women would build her wardrobe around their jewellery. I wake up in the morning and think what to wear if I want to put on a collar necklace. At the same time, European women see jewellery as an accessory for their wardrobe; they would choose the clothes first and then the jewels to match.
K.P.: Traditional Egyptian jewellery is voluminous: big necklaces, big cuffs, bracelets, earrings, everything is designed to impress. How much of it has changed?
A.G.: Historically speaking, Egyptian and Arab jewellery had been a reflection of social status. It was a way to show who you are as well as a reflection of value. For centuries, jewellery has been a means of financial security, as it could be sold when needed. Additionally, because of the warm climate and our skin is more exposed to the sun, we dress our neck, hands and ears. Our collections has always included statement pieces. We preserve our tradition but also follow and reflect current trends, that now happens to be statement jewellery – and it has expanded globally. You can see women incorporating jewels with volume into their wardrobe by either stacking smaller pieces or wearing one large jewel.
K.P.: Would you say that there are traditional techniques that influence your design?
A.G.: We craft everything by hand in-house. Filigree designs are made by a rather complicated and time-consuming technique. So many craftsmen have stopped doing it now. In the 'Crescent Star' ring, a jeweller has to complete six stages of work making the long and short wires by hand, soldering, hammering, diamond setting, polishing. Moreover, within those operations there are other mini-operations that need to be completed before going on to the next stage. The process of making even the smallest piece of jewellery involves at least 22 craftsmen.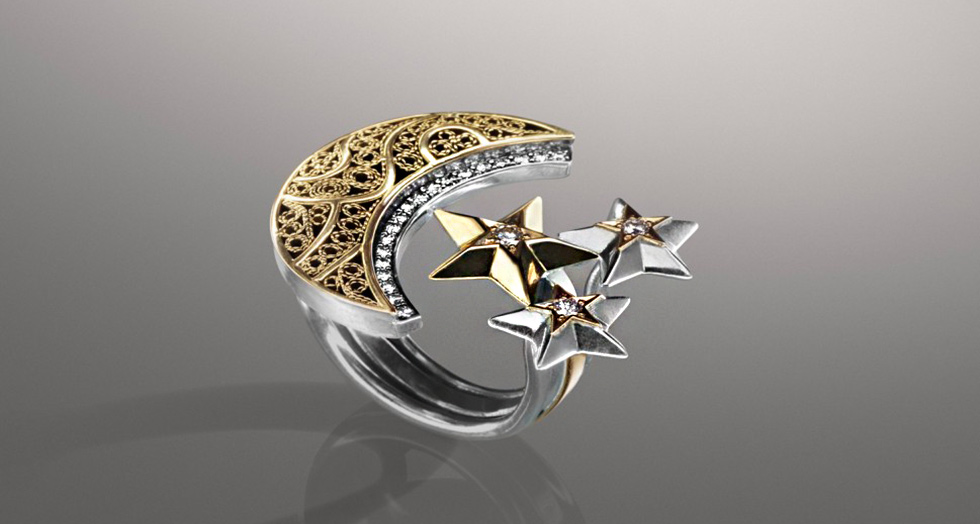 K.P.: How do you decide if you want to use silver or gold or a mix of both for the jewellery?
A.G.: It varies according to the collection. In some pieces, I feel it is better to use silver, because I love the whiteness of this metal. Sometimes, I feel that the colour of yellow gold would be ideal for a design. It is very important for me to use a combination of silver and gold as well, as it has been the signature of Azza Fahmy jewellery for the past 45 years and was created by my mother Azza Fahmy. I want to preserve this tradition, as it is a way to make our jewellery recognisable at first glance.
K.P.: The 'Hand of Fatima' ring from 'The Third Eye On The Universe' is a striking combination of metals. Tell me more.
A.G.: Yes, indeed. It is a nature-inspired and very meaningful collection. When you look at nature, it has not just one colour but a combination of colours. So, when I mix silver and gold, I believe it gives a more natural and human feel to jewellery. Additionally, the details of patterns are very important and if we use metal in just one colour, we would lose the detailing. Also, that would not lend enough depth to the pieces.
K.P.: Where do you seek inspiration from?
A.G.: I have been very fortunate to have my mom as a teacher. She taught me how to translate anything I see around me into jewellery. Last year, when I chose architectural inspiration as a theme, I had to face the challenge of translating grand buildings into something miniature like jewellery. I was fascinated by Frank Gehry's building in Los Angeles – the Opera House. It features lines and the curves, which I could not wait to embody in a ring.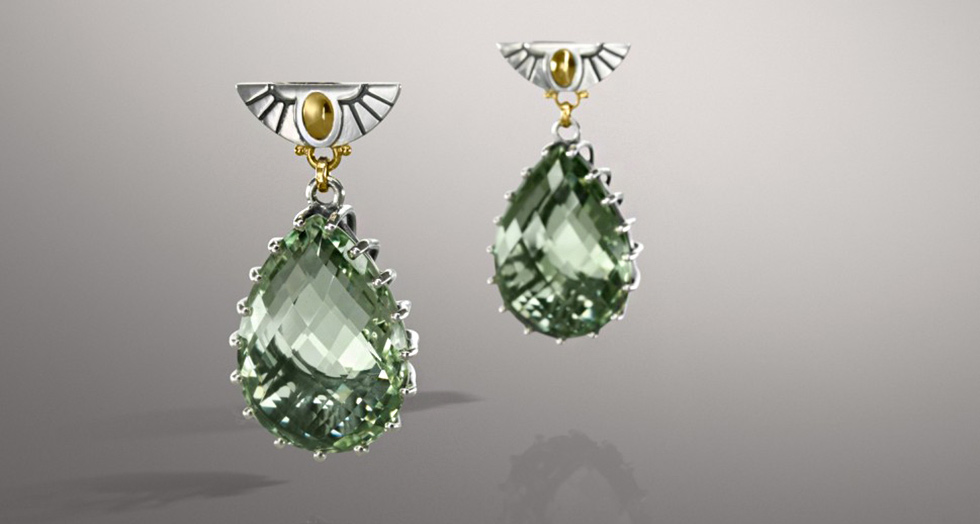 K.P.: How about your Celestial collection?
A.G.: In this collection you'd be very much looking at everything that is the universe: stars, moon, clouds and nature. This is about reviving those symbolisms. Because my mother has been doing them since 1969, every five to six years, we have a new collection that incorporates these symbols. But each time, it takes a new form and meaning. This time, I used architectural aspects and mixed them with feminine and masculine energy by combining the three symbols (stars, moons, clouds) together in a way that has not been done before.
K.P.: Anything special that you are working on now?
A.G.: I'm actually working on the main collection for 2016. We have just finished sampling the Mother's Day and Valentine's Day capsule collections, which are very important occasions for us. We also finished work on our exclusive limited edition to be out at retail in December. So we are always working on multiple collections.