The union of the two houses was no coincidence, as Buccellati and Valli have been acquainted for many years. Even back in 2004, working with the fashion house Emanuel Ungaro, Giambattista used some of Buccellati's statement earrings in the autumn-winter collection show. And now, 12 years later, we are again witnessing a collaboration of the two recognisable names, although this time Giambattista Valli is already working under his own brand name.
Buccellati jewellery looked in such harmony with the clothes of the 2016-17 autumn-winter collection by Valli! The dresses were ruched with flounce hems, lace and fine patterning, echoing the decorative elements of the jewels and perfectly complimenting them. Romantic images of Renaissance style were conjured by the fashion designer, who very accurately matched the clothing with pendant earrings, wide statement bracelets and necklaces, one with a medallion – and all the jewellery sat so perfectly on the models they seemed to fit like a glove.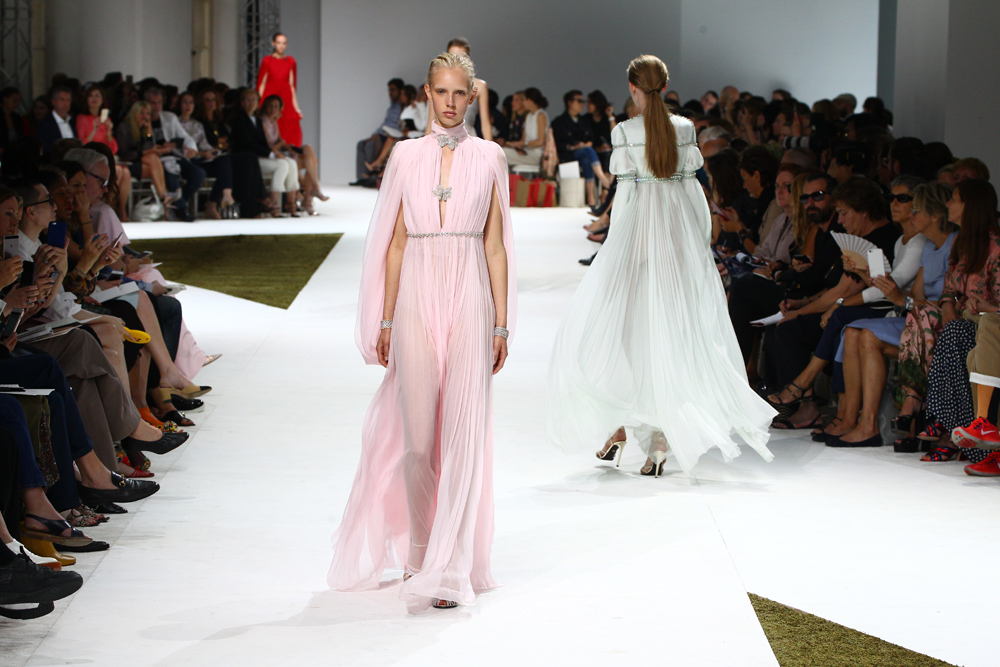 The most striking and memorable fashion-jewellery combination was a large yellow and white gold necklace with an oval pendant, at the centre of which sparkled a peridot. It made a uniform image with a short, white, flower-print dress. Despite the fact that the jewellery was added to an outfit where the trim of the dress was heavily decorative, the necklace dropped down to the exact part of the neckline where there was nothing but a white tulle. This meant our gaze, involuntarily drawn to the luxurious necklace, was only pausing to glance at the dress.
On the models' ears the Buccellati jewellery looked equally victorious, be that because of the colour of the precious stone or the unusually large size of the gem, or because of the fine filigree with gold achieved by the maestros of the Buccellati jewellery house. However, I want to highlight the red-green drop earrings with oval emeralds. They were complemented with rubies and diamonds which spread out from the central stone in the shape of petals. In addition to these, I remember one more pair of earrings with carved, wine-coloured rubies, tiny diamonds and sapphires that particularly stood out. All in all the show had 47 looks on display, 8 of which feature the eminent Italian jewellery house. Now I welcome you to view a few striking looks below.