This July the Bulgari boutique on New Bond Street, London, is revisiting this page of history by hosting a retrospective of some of Elizabeth Taylor's magnificent jewels (now part of Bulgari Heritage collection) and some of the main costumes she wore in the movie. For the occasion, we met with Lucia Boscaini, Bulgari Brand & Heritage Curator and Senior Director.
The tour started with the en tremblant brooch. It is said that when Eddie Fisher divorced ElizabethTaylor, he wanted the brooch back. To which the star replied that she could live without her soon ex husband but categorically not without the jewel. She ended up buying the brooch back from him.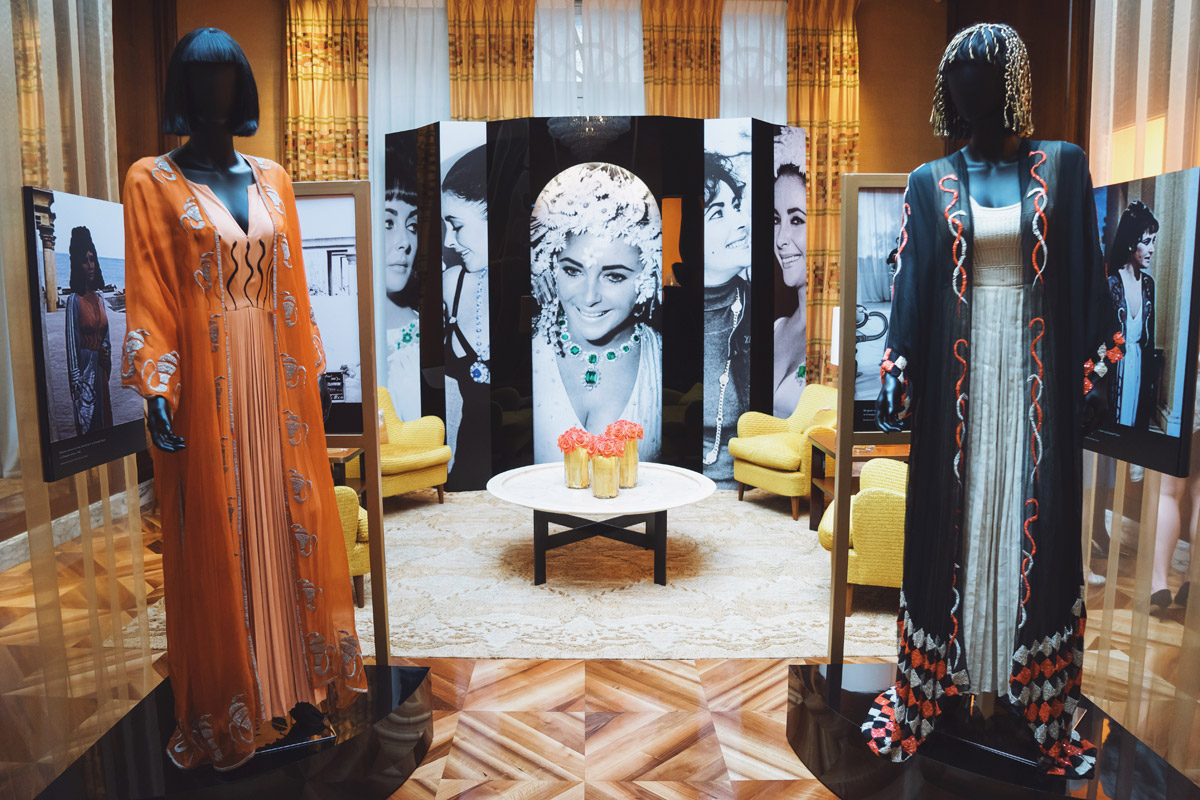 The second jewel is the first piece of jewellery she ever received from Richard Burton as their affair was blooming: a ring in platinum with an octagonal step-cut Colombian emerald of approximately 7.4 carats and twelve pear-shaped diamonds totalling about 5.3 carats. Testament to her incredible dedication to charities, and knowing how intimate to each and every one of her jewels she was, it was with great generosity that she auctioned the ring in 2002 to support the Elizabeth Taylor AIDS foundation. Now part of Bulgari Heritage collection, it beautifully resonates with a set on display that consists of a brooch and pendant in platinum with octagonal step-cut emerald of 23.44 carats and diamonds created in 1958 and given to Taylor by Burton on their engagement in 1962. There is also a 'matching' necklace in platinum with diamonds and octagonal step-cut Colombian emeralds that weigh approximately 60.5 carats that was a gift to celebrate their wedding in 1964.
Created in 1969, an exceptional sautoir in platinum with sapphires and diamonds was offered to Elizabeth Taylor by Burton in 1972 for her fortieth birthday. Its main gem was to evoke the famous violet colour of his beloved's eyes. A couple of years later, Taylor bought herself a ring to 'match': the Trombino ring in platinum with a Burmese sugar-loaf cabochon sapphire of 25 carats and diamonds.
Such was the intensity of the Taylor / Burton romance that it became part of the public domain. As a result, the extraordinary jewels on display deserve celebration as much for their exceptional value (testament to Bulgari workshops' expertise and incredibly rare gemstones) as for their cultural relevance. Taylor found Bulgari as much as Bulgari found Taylor.
Exhibition photos are by Rebecca Botin.