I write about Ilgiz's creations so often not because he's better than other jewellers (indeed there are many commendable jewellers in the world who deserve recognition); the fact is that the jewellery under the name of Ilgiz F. are each an objet d'art in miniature form that differ hugely from one another and yet still bear the mark of their creator.
The principle of Ilgiz's work is to find a theme and develop it to the full in his works, something which, in theory, shouldn't pose too great a problem for an artist with so much experience. However, the jeweller admits that finding a source of inspiration can be much more difficult than spontaneously turning an idea into reality. Inspiration doesn't come and go as you please. It's a "side effect" of a creator's experience of a particular moment in his or her life. After looking at the ring in this photograph, I guessed that Ilgiz's latest inspiration was Japanese art and underwater life. As it turns out, I was right!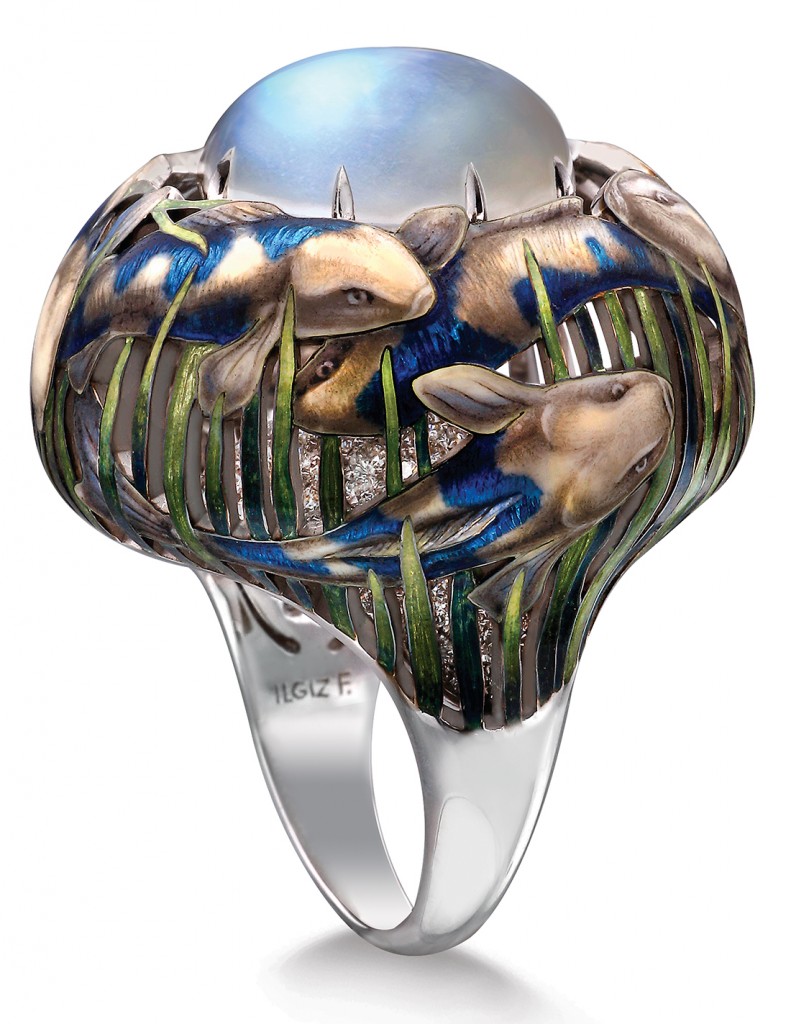 The "Fish" ring is one of Ilgiz Fazulyanov's latest creations and the first piece of his in which he departs from flora and fauna themes and turns to the azure Nile. "A difficult task lies ahead of me: I need to create the feeling of being a fish in water," explains Ilgiz. You can't deny he's pulled it off.
Swimming along the bottom of the pond through the seaweed, the enamel carp are intertwined in a dance. They lithely skirt around a moonstone that was by no means unintentionally chosen for the top of the ring, its pale blue milky colour creating the illusion of the water's surface. To get a sense of the whole picture, the ring has to be examined from all sides, something which, in principle, is true of any other piece by Ilgiz. "The moonstone which the carp swim around is a cold moon. If you look at the ring from above, you can see the moon reflected in the water." says the designer. The gold surface under the moonstone is encrusted with diamonds which create the impression of miniature stones, tiny pebbles on the riverbed. These little diamonds are not visible at first but without them the piece would not be the same. They contribute to a superbly crafted ensemble of elements.
So what made Ilgiz choose carp? For starters, there are about 40 different natural varieties of carp to choose from most of which are, for one reason or another, interesting to portray in jewellery designs. In addition, "nowadays there are practically no European jewellers who could come up realistic designs for fish. Those that are available to purchase are either comic or fantastical". After spending 4 months realising his ideas, Ilgiz was only 80% satisfied with the result. That means he'll continue to develop his sea creature theme until he uncovers the concept's full potential.