In March of this year, family – owned jeweller Hancocks, who specialises in antique and rare pieces, presented something truly extraordinary at the TEFAF exhibition: the world's largest Toi&Moi ring with antique cushion-cut diamonds. The stones weighed 20 carats each and were perfectly matched in all aspects, having been cut from the same diamond.
While visiting an exhibition in Hong Kong, Swiss jewellery designer Suzanne Syz fell under the spell of a unique 5.69 carat antique Type IIA diamond which resembled a modern pear cut in shape but shallower. The cut makes the stone look far bigger than it actually is, which, combined with its incredible colour and purity grades – D – IF and an original design made for the ring turns it into a real collectors' piece.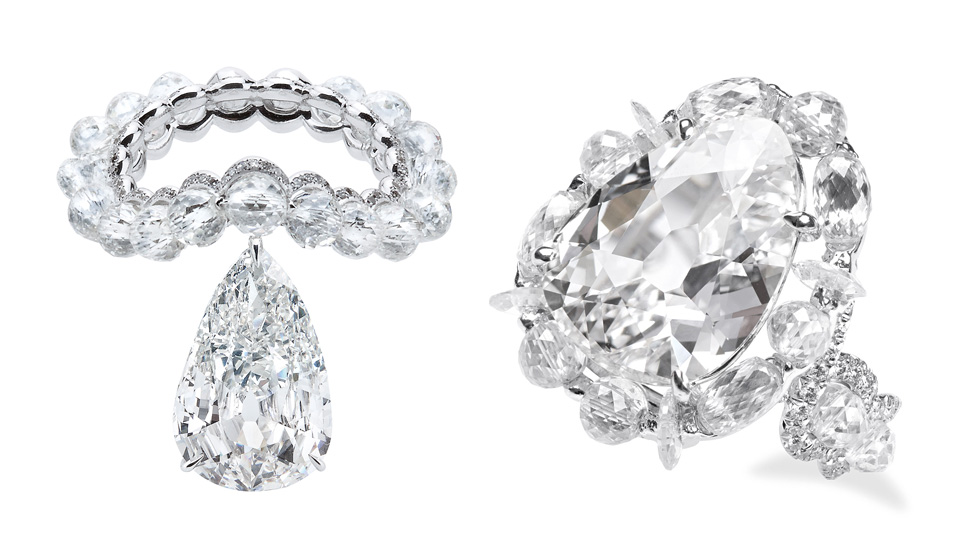 Another rare Type II A pear-shaped hand-cut diamond can be seen in a ring by Greek designer Theodoros, a young maestro who is always on the hunt for unusual stones that he ends up featuring in equally unusual jewellery designs. In this case, the antique 7.05 carat diamond sits atop an undulated shank decorated with a path of diamond beads with an invisible setting.
No doubt you've heard of a rose-cut diamond – they are often very large and tend to appear quite flat when viewed in profile. American brand Bayco have managed to get their hands on a unique specimen weighing 9 carats which originally featured as part of an antique jewel from India. Now the high-domed rose-cut diamond forms part of a cocktail ring with ten other more modestly sized diamonds all in the same cut.
Jewellery brand Boodles are the only UK brand that offers jewellery with unique Ashoka – cut diamonds, whose oblong stone cut was developed by American company William Goldberg (I wrote about it in my article about different branded diamonds). Boodles' assortment includes a lovely solitaire ring with a rare 12.09 carat Ashoka stone.
I can't end the article without telling you about my latest discovery – a ring from Hong Kong jewellers Saboo Fine Jewels, which I chanced upon at this year's Baselworld exhibition and which, in spite of the wealth of jewellery I saw there, stuck with me more than anything else I saw. The diamond in question was an antique Type II A stone with exceptional D-IF quality which looked like a pristine drop of clear water. If you look through its table you might think it is a 10 carat diamond but in fact the stone weighed little more than half that at 6 carats. There you have it – perfect evidence of the magic of antique hand-cut diamonds!