When I first saw Elizabetta's creations I was struck by the rich combination of colours: yellows and purples, greens and reds together looked festive and bore the spirit of Venetian Carnival. Bold designs were typical to Italian jewellery but what set Niquesa apart is the gems like rutilated quartz or rough ruby that are beautiful but not often used in high jewellery. In my chat with Elisabetta de Simone Niquesa I talk about her love for colour, literature and music as well as most prominent collections of Niquesa brand.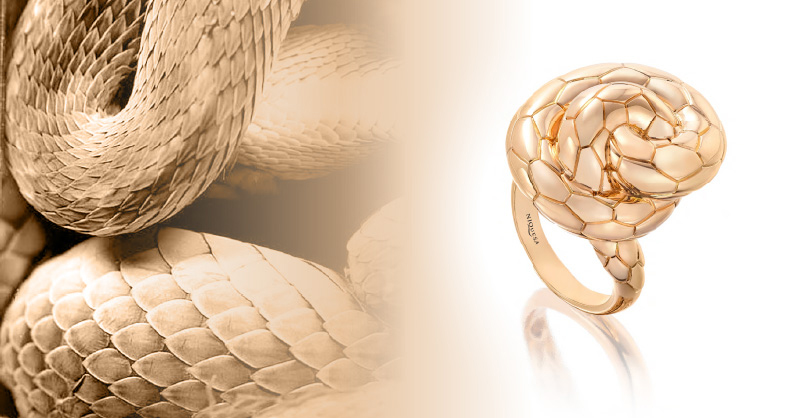 K.P.: How has your family inspired you?
E.d.S.N.: Jewels have a soul and personality, and when I am with my family we talk mostly jewels. My great uncle's personal collection sparked off a keen interest in jewellery. My grandmother had a large collection most of which we lost during the Second World War. Through Niquesa I want to continue my family's love and appreciation for jewellery.
K.P.: Have you trained formally as a jewellery designer? If not, what challenges have you faced in your career as a jeweller?
E.d.S.N.: No, I haven't had any formal training. When I was young, I wanted to do things in life: I wanted to become a singer and a jeweller. These were my greatest passions. I went on to train as a soprano and practiced devoutly.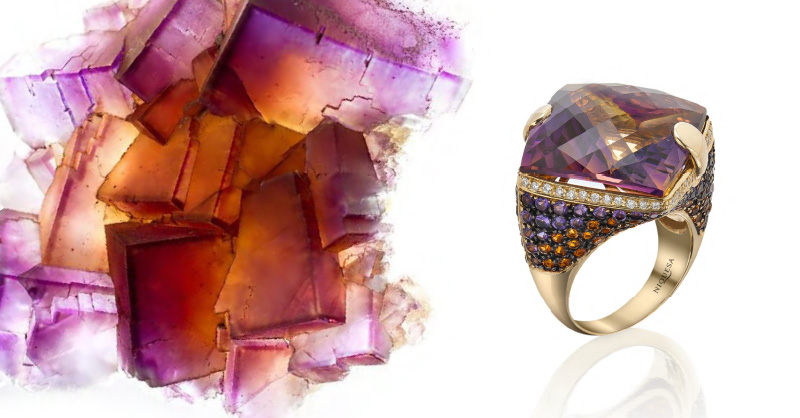 K.P.: How do the two link together?
E.d.S.N.: As a singer, you create the tone, while the instruments lend great support. But singing is different from playing music. Creating a jewel is quite similar in this regard. I think of an idea and my designer translates it onto paper, and draw up the technicalities for each piece. I feel artisan jewellery needs much less technology than industrially crafted jewellery. This is why all our pieces are handmade. I work closely with the designing team and craftsmen, choosing artisans who are highly dedicated to my creations.
K.P.: How did you start making jewellery?
E.d.S.N.: I started creating jewellery at a young age. Each time I found an interesting stone, I'd go to a workshop and get a piece made – either for me or for a relative. Sometimes, I'd make jewellery for my friends. For Niquesa my first collection was inspired by the Venetian carnival, its colourful costumes and cheerful music. The most important feature of the Venice collection is that each piece presents a distinct Venetian mask. Due to the individuality of the large central stone, it can never be replicated in the same way. The jewel has a lot of emotional and symbolic value as you will never be able to find two of the same kind – that is what I love most about the Venice collection.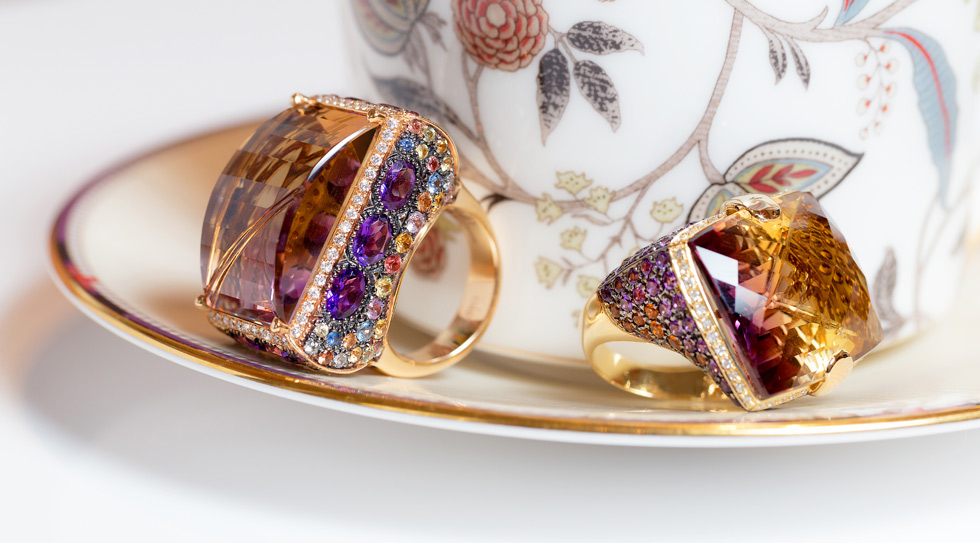 K.P.: Unique gemstones take centre-stage in the Venice collection. How do you choose the gems?
E.d.S.N.: It is about quality and uniqueness. I consider all the gemstones. But my eye tends to look for special features such as colour and shape. Once I find the best quality stone with a particularly characteristic, I turn into a piece of jewellery. The Ametrine stone in the Tesoro ring is carved and the amazonite and black rutile quartz stones in the Bauta rings are more curved than any other cabochon stone. These unusual cuts have an inimitable appeal.
K.P.: And you mix bright colours because…
E.d.S.N.: I am very attracted to colour. I take my inspiration from everything around me – nature, cities, travels, market places, the sea and sky. When I have an idea for a piece of jewellery, I first look at the stones that match the colour spectrum based on the colour combinations I have captured from my surroundings. I then determine how they fit together.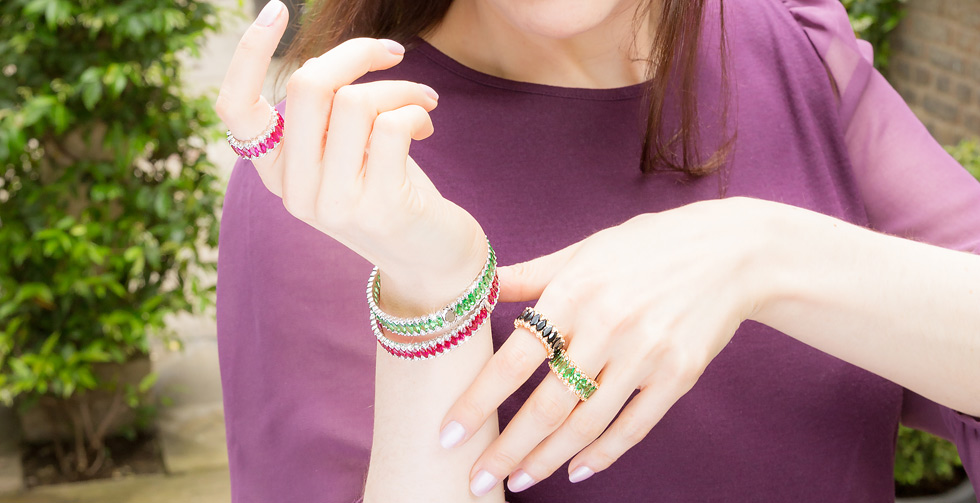 K.P.: Do you believe that colour plays a significant role in one's life?
E.d.S.N.: Yes, certainly. I see colour in cities and people: Rome, to me, is predominantly orange, whereas Florence is burgundy. The same applies to people. There tends to be a dominant colour that defines one's mood, feelings and manners. Ultimately, colour is a way of expressing oneself.
K.P.: In what ways has your background in art and passion for Italian literature influenced where you are now?
E.d.S.N.: I studied Italian literature and was greatly influenced by Gabriele D'Annunzio, Italian writer and poet. One of his poems, 'La Pioggia nel Pineto,' explores the relationship between nature and humanity. Taking cues from this poem, I decided to focus on how various elements –stones, metals and craftsmanship – come together in a beautiful jewellery and merges with the wearer. I am fascinated by the way D'Annunzio found beauty in everything around him. I want to translate a similar appreciation of all things beautiful through my jewellery.
K.P.: Let's talk more about your collections. The Ophidian pieces feature snake motif which is often reinterpreted in jewellery. What does it symbolise for you?
E.d.S.N.: To me a snake represents a symbol of seduction, temptation and desire – just like a jewel. The two elements go hand-in-hand. Like Eve, many women are fascinated by snakes and the Ophidian collection attempts to seduce the sophisticated women. The scales motifs are delicate yet visible on some pieces. On other select pieces, the scale patterns are highlighted in blackened gold, giving it a distinct and modern appeal. A special feature of the jewellery is that the scales wrap around the entire jewel, even along the back. We will soon introduce coloured gemstone rings, earrings, bracelets and necklaces to complete the collection.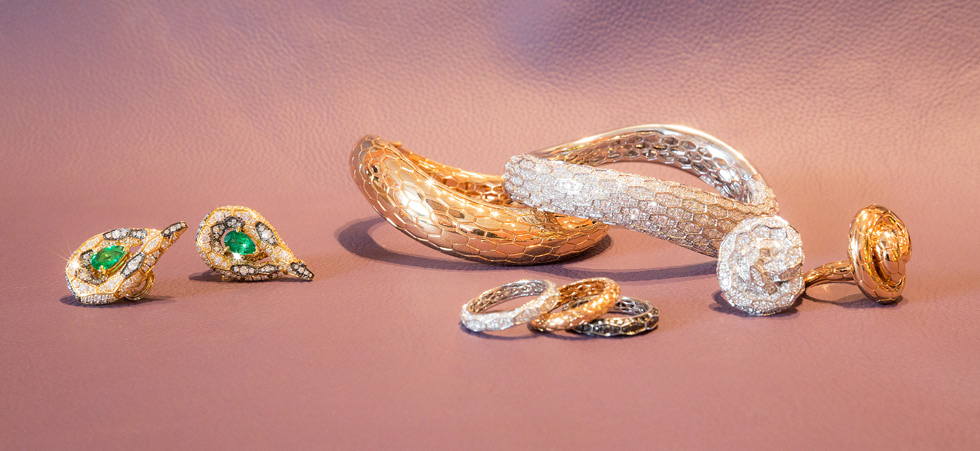 K.P.: For Amore, you have turned to nature with the jewellery evoking the beauty of delicate petals…
E.d.S.N.: My Amore collection celebrates love and special moments in life. A flower is the essential symbol of love and dedication. I have used the marquise-cut stones in every piece to represent a delicate petal. This, in turn, creates the symmetry and essence of a flower. The Margherita earrings represent a daisy – the symbol of love, beauty, sensuality and luck. Daisies have been used by women since the Victorian age to see which of their suitors love them most by picking on the flower's petals. Today, this is still conveyed by the game: '(S)he loves me, (s)he loves me not.' The Amore jewels capture this eternal love – each piece is a visible symbol that lasts forever.
K.P.: What kind of jewellery do you wear? Are there any pieces that you wear all the time?
E.d.S.N.: The only piece I wear constantly is my wedding band; I change all other jewellery every day. I believe jewellery completes one's style. It should add character and balance to an outfit, be it an accessory or a standalone statement piece. Besides my own designs, I like antique jewellery in Baroque-style because of all the details that go into making it.
K.P.: What do you do when not designing jewellery?
E.d.S.N.: When I'm not designing, I love to spend time with my family – my 5-year-old daughter, Giuditta, and my husband, Luigi. I can tell that my passion is rubbing off on Giuditta. She loves to play dress-up with jewellery. She also likes accompanying me to the atelier to look at the gems. I love cooking, especially Italian food. I tend to experiment with ingredients and spices; to me, this is yet another form of art. But what I love most is being with people, especially my family. They are my best and most important jewels.
P.S. If you happen to be at Victoria & Albert Museum in London look out for the badge, portraying Queen Victoria and the Prince Consort, adorned with an oval onyx and mounted with diamonds, rubies and emeralds. It was created by Elisabetta's great uncle Tomasso Saulini.