Whilst on my way to meet Fawaz Gruosi in his Geneva studio, I asked myself: what is the secret to de Grisogono? After spending a day at the company's headquarters and watching the artisans at work, it became clear that the answer was not so much a secret as a general approach to business: at de Grisogono, they do not rest on their laurels; they are always striving to discover and apply unique techniques and materials.
Gruosi manages the jewellers and watchmakers working in his ateliers like the conductor of an orchestra and together they make dazzling, unforgettable creations. Thanks to the refined taste and keen sense of proportion which nature bestowed on Fawaz, all of de Grisogono's pieces are aesthetically appealing. Chandelier earrings, statement cocktail rings and big bangles do not feel too elaborate or heavy despite their large size and the combination of contrasting colours.
Looking at de Grisogono's pieces, I suddenly found myself thinking: surely those can't be comfortable to wear? "Of course," remarked Fawaz, "at de Grisogono, we fashion items to blend seamlessly with our customers, making the perfect addition to their outfits without causing any kind of discomfort." The pieces are tactile with their smooth, round shapes and gemstones lightly fixed on the gold surfaces. The hefty precious stones are often shaped into cabochons, exposing their "inner worlds" – their clarity and transparency, or alternatively the wealth of their natural blemishes.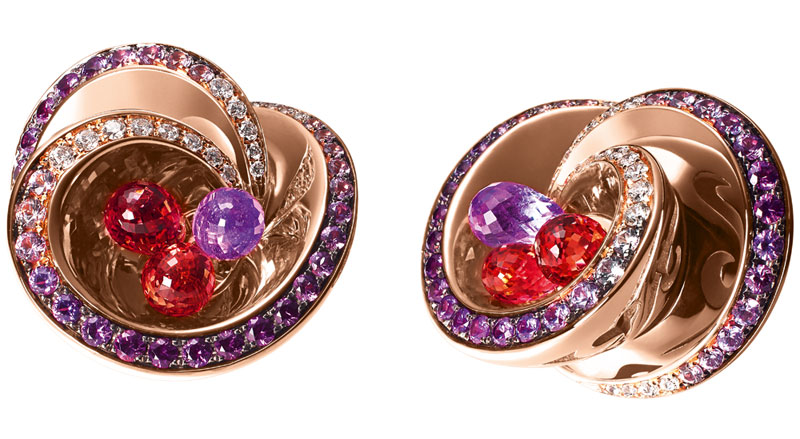 As it turns out, Fawaz has had no formal training in gemmology, but that has only been to his advantage. Gruosi is an artist. To him, stones are not minerals with a fixed material value. Rather, they all contribute to a palette which he uses to "paint" on his golden canvases. It is precisely his inability to differentiate between precious and semi-precious stones which prompts Fawaz Gruosi to think of uniting bold (strictly incompatible) stones in a single piece, such as emerald and turquoise. The "elite" of precious stones is merged with the "riff-raff" and fashioned into an unexpectedly captivating whirl of colours. Despite sceptical predictions, such vibrant arrays have captivated de Grisogono fans and the collection has enjoyed unprecedented success.
Gruosi's creative process involves managing with his intuition, listening to his inner voice, ignoring current trends and avoiding the widely accepted practices of jewellery design. One could say that Fawaz often takes risks and does not play by the rules. Nonetheless, it would seem that every risky venture of his has turned out to be a success.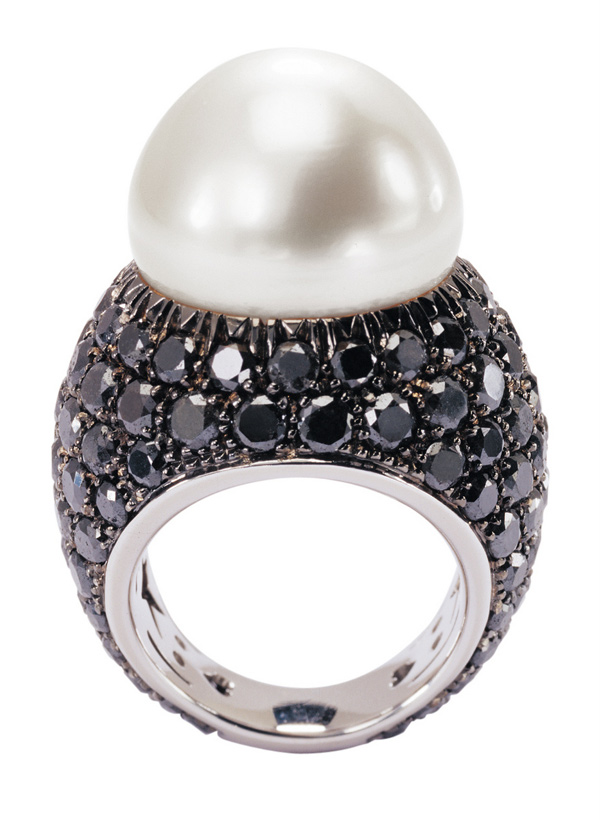 Fawaz Gruosi's first jewellery creation, an understated but innovative ring in white gold set with a white pearl and 122 black diamonds
The first of these was de Grisogono's black diamond jewellery collection, celebrating the "ugly duckling" of precious stones. In the Fawaz's talented hands, this pitch black stone sparkled with all its different shades, contrasting with the collection's elegant white pearls.
"I acquired a load of black diamonds which were worth nothing at the time and I wasn't sure what to do with them for ages," recalls Fawaz. "At some point it suddenly occurred to me to use them by creating a piece which included pearl stones. I took a pearl and placed it on a pile of black diamonds.
The contrast with the white suddenly made the diamonds come to life! I immediately realised what kind of piece they would look best in and so I made a monochrome collection comprising only a few pieces which, it has to be said, were not easy to sell at first. I was assured that I was mad, that nobody would buy them. However, once I'd started to educate my customers by telling them the history of this mysterious stone, the pieces gradually began to sell. The lovers of unusual gemstones supported me."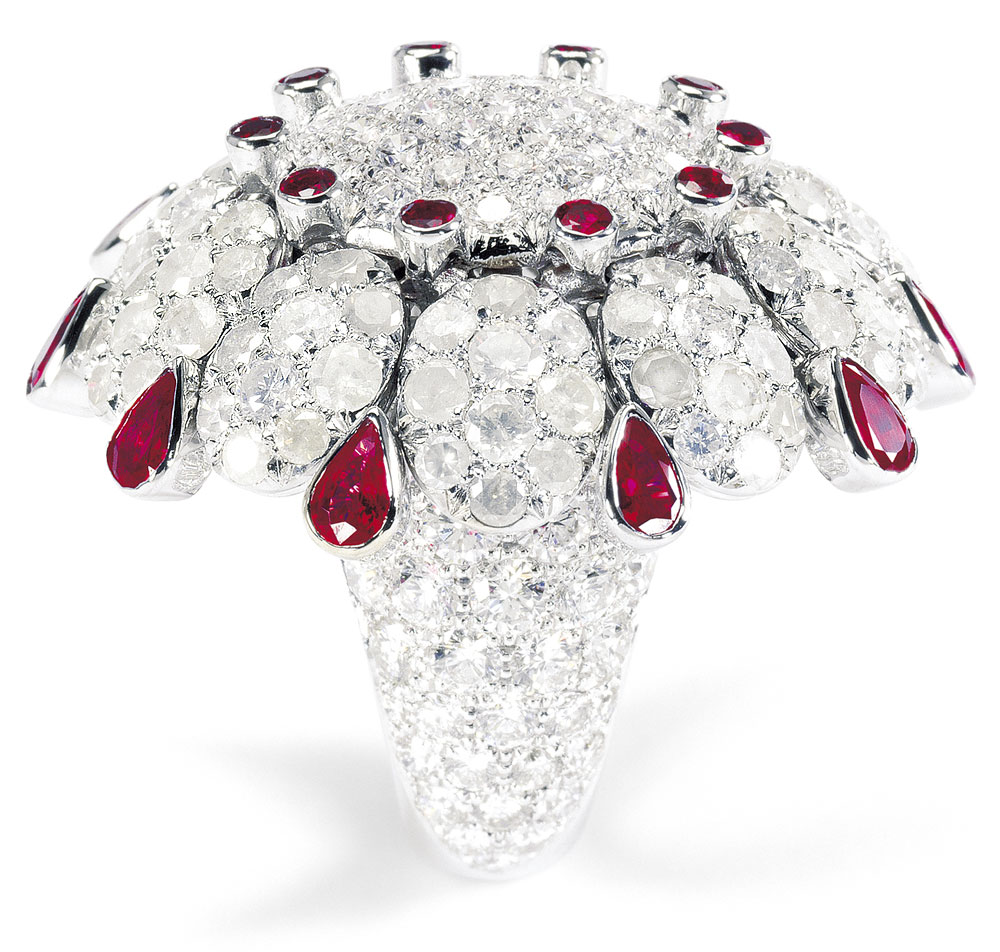 Ring in white gold, set with 7,63 carats of white diamonds, 6,53 carats of white Icy Diamonds and 2,72 carats of round and pear-shaped rubies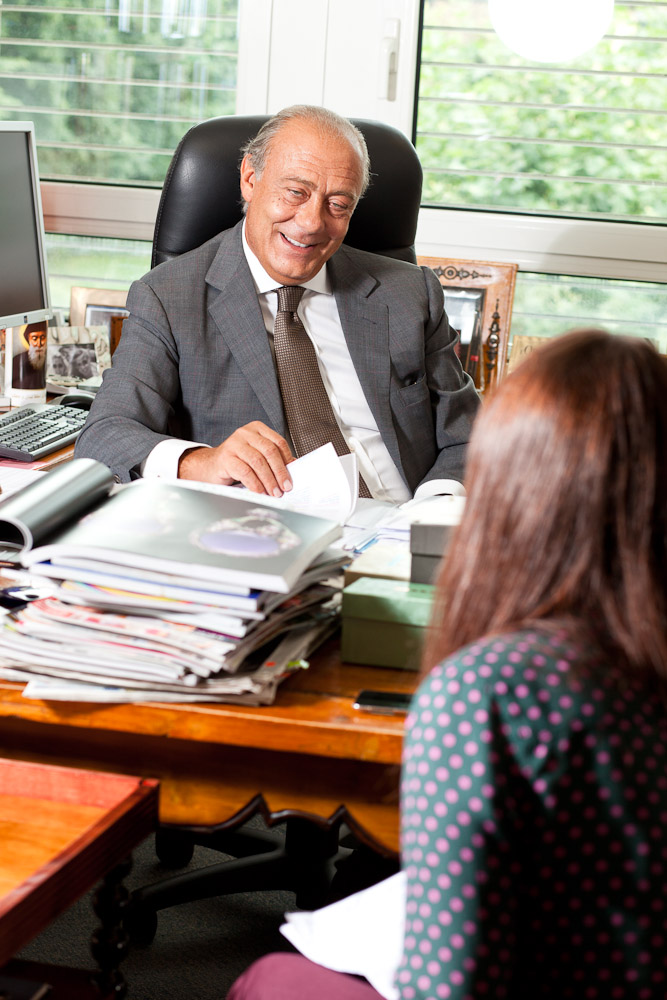 So, after reaching new heights of popularity, black diamonds dramatically altered in value over the course of two years and started to attract profit. For Fawaz, this was above all else important as proof that he had not betrayed his inner voice. His risk had been justified and pushed him to pursue further feats of jewellery innovation: encrusting pieces with what have been considered defective milky diamonds, the invention of brown gold and the use of stingray skin leather to make watch straps and bangles.
In all, the least that can be said of Fawaz Gruosi is that he has managed, unconditionally, to broaden the horizons of jewellery art.
Today, novelties continue to fill the boutiques of de Grisogono across the world. Not long ago, a new ceramic collection was released and before that de Grisogono managed to cross the line of accepted luxury: leather bracelets with precious stones. Now I am no longer interested in de Grisogono's secret. I only want to know what is new that they are creating for us in preparation for next seasons.
Photos of Fawaz Gruozi are by Anastasia Dutova
Jewellery images are courtesy of de Grisogono