Together, they created an ode to beauty in the form of a spectacular chandelier, titled the Blue Topaz. Made with over 700 blue Ostrotopaz in colours varying from Swiss Blue to the deeper, darker London Blue and thousands of Baccarat crystal beads, the chandelier is a magnificent jewel that throws the spotlight on design and craftsmanship.
"We had to collate over 1,400 pieces just to drill holes, as we had never drilled our stones before. There was a great risk that the stones would shatter and, in fact, many of them did during the process. We had to do quality control for each stone before it was sent to Baccarat. This stage took us four months," says Maurice Ostro, CEO of Ostro Minerals, whose father founded the company.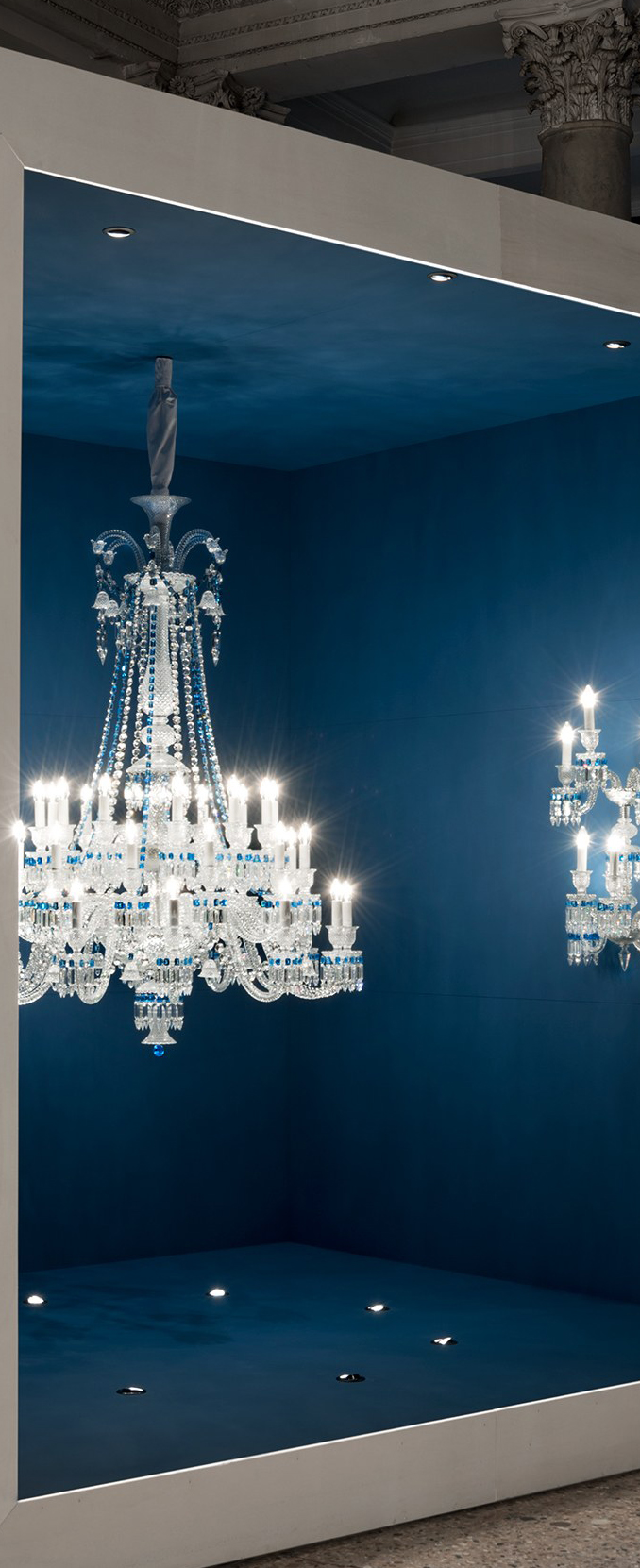 The defining feature in the Blue Topaz chandelier masterpiece is the Hyacinth Pear, a magnificent flawless pear-shaped blue topaz drop, weighing 188.89 carats, subtly suspended from the chandelier's centre. This unique stone is part of the rare Maximilian collection accumulated over the past 50 years from the region of Marambaia, in Brazil. It has been over three decades since a blue topaz of such comparable colour has been revealed. The Blue Topaz chandelier is adorned with myriad shades of blue topaz and crystals that cascade like a waterfall of light. The initial idea was to place the gemstones according to their shade of blue to create a gradient of colour. Since the chandelier has perfect symmetry and proportion, the designers felt that it needed a touch of artistic chaos, and hence they mixed a whopping 25,863 carats of blue topaz in no particular order of colour.
This chandelier is an homage to the late Max Ostro, who was also a passionate collector of Baccarat. Max's quest for the fascinating gemstone began in the 1960s when he fell in love with the topaz, a relatively unknown gem back then. Topaz, a hard, brilliant and transparent stone, is found primarily in Brazil, Ceylon, Nigeria, Mexico, China, Russia and the United States. Max, mesmerised by the gemstone's colour, set out to discover the finest of blue topaz, and travelled further East to remote areas, and even as far as Japan and Hong Kong. He explored mines in Africa and Brazil, and brought back his remarkable finds to markets across the world, setting up offices in Japan, Hong Kong, Bangkok, Antwerp, Switzerland, New York and London. Max focused on enhancing the cuts and shapes to reveal the inner beauty of the gem and was singlehandedly responsible for popularising the rare blue topaz in its many natural hues – Sky Blue, Swiss Blue and London Blue Topaz.
The bespoke chandelier, which has a price tag of $1.1million, was unveiled a few months ago at the Milan Design Week as part of Baccarat's Lumières Out Of The Box installation. It has now made its way to London and will be on display at Harrods from the 1st of July until the end of August.