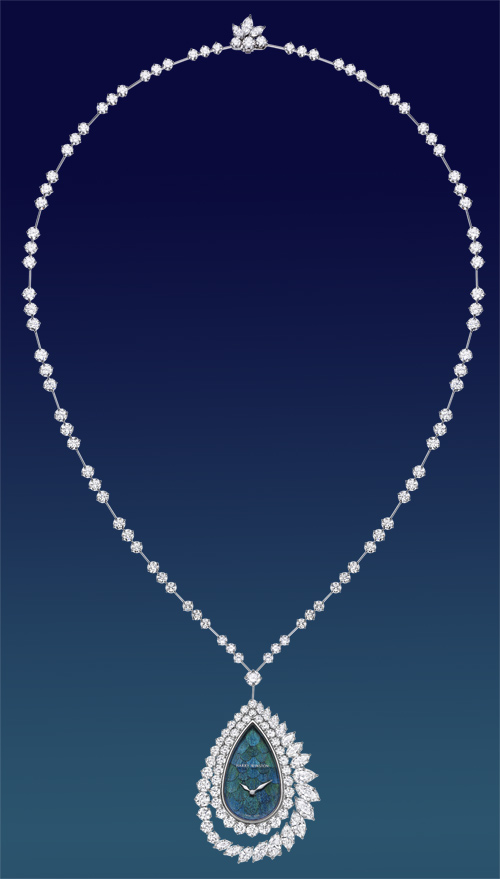 Throughout the ages, the beauty of bird feathers and the idea of flying have never ceased to fascinate us. People have taken to using feathers both in everyday life and in art.
Feathers enjoyed their "moment of fame" in the jewellery industry last season when stylists and fashion designers were drawn to creating intricate pieces and styles which, apart from bees and butterflies, included a "bird" theme. There were feathers everywhere, used by fine jewellery brands and bijouterie lines alike.
Feathers are thought to have the ability to strengthen a gemstone's magical qualities. Perhaps that's why I found myself standing bewitched in front of Harry Winston's shop window display in Basel, unable to take my eyes of one of the latest timepiece creations (pictured above).
Like the wing of a bird soaring high in the skies above, this sautoir watch looks ethereal and almost weightless. The effect is achieved thanks to a combination of peacock and duck feathers together with a range of variously cut diamonds: 42 round cuts, 16 marquise diamonds and a single pear-shaped diamond are fixed to the solid frame, a design specially developed by Harry Winston himself called "The Cluster". The overall weight of these wonderfully bright stones amounts to 62 carats; they look gorgeous hanging from the neck as they gently sit on one's décolletage.
Harry Winston's creation is a blend of expert craftsmanship and exquisite jewellery design: the bottom part of the piece, which includes the feathers that are arranged to form a fan shape, can be unclasped and used as an elegant broach (see below). It resembles a bird mid-flight with its wings spread out, making you want to stretch out your own arms and fly over the cloudy mists further and further into the distance…