In conversation with me, Heting's Founder & Artistic Director , Heting Carina Wong, who has won 2 internationally recognised awards confessed that she had never aimed to become a jewellery designer. Yet since childhood, she has been interested in vastly differing forms of art and craft– calligraphy, drawing, embroidering, weaving beads, to name but a few – so to my mind her eventual acquaintance with the art of jewellery was inevitable.
"I fell in love with making jewellery using Chinese wood and I started apprenticing at a workshop learning wood carving and metal smithing. Somehow unknowingly I could not deny my love for the craftsmanship, and for creating what I feel are little sculptures which people can wear," explains Carina.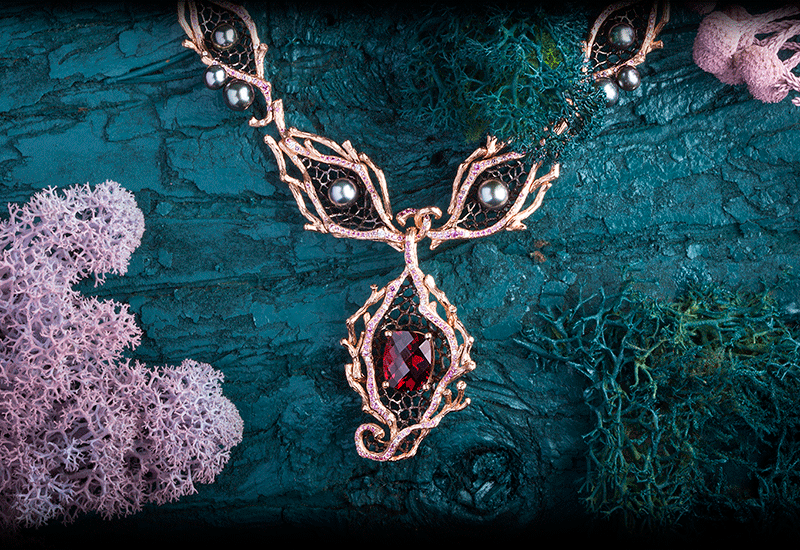 Since graduating from the Gemological Institute of America in 2012, Carina began to seriously consider creating her own brand. Two years of hard work making her dreams a reality have not been in vain, and in 2015 she officially launched the brand.
The meticulously designed precious pieces represent imaginary flora and fauna, and are made of precious materials: gold, gemstones, pearls and enamel. They look so realistic that they create the impression of Carina collecting them all in some sort of phantasmagoric forest known only to her. Tiny mushrooms, cones, berries, flowers and insects in the form of brooches and rings with interchangeable elements, delicate earrings at various lengths and bracelets are all on the bill of order. The collection also includes several statement necklaces, such as the Golden Berry with garnet, South Sea Keshi pearls, diamonds and pink sapphires, or the Mushroom necklace with decorative mushrooms painted with hot enamel and embellished with colour-changing garnets, amethysts, pink sapphires and diamonds.
I was most impressed by the jewellery from the Bellflower and Pinecone collection, with their carved pearls made by a maestro in stone carving from Vietnam. I can only imagine how much hard work it must be because pearl is soft compared to most materials used in jewellery making, and it is a capricious material at that. One wrong move and there will be peeling or chipping nacre, and then all the work has to start from scratch. However, Carina opted to spend all the necessary time to ensure the master stonecutter embodied her original idea into alluring jewellery – at all costs. She has the same approach to every collection, putting aesthetics at the heart of her jewellery, rather than labour costs.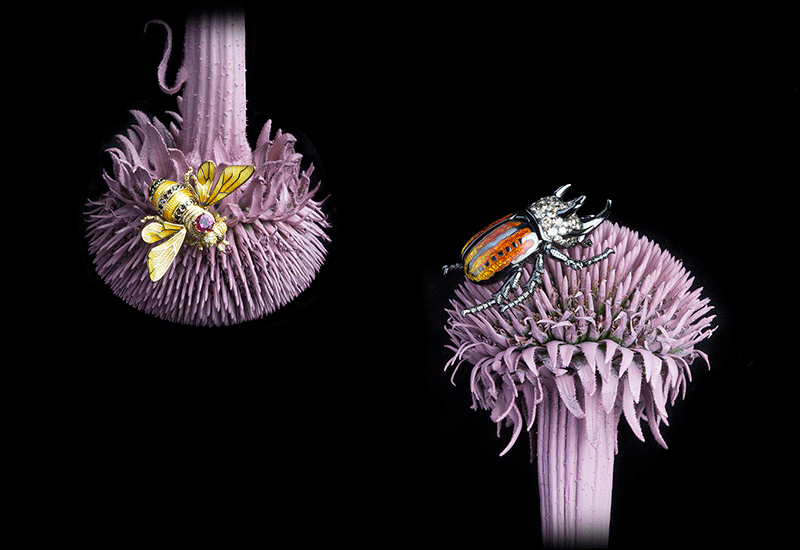 "My designs are highly inspired by nature at the moment, which I suppose endowed it with the name HETING. It is my Chinese name, which is derived from an ancient Chinese poem from the Song Dynasty depicting a story about a contemplative hermit who lives in a peaceful garden. He takes time to admire and reflect on the world around him, makes a spiritual journey through the sensuality of nature. This is my journey in life, my path. Interestingly, I only found out about this meaning when I was pondering what to call my jewellery brand. My father had given me my name but never told me the story behind it. So, discovering it was like a calling to me, it felt like the answer has always been there, I had only to discover it!" reveals Carina.
I think you'll agree that nature is magical and enchanting, it captivates and never ceases to amaze and bedazzle. Our emotional, mental and physical wellbeing are largely dependent on nature, but often we do not realise this or refuse to accept it. What message does Carina want to share in her jewels inspired by flora and fauna? "When we take a look at this modern world, we see a slow migration from living in tune with the cycles and rhythms of nature, to living in the confines of man-made environments. I want to encourage wearers of my jewellery to let the pieces speak for themselves and conjure up different emotions, visuals, memories, smells in their minds. I wish to encourage people to appreciate nature and respect it, be more aware of our relationship with it and notice what gifts nature has given us in life".