Rachael started her bejewelled journey at the age of 15 and has been developing her jewellery-making skills since then. Desirous of expanding her knowledge of gems, she studied at the Gemmological Institute of America. Having spent numerous years working for major jewellery houses, she had a chance to see and handle important and unique gemstones. Having gained enough experience, Rachael developed her personal style and could no longer fight the desire to create her own jewellery, using rare and unusual minerals.
To my mind, Rachael Sarc is not just another designer. Through her individual approach to each piece, she manages to create works of miniature art. She implements both traditional and innovative metals as well as some not so popular gemstones of more classic and unusual cuts, sparing precious working hours and effort to get the desired result. As a rule, she crafts striking and one-of-a-kind pieces that are able to stay long engraved in the memory of whoever sees it. In this interview, you will learn who influences Rachael SARC's personal style, how she selects unique materials for her jewellery and what valuable advice was given to her by her mentor, J.W. Currens, a noted jeweller.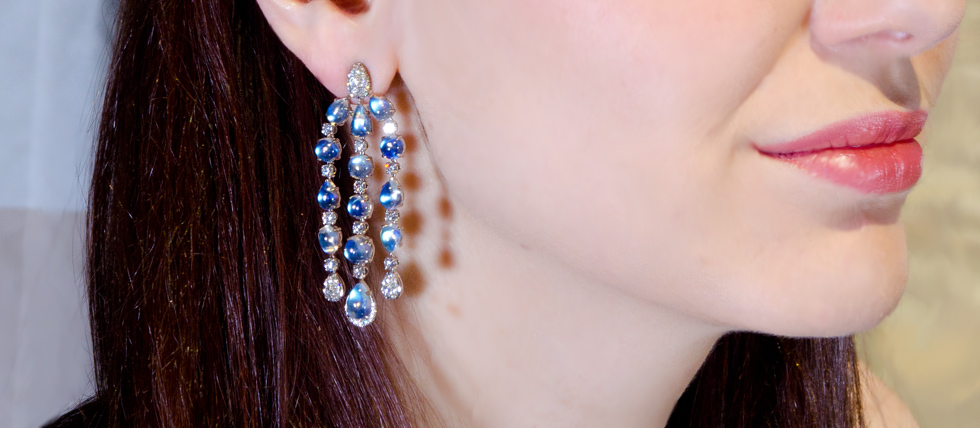 K.P.: What does jewellery mean to you and what makes you so passionate about it?
R.C.: To me, jewellery is a combination of emotion, imagination and craftsmanship wrapped up in one package. Whether I am designing a one-of-a-kind for my own collection or a commissioned piece, it is thrilling to capture style in a wearable art form. Jewellery is the ultimate expression of one's personality and style.
K.P.: And the style of your jewellery is…
R.C.: I would describe my style as modern classic. My goal is always to create pieces that are strong and stand on their own and will be on-trend for years to come.
K.P.: J.W. Currens, one of the most recognised and valued jewellers of the present, was your mentor. What invaluable pieces of advise did you receive and follow?
R.C.: Having won many international awards for excellence, J.W. Currens is one of the industry's most renowned designer-jewellers. James has been invaluable in my training as a craftsperson. I have learned much from him as a teacher and mentor but the most valuable lesson I've learned from him is a simple one – 'Never give up on your design.' Making jewellery can be frustrating but I learned from James to keep going. If you don't like something after it is finished, take it apart and start over. The fact that you might have spent 100 + hours on it is irrelevant. This can be the difference between a good piece and an exceptional piece.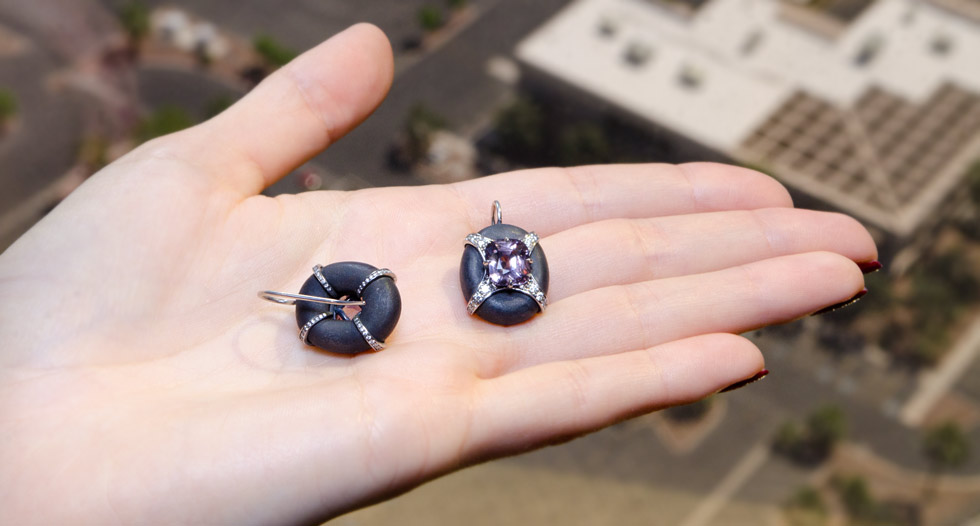 K.P.: I could not help noticing that your work has been influenced by modern jewellers with strong identity like Hemmerle. What do you find so aspirational about them?
R.C.: Hemmerle is one of my favourite modern designers. I so appreciate that as a multi-generational jeweller, they are still reinventing themselves and their work. Designers like this inspire me to take risks in my own work and to think outside the norm, when it comes to mixing materials and finishes.
K.P.: What is the hardest and most exciting part of being a jeweller, who creates unconventional pieces?
R.C.: The hardest part: spending 100 + hours on something and having to start over. Most exciting: looking at a piece I just finished designing and making with my own little hands.
K.P.: Your one-of-a-kind pieces feature many unusual materials. What made you use meteorite?
R.C.: When I see something I like, I buy it and might not always have a plan. I try not to over-think the process of designing. Sooner or later, a design idea forms. I had the meteorite slabs for a full year before I did anything with them. Then finally, a design idea formed when I bought the black Andamooka opal beads and I felt these two unusual materials belonged together.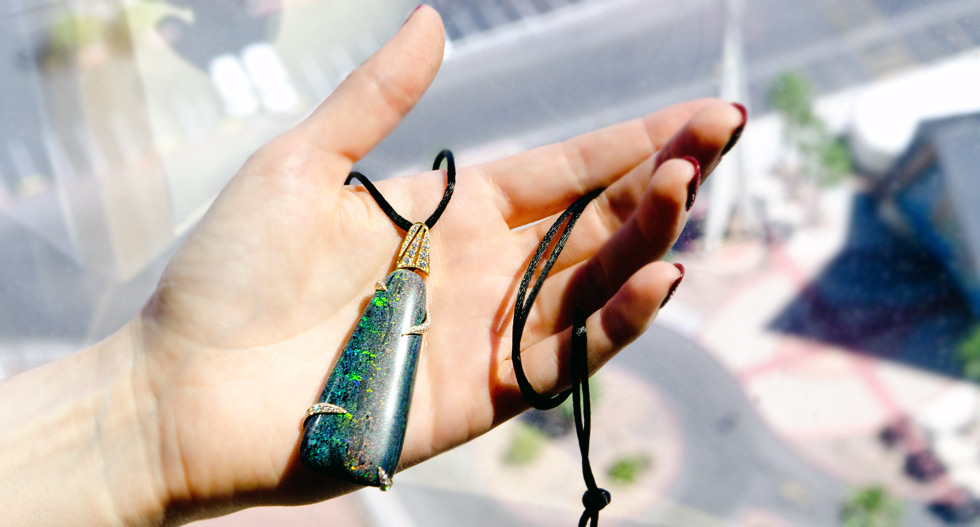 K.P.: Opal seems to have captivated the hearts of many a designer. What do you find so alluring about this gemstone?
R.C.: An opal can be mesmerising in its many different varieties. It is fascinating to me that opal is formed as water evaporates, leaving behind silica deposits many times over. I've always thought of opal as petrified water and that is what it looks like to me. You can see that too, right?
K.P.: Tell me about one of the interesting gems in your vault that one day will be set in a jewel.
R.C.: Spinels! This is a stone that I feel has been overlooked quite a lot and I am looking forward to devoting more time and energy to showcasing its extraordinary qualities. I have a collection of exceptional spinels in different colours that I can't wait to start making pieces for.
K.P.: At the Couture Show you presented a collection of everyday jewels as well as some one-of-a-kind masterpieces. Are you already planning your next collection?
R.C.: Yes. For now, I am concentrating on a less conventional collection that will feature all one-of-a-kind pieces. My first and signature collection reflects my modern, classic style but for this next collection, it is less about conceptualising a central look and more about having the freedom to let unusual stones and materials have their moment to inspire the designs. I can't wait to unveil the pieces in their entirety and as I get closer to finishing it, one piece at a time.
Product shots are by Mickey Kerr, Couture photos are by Lordale Benosa