Every flower in China has a symbolic significance – and sometimes several. The peony, for instance is at once a symbol of spring, as well as signifying opulence and nobility. It's also the national flower of China. The lotus is symbol of cleanliness and purity, as well as spirituality. Chrysanthemums represent resilience and endurance, as well as beauty, charm and poetry. These symbols remain important today, and therefore find representation in various current art forms: poetry painting, porcelain and of course jewellery.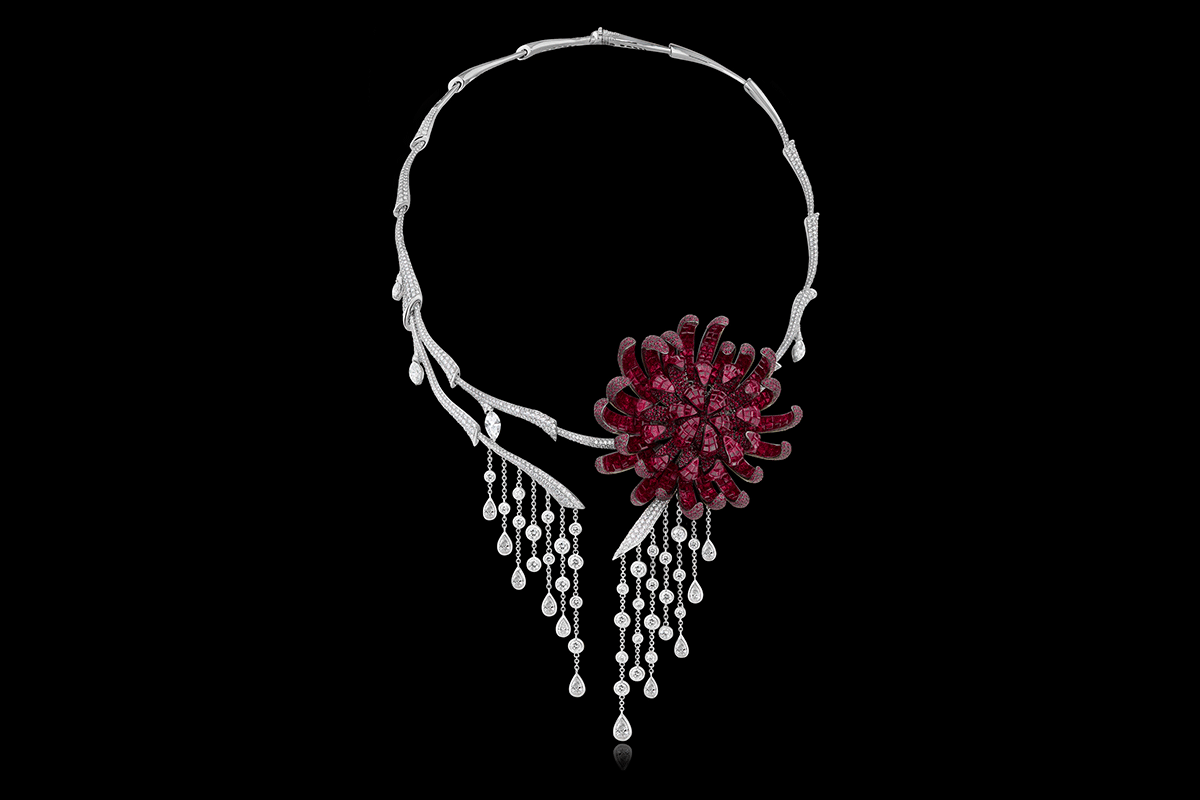 It's long been the case that in China every season has its own symbolic flower. An orchid for spring, bamboo for summer, chrysanthemums for autumn and plum blossom for winter. And did you know that each of these plants also represents a quality you'd hope to find in a nobleman? Purity and resilience are represented in the plum, refinement and modesty in the orchid, maturity and chastity in the chrysanthemum and candour and frankness – in bamboo.
It's these four floral creations that form the basis of Stenzhorn's collection 'The Noble Ones'. It consists of three unique necklaces set with diamonds and rubies. Chrysanthemums, wild orchids and plums are reproduced as key motifs with a high level of realism, while bamboo provides the structure to which they are attached. The chrysanthemum embodies autumn – it blooms proudly and doesn't fear frost. Thanks to the powerful Yang energy, this flower has also become a symbol of success in all endeavours. When turned into jewellery the chrysanthemum bud turned out to be the most luxurious of the three pieces. And as you'd expect, it was the most time-consuming to create too.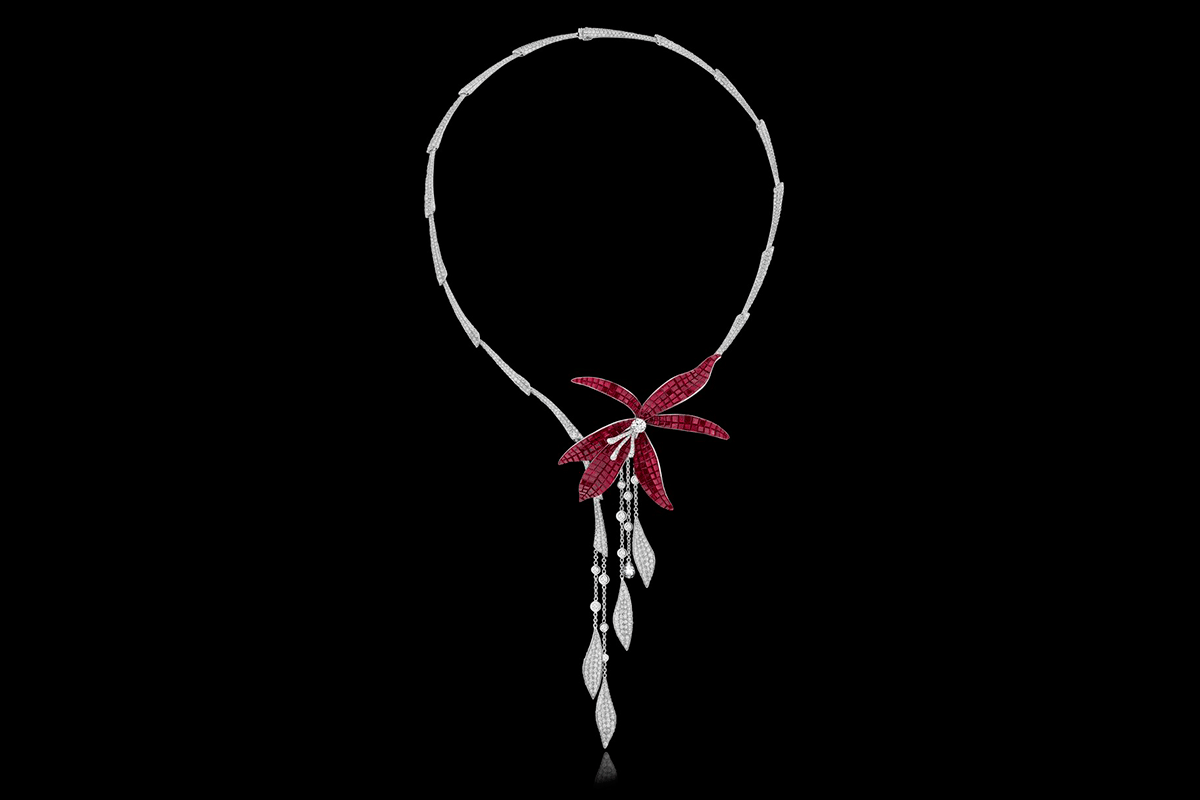 The Stenzhorn craftsmen had to follow a special process divided in three steps to craft the jewels by hand. Initially the forms were shaped in modelling clay, before being made into a silver prototype and after manufacturing the gold version it was set with stones. If you take a close look at the petals you will be able to appreciate their beauty in its entirety: they are encrusted with rubies inside and out. Just fixing the rubies using the invisible setting technique took two months – and that was after two month's work on the base structure!
The Buddhist monk Tsyue In said: "When I am glad, I draw orchids, when I am angry I draw bamboo." Orchids are full of exquisite nobility, subtlety and sensitivity – just like Stenzhorn's precious necklace with its delicate wild flower petals.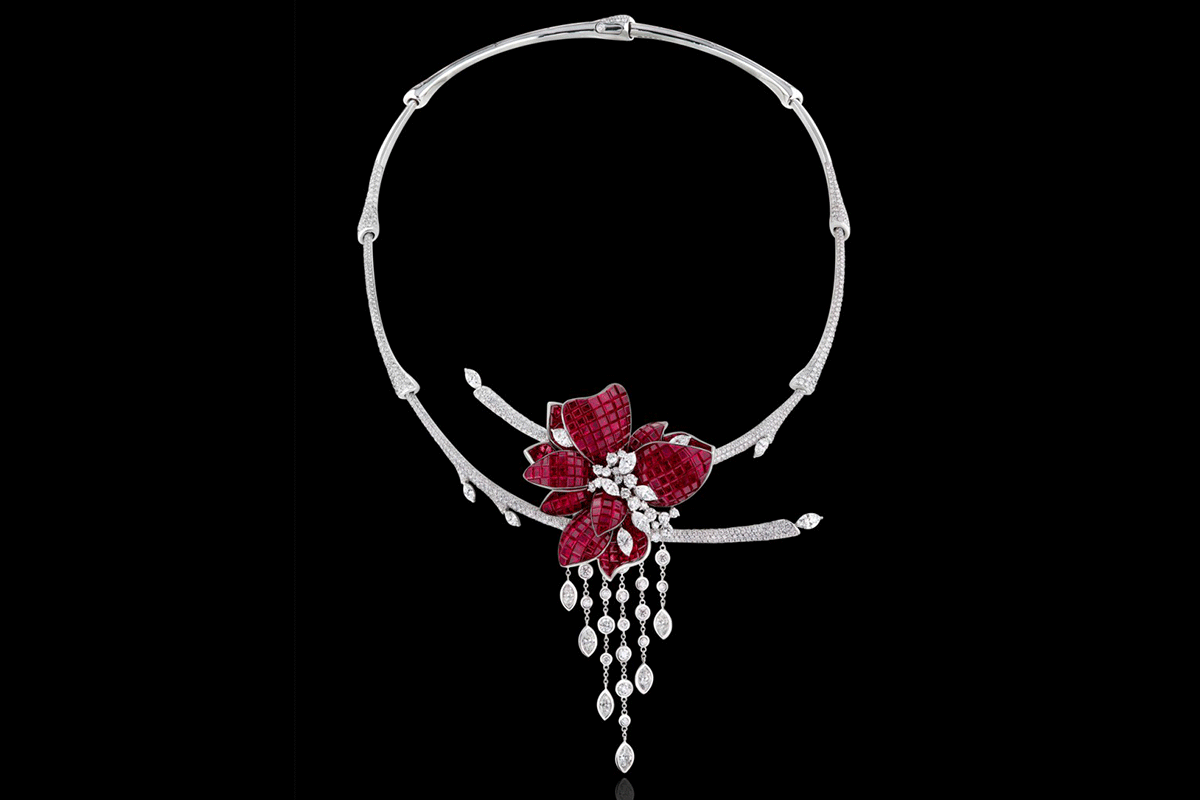 "Even from the drawing stage of the necklaces we knew creating the flowers would be a very challenging process. We wanted to capture the chrysanthemum, wild orchid and plum blossom at their most beautiful, when their soft petals have just opened," Klaus Stenzhorn says.
Using plums – one of the national symbols of China – as the inspiration for The Noble Ones is no accident. Plums can survive the cold and can start to flower during winter– something which associates it with the revolutionary struggle. Stenzhorn's craftsmen also had to overcome rather a lot of challenges to create the jewellery masterpieces.
"The most difficult steps were in fact carefully selecting the rubies by colour, hue and saturation, and most of all re-cutting and setting each stone to fit the curve of every single petal. Rubies encrust even those parts of the petals you can't see as they are covered by other petals. Our intention was to create the most realistic flowers possible through this technique," says Klaus.
Admiring the changing seasons just as admiring flowers is a meditation that reveals to us the beauty of nature in all its variety. And Stenzhorn's jewels will serve as a gentle remind of it.