Perhaps it is the desire to escape recent problems that has inspired this selection of watch icons to miniaturise natural scenes on their timepieces this season. Whatever the reason, I think there's something transportive about looking down at one's wrist and seeing nature captured in such colourful detail. It's enough to make the present moment fly away and a vision of a natural paradise emerge… even for a moment in time.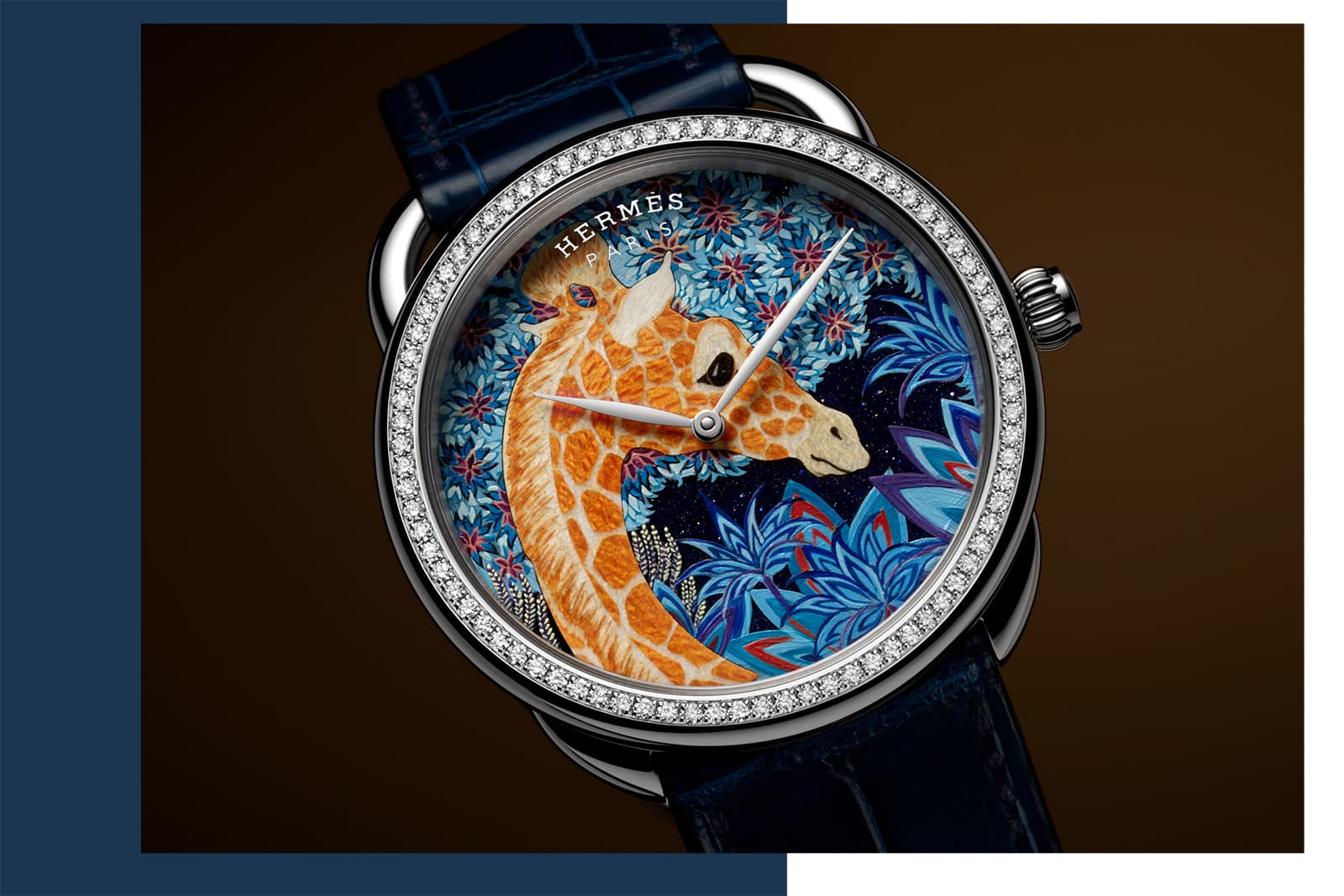 Hermès Arceau Toucan de Paradis
Infused with the colours of a summer holiday, this new creation by Hermès is crafted with a 38 mm white gold case, set with 82 diamonds, and decorated with a tropical toucan that requires two key skills of craftsmanship: enamel and silk threading. The latter took years to perfect and was inspired by a kimono weaving workshop in Japan. The dial of the Hermès Arceau Toucan de Paradis is composed of 500 individual threads, set within recessed enamel surfaces on white gold. Inside the case is the Hermès H1912 automatic movement with a power reserve of 50 hours and this is suspended from a blue calfskin strap for an added colour pop.
Hermès Arceau The Three Graces
Another watch from the French maison is graced with a vibrant and eye-catching dial design embellished with wood marquetry and a miniature painting on aventurine, surrounded by diamonds in a white gold case. These Arceau timepieces depict a graceful giant – a giraffe originally designed by the British artist Alice Shirley for Hermes scarves. The animal's profile is made from various types of wood that are naturally dark, light, stained or bleached, namely American walnut and maple, European sycamore and tulip tree, which were chosen for their nuances and textures similar to those of the original scarf design.
Back in 2015, Fabergé received an accolade from the Grand Prix d'Horlogerie de Genève for its peacock-inspired movement, which allows minutes to be read by a peacock's tail feathers as they unfurl each hour. Now, the Fabergé Compliquée Peacock returns with two new iterations that were hand-painted by renowned craftsman, André Martinez, on either platinum or rose gold. Unlike the original Fabergé peacock, this time the feathered creature is joined by its female equivalent, the peahen, who appears to be looking at his shades of blue, green and gold! Each watch has a diamond-set bezel and is offered with a green or teal crocodile leather strap.
Jaeger LeCoultre Reverso Hokusai 'Kirifuri Waterfall'
Part of its series of timekeeping 'tribute' watches, this new Jaeger LeCoultre Reverso celebrates East and West with an enamelled scene inspired by the Kirifuri Waterfall woodblock print made by Japanese artist, Katsushika Hokusai, in the early 1830s. The case back of this watch is 10 times smaller than the original artwork, so capturing every detail was a technical feat for Jaeger LeCoultre's master craftsmen. If you look closely, you will even see a group of miniature people at the base of the waterfall! For both the front and back of this piece around 70 hours of work was required, including eight hours for the layers of translucent green enamel alone.
From the tropics to the countryside of the La Chaux-de-Fonds valley now, where the Jaquet Droz Bird Repeater creates a scene of robins, butterflies, flowers, trees and hillsides to celebrate the 300th anniversary of its founder, Pierre Jaquet-Droz. The dial is crafted with white mother of pearl and black onyx, layered with appliqués in 18k red gold, and housed within a 47mm case. What's most striking about this creation is its three-dimension: look at the watch from a side angle and you will see how each element is layered on top of the next. This minute repeater is said to be an ode to the life of Pierre Jaquet-Droz, right down to the tiny house that's a replica of his childhood home. It's certainly a fitting tribute to an idyllic Swiss life.
Jaquet Droz Petite Heure Minute 'Smalta Clara' Hummingbird
It's all about plique-à-jour enamelling in the Jaquet Droz Petite Heure Minute Smalta Clara Hummingbird, which presents a dial that's akin to a miniature stained-glass window. In fact, the plique-à-jour process, known as 'smalta clara' is the Latin, results in a perfectly transparent enamel which plays with light, shadows and reflections, in this case bringing life to a hummingbird in a gradient of green hues. This remainder of the dial uses mother of pearl to create a subtle sheen, enhanced by 100 diamonds on the bezel and lugs. The finishing touch is a hand embroidered green satin strap that is the perfect reminder of nature.
Whether it's a gentle leaf-eating giant, a tiny hummingbird or a raging waterfall, these timepieces give us the option to feel closer to nature and to relish a few seconds of pure, natural escapism. In a buzzing urban jungle, a quick glimpse of one of these watch dials will transport their wearer far away and into the wild.