Whether it's the routine hustle of work trips or long-awaited family vacations, the global travel industry is booming like it never has before. The worldwide demand for adventure and escape has trickled down into the jewellery industry, where the appearance of pieces inspired by travel is more apparent than ever. Below are a few jewellery designers who epitomise this trend by using vivid gemstones and intricate designs to bring to life the places we go, how we get there and even what we pack! Let's get to know these designers better and listen to their sage words when it comes to traversing the planet.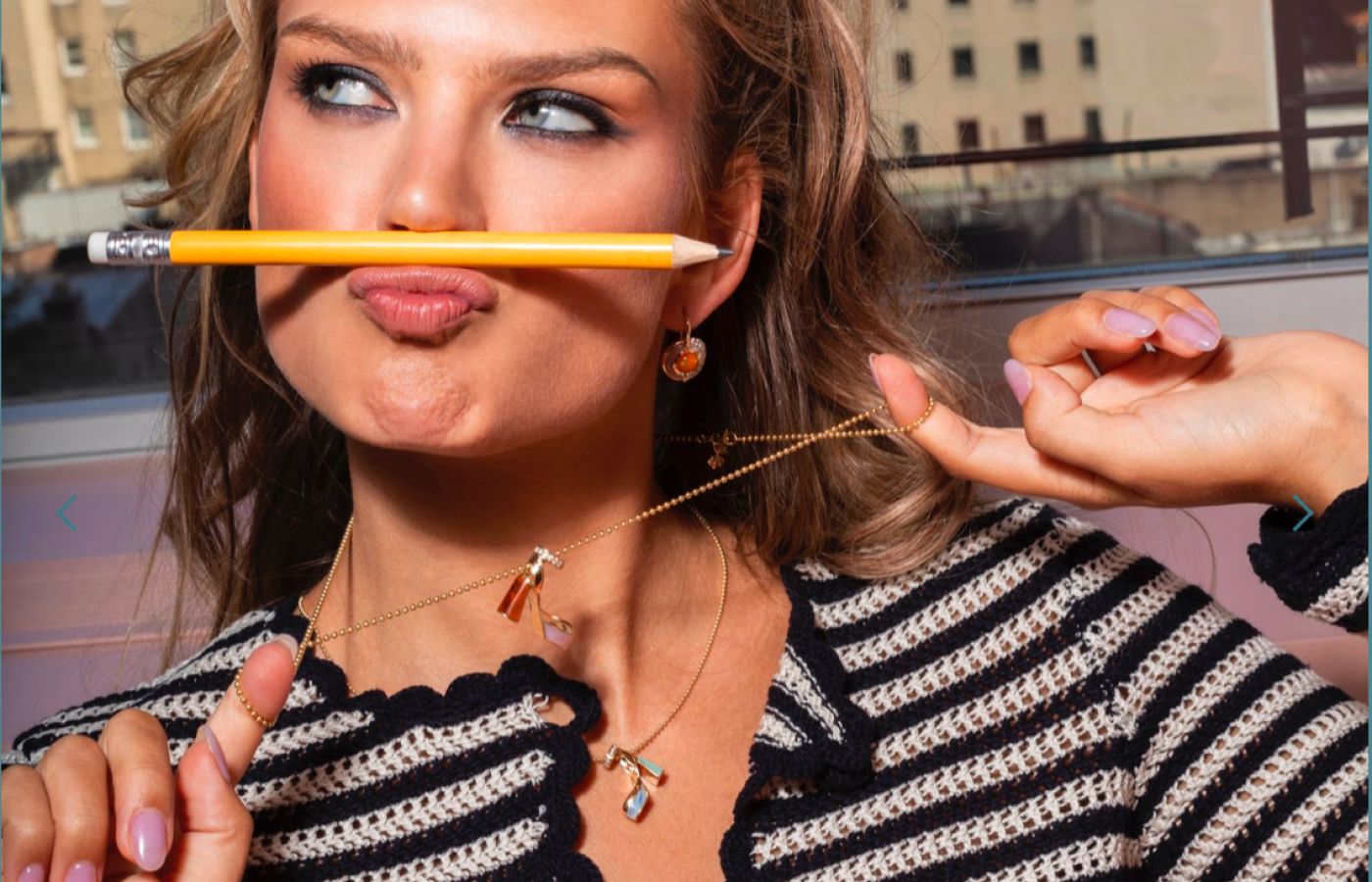 Annoushka Aeroplane Locket Charm
British jewellery designer Annoushka Ducas MBE is a woman who is constantly on the go. Between her business trips for Annoushka Fine Jewellery and raising awareness for her charity The Brilliant Breakfast for The Prince's Trust which helps young women to access education and employment, Annoushka captures the spirit of her jet-set lifestyle through the Aeroplane Locket Charm. Created in 18K gold and diamonds, this miniature plane is a reminder to embrace all adventures that life throws your way. It even has a secret hidden compartment for small precious keepsakes from your travels.
TRAVEL TIP FROM ANNOUSHKA DUCAS: "I've always loved travelling and exploring new places, I constantly have my eyes open for unusual, interesting objects and designs. I've found the most interesting pieces in the most unassuming and hidden places. I encourage everyone to look beyond the beaten track!"
Boodles Around Europe in 10 days Barcelona Suite
Nicholas Wainwright stands at the helm of the sixth-generation British family jewellery brand Boodles. To celebrate his nearly 50 years in the business, the creative team encouraged him to embark on a grand tour of Europe in ten days, to seek inspiration for a new and iconic collection: Around Europe in 10 days. However, this was not your ordinary travel plan, the trip included visiting some of the continent's most historical cities by hot air balloon and other out-of-the-box modes of transportation, The Barcelona earrings and necklace are perhaps the most conceptual design of the collection. They capture the vibrancy and lifestyle of the city of Barcelona and its iconic Gaudi architecture through multi-shaped rainbow sapphires, opals, pearls, and diamonds set in yellow gold.
TRAVEL TIP FROM NICHOLAS WAINWRIGHT: "Bring a pen and paper, and always something pink!"
Marlo Laz En Route Necklace
Designer Jesse Marlo Lazowski credits a trip to India as the source of her passion for jewellery design, spending an extended period in Jaipur where she worked with a team of artisans. Her En Route pendant reminds the wearer to keep moving forward and evolving through the journey that is life. Created in 18K gold and precious gemstones, this series celebrates the internal journey of finding oneself, symbolising being 'En Route' to a better you and a better world.
TRAVEL TIP FROM JESSE MARLO LAZOWSKI: "I'm an over-packer, but I do try to plan based on what type of trip I'm taking. When it comes to jewellery, I try to curate a more neutral gemstone palette so that I have more flexibility with matching the colours of my outfit."
NeverNoT Travel Collection
What are your travel plans? This is the question the founders of NeverNoT asked themselves when creating the NeverNoT Travel collection. Inspired by vacations, summer days and exciting long-distance flights, Natia and Nina created a collection of luxurious suitcase-shaped pieces of jewellery set with precious materials to depict panoramic views of exotic destinations and dream travel essentials. The pieces in this collection are crafted in gold and hard stones: malachite, bull's eye (heated tiger's eye), black and white mother of pearl, lapis lazuli, opal and diamonds. Full of beating suns, aeroplanes in flight and tropical colours, this collection is a much-welcome dose of escapism.
TRAVEL TIP FROM NEVERNOT CO-FOUNDER NINA DZHOKHADZE: "When travel, I try to see as many beautiful places as possible, even if it's a short work trip. Meeting new people and seeing new places enriches your soul and mind and makes you a happy person. Keep exploring the world!"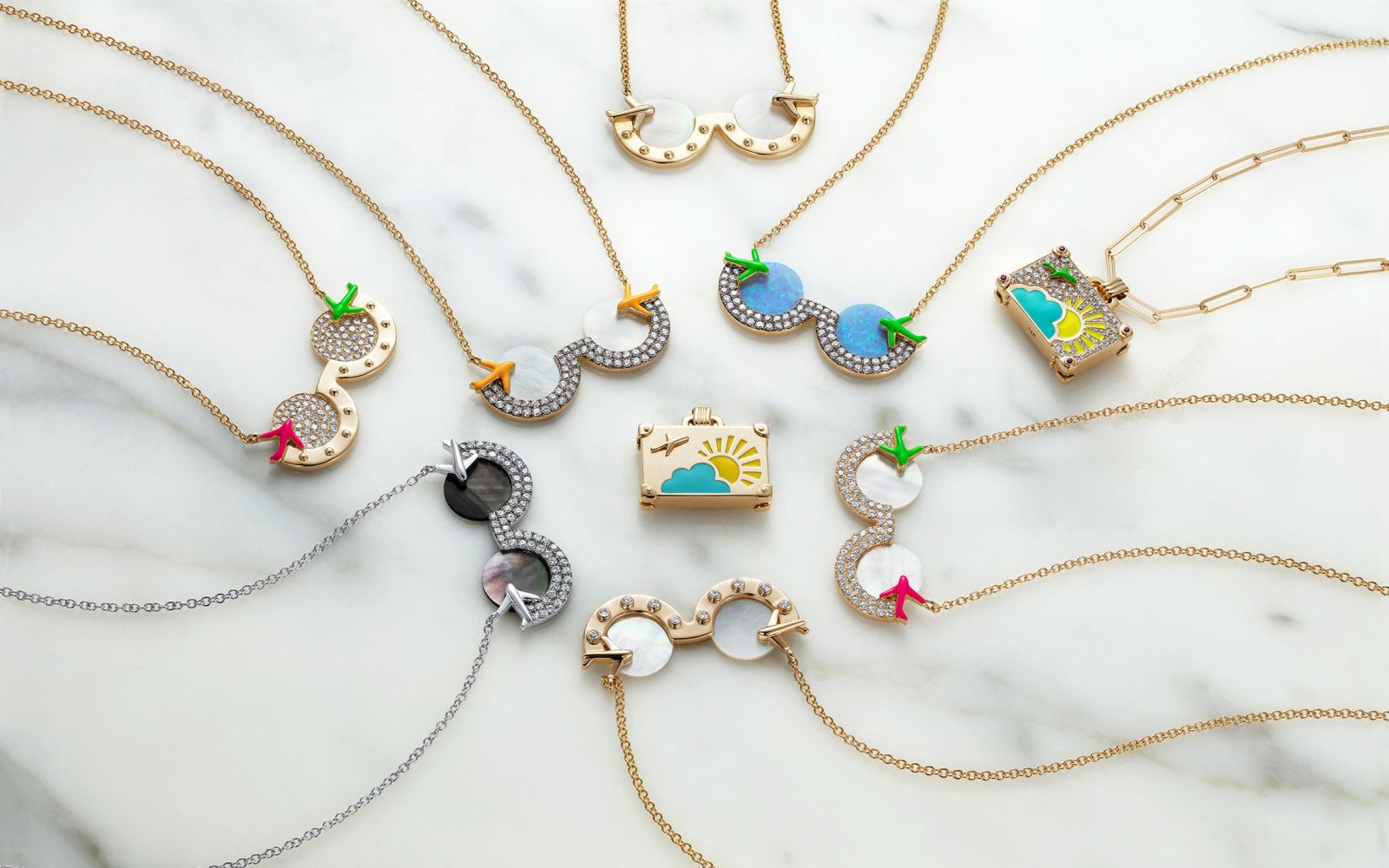 Van Cleef & Arpels Lucky Summer Collection
Ever since it was founded in 1906, Van Cleef & Arpels has been inspired by nature and travel. In its latest collection, Lucky Summer, the Maison brings attention to its savoir-faire in manipulating hard stones by creating six pieces, each of which features a motif related to summer. Lapis lazuli, turquoise, chalcedony, red jasper and white mother-of-pearl are set in warm yellow and rose gold to bring to life wind-swept sails, ocean waves and exotic sea creatures, making us all dream of ocean-front postcard vacations.
TRAVEL TIP FROM VAN CLEEF & ARPELS: "In its latest high jewellery collection, Le Grand Tour, Van Cleef & Arpels inspires viewers to educate themselves through travel. Each piece depicts through precious gemstones and metals the historical landmarks and the artistic prowess of the European continent through literal and figurative designs."
Yvonne Leon L'Échapée Belle and Petits Bateaux Jewels
Parisian jewellery designer Yvonne Leon has created a series of nautical fine jewellery pieces inspired by the warm waters and boats that dot the French Riviera throughout the summer months. This picturesque scenery is a sought-after destination, where yachts filled with passengers dock to appreciate the culinary scene and parties that St Tropez and Cannes have to offer. These yellow gold and diamond boats allow wearers to disconnect from reality and set sail on their dream vacation.
TRAVEL TIP FROM YVONNE LEON: "To have a good holiday, I think it's important to know how to disconnect from everything during your trip. Taking time with your loved ones is the best therapy! Eat, sleep, party and repeat, but: BE CAREFUL, never forget your jewels to enhance your holiday outfits, that's what's going to make all the difference!"
Zeemou Zeng The Art of Travel Collection
London-based designer Zeemou Zeng's The Art of Travel jewellery collection celebrates the freedom and independence of travel and the romance in the adventure of self-discovery. Zeng brings these emotions to life through pieces that take on the literal shape of the most essential travel item such as suitcases and purses, reinterpreting them in a colourful, chic and fun way by filling them with glowing green Fuli Gemstones peridots. Zeng hopes each piece will put his clients in the travel mood, full of excitement, curiosity and wonder about our beautiful world.
TRAVEL TIP FROM ZEEMOU ZENG: "Travel by yourself at least once, embrace the freedom and be open to new cultures, new environments, and new experiences, then you'll learn a lot about yourself and become more independent."
Mason & Books Journey Collection
Designer Jamie Books created the Journey collection as a reminder to enjoy both the journey and the destination. Inspired by the shoes women walk miles in to make their milestones and achievements possible, each sneaker, high-heeled sandal and cowboy boot is a joyful talisman to remind all women to acknowledge the little wins and small joys that got them from point A to point B. Created in yellow gold and precious coloured gemstones, these pieces are full of inspiration and excitement.
TRAVEL TIP FROM JAMIE BOOKS: "Always bring a White and Warren cashmere wrap and never check a bag."
Cindy Xu Rainbow Flight Boulder Opal Brooch
Sydney-based jewellery designer and self-proclaimed 'opal jewellery artisan' Cindy Xu is well known for her bold and out-of-the-box designs. Her one-of-a-kind Rainbow Flight Boulder Opal brooch epitomizes the designer's love of travel and escapism. Created during the height of the Covid 19 lockdown, this brooch symbolises her desire to fly freely and explore. At the time, Australia had one of the world's strictest quarantine regulations, rendering any form of travel almost impossible. The large boulder opal with its wavelike shape rests at the heart of the design, as swirling clouds of mother of pearl, a gem-set aeroplane and a rainbow made of multi-coloured sapphires suspended above its surface. This unique piece is a precious representation of Xu's desire to soar across the sea and return to her love of exploring new places and learning about different cultures.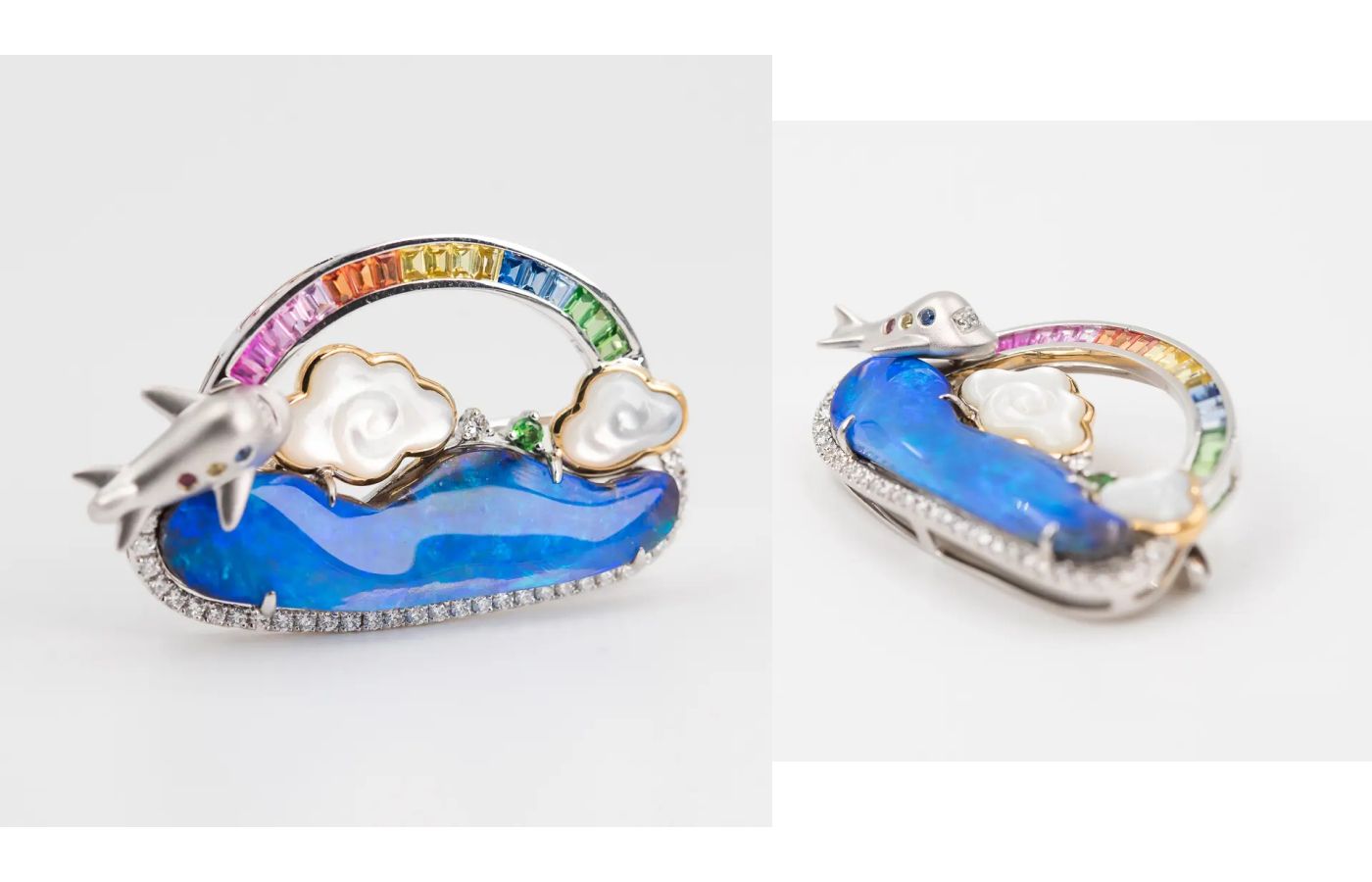 My tried-and-true tip for people who want to travel comfortably is to always arrive at the airport early, however, do not rush to be first to board the aeroplane. The trick is to board last, allowing time to scope out any empty seats that might be better than the one you were assigned!
These are just a few of the amazing travel-inspired pieces on the market today. Let us know if you have come across any interesting creations that have inspired your love of travel.