In early June, I met with Assael at the Couture show in Las Vegas. This was an opportunity to view some of the brand's latest novelties and new additions to its existing collections. My gut instinct told me to start with The Colors – a collection that blends diverse shades of cultured pearls with coloured gemstones in warm, rich and unexpected combinations. This season, pieces with amethyst, chalcedony, green garnet, cat's eye moonstones, and carved grey jadeite reflect the brand's sense of experimentation and fun.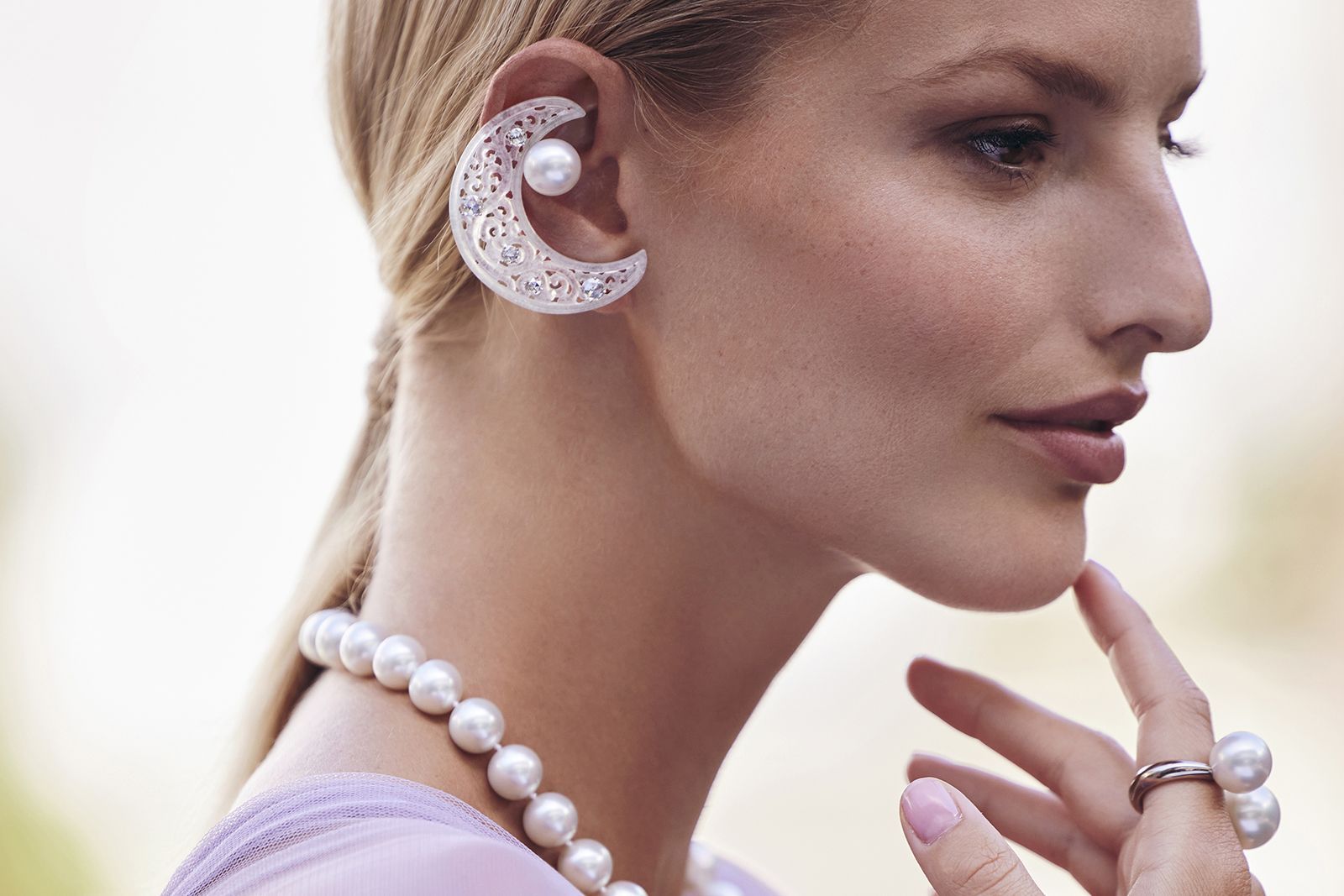 The Colors
Let's start with one of the larger pieces, the 'Lagniappe' necklace with multiple strands of Akoya cultured pearls paired with nearly eight carats of Old European-cut diamonds and a detachable elongated aquamarine drop of 17 carats. If this has a more classical aesthetic, then two rings bring a hit of modernity: a Japanese Akoya cultured pearl number with a 7.33-carat aquamarine in 18k rose gold and a second with a trio of golden Keshi South Sea pearls paired with two trilliant-cut aquamarines totalling 2.70 carats in 22k yellow gold. Coloured gemstones abound here, with bi-colour tourmalines and morganites paired with Tahitian, golden South Sea and Akoya pearls. I fell in love with some pieces in particular, including an 'aubergine' Tahitian natural colour pearl necklace, a pair of 'In Reverse' asymmetric earrings with 10.55 carats of deep green sunstone and Tahitian cultured pearls, and a ring set with a whopping 12.04-carat 'sunset' tourmaline in a warm orange hue.
Assael also presented new iterations of its 'Frame' earrings, with geometric shapes crafted in black jadeite studded with South Sea and Japanese Akoya pearls and even a pair with the striking contrast of coral. There's also the warmth and dynamism of its turquoise and golden South Sea pearl creations that balance the femininity of pearls with the toughness of rockier materials. And this leads us perfectly to the highlight of this year's Couture show for Assael… the unveiling of its new NatureScapes collection!
NatureScapes
Think of NatureScapes as an extension of The Colors – an ode to more unusual materials that can be fabricated into something beautiful. Here Peggy Grosz uses petrified wood, jasper and metamorphic rocks that have been "painted by Mother Nature herself" to create a balance of land and water.
She explains: "Whether it be landscapes, the sky, sedimentary rock formations, I see a scene from nature in all of them. To be able to add pearls, corals and gemstones to them to 'finish' nature's works and highlight them in shapes and forms that work with the body has been pure joy."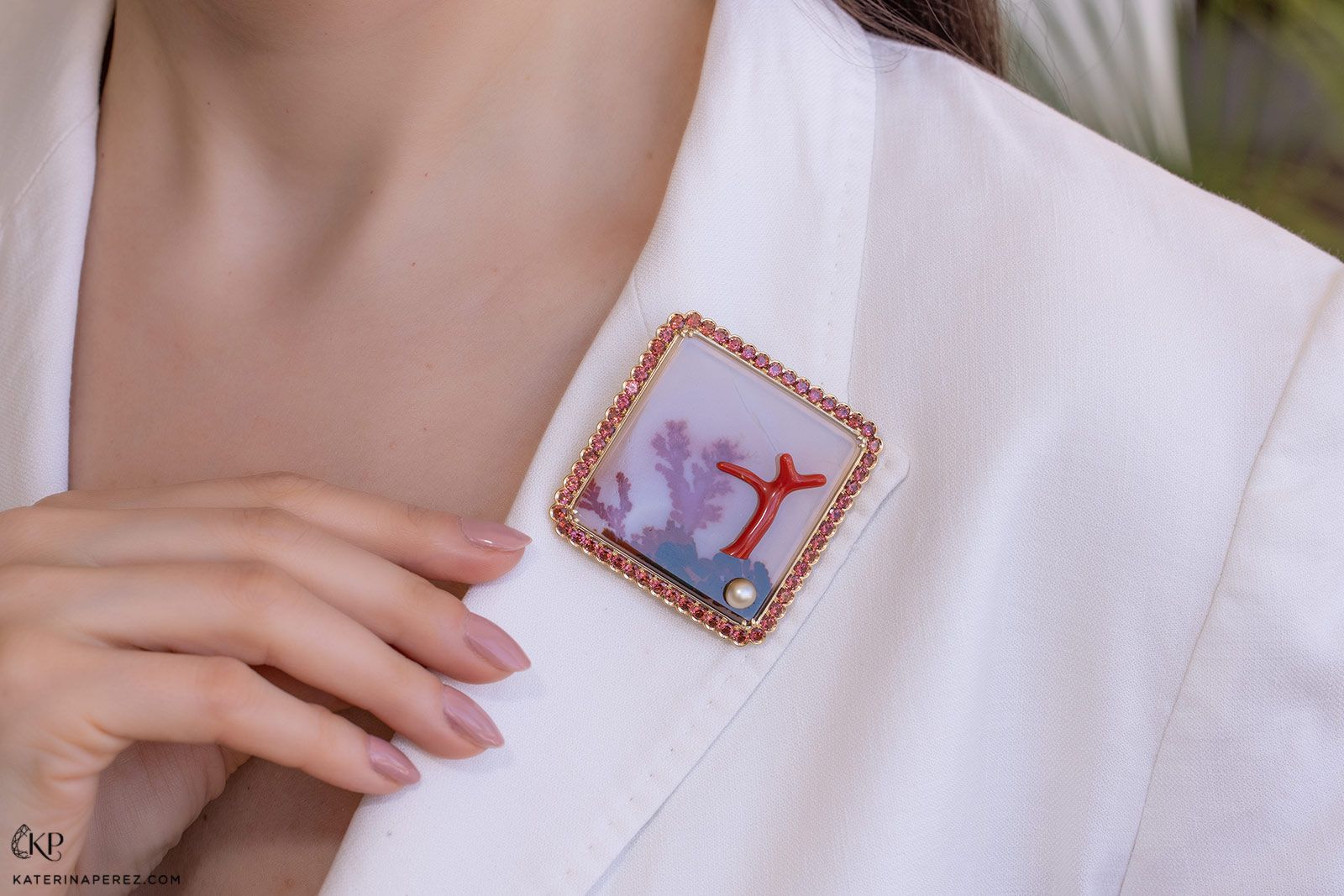 I am reliably informed that, including the pieces I am sharing with you here, there are around 35 total creations in the NatureScapes line. In terms of Peggy Grosz's favourites, there is a pair of 'Maligano' Indonesian jasper earrings in the collection that "resemble Japanese landscape paintings with Sakura blossoms". The grey tones in this material are accentuated with Tahitian cultured pearls and complemented by 18k rose gold. Grosz also points to the petrified wood containing mother-of-pearl-like calcite patterns that play a starring role in a pair of earrings capped with 12.2mm South Sea cultured pearls in white gold.
Three pieces contain almost animalistic examples of petrified wood, where unique patterns appear like moth wings or textured fur! A pair of 'honeycomb' petrified wood and Tahitian pearl earrings are grey and slightly futuristic, whereas 'golden oak' petrified wood has deep veins of orange that complement golden South Sea pearls. Finally, there's the combination of petrified wood and Fijian natural-coloured cultured pearls in a pair of earrings that look fossilised and ancient in nature. Two further designs include a pair of earrings with natural metamorphic stones, veined with deep gold and brown tones thanks to pyrite, paired with South Sea Keshi pearls, and a Cassis natural saltwater pearl ring complete with a half moon of diamonds in 18k rose gold and platinum.
For fans of coral, especially in deep cherry red tones, there are the NatureScapes copper rose agate earrings with a warm 18k rose gold bezel setting and two 12mm spheres of Sardinian coral. You may know that Assael is a pioneer in sourcing sustainable precious coral, especially Angel Skin and Sardian coral varieties that take months (if not years) to match in colour, tone and texture. I was able to view some new coral creations at Couture, including a pair of Angel Skin coral, carnelian and diamond earrings, a pair of angel skin, pink tourmaline and fancy pink diamond earrings, and some 'candlelight' carnelian, Sardinian coral and garnet earrings. If I had to pick a piece de resistance, however, it would be the 'Modernist' earrings with a pendulum-like arrangement of lapis lazuli half-moons, yellow sapphires, and Sardinian coral in 18k yellow gold.
Bubbles by Sean Gilson for Assael
No encounter with Assael would be complete without perusing the newness in its best-selling line: Bubbles by Sean Gilson for Assael. This offering includes rare South Sea, Akoya and Tahitian pearls, plus Sardinian Coral, in designs that "float like the bubbles in a glass of champagne". One of Assael's centrepieces for JCK Las Vegas was an exciting new Bubble creation in the form of a collar necklace featuring a slimline wire of precious metal that wraps the neck in drop-shaped pearls and matching pear-shaped diamonds. Finally, I would like to mention two pieces that caught my attention for their refined simplicity: the Sean Gilson for Assael Wrap ring and the Assael Perfect Pair ring. The former is a single wave-like curl of 18k gold, topped with a 'floating' South Sea cultured pearl, while the latter is a contemporary spin on a toi et moi ring with a South Sea pearl juxtaposed against a round brilliant-cut diamond, also in 18k yellow gold.
I am sure you will agree with me that Assael's latest novelties demonstrate an innovative and exciting direction for the brand. The promise of further NatureScapes designs is a tantalising treat for the future… you can be assured that I will share more examples when the time comes. Watch this space!