In this article, I want to draw your attention to five unique masterpieces. All of them appear in recently unveiled high jewellery collections, some of which were presented during Haute Couture Week in Paris, either virtually or in real life.
"The Amarante necklace invites you into the mysterious heart of Mother Nature, where her innermost secrets radiate and glow. Every woman who is lucky enough to wear it will transform into an invincible goddess under the rays of this magical flame," say Franklin and Daisy Adler, Directors of the Adler family jewellery company, as they explain the concept behind this extraordinary high jewellery necklace. The brand, founded in 1886 by Jacques Adler, continues to surprise and astonish its customers today. Its eclectic style, which combines different cultures, traditions, techniques and materials, is the secret to the ongoing relevance of Adler jewellery throughout the world.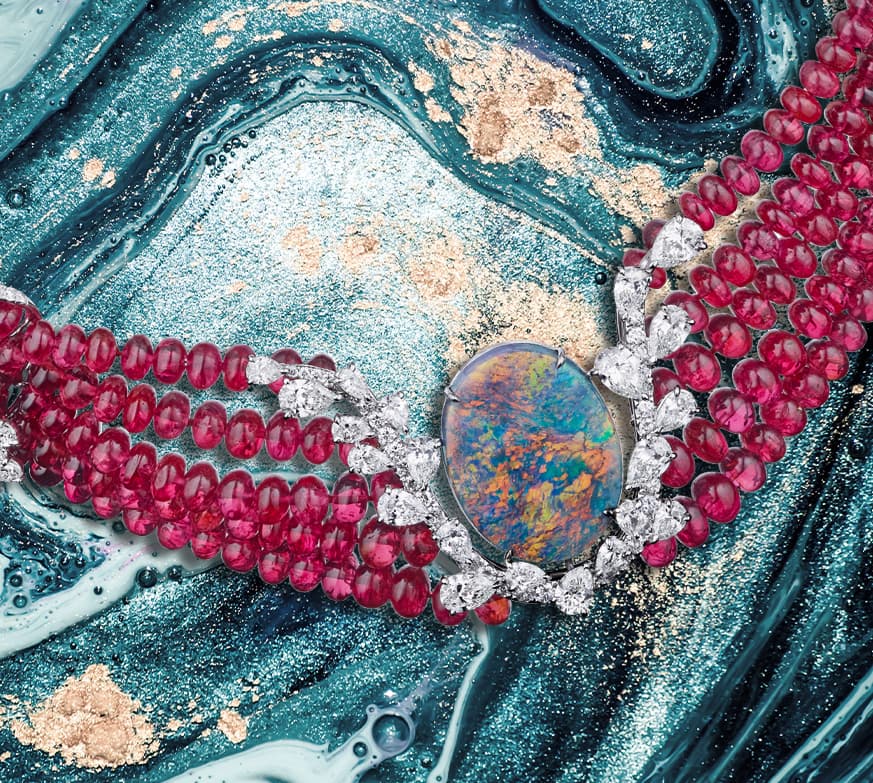 The Amarante necklace features 357 carats of spinels, which symbolise the "eternal flower", the Scarlet Amaranth, which was believed by the Aztecs to increase vitality. They are complemented by 53 pear-shaped diamonds weighing almost 10 carats and an incredible 15.04 carat black opal. All this diversity simultaneously provides incredible contrasts and echoes, reflecting the truly mysterious heart of Mother Nature.
Unexpected shapes and bold combinations of colours is a defining signature of the Italian brand Bvlgari, which inevitably results in beautiful jewels that are full of joy. The new Lady Arabesque necklace from the new Barocko high jewellery collection is one such creation. Inspired by the baroque architecture of Rome, the richness of the sapphires, tourmalines, emeralds and diamonds, combined with the dizzying array of cuts and sizes, create an amazing sense of movement.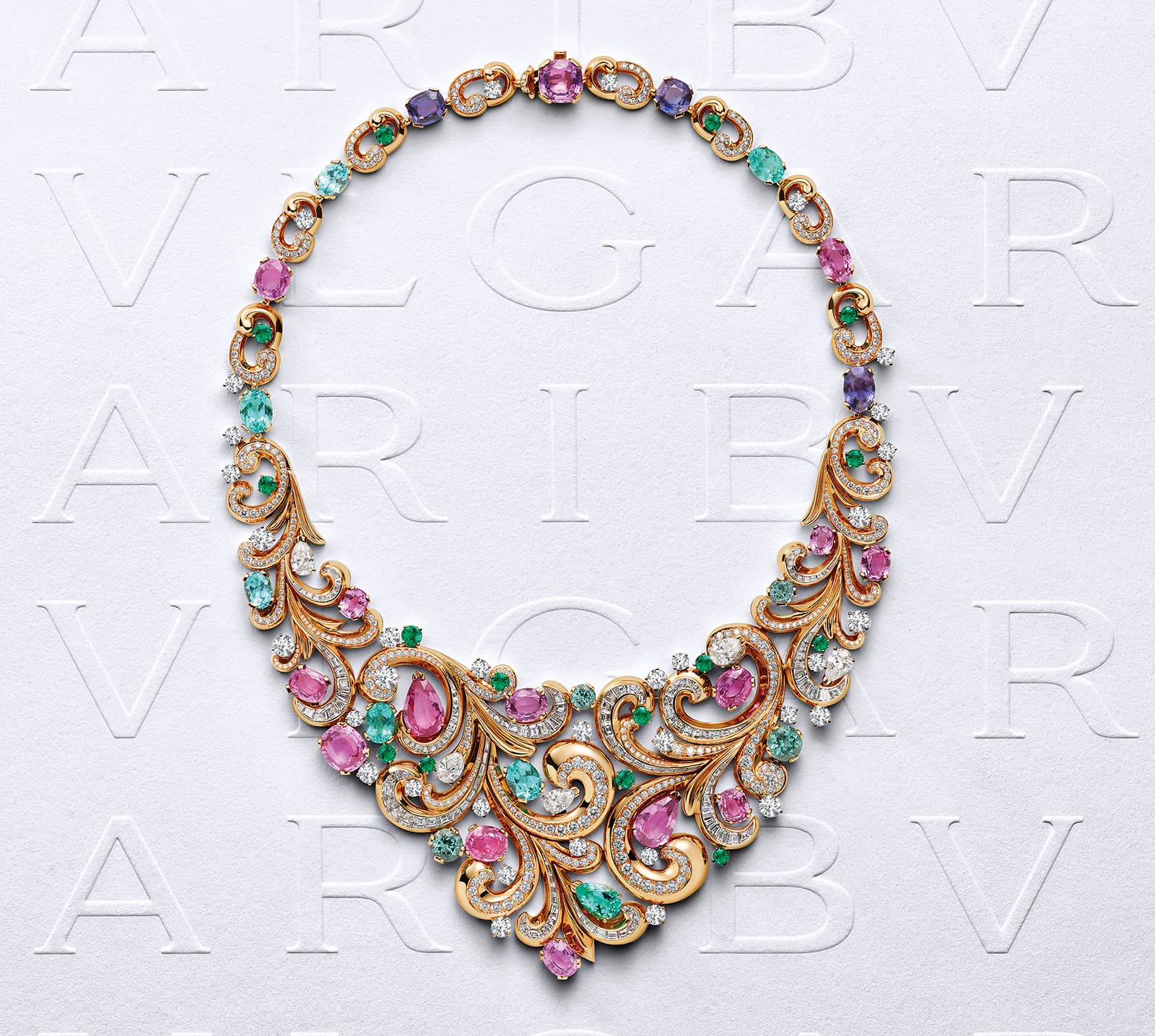 In this necklace, Bvlgari's Creative Director, Lucia Silvestri, has, for the first time, combined fancy pink sapphires and neon Paraiba tourmalines in one piece. Amazing golden arabesques twist and flow between the stones, creating an ultra-modern take on the iconic bib necklace style. "Roman inspiration – Baroque and its splendid heritage – merged with Bvlgari's insatiable desire to surprise. Lady Arabesque turned out to be a capricious lady, it was difficult to tame her: it took almost 1,000 hours to combine all the elements into a harmonious whole. Gems fixed at different levels, different cuts that give brightness to the whole piece, volume and proportions have become a challenge that we have accepted with joy and a slight creative madness," is how Bvlgari cheerfully describes the creative process.
What would happen if you tried to paint a panther? Few have dared to mess with this big cat, with the exception of the designers and jewellers at Cartier. Although on first glance you might see pebbles plucked from a riverbed in this avant-garde composition of irregularly shaped opals, look more closely and the composition resembles an abstract interpretation of the Cartier panther's iconic spots in the remarkable Hemis necklace, a highlight in Cartier's new [SUR]NATUREL high jewellery collection. Many hours of work by designers, cutters and gemstone experts were invested in making the surface of these smoothly polished opals as pebble-like as possible, with colour variations ranging from blue to purple-grey. Some are slightly translucent, while others display patterned spots. The manner in which they are interpreted is entirely up to you.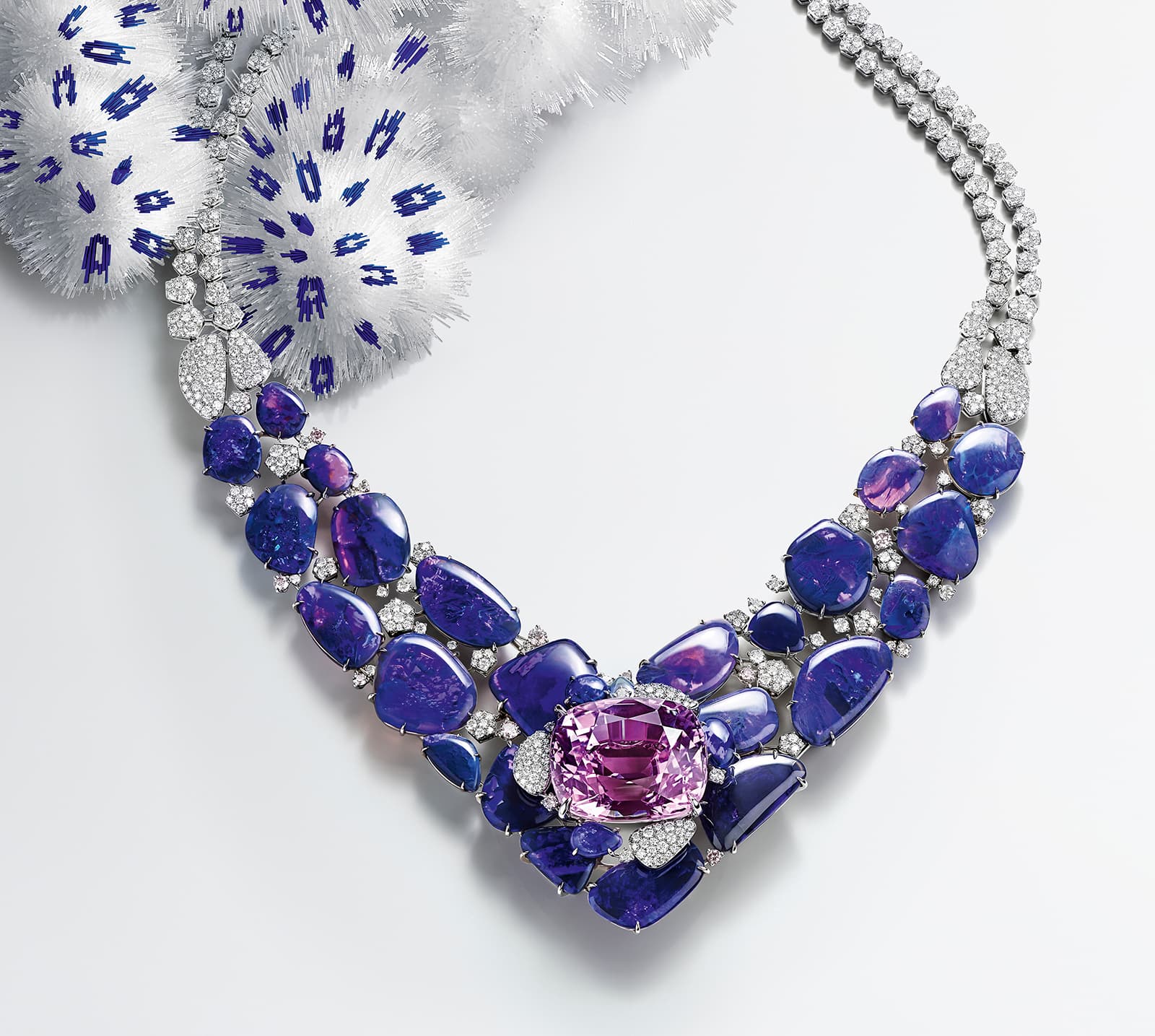 The central, intensely pink kunzite weighs 71.80 carats and is completely free from inclusions visible to the naked eye, which is positioned right at the heart of this lattice style necklace. All the elements of the necklace are interconnected by a series of tiny links, which create a harmonious, fluid, perfectly balanced surface of stones.
Every spring, nature awakens, filling the world with the subtle scent of vibrant flowers. This was the image chosen by the designers at New York jewellery house Harry Winston for its one-of-a-kind Bloom Wreath necklace. The colourful precious and semi-precious stones that have been intertwined together capture that fleeting but captivating moment in time when the petals unfurl on spring's first flush of flowers, filling us with joy. Amethysts, diamonds, rubellites, aquamarines, sapphires and peridots of various cuts are designed to recall the uniqueness and diversity of flora, each species of which undergoes a unique transformation from seed to exquisite piece of art. Every gem in this delightful high jewellery necklace experienced a similar journey from creation to polished stone, but thankfully there is nothing transitory about this wonderfully colourful creation, the beauty of which is designed to bloom for eternity.
Pomellato - Gourmette Caméléon
The already familiar blend of gemstones, astonishing sizes, chunky gold chains and iconic techniques is gracefully enhanced and reaches its zenith in Pomellato's first all-encompassing high jewellery collection, La Gioia. For its debut into the rarefied world, Pomellato did not invent something new. Instead, it chose to reinterpret its own story through a series of jewels that combine a bold vision with masterful execution.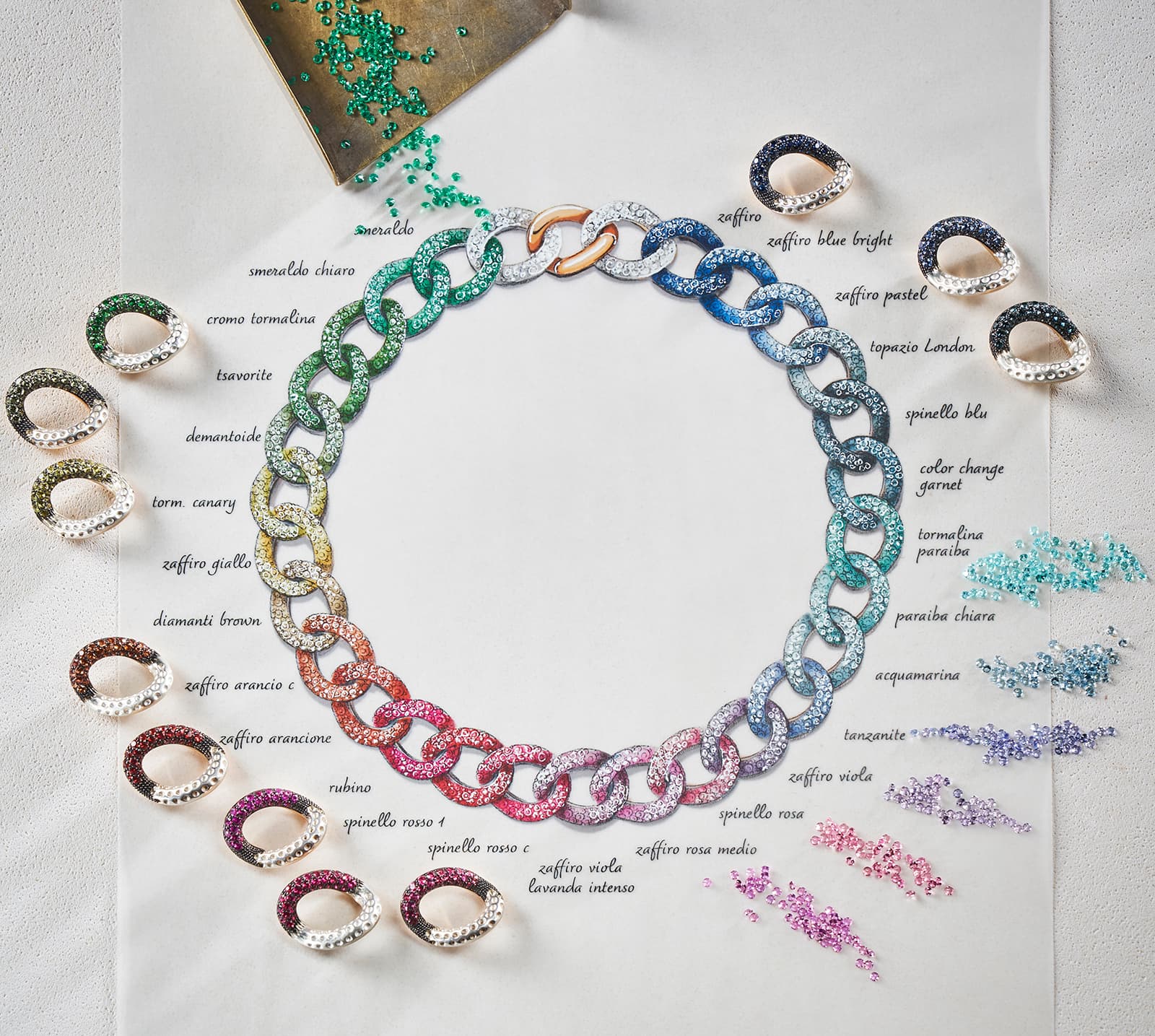 Large chains have been reincarnated in the dazzling Gourmette Caméléon necklace, which comprises 29 gold links adorned with a gradation of multi-coloured precious stones: sapphires, emeralds, tourmalines, spinels, tsavorites, garnets, rubies, tanzanites, aquamarines, topazes and diamonds. It took almost 200 hours of work to make this "gourmet chain" shine like a rainbow, an enduring symbol of hope.
So, our experiment has come to an end and I am intrigued to know: has my hypothesis been confirmed? Has this spectacular collection of high jewellery necklaces brought you much happiness and joy?