Messika is a brand that never fails to impress me with the imaginative innovation of its diamond jewels, especially those that use large solitaires in unexpected ways. One might think everything that could possibly be done with a diamond has been achieved, and yet Messika always manages to find the road less travelled and arrive at a contemporary destination. Its new Magnetic Attraction High Jewellery Collection is an ode to the energy and movement of contemporary dance, incorporating the contrasts of fast and slow, rhythmic and steady, dynamic and diminutive. The collection contains 16 pieces across five sets – photographed on dancer and choreographer, Fanny Sage – with pear-cut diamonds taking centre stage in extra-large hoops, ear cuffs, anklets, headpieces and rings. Stones appear to balance in mid-air, dangle from delicate diamond-set chains or swing as if given a life of their own.
Valérie Messika explains: "It was very clear that this High Jewellery collection, solar and colorful, inspired by movement and fluidity, was to be staged on a dancer. This collection is a way of infusing the energy, the lightness, the dance, the femininity... a sort of breeze of life, an art of movement."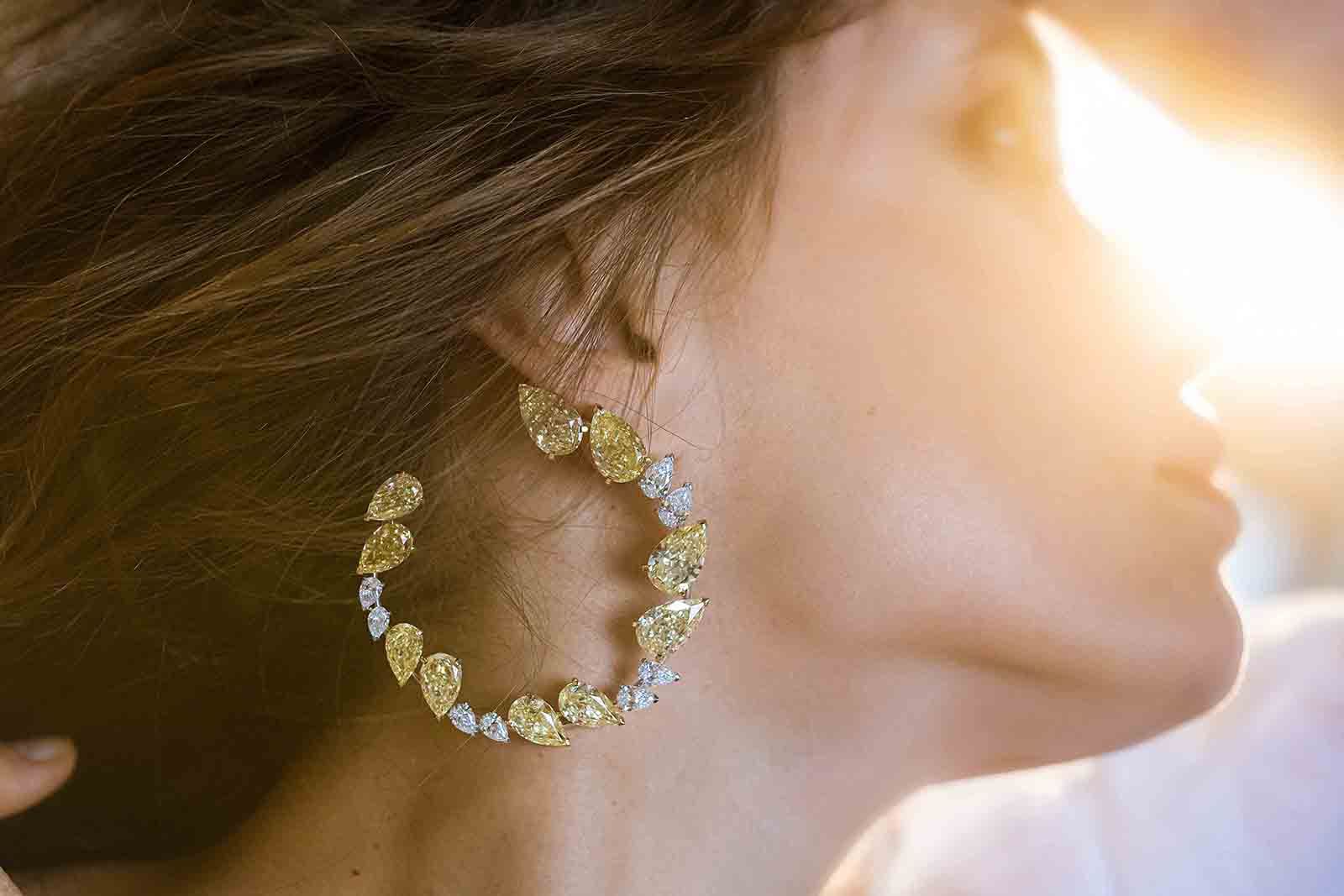 Undoubtedly the star of this new high jewellery offering is the pear-cut diamond, whose presence throughout is a constant even when designs take dramatic twists in fresh directions. The Pear Lover set contains single earrings, ear clips, a necklace and 'XXL' hoops with pear-shaped stones in all sizes, mixing the brilliance of white diamonds with the sunshine hues of yellow diamonds. According to Messika, "they symbolise the return of meeting up and life as we remember, as stones swing one way and then another". The diamonds offered here are significantly sized, including a 7.01 carat fancy yellow pear-shaped stone in the Pear Lover necklace, a 5.44 carat pear-shaped diamond in the earring and a total of 41.32 carats of fancy yellow, light yellow and colourless diamonds in the outsized hoops.
The Diamond Magnet suite explores the notion of magnetic poles with rings and a bracelet that appear as if pear-shaped gems are attempting to escape one another's clutches, or perhaps creating an invisible forcefield around themselves. "Uncrossable lines" are created with barriers of emerald-cut diamonds, while the larger pear-shaped diamonds are minimally set and suspended on thin lines of metal to give a floating appearance. The Toi & Moi ring is my favourite, with a fancy yellow pear-shaped diamond of 5.35 carats and a second of 2.5 carats. There's also a two-finger ring with a fancy yellow pear-shaped diamond of 8.01 carats that perfectly hovers between the digits.
Moving onto Magnetic Love and we see the remarkable imagination of Valérie Messika brought to life. Solitaires are placed in opposite directions but have the freedom to move and spin on a loop of precious metal, studded with pave diamonds. Pieces are made to be worn in multiple ways, with colourless diamonds on one side and soft blue and pink diamonds on the other. Another single earring is set with two pears of 7.06 and 3.02 carats, while a swinging cocktail ring is set with a 5.04 carat diamond and a second of 3 carats in a way that I have personally never seen before.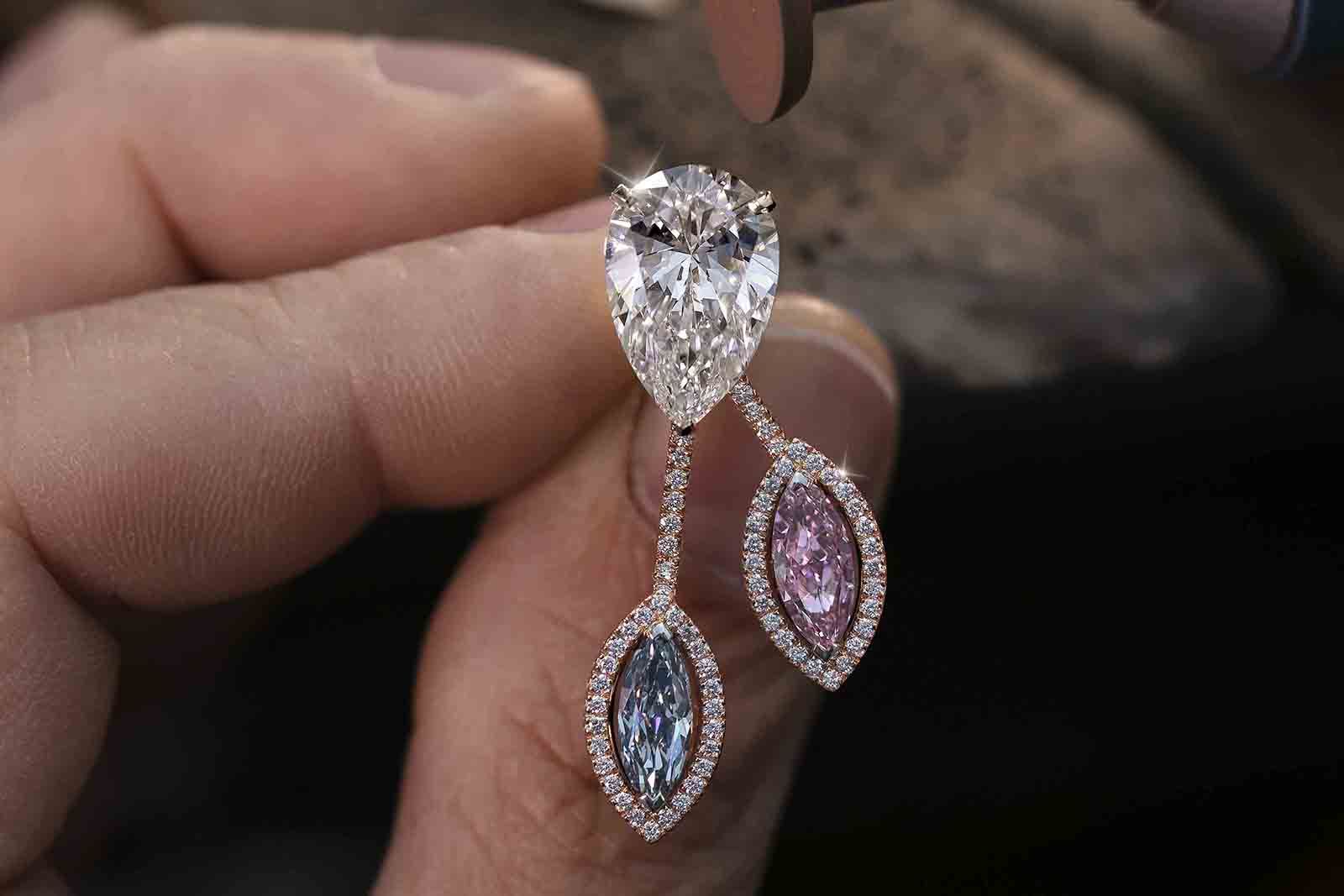 The next set – Dancing on Air – is described as having a "bohemian allure," and it's easy to see why when diamonds are fashioned as hand and ankle bracelets. The star of the set, however, is an extraordinarily large hoop earring (designed to be worn alone or asymmetrically) with a swinging pendulum in its centre that takes the form of a 10.03 carat pear-shaped diamond. This stone is suspended from a delicate thread-like chain that's topped with a 2.5 carat gem and orbited by two rings of gold and diamonds. The hand bracelet and anklet don't skimp on carat weights either, with pears of 6.04, 2.01, 4.42 and 2.8 carats featured.
Finally, there is Pear Appeal – a set that's infused with a golden, Greek goddess flavour. The design concept began with magnetic fields, demonstrated here as halos of diamonds, which radiate outwards from a central body. Of course, these 'central bodies' are fancy yellow diamonds of striking proportions, some over 10 carats, set in 18k yellow gold. The Pear Appeal earrings set the tone with a 13.24 and 12.45 carat fancy yellow pear-shaped diamond, plus colourless gems for a total weight of 27.69 carats. Next, there's a subtle ear clip, a headpiece with a 7.02 carat fancy yellow stone and a two-finger ring, with another pair of fancy yellows of 7.58 and 7.06 carats.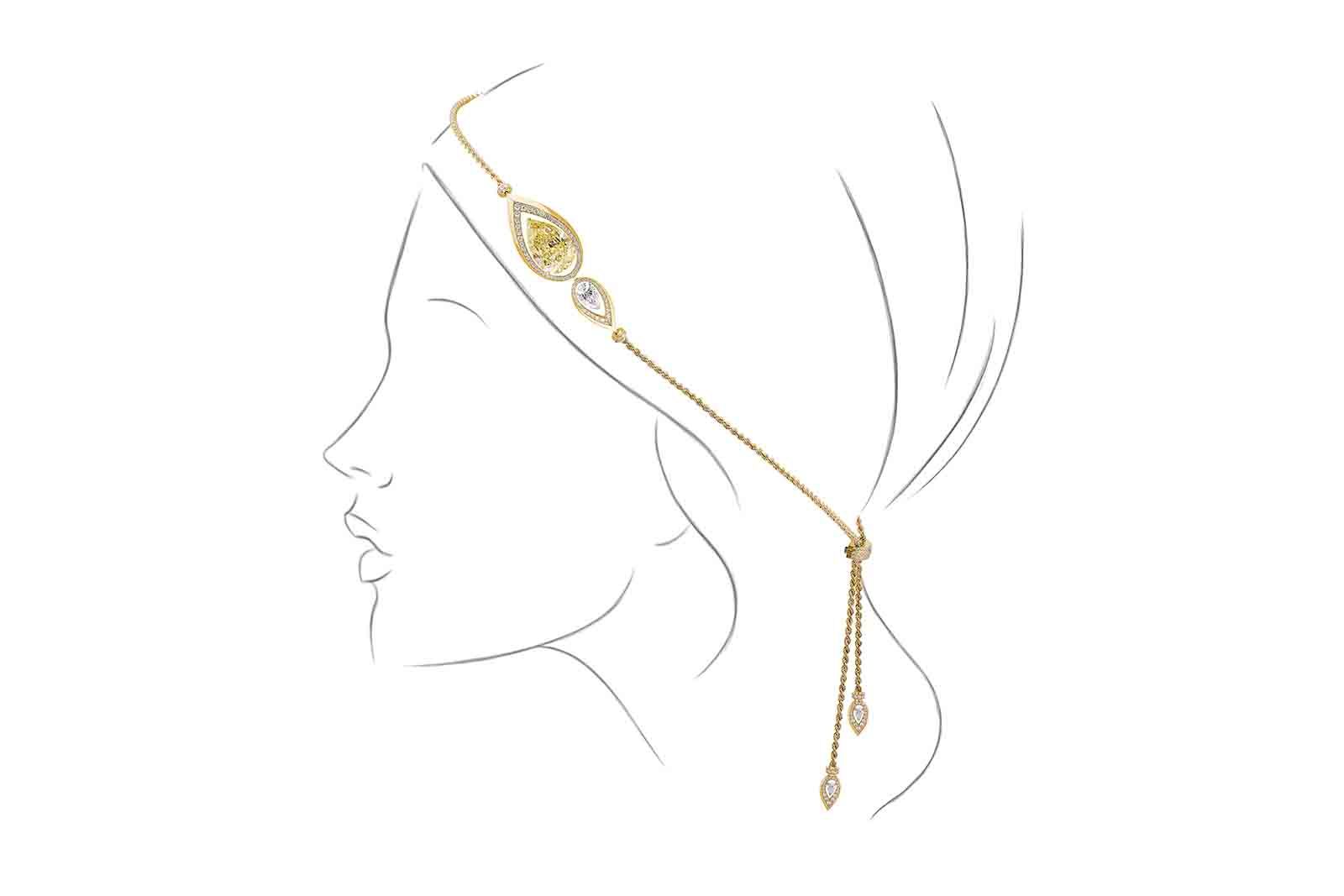 This new collection may be called Magnetic Attraction, but it's not simply about bringing elements together, but pushing them apart, making them float, swing, swirl and move. In-keeping with her contemporary ethos, Valérie Messika has debuted a collection that's putting pear-shaped gems on a new design trajectory. I can't wait to see where she takes us next.