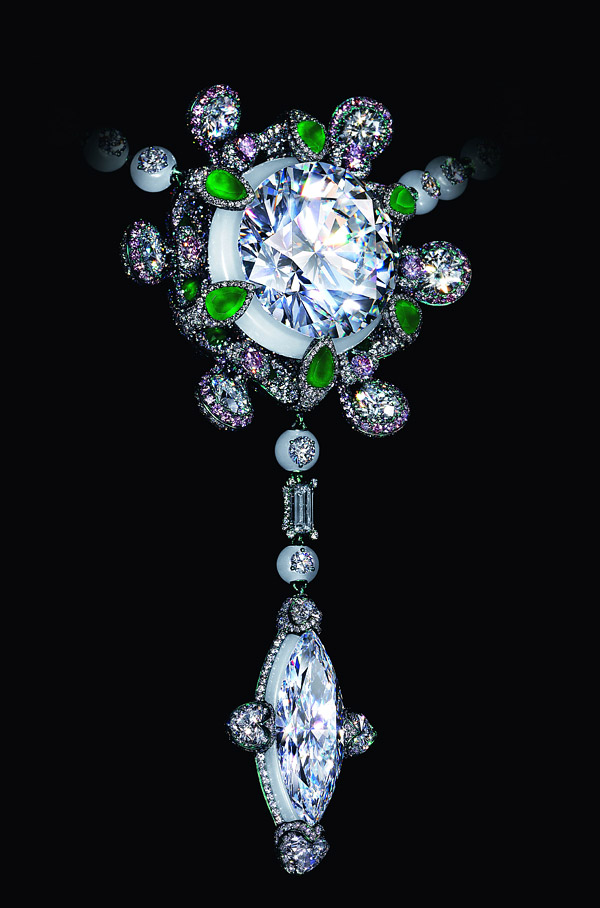 During my recent trip to Hong Kong I had a unique opportunity to meet an extremely talented jewellery artist famed all over the world. You have probably already guessed who I am talking about: Wallace Chan.
Mr. Chan welcomed me and my fellow journalist, Anthony Del Marco, into his showroom where we had a fascinating chat about the jeweller's creations and his unique views on the art of jewellery. I will share that conversation with you another time. Right now I want to draw your attention to Mr Chan's latest work: the extraordinary transformer necklace 'A Heritage in Bloom' created for Chinese jewellery giant, Chow Tai Fook.
Wallace Chan: "In 2014 I was visited by Dr Cheng Kar-Shun, Chairman of Chow Tai Fook, who looked at my latest pieces and listened to my views on jewellery and its three key elements: material, craftsmanship and creativity. Then he shared with me the reason for his visit: Chow Tai Fook had acquired a 507 carat rough diamond from the Cullinan mine in South Africa which was the largest flawless clarity rough diamond in the world."
It took Chow Tai Fook three years to cut and polish such a unique stone. Eventually the effort paid off and a spectacular 104 carat brilliant-cut diamond with top characteristics (D – colour flawless) was born as well as 23 other smaller stones!
Wallace Chan: "Initially the Chairman of Chow Tai Fook presented just the one stone to me, the 104 carat diamond. I was, of course, curious to know what had happened to the other stones, since the rough diamond was originally much larger in size. At first I was worried that the other flawless diamonds had already been sold but luckily it turned out that the 23 remaining Cullinan gemstones were still with the company, which was great news for me because I was keen to bring the family back together!"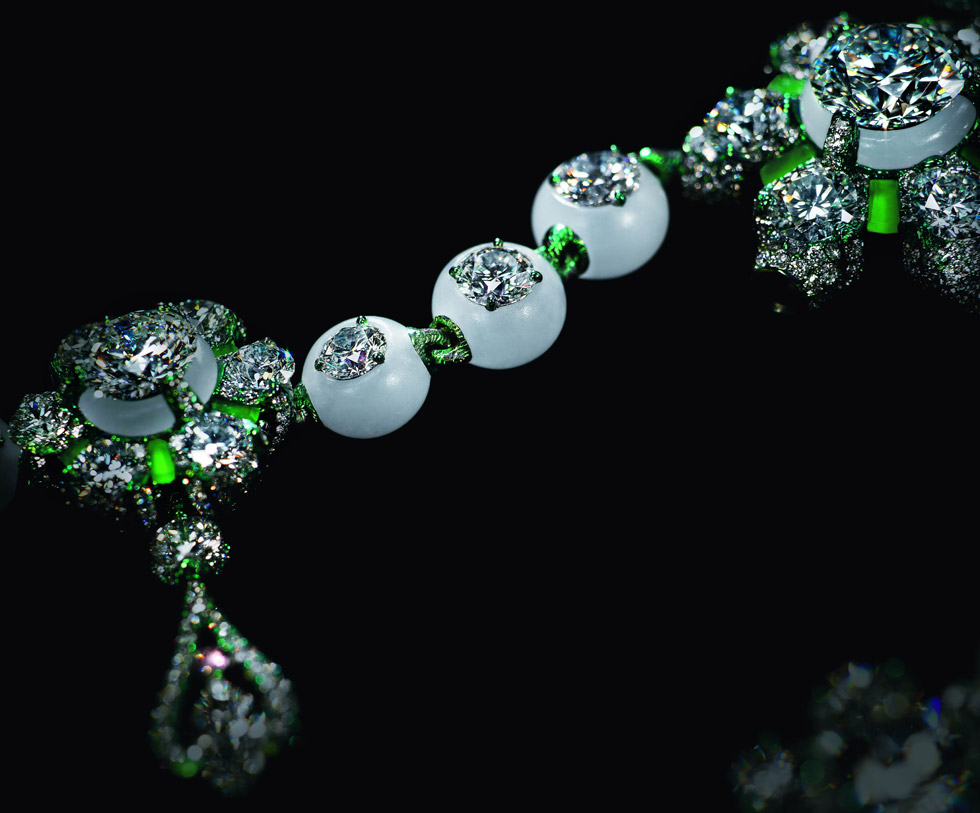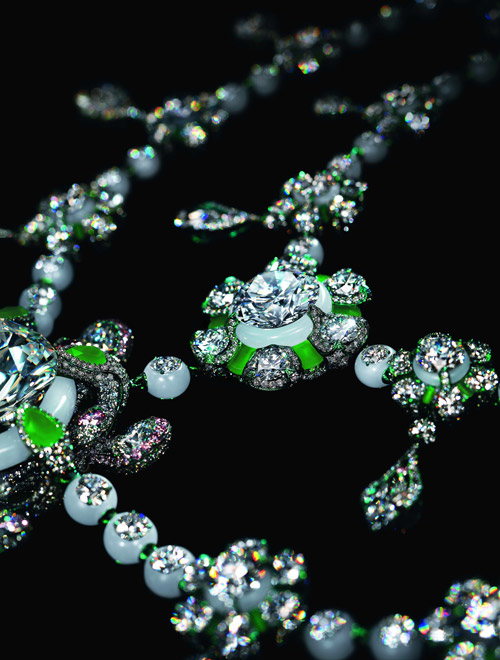 Wallace Chan reunited the stones and used all 24 polished diamonds in his design, from the 0.23 ct to the second largest of the family, a 20.02 cts stone. However, by deciding to incorporate all the diamonds in his design, the jeweller set himself a difficult task: he had to find the way of making the final piece look balanced and in harmony despite the stones' different sizes.
Chow Tai Fook were huge admirers of Wallace Chan's work – the aesthetics of his creations and the philosophical meanings hidden in his art – so they decided to give him full creative freedom in his design. The only stipulation was that the finished necklace would become part of Chow Tai Fook's collectible pieces collection.
Wallace Chan: "The idea behind the design of the central stone came from the ceiling of a church I visited in Europe. From the moment I walked through the door I was completely captivated by the artwork. I simply could not take my eyes off the ceiling. It was so elaborate and impressive that it bloomed like a flower in front of my eyes and I wanted it to remain etched in my memory forever. I felt like I was being drawn to the church's dome, like I could almost fly towards it and somehow take it away with me. When I saw the diamond, with its facets and their sparkle, it called to mind the dome of that church with the light shining through it, and I had an urge to incorporate that vision into my jewel."
Wallace Chan: "I decided to use translucent green and white jades to represent China, contrasting with bright, sparkling diamonds to reflect Western culture. Together they are the Universe, symbolising the gradual closing of the gap between East and West. Since diamonds have no tint and mutton jade is white, I wanted to add some colour by incorporating green jadeite and pink diamonds to bring more life to the piece."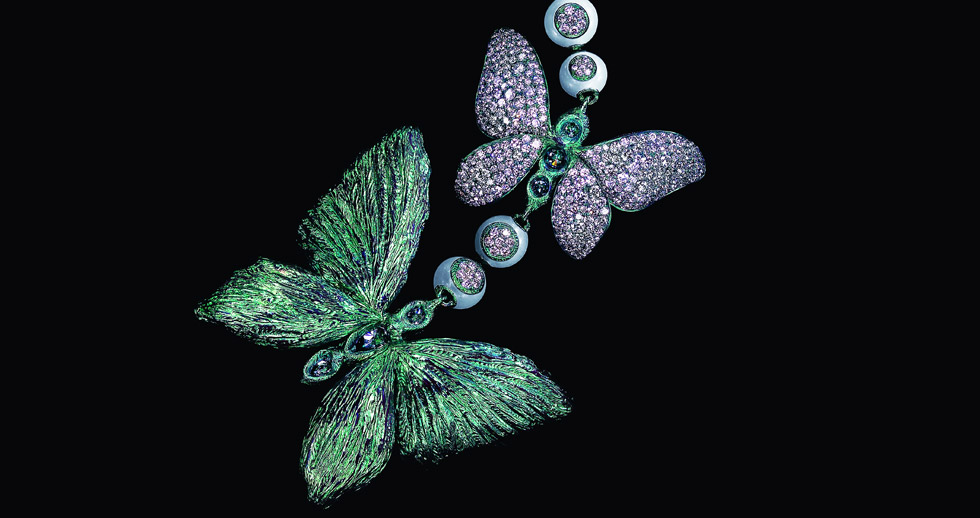 Wallace Chan: "In China, jade is traditionally polished into a cabochon shape, but I wanted to bring a touch of Western flair to the necklace and to do that I had to facet the jade. This helped convey evolution, progress and the spirit of our time."
Wallace Chan does not mention, however, the fact that the process of sourcing the right jadeite took a great deal of time both due to how soft on Moh's scale the stone is and how difficult it is to source stones with identical green colour.
Wallace Chan: "The creation embodies concepts of diversity, with the integration of jadeite and jade with diamonds, the fusion of contemporary ideas and traditional elements, and the application of modern techniques and innovations to create a progressive work of jewellery art."
But it is not the colour and its contrasts that make this piece of jewellery extraordinary. It is the fact that the necklace can be worn in 27 different variations (some of which can be seen below). It is a true marvel of jewellery design! KP