While Alia weaves dainty arabesque patterns into her jewellery designs, Dori creates big pieces and has them encrusted them with precious stones. The contrasting style of their jewellery is what struck me first and only after I noticed pleasantly silky texture of gold and playful alternations of colour from the diamonds, sapphires, rubies and emeralds. At the end of 2014, Alia and Dori presented their pieces at an exhibition in London. It was held at a gallery designed by architect Zaha Hadid with whom Alia and Dori created a unique cuff bracelet made of white gold with diamond patterns. I managed to talk with the jewellers themselves about their collaboration with Zaha and their own work at the exhibition opening party.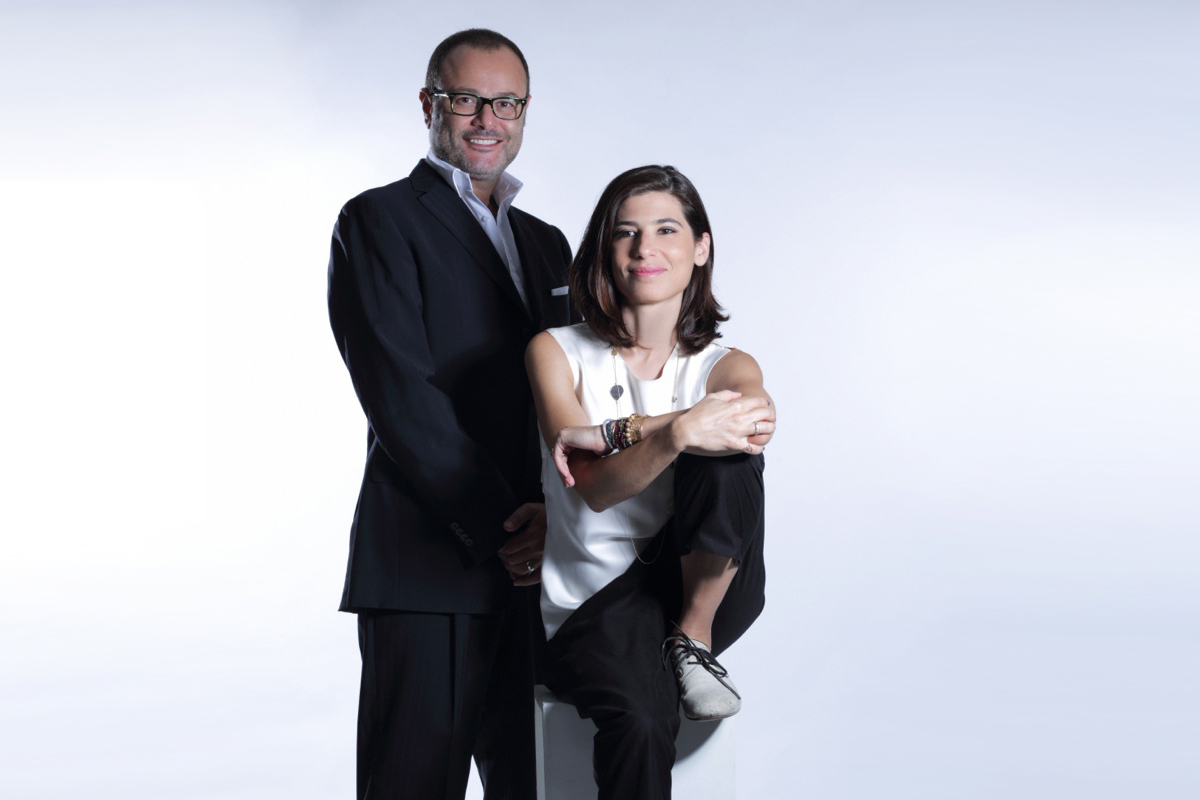 K.P.: Dori and Alia, why did you choose to present your jewellery in the UK?
Dori Mouzannar: We decided to showcase in the UK because it is a very cultured and luxurious arena. We have also had a lot of feedback from clients who spend a lot of time in the UK or who have homes here. They want to be able to buy our pieces while they are in London so really it's down to demand.
Alia Mouzannar: My first aim was to show my work in an artistic setting so Zaha's Design Gallery was a dream come true. From there I just wanted to share my work with people that respect craftsmanship, appreciate luxury and value finely detailed design.
K.P.: Tell me about your initial acquaintance with Zaha. You previously mentioned that she visited the A&W Mouzannar boutique in Lebanon. Do you think it was meant to be?
A. M.: I remember being totally in awe of Zaha the first time I came across her. She had such a tangible charisma. She came to the store in Beirut and asked for my father and then introduced herself. I was totally blown away; it was one of those moments in life that you just don't ever forget. Hearing her speak about jewellery made me realise that quality, heritage and an artisan spirit have no boundaries. I totally believe in fate and that everything happens for a reason. This was one of those pre-destined events that will remain a treasured part of A&W Mouzannar's heritage.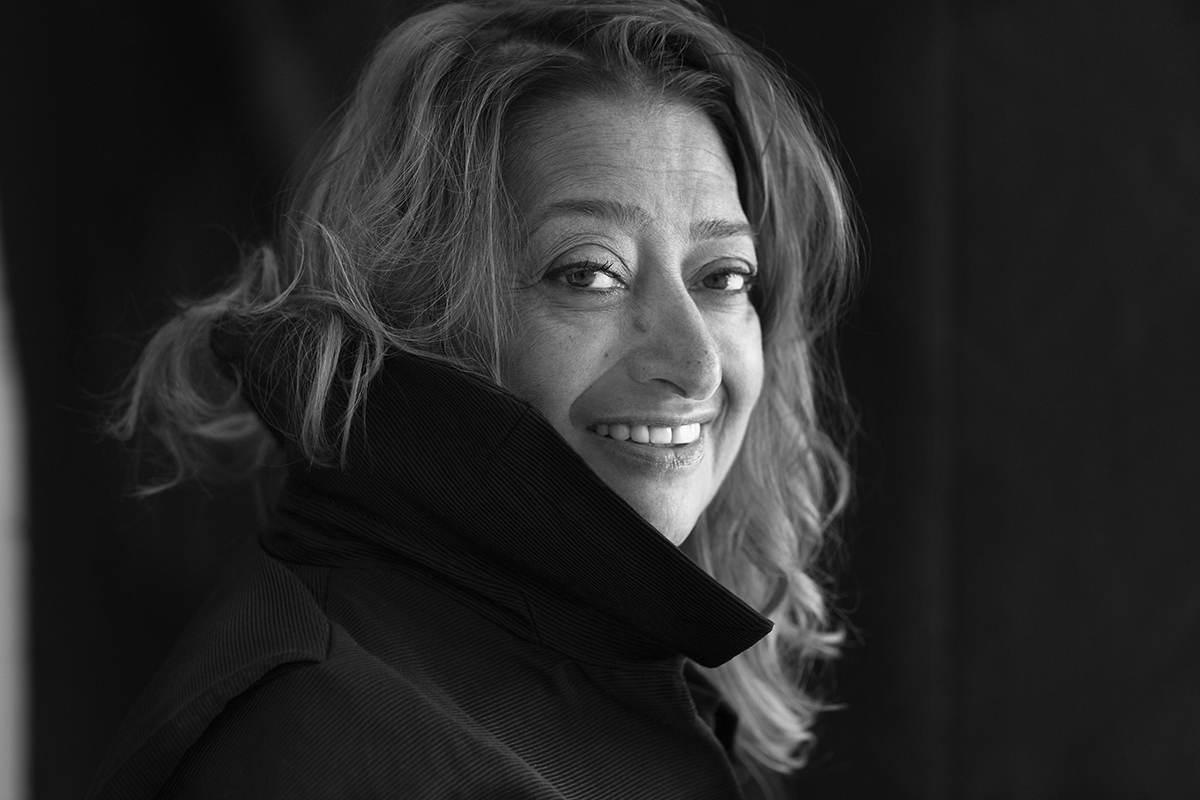 K.P.: And how did the idea of collaborating come about?
A.M.: Years after meeting her in our boutique, I plucked up the courage to email her and proposed the idea of collaborating and within two hours she responded! She agreed to meet when we were next in London and the conversation went from there.
K.P.: Why is this collaboration so important to you?
A.M.: Dame Zaha Hadid is a person I have admired for a very long time for her powerful and conceptual architectural style. She has pushed the limits and made all of us in the modern day reconsider the endless possibilities of what can be achieved. For A&W Mouzannar, this is a really unique moment in our history. We want to capture that feeling and this moment. We want to show our customers and the world the result of a unique collaboration between art and jewellery where modernity meets heritage. This is also an incredible platform for Dori and me to launch our own collections which will forever be associated with this special project.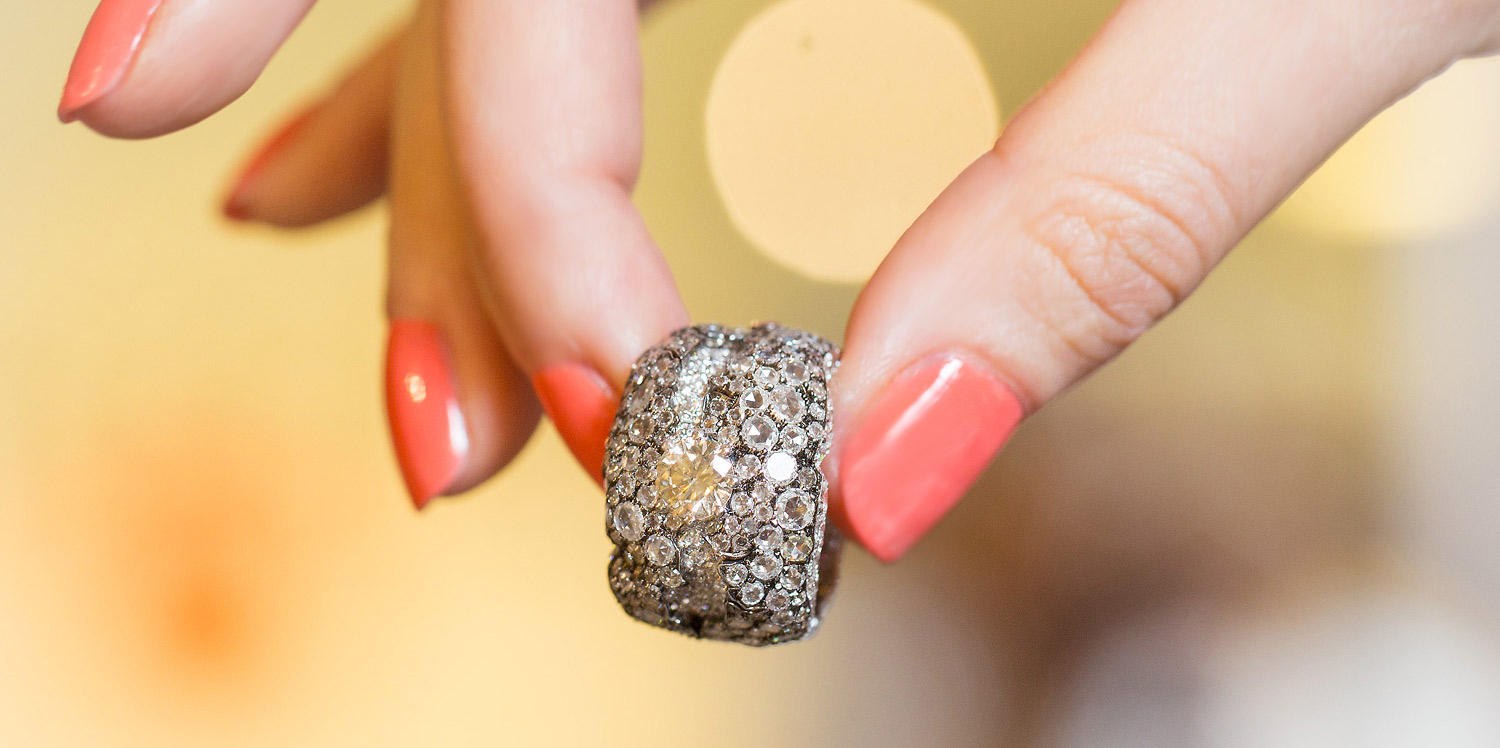 K.P.: Alia, how does your architectural background influence your choices in jewellery design?
A.M.: I always think simplicity is the ultimate expression of luxury. My education in architecture means I have an appreciation of stripped-back aesthetics with additional functional elements. I design for the contemporary woman and I want my jewellery to have a wearable focus. The idea of turning something from back to front, top to bottom and playing with concealed elements is all true of architectural.
K.P.: You showed me the beautiful engagement ring you received but you couldn't wear it because it was too "flashy". Tell us how this lead to the idea of creating the opening secret rings?
А.M.: My Cache Ring is my most signature design to date. The design came to fruition after I inherited a ring from my mother by law on my wedding day. Although it was very beautiful, it was not truly my style. I battled with the idea of breaking the ring down into its component parts but because I feel jewellery holds a lot of sentiment, I had to come up with a way of modernising it without changing anything. By playing with perception I developed an outer casing that concealed certain elements but framed and highlighted others. The most beautiful part for me is that I had created something new from something old and that it was achieved without anything being altered.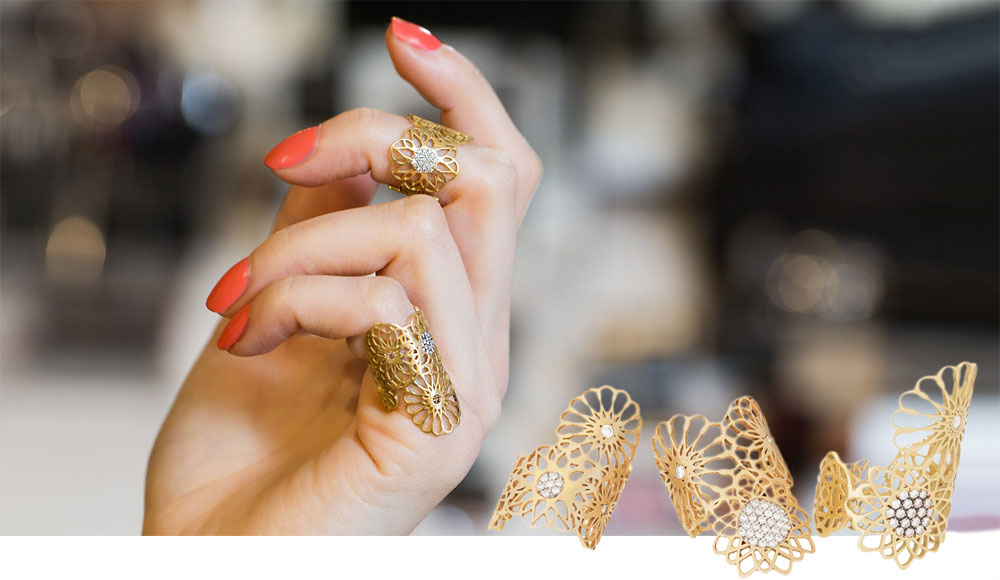 K.P.: I noticed that the designs you create often contain interchangeable components or can be changed from one jewel to another, e.g. Modular earrings. What lead to this approach?
A. M.: It came from my vision of the woman who would ultimately wear my jewellery. She's a contemporary woman like me who spends her life on the move. I wanted to offer her something more than a single look, to be playful with her jewellery and mix it up from day to night or from one day to the next. On a personal level, I thrive on the challenge of crafting something that evolves or changes.
K.P.: Dori, your collections have their own unique style. For example, the Meteor collection pieces are only partly covered with gems. What message does this stylistic approach convey?
D.M.: The pieces of my Meteor collection that are half covered with stones were inspired by a ring that I created for the NGO Human Rights Watch. HRW asked me to create a piece for their fundraising dinner and auction. I wanted to make something that had a valuable meaning for their cause. Since their cause is about justice and injustice, I decided to create a ring which was half set with 13.42 carats of sapphires representing justice, and the other half left completely unset and raw, representing the injustice in this world. When the ring was completed, I saw for the first time that the contrast in keeping part of it unset was actually very beautiful and I developed a line of jewellery from there.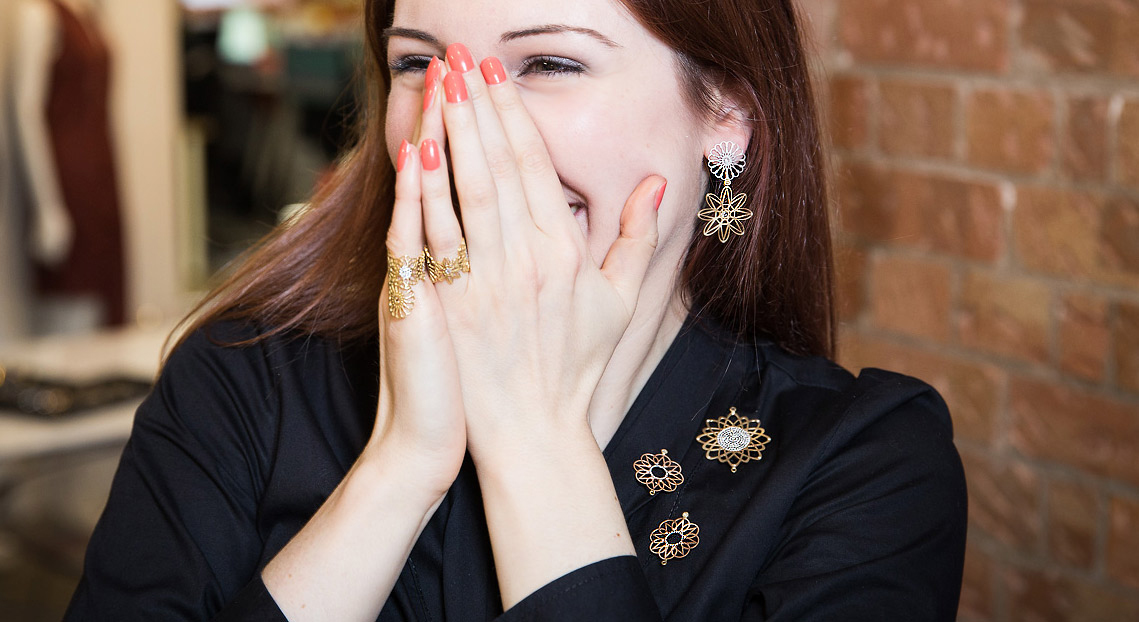 K.P.: When I tried on your Lava collection rings, I could not help noticing how silky the matte gold finish felt. How do you achieve it?
D.M.: That's a design secret that I'll never tell! It has been developed over years of practice with skilled goldsmiths and craftsmen and is something unique in our work that makes wearing my rings a pleasure.
K.P.: Another thing I noticed is how ergonomic your jewellery is: every piece becomes a part of you. Even your statement jewellery is extremely comfortable. How do you achieve such a high level of comfort? Do you have to do some tricky calculations?
D.M.: I am very meticulous when it comes to the fit. It's not just about the way a piece looks but the way it moves with the body. Jewellery should be comfortable! I once had a client who wanted very large diamonds set around her wedding band. As beautiful as they looked on paper, I advised against it knowing that it would feel awkward around her finger. The weight of my designs is also very important. There is a very fine balance to strike between a piece being too light versus being too heavy. A piece should always look splendid but a design should never be at the mercy of the weight.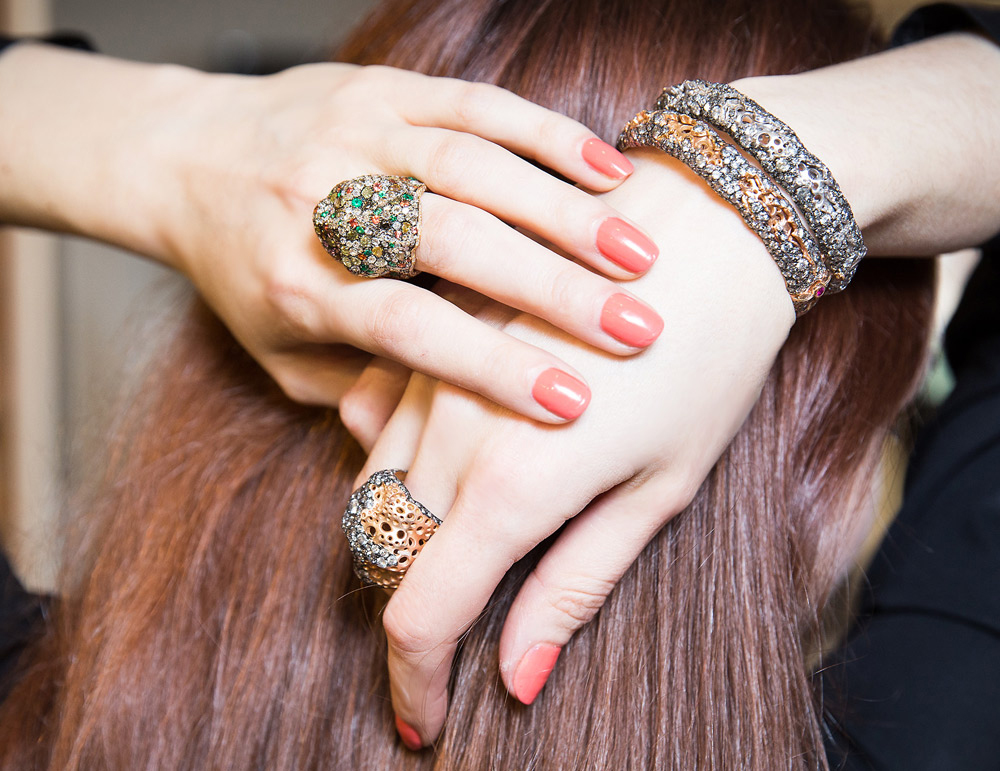 K.P.: What does the small ruby you put on your creations symbolize?
D.M.: Ruby is my favourite precious stone. Red is a lucky colour for me. I have an entire wall painted in red in my workshop and I feel it generates good karma. It also gives my clients a little extra something special from me; no matter what the piece and the value, they always get that little extra touch of luxury.
K.P.: Looking at some vintage A&W Mouzannar pieces, one can see how the style evolved over the years. When designing, do you solely rely on your own vision or do you go back to your archives for some inspiration?
D.M.: We rely on our own vision but that vision has evolved from the designs that our ancestors created. We've allowed ourselves to introduce modernity to the timeless.
K.P.: You both belong to the sixth generation of jewellers. What have you learnt from your ancestors?
D.M.: We grew up around jewellery as part of our daily lives; you could say it's in our blood. We have learnt the craftsmanship, the artisan skills and the values needed to maintain a reputable family business so it can continue for future generations.
Special thank you to the photographer Simon Martner from Martner&Mowat who took these wonderful pictures