It would seem from a jewellery perspective that this year's Biennale was not quite as important as in previous years, for only a few modern masters were in attendance as opposed to dozens of giants of the jewellery world. However, I actually liked this format a lot more, as it allowed me to avoid a glut of "high art", and I was able to indulge into each piece of jewellery like you would a fine wine.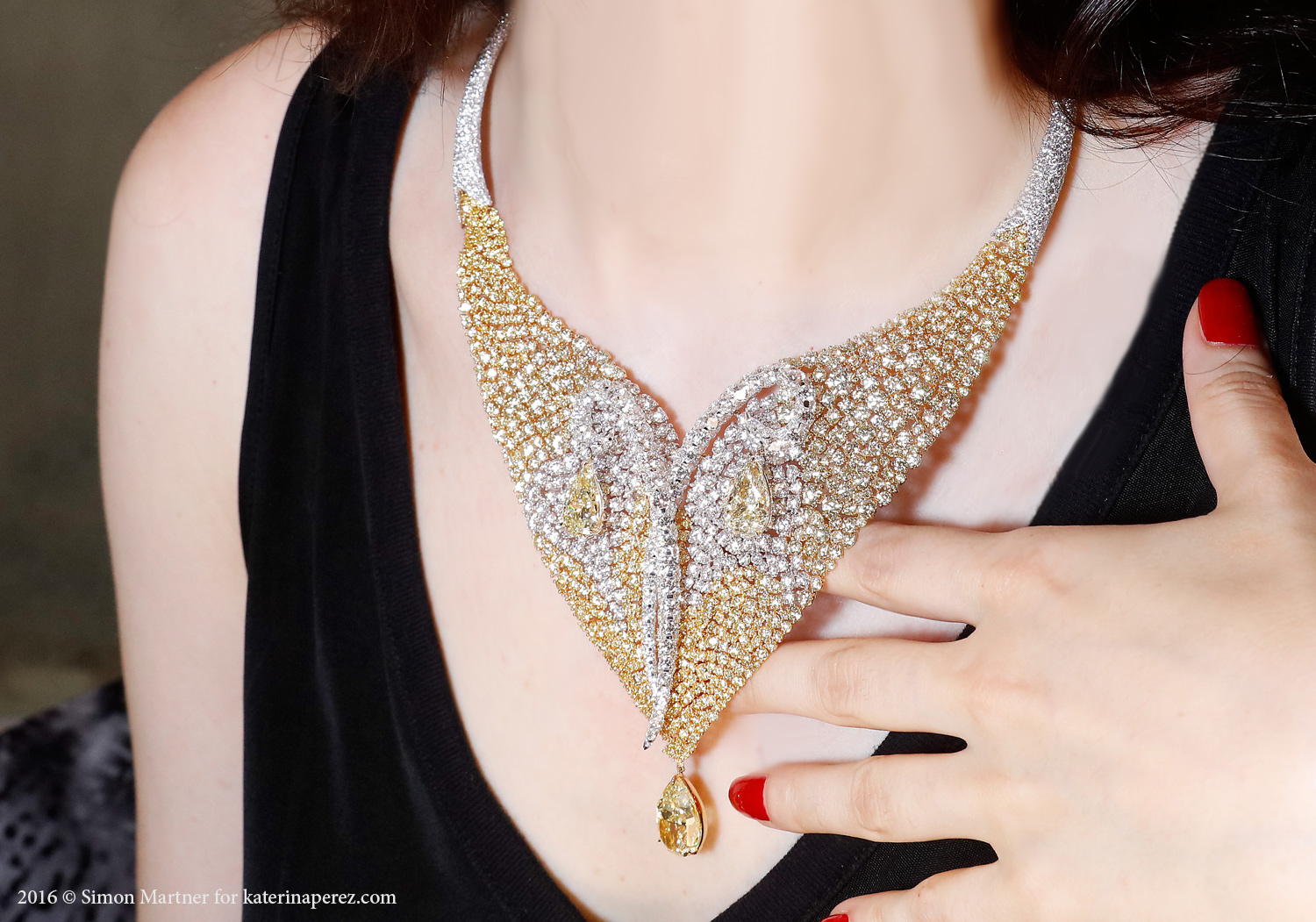 Delight in what is beautiful began in the Boghossian salon with admiration of the one-of-a-kind "Mesh" necklace with its colourless and yellow diamonds, set in gold in such a way that the metal was barely visible. The Boghossian family says that they have "an allergy to metal" and usually build the jewellery's design in such a way that the precious stones are the true "protagonists" of each jewellery piece. And so, more than 70 carats of yellow and 67 carats of colourless pear and brilliant cut diamonds were brought together in a precious lace of sparkling stones, and this luxurious ensemble was complemented by earrings with pear-shaped diamonds weighing a total of 23 carats.
Studying the collection further, I came to a halt next to a lariat necklace with diamonds and oval tourmaline from Mozambique. More laconic in its design, this piece caught the attention of visitors owing to its magnificent large Paraiba stone weighing in at 62.75 carats. And this was by no means the only arresting piece of jewellery with a neon gem stone. In addition, Boghossian debuted a ring and earrings at the exhibition in the form of a flower with a Paraiba and carved white jade, the "Kissing Gems" ring with a 2 carat diamond, set on the surface of a 27 carat Paraiba, and also several other pieces with this fascinating stone. According to the company's Managing Partner, Roberto Boghossian, this type of tourmaline has gained particular popularity among followers of fine jewellery over the course of the last two to three years.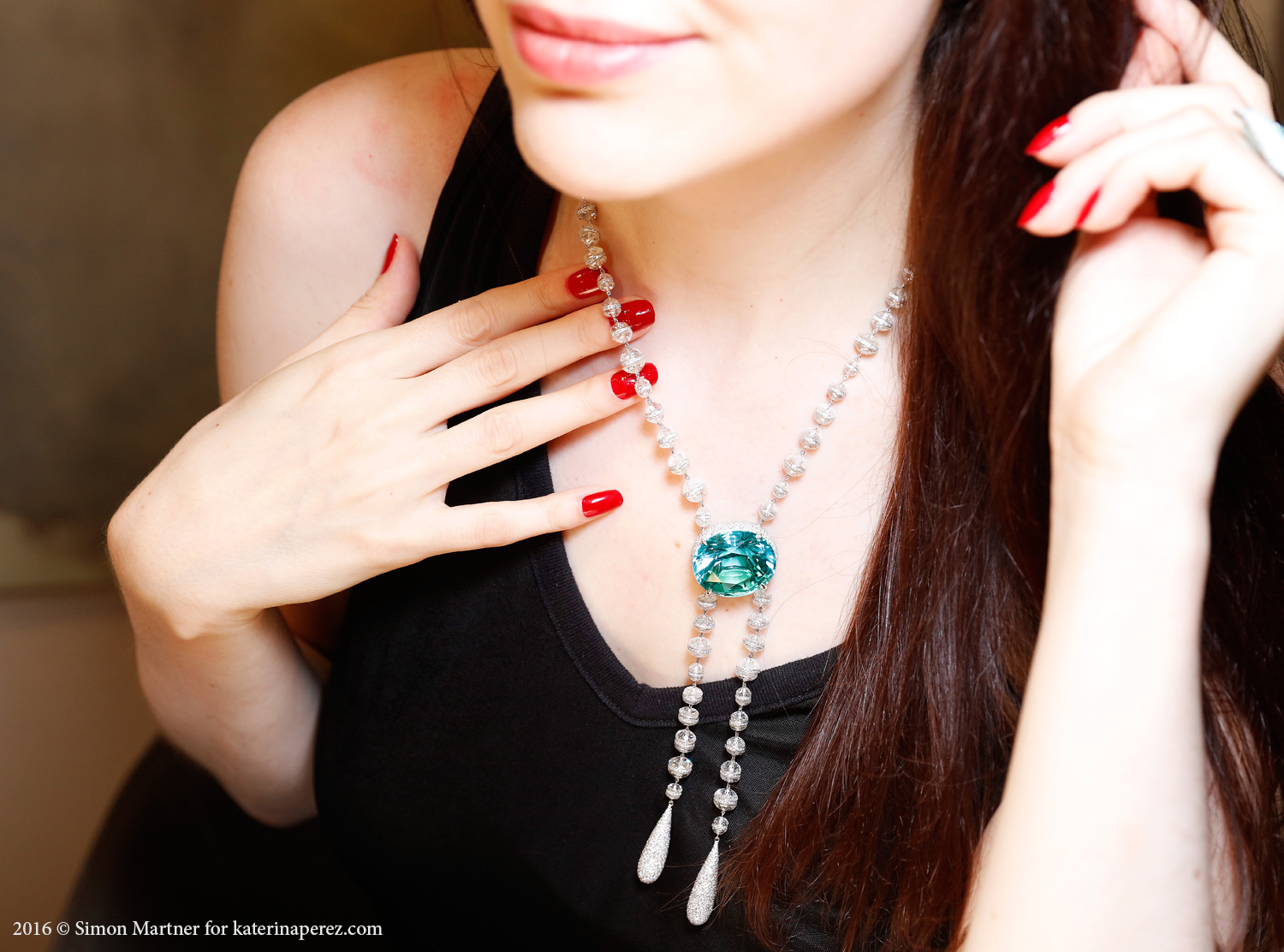 The Boghossian family have always been attracted to Colombian emeralds for their high quality crystals, saturated in a deep green and with a comparatively low level of impurities. It is for this reason that you'll find a wide range of jewellery with this precious stone in the collections of the Swiss jewellery house. It's hard to say which emerald piece should be considered as the highlight of the Biennale collection: a necklace with a clear 10 carat pear-cut emerald, of unprecedented rarity, or the set with Colombian cushion-cut stones weighing just under 120 carats. Also of note is a bangle bracelet with diamonds and octagon-cut emeralds, as green beryls of this form are very rarely found in jewellery.
«One of the highlights from our collection at the Biennale was an exceptional natural Burmese sapphire and diamonds bangle. The sapphire weights an impressive 40 carats, it has no indication of heating, and benefits from a very attractive colour of vivid blue hue. These listed qualities are all completely natural, making this stone extremely rare, and a true treasure. Our two signature techniques, the Inlay and the 'Kissing Gems', also had a lot of success. They bring something completely different to the industry, and our clients admire us for using them. Having used them for several years, they still keep fascinating people, because you can do so much in terms of stones combinations: the possibilities are endless, and the results are all the more stunning,» tell me Roberto Boghossian.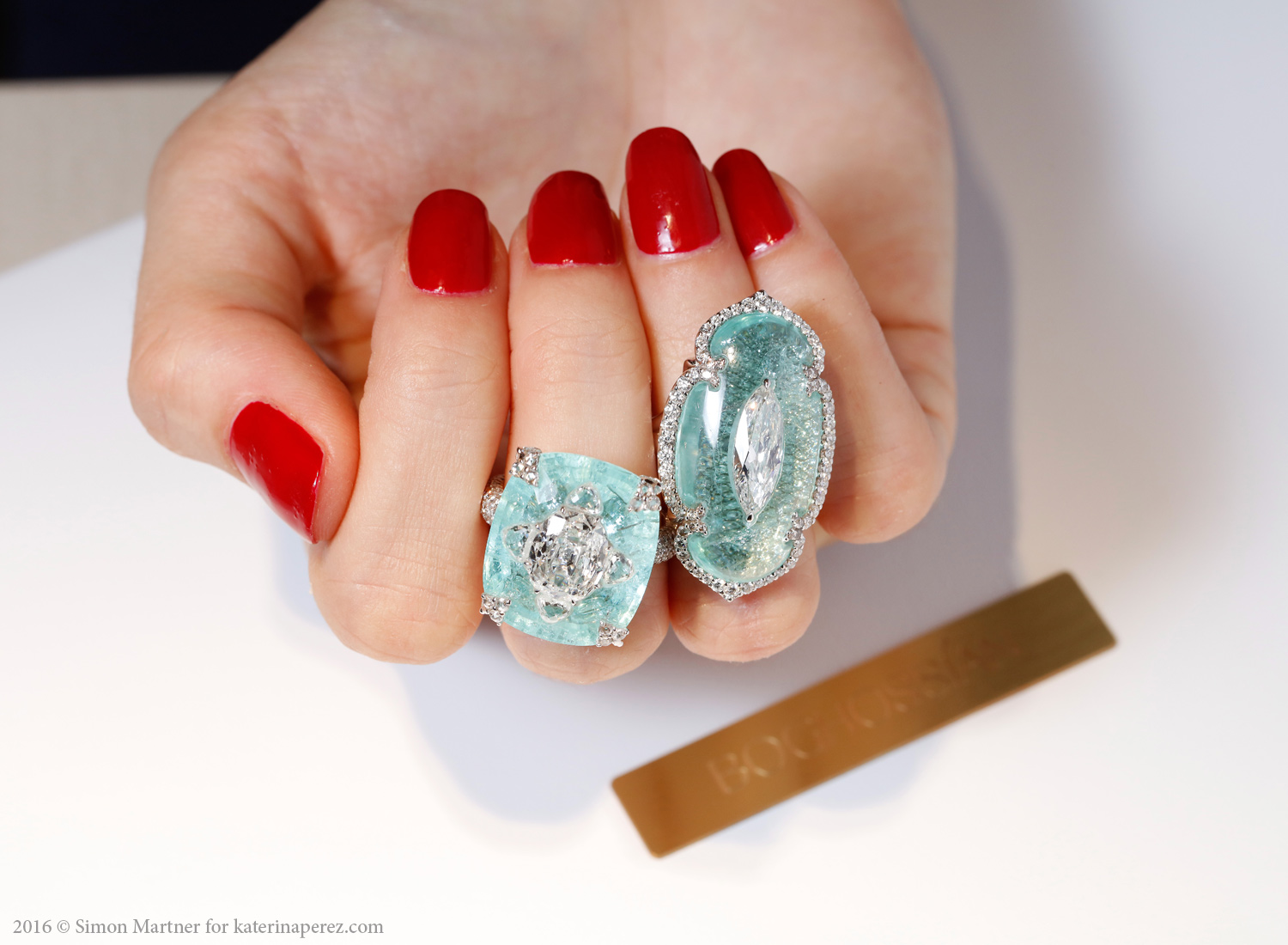 Priceless rubies, sapphires and jade, pink, blue and yellow diamonds sparkle in the windows of the Boghossian salon, designed by the leading architectural agency, Studioparisien. In the past, its founders, Laurene B. Tardrew and Romain Jourdan, had set up boutiques for the brand in Geneva and London. Retaining their corporate identity, they adhered to the beige-bronze colour scheme and modern design of a salon, in the centre of which was a column with key pieces of jewellery. The most interesting element, in my opinion, was the abstract bronze installation on the salon's ceiling, and also the paintings in the VIP rooms, done by Jean Boghossian himself.