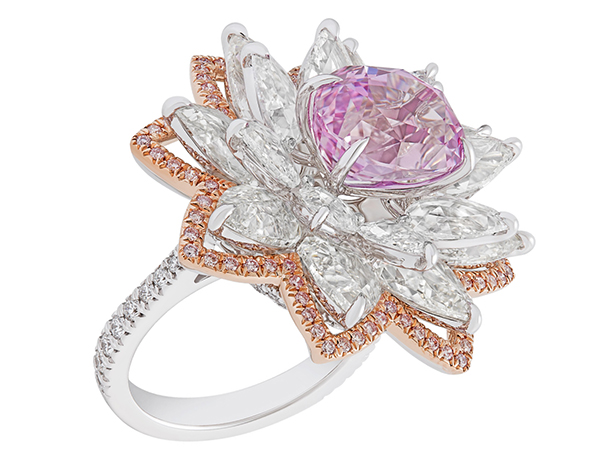 Nirav Modi Lotus ring with Padparadscha sapphire and diamonds
"5 years ago I decided to capture the beauty and the craft alike by using only the finest diamonds, pushing boundaries and above all igniting femininity. At the heart of Nirav Modi brand is an ongoing quest for excellence. We have come a long way from opening our first store in Delhi in 2014 to opening our 7th boutique in London and making out first presence at the Biennale." These were the first words uttered over lunch by Nirav Modi, before the opening of the Biennale des Antiquaires exhibition in Paris.
Until early September, I had seen pieces of jewellery by this outstanding Indian designer time and time again – only in photos though. But what are a few snapshots compared to the real thing, when you can pick them up and feel them in your hands, look at them from every angle, admire the glimmer of their stones, and absorb their very energy? To say I was really looking forward to meeting Modi doesn't really cut it!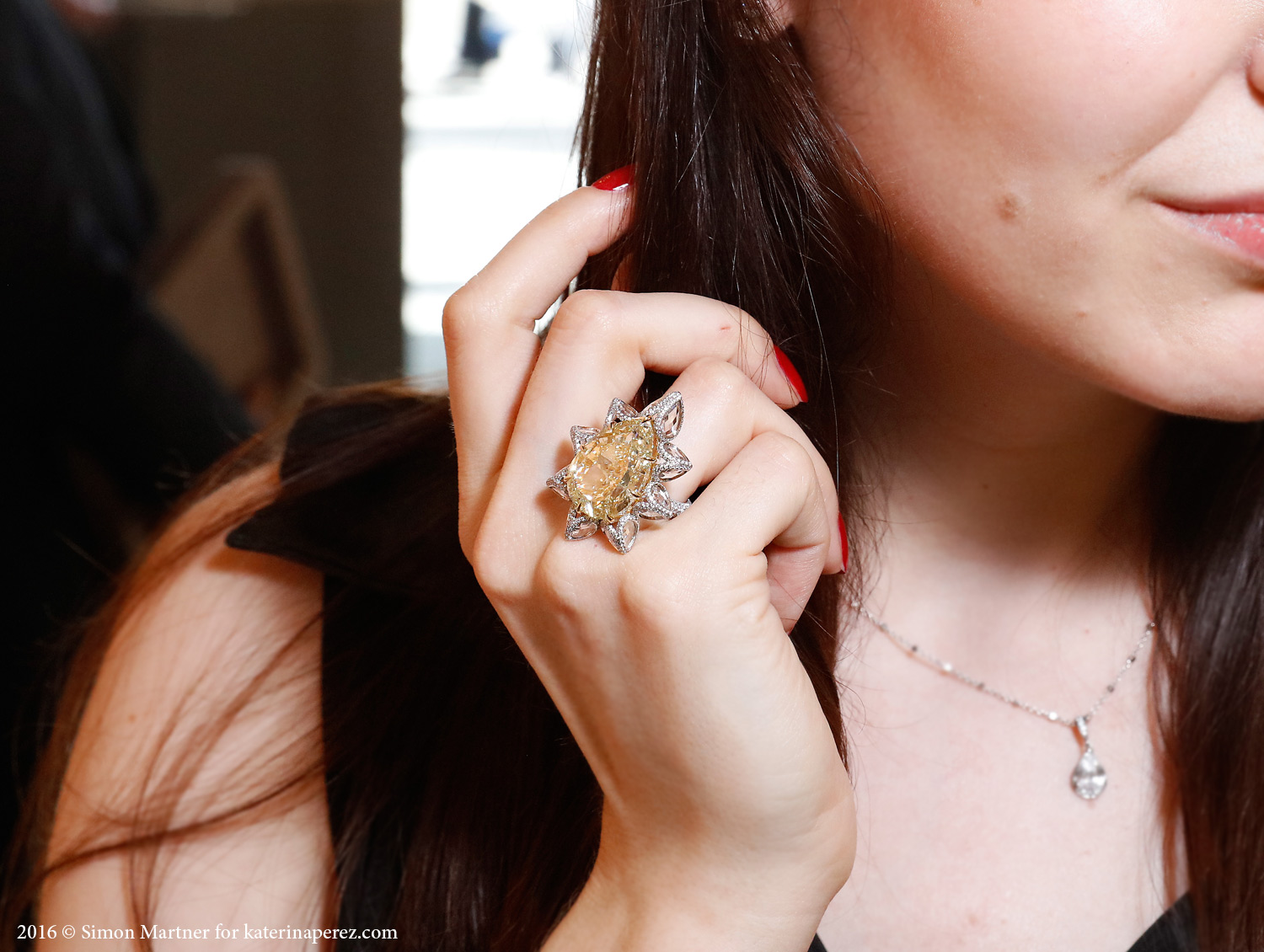 Nirav Modi ring with pear-cut yellow diamond and colourless diamonds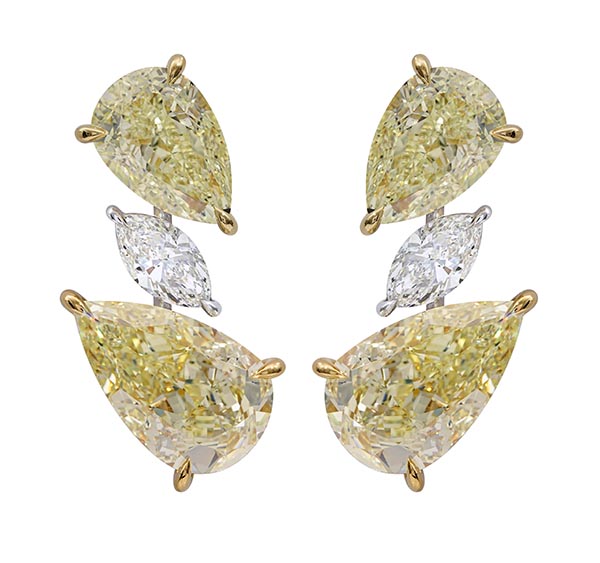 Nirav Modi earrings with pear-cut yellow and colourless diamonds
The designer is following a legacy of three generations of specialist diamond cutters, and with only five years in the business it has to be said that the Modi brand is flourishing – with stunning results. He has created four new diamond cuts: Endless, Jasmin, Ainra and Mughal; has become the first and only Indian jeweller to ever have their jewellery appear on the front cover of the Christie's and Sotheby's catalogues back in 2010; and has invented a specialist mechanism to shape the Embrace bracelets, which are designed to sit perfectly on any wrist. Not to mention Nirav Modi's global reach, which has boutiques not only in London and Delhi, but also in Mumbai, New York, Macau and Hong Kong.
How has one jeweller achieved all of this so quickly? There's no secret. You just fall in love with his pieces at first sight, and the diversity of their aesthetics gives you the freedom to choose jewels from the entire collection that are suitable for any kind of occasion. Do you like diamonds? You'll find diamonds of all possible colours, shapes and sizes, from the modest, round-cut ones in the Constellation necklace to large, yellow, pear-cut stones in a set of earrings and a necklace. In love with emeralds? For you it'll be the Maharani necklace, held together by beads of an incredible green, weighing over 870 carats in total, or the Emerald Drop set with its droplet-cut green stones complimented with diamonds. And gems of the red-pink variety, such as spinels and rubies, are not alien to Nirav Modi, for he extols their particular beauty in the sets Camellia and Ruby Feather.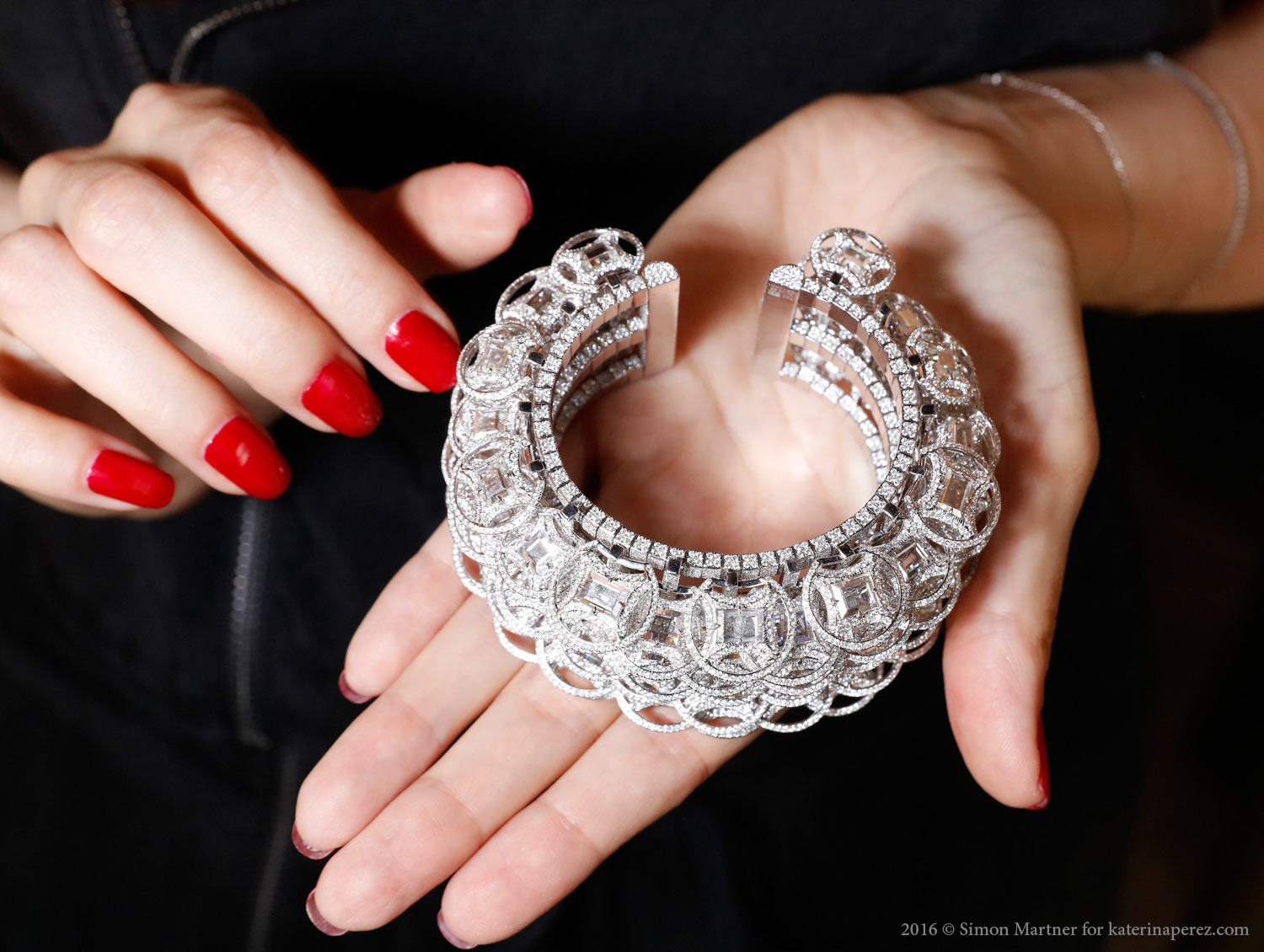 Nirav Modi Swan bracelet with diamonds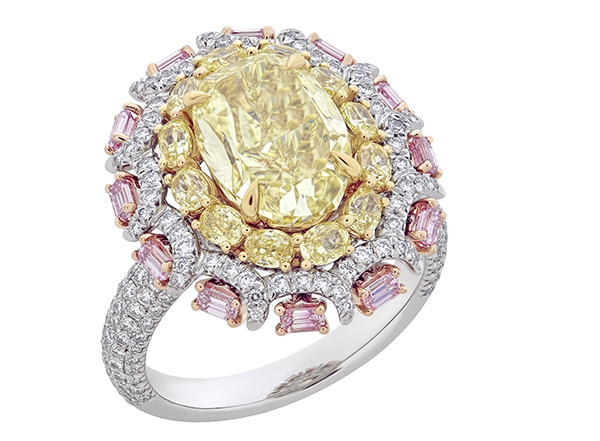 Nirav Modi Tremblant ring with pink, yellow and colourless diamonds
In the world of High Jewellery seeing rare gemstones of finest quality is rarely a surprise. That is why the Indian jeweller pays a great deal of attention to his original design solutions and authentic techniques. For example, the Swan bracelet with diamonds weighing over 95 carats (a personal favourite of mine) was inspired by the bird's graceful movements, and therefore the bracelet itself is not static. There are round, decorative elements on the bracelet, like the swan feathers which sway along with the motion of the hands, making the oblong diamonds which adorn them sparkle brightly. Yet another example of "dancing" jewellery is the En-Tremblant ring with colourless and pink diamonds, that have been fixed in such a way as to sway in time to the rhythm of the bearer's movements.
Nirav Modi takes inspiration for a new collection from everywhere and anywhere: from the books he reads, the art he collects and the sights he sees on his endless travels. It is with this very "saturation" of different cultures that the designer is able to create jewellery which combines and blends aesthetic elements of differing styles, and it is the very reason he attracts buyers from across the globe. KP
Nirav Modi Maharani emerald necklace with Colombian emeralds and diamonds