It is worth observing that in Chinese culture, orchids are held up by Chinese sages as a symbol of nobility. "Orchid, with its king fragrance, grows in the deep valley. While a few are blooming in the early spring, even their sprigs are as fresh as if newly watered." It was these lines by the poet Su Dong-Po that inspired Diana Zhang to come up with a design that recreated the buds and shoots of new orchids in spring. The soft green stems which lend their gentle support to orchids in bloom or just about to bloom are seen as a symbol of elegance and nobility, and the jewellery skilfully conveys the unique beauty of the flowers of the king orchid.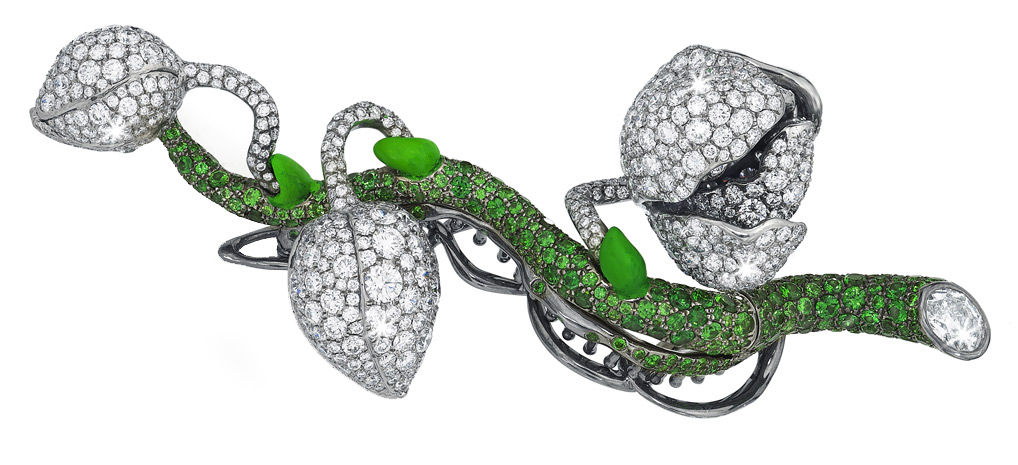 The exquisite necklace reflects Diana's credo of vitality in design, the expression of the creator's personality through high jewellery art. All of Diana's work is filled with expression and is marked out from other designers' jewellery by her unique approach to translating the world around her into jewellery, developed as a young girl.
As a teenager, Diana became interested in the different creative fields, in particular fashion and jewellery art. She had always dreamed of being a jeweller so she took it upon herself to familiarise herself with all the subtleties of jewellery design and production without undertaking any experience or formal training. Diana Zhang is a prime example of my theory that self-taught jewellers can often see or imagine things that those with a full design school education might never notice of come up with.
It took more than a fertile imagination to design this particular necklace, however – it also took a great deal of time. Diana spent two years to find the right stones to decorate the complex 'Orchid King' pendant, which has at its heart three rough emeralds weighing 6.2, 4.08 and 1.98 carats respectively, bordered by over 5500 diamonds and 2700 tsavorites fixed in a titanium and gold base decorated with enamel. As well as a necklace, the "Orchid King" collection includes a brooch, a choker or a hair accessory, providing the perfect touch of elegance for any occassion.