Evgenia Naumova is at the helm of a new brand: Eva Naumova. Founded in 2012, its products have a very distinctive "signature", a style which is at once avant-garde, steampunk and neo-classical.
Evgenia isn't afraid to experiment with different designs and styles of gem-cutting, something which has attracted many famous Russians and seen her receive plaudits as a young designer.
Finding myself intrigued by her collections and collaborative work, I decided to ask her several questions about the style she has created, the creative process and her plans for the future.
Katerina Perez: Your jewels are original and striking. How would you characterise your style? How did it materialise?
Evgenia Naumova: I think my style is still at the creation stage. I've been testing myself in different areas, from elegant classical forms to brutal avant-garde. In my work, I use the shapes, patterns and symbols that I've always liked, for example the symbol of the sun (in my work Happy Sun) or a little pyramid (from my Pepper series). I have always loved complex mechanical constructions and clock mechanisms; my Steampunk in Fashion collection was where I found a place to reflect that. I try to work more on the basis of emotions, feelings of harmony and my perceptions of beauty.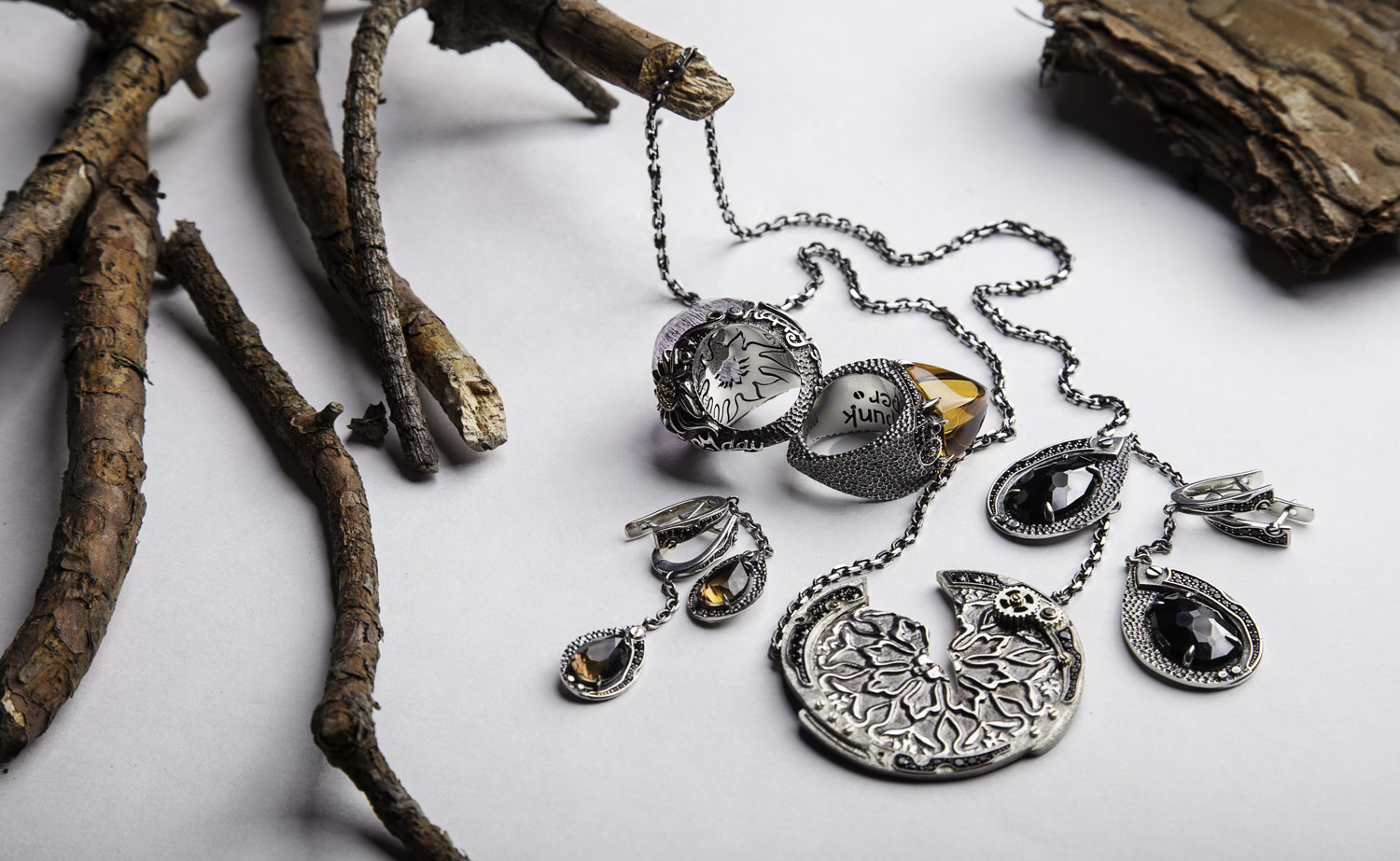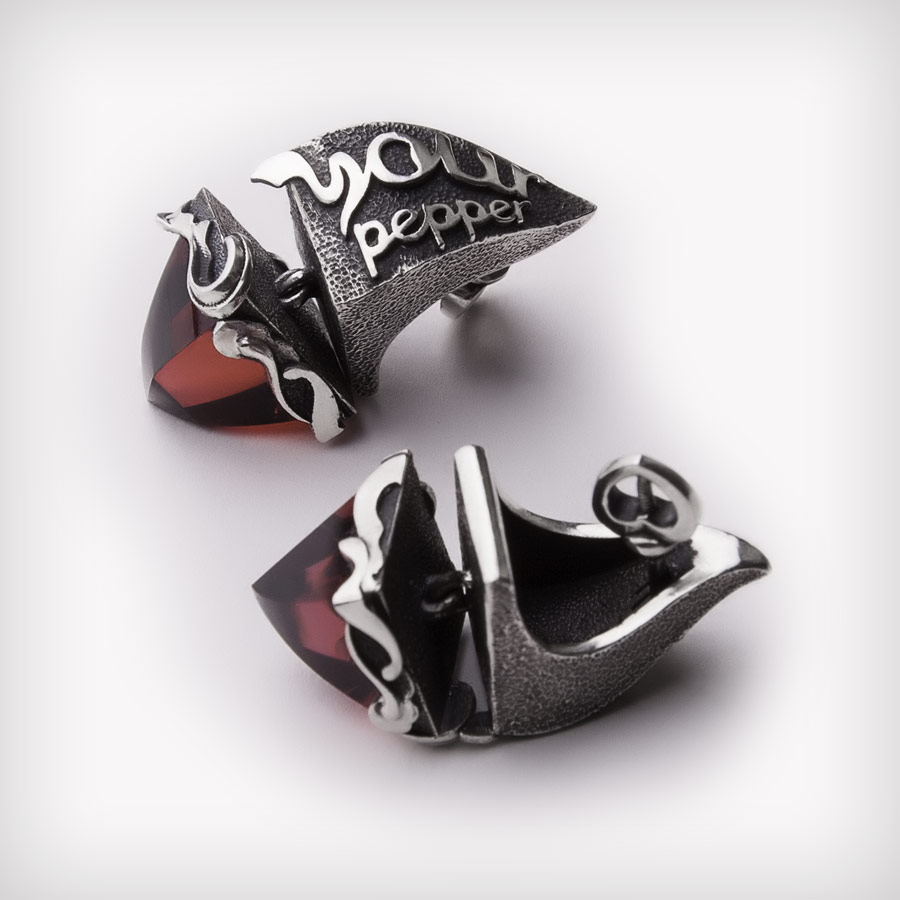 K.P.: Blackened metal, corner-cut stones and engraved patterns are all reminiscent of medieval times. Am I right in thinking that the middle ages have somewhat influenced your creative "signature"?
E.N.: Working with other designers has had a huge influence on me, especially my work with Axenoff Jewellery. After having a go at blackening metal for Peter [Axenoff], I did the same for my own line. I try not to copy anyone, but sometimes I apply the technical approaches I've learnt to love elsewhere. I wouldn't associate my designs with the middle ages. I think they're closer to fantasy and possibly even modern (especially my Feelings collection), my favourite style being steampunk. Steampunk is an alternative reality where mechanisms play an essential role.
K.P.: When jewellers create from the soul, they sometimes forget about the practicalities of making their works function as pieces of jewellery. How important is comfort to you and how important is aesthetic?
E.N.: I try to make all my pieces comfortable and practical; I don't separate my creativity from my commercial awareness. It's very important to me that my pieces are actually worn! I create work for display and for people. Although some of my latest pieces are intentionally bigger, they can be used in photo shoots.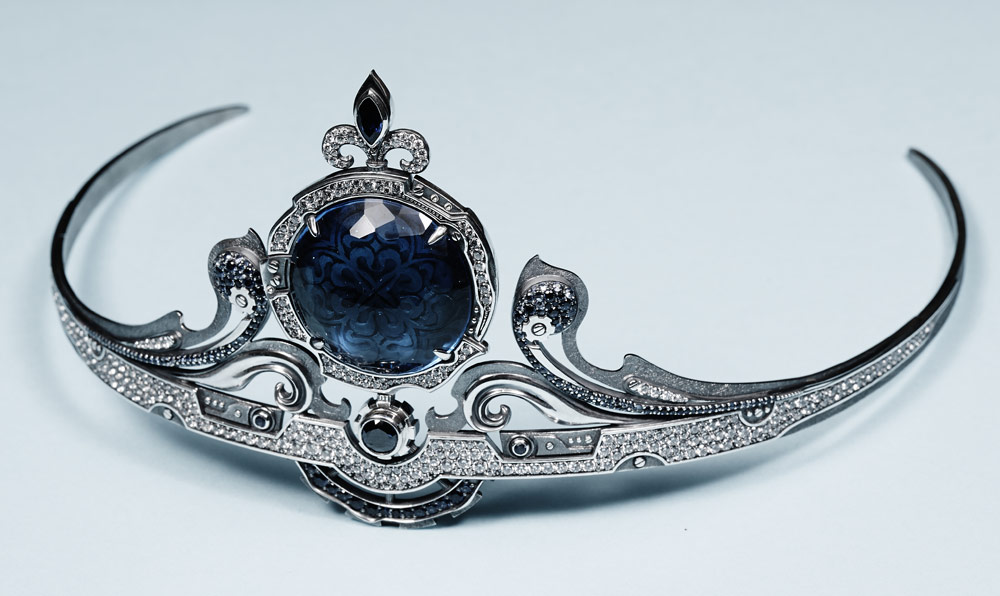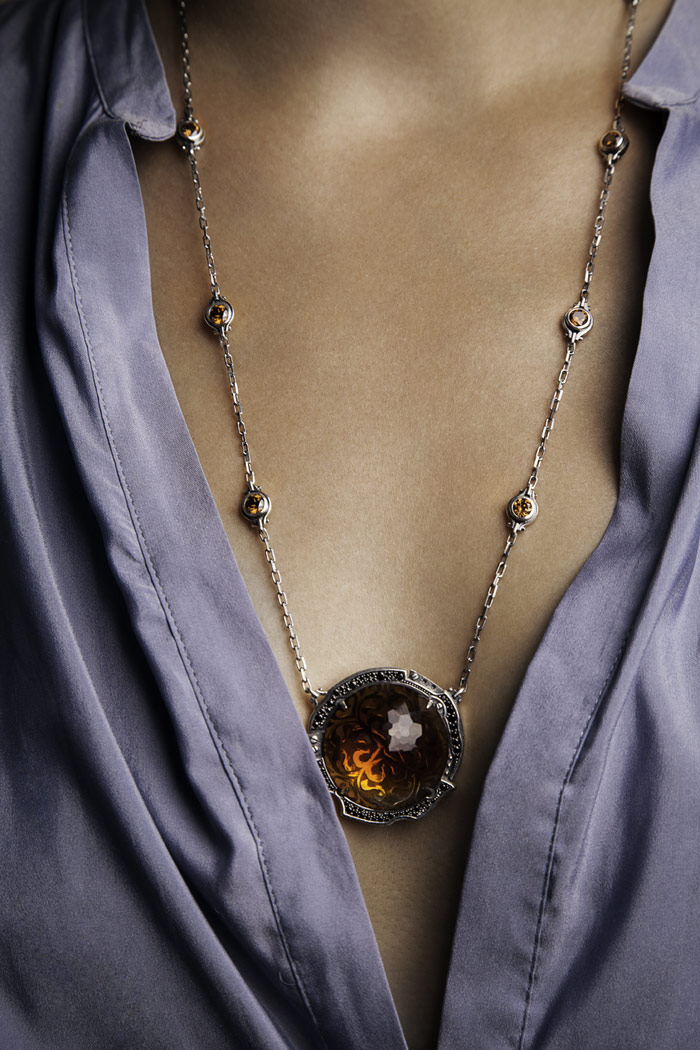 K.P.: Your works often have a classical design that includes some rather unexpected elements. Could you offer an insight into what goes on behind the scenes of your creative process? How are those extraordinary decisions, such as the hair pin rings, made?
E.N.: I made the hair pin rings for an Antonina Shapovalova show. I wanted to come up with something unusual. At the moment, a lot of designers are experimenting by making bold decisions: some are making wristlets; others are making full finger rings. I, for one, have made rings to complement hairstyles!
K.P.: You go for such an elegant, feminine look but your jewels seem to scream rock 'n' roll. Who are you really: a princess or a rebel?
E.N.: I'm a rebel, an enthusiast and an experimenter! At the moment, things are calm: I'm at the family stage of my life which has replaced my riotous youth and clearly had an effect on my image.
K.P.: How much is your work influenced by fashion trends?
E.N.: I try to keep up with the trends, especially as far as the colour of my stones is concerned. I'm often looking at and analysing what my competitors are doing. I try to avoid going retro (adopting an imperial, old Russian style), like many others are now. I seem to be balancing on the boundary between fashion trends and my own view of fashion.
K.P.: Eva Naumova is a young but fast-growing brand. What do you think is the secret to its success?
E.N.: I actually really like what I do! I invest all of my energy and soul into it and always think about how I can develop it further. I'm just crazy about my craft and I try to surround myself with the same kind of people who are also professionals in the industry. I truly value their work and try to keep myself motivated in every way possible.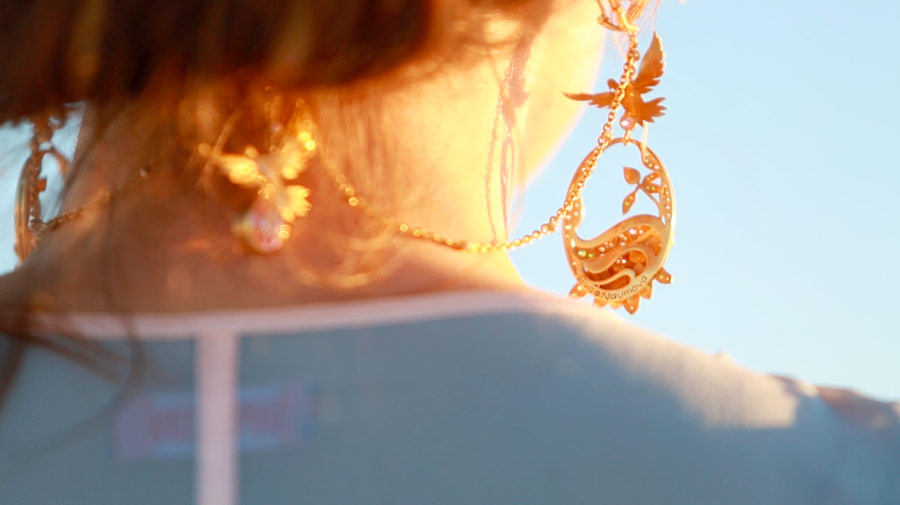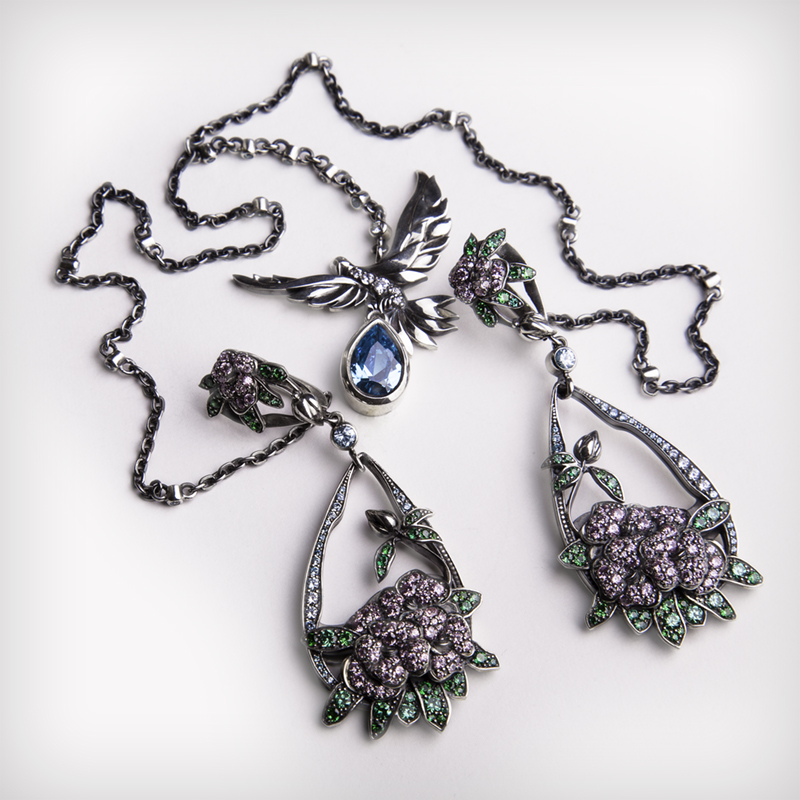 K.P.: You're well-known for your collaborations with Antonina Shapovalova, Maxim magazine, Axenoff Jewellery and others. What attracts you to these joint projects?
E.N.: Oh, I love collaborating on projects. It's a way to discover a new side of yourself and to try your hand at different styles. Right now I'm planning a joint project with a famous western brand but I can't tell you about that yet!
K.P.: What does it mean to you to have received a Jewelry Star certificate?
E.N.: It's already my second certificate. When I was nominated at the beginning of the year, it was totally unexpected. It's insanely wonderful for my creativity to be recognised and appreciated, of course.
K.P.: Looking to the future, where do you think you'll be this time next year? What achievements of 2014 will we want to raise our glasses to?
E.N.: I have some big plans for 2014. I hope and believe that everything will happen as I've planned it! For a start, I've got the opening of my showroom in Moscow and a joint project with some big magazines. I've got interesting things going on in Russia and abroad. In the meantime, I'll be trying to wow everyone with my new ideas for jewellery designs! KP