As you can imagine, I have a natural affinity with anyone who shares my passion for jewellery. In my daily life I interact with many designers, brands and creatives who are deeply devoted to what they do, but I must admit, Faith Hilda of Faith Jewels captured me with her enthusiasm and passion. During our conversation, I was struck by how her own personal journey as a designer is interwoven with that of her private clients; every time she makes a bespoke piece, she's adding a new chapter to her own story and experience.
The brand began in Melbourne, Australia in 2016, and was build on Faith's experience as a senior design lead and client liaison consultant for several well-established Australian jewellers. Her goal was to realise the vision of bespoke fine jewellery that had materialised in her mind's eye, whereby every client story could be instantly recalled and retold with a personal touch. She says: "To me, the story behind each jewel I create is as important as the tangible value of the precious gemstones and materials we utilise, and often resonates more personally with all my clients. My brand's eponymous nomenclature is based on my own name, FAITH, but truly it is metaphoric as a symbol to always continue to have Faith, in yourself, in those that cherish you and in moments that make our lives special."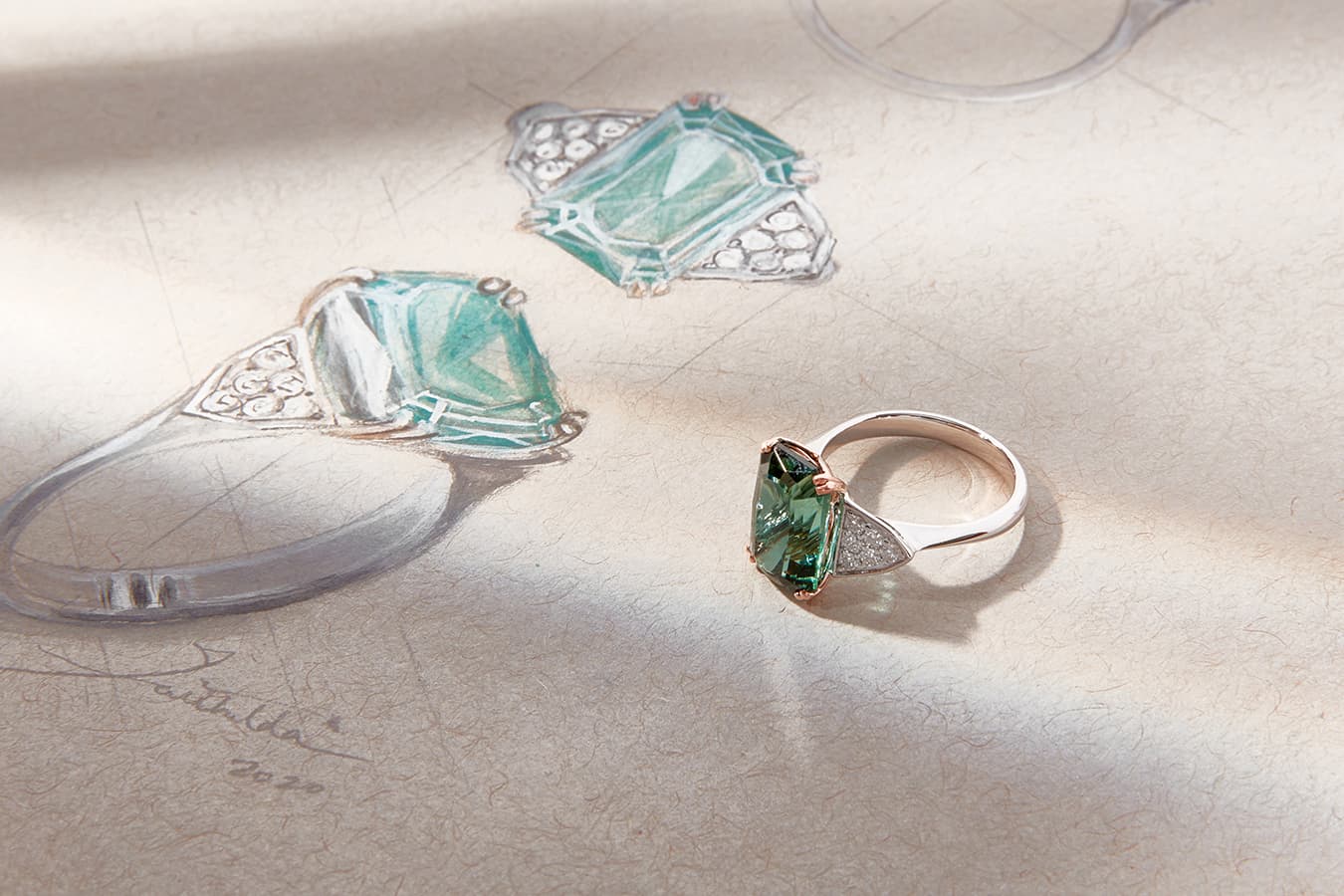 What I find fascinating is that Faith has a background in architecture – a profession that requires dreaming but also mathematics, precision and construction that have rules to follow. She says: "Architecture is about creating structures and fusing the skin and bones of design to achieve visual beauty and practicality. Thus, structure plays a big part in my jewellery design and how a jewel achieves beauty yet comfort and wearability. To me every surface, visual angle and mechanism is important whether front-facing or not. The architect in me also manifests in my design precision. In every jewel I create, you will find the underlying guidance of the principles of applied mathematics. Every fraction of a millimetre counts!"
"Design-wise, I like to utilise the juxtaposition of architectural lines, unique combinations of gemstones, colours and shapes to constantly bring an element of surprise and difference in my jewellery designs."
Faith Jewels offers core collections, engagement rings, bespoke commissions and high jewellery, with highlights emerging from the pieces Faith makes for private customers. Take for example the FJ Dome, created for an intrepid traveller and art collector, who asked Faith to capture the feeling of being a dragonfly on the ceiling of the British Museum! "This led to a voyage exploring the architectural references of domes of great buildings throughout the world, with my exhaustive search landing on the dome of the Sheikh Lotfollah Mosque," she explains. The resulting jewel is an intricately woven mesh of 18k rose gold with openwork cut-outs and blush pink Australian Argyle diamonds, graduating with white diamonds and sky-blue diamonds.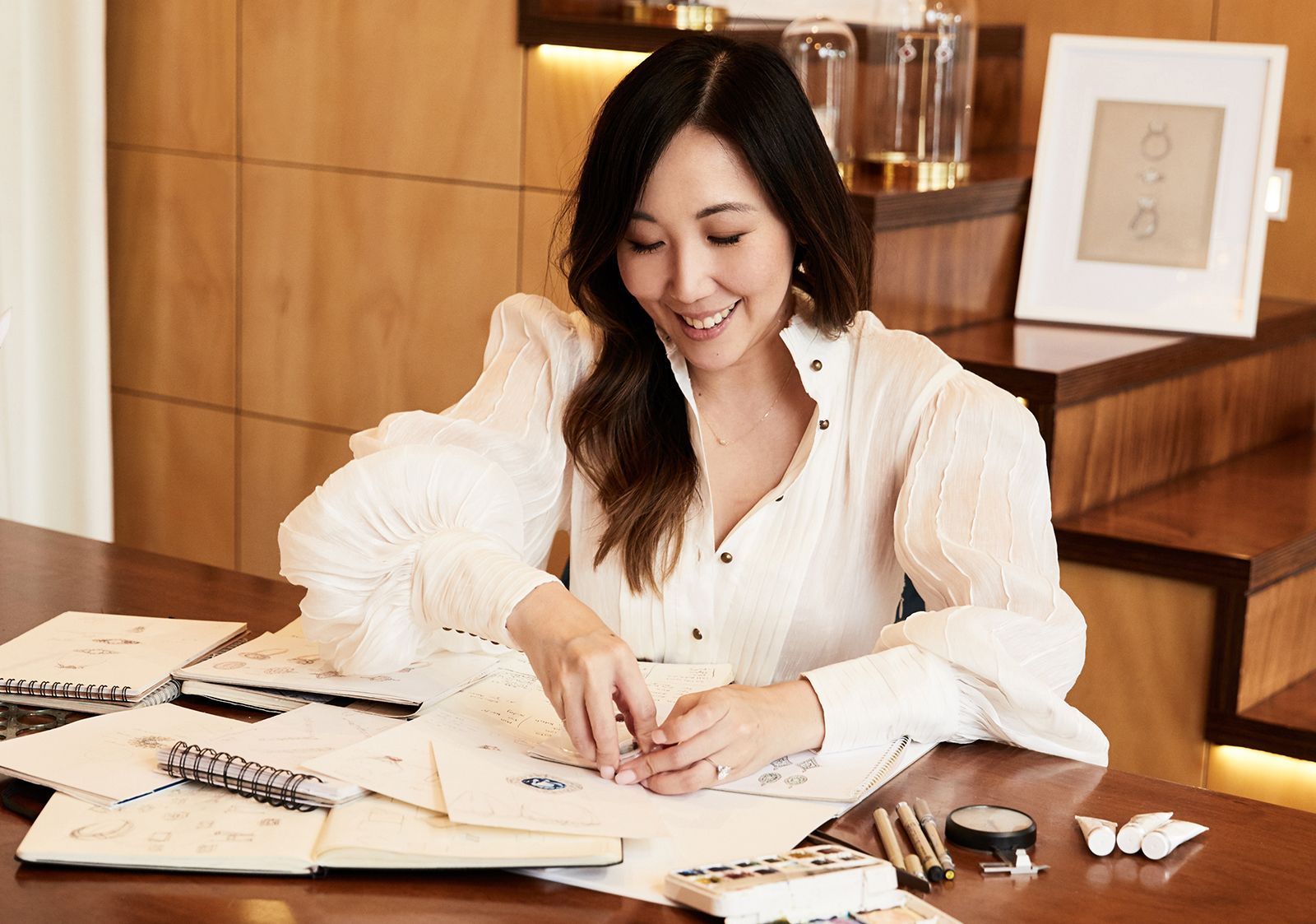 Next there's the FJ Padma, a bespoke ring with an oval-shaped fancy pink Argyle diamond centre stone, conceived for a client to celebrate her children. It is her modern geometric interpretation of a blooming lotus. "The motif itself was selected for the mythical healing powers and calming energy of the flower. The healing need of this jewel commission comes from the touching personal story of its wearer, our client, remembering the passing of her young son hence the interplay of blue and pink diamonds."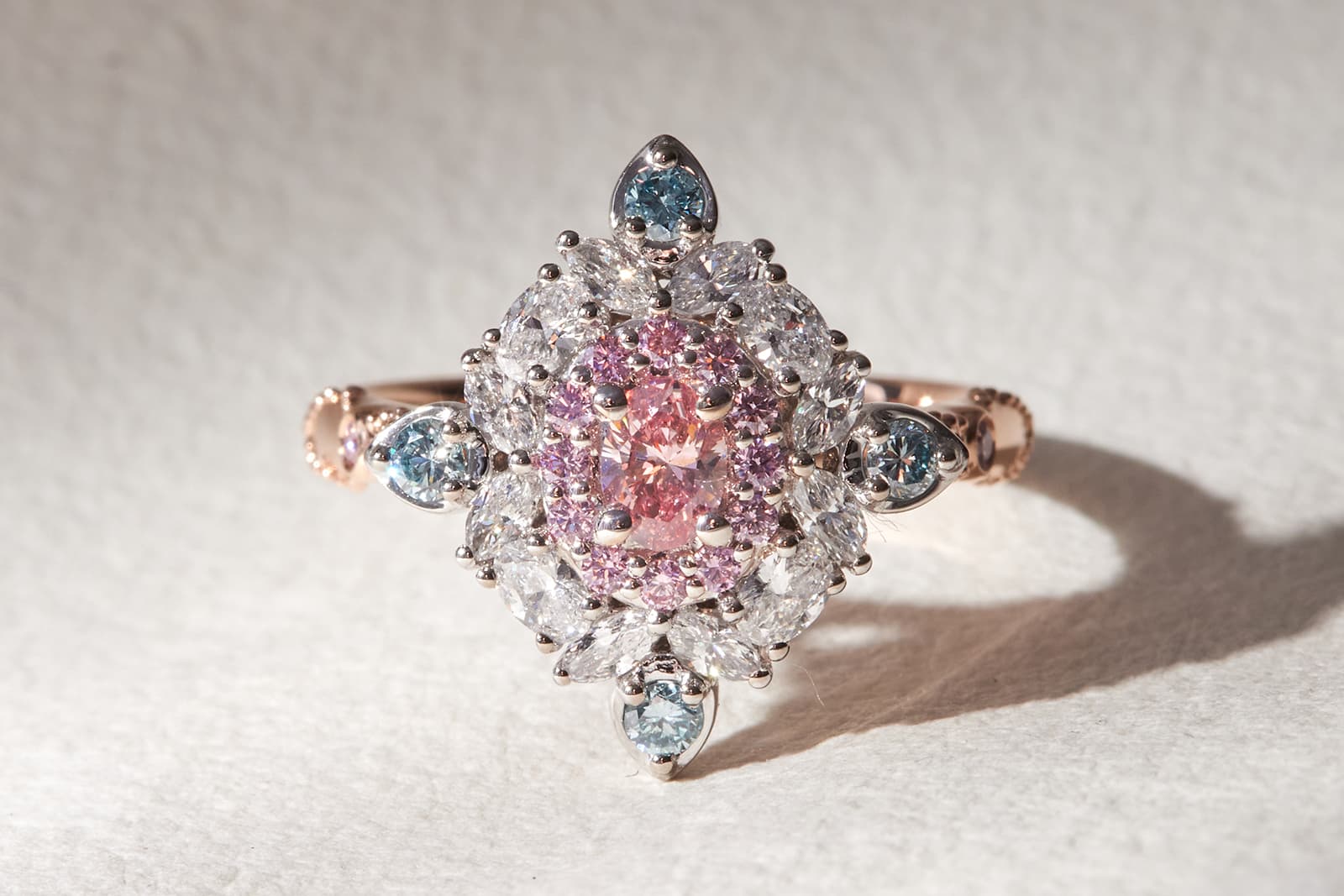 As you see, Faith Jewels is inspired by the mineral riches of Australia, including Argyle pink diamonds from the Kimberley region of Western Australia and, of course, black opals. "I am always mesmerized by the interplay of natural colour and fire of incredible black opal gemstones," Faith explains. "I recently completed a variation of the FJ Cosmos statement ring featuring a magnificent black opal from Coober Pedy floating within a sapphire frosted curvilinear plane. I affectionately called this ring 'Starry Night' after the famous Van Gogh painting."
As is so often the case with bespoke jewellers, a singular commission can spark an idea for a whole collection. FJ Bouquet is one such capsule offering from Faith Jewels that was initially sparked by a customer's desire to transform a handful of loose gemstones into something chic and contemporary. There are now multiple versions of the FJ Bouquet ring created using angular diamonds and coloured gemstones, as well as matching earrings and a convertible pendant brooch to create a complete suite of jewels.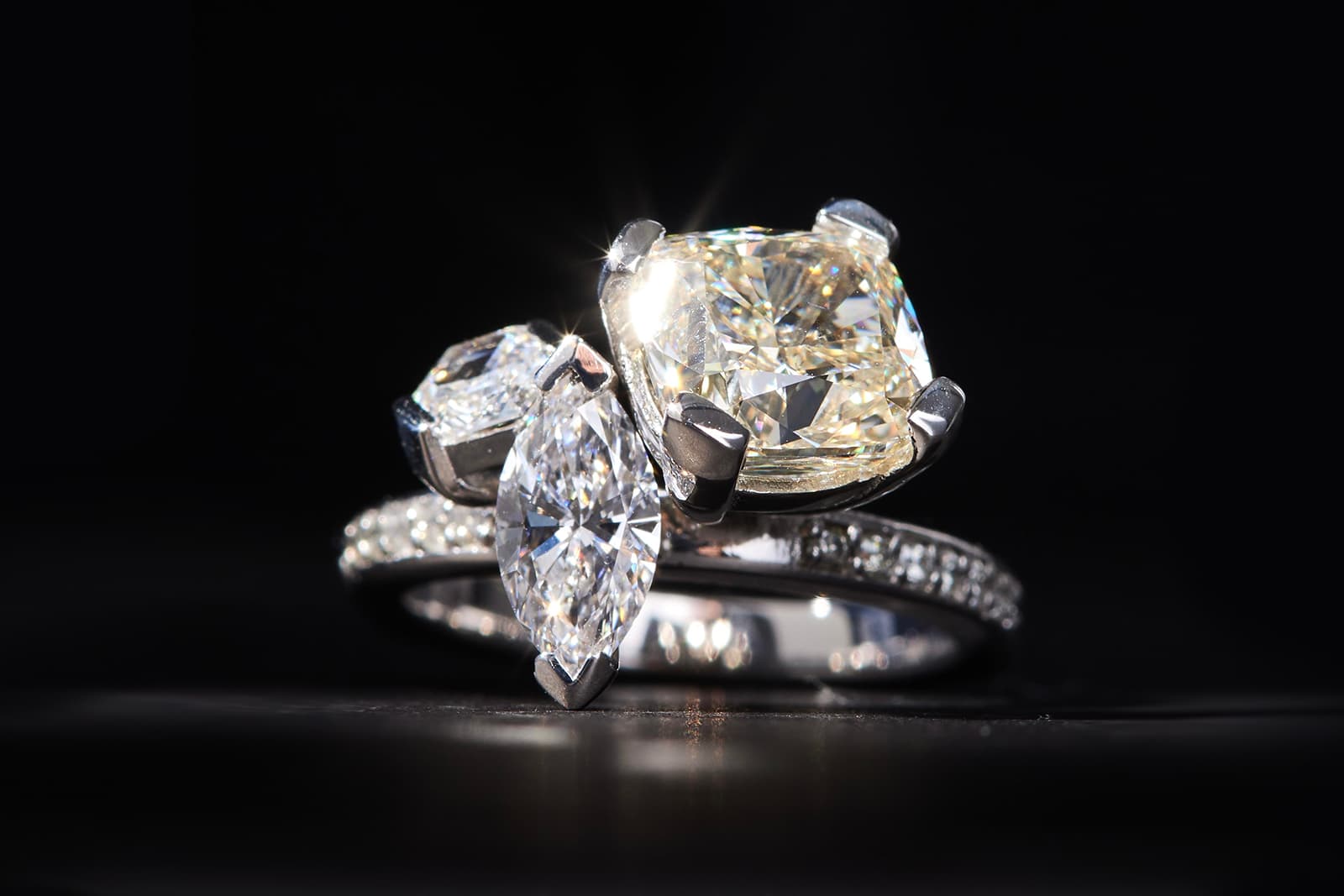 Perhaps my favourite piece is the FJ Wave, which was created for a Sydney-based client who wanted to celebrate her love for Australia's famous coastline. "There are moments during an artist's journey that peak in a single artifact as the expression of their creative endeavours and energies at a particular point. This is indeed the voyage of the FJ Wave Ring," explains Faith, who was inspired by The Great Wave off Kanagawa painting by Hokusai as a creative starting point. After months of design sketches and multiple hand-carved wax models, the FJ Wave ring took shape with a four-carat Asscher-cut Santa Maria blue aquamarine, blue and white diamonds and blue sapphires. Faith explains: "The water is depicted with 459 blue diamonds, 465 white diamonds and 10 royal blue sapphires. The seafoam is represented by the gemstones juxtaposed against the plane of blue titanium to symbolise the changing ocean colours, creating a visual journey towards the central aquamarine, as the eye of the wave."
The owner of FJ Wave was so impressed by the creation that she has now commissioned a further two pieces – Fire and Earth – that will create a trio known as FJ elements. I look forward to seeing all three pieces together at some point in the future!