In China, the image of the butterfly is encountered in Taoist parables, in art, and in literature. This delicate creature has long been an intrinsic part of Asian art and culture, and its image has always been pervasive in the fine jewellery world - where butterflies frequently appear in different guises. Whereas in the collections of most designers you will generally come across butterflies sporadically, Hong Kong-based designer Jessica Fong has made this delicate creature an inextricable feature of her collections, leading her to be known by the moniker of the 'Butterfly Maiden'.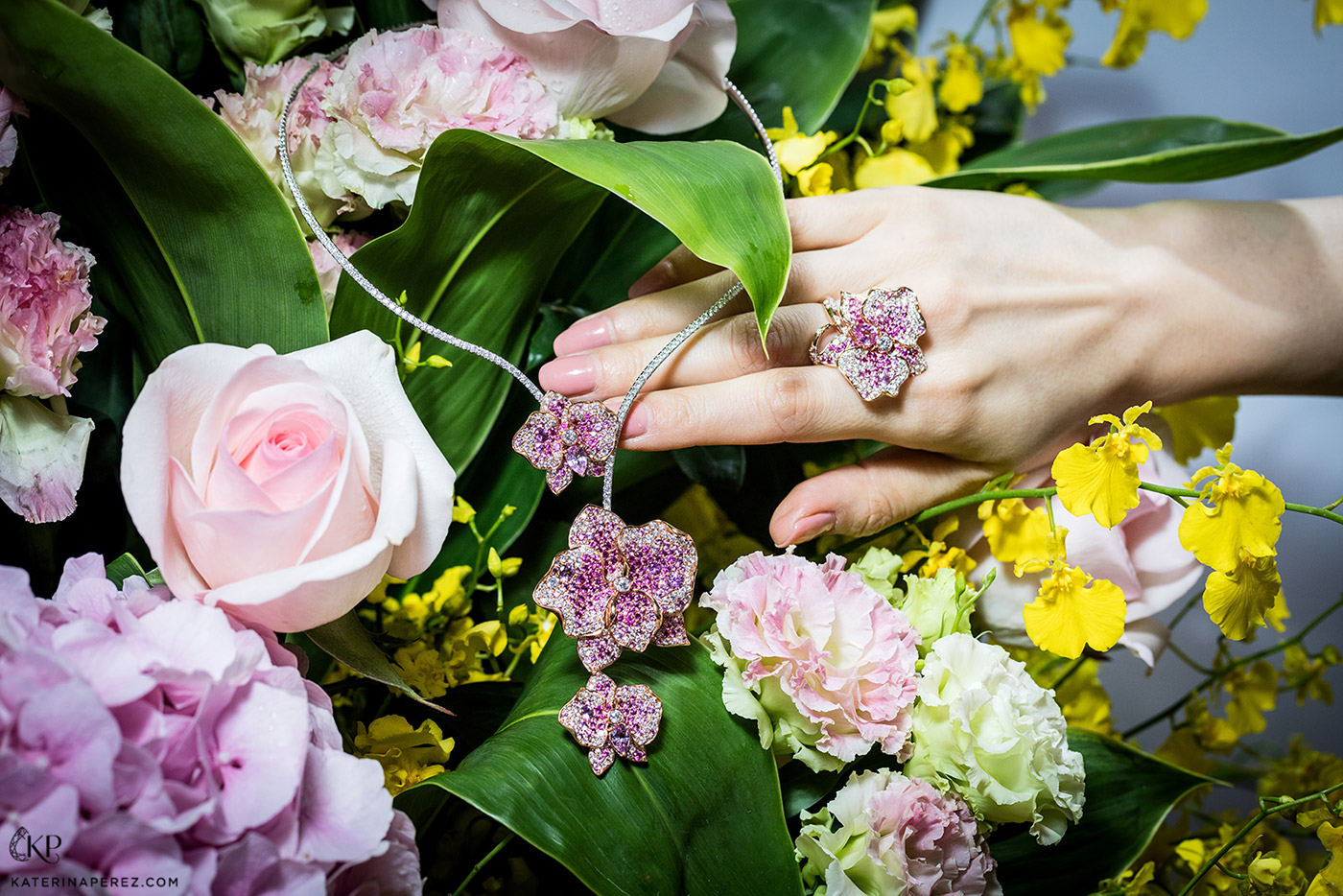 I was exposed to Jessica's work for the first time three years ago, rather spontaneously at the Hong Kong Jewellery and Gem Fair. I returned there this September, and met Jessica again at her salon on the first floor of the expo centre in the Asian jewellery section. Our meeting was something of a plunge into the magical world of gemstone flowers and butterflies; steeped in diamonds, sapphires, rubellites, amethysts, tsavorites - an array of precious stones.
"I was born in the countryside and spent a lot of time observing nature in my youth. During that time, I used to see a variety of beautiful butterflies which have now become an integral part of my designs," said Jessica in response to my question on the source of her inspiration - one which the Hong Kong designer gets asked more often than any other.
Flora and fauna are continuously inspirational for Jessica and in spite of the fact that the designer uses only a few flower and butterfly species as a foundation for her collections, every time they look as exciting and enticing as they do when the real thing is encountered in the natural world. These delicate fluttering insects have always held a special place in Jessica's heart, but 10 years ago her collections were primarily rich in floral motifs. In her jewellery garden, Jessica Fong has grown orchids, lotus flowers and peonies - which still appear in her collections to this day. Their dainty petals are covered with diamonds, multi-coloured sapphires, tourmalines and a multitude of other precious stones - affixed using Jessica's favourite pavé settings - on white and pink gold.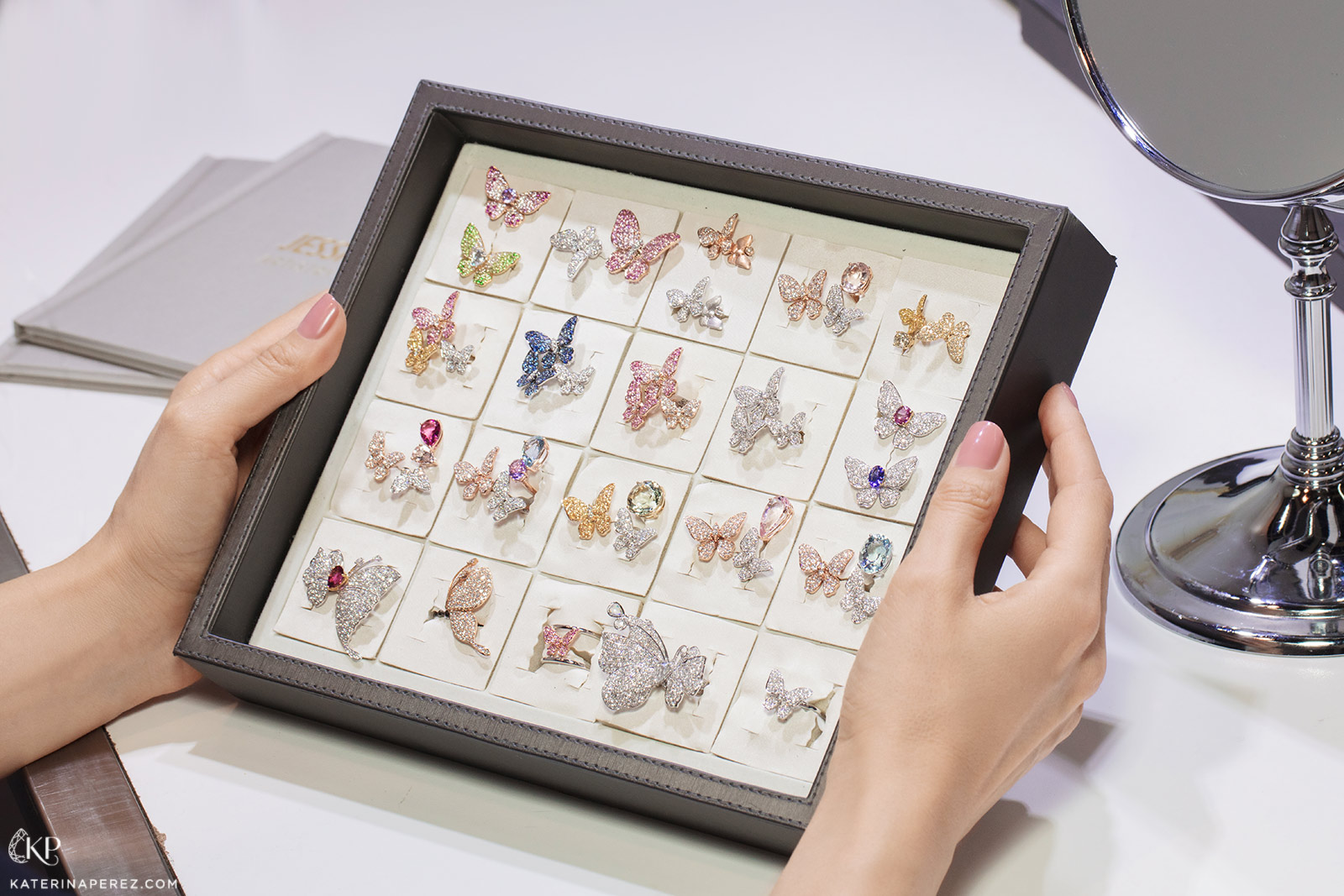 "In the beginning I focused mostly on flowers, and making collections in tribute to different species of them. But since 2013, I have given special attention to butterflies, and every year I launch a new line of them. In my culture, they symbolise transformation of life and are believed to bring happiness. That is why these charming creatures have become my muse, and I have become known for my collection of fine butterfly jewellery," Jessica Fong explains.
Those winged beauties of hers excelled any I had seen before: from the modest, wearable, every day pieces, to trendy multi-finger or full-finger rings, and true one-off masterpieces whose beauty is immune to time and fashion changes. One such jewel is her finely-wrought butterfly brooch, comprised of white gold and myriad of diamonds which glittered in the display cabinet. It was difficult to walk past without stopping to look - as so many visitors repeatedly did - at this objet d'art which took 2 painstaking months to create, constructed with an intricate frame of white gold and affixed with 2,000 diamonds.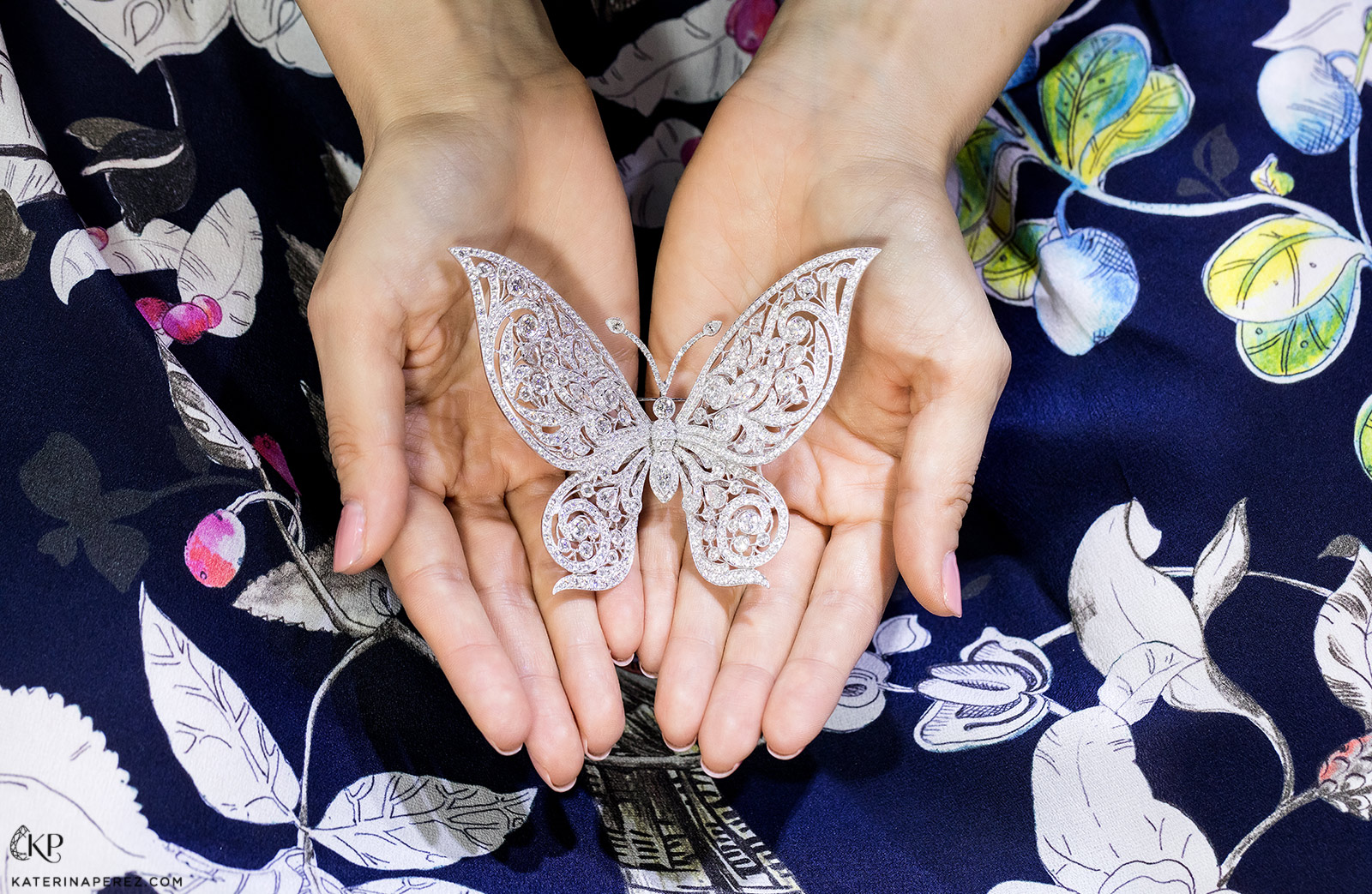 Another marvellous creation that cannot be ignored is the 'I do' diadem, fashioned with three large butterflies in the centre. It belongs to a limited line of wedding jewellery which Jessica Fong has created - practically every millimetre of this unique tiara is covered in colourless brilliant and rose cut diamonds.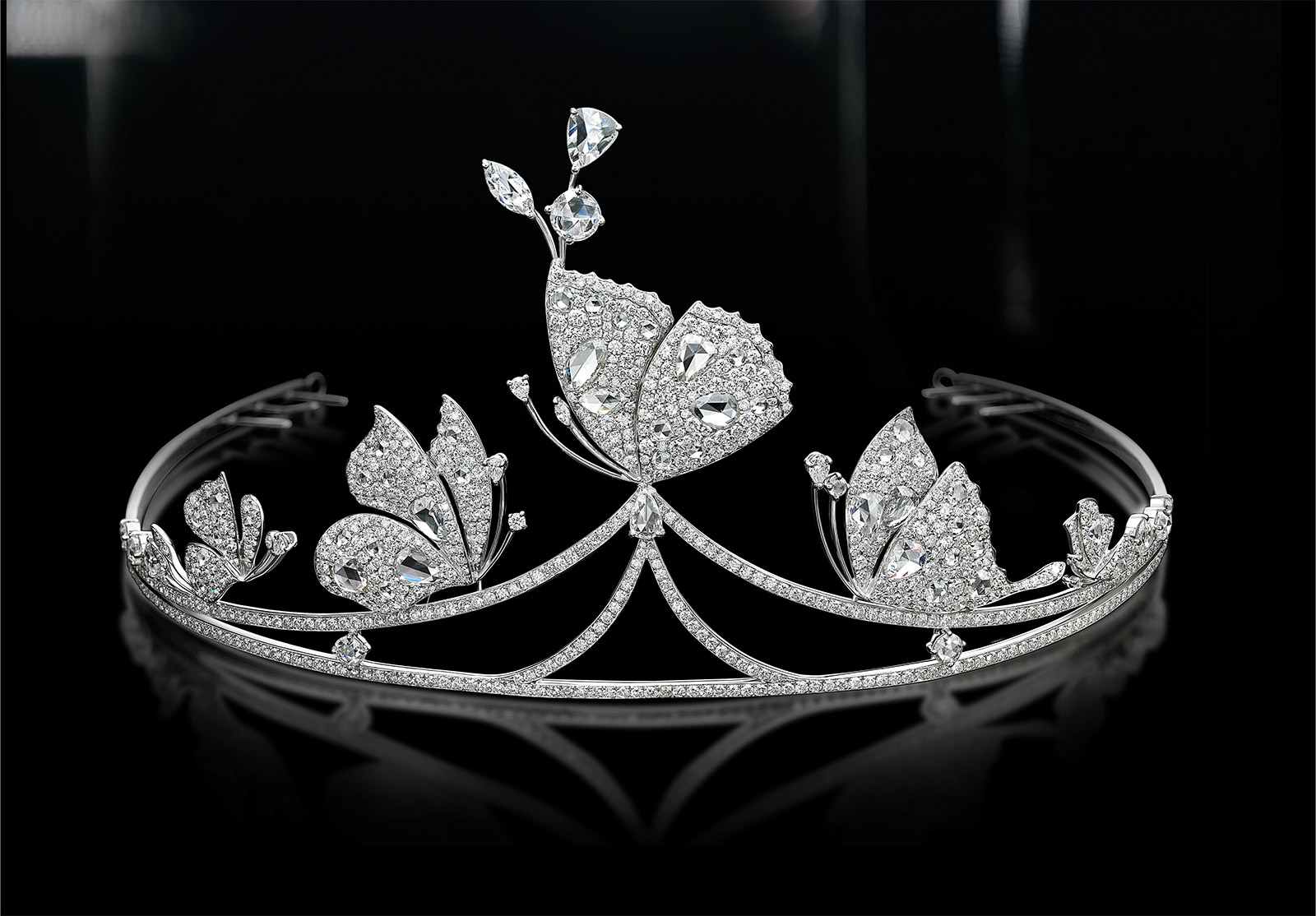 Jessica Fong does not just make one-of-a-kind pieces, she has also extensively designed all types of butterfly themed fine jewellery. One of these, 'La Floraison', includes labyrinthine interpretations of lepidopterans that are covered with white, yellow and pink diamonds. Another significant line is the 'Butterfly Maiden;' which is comprised of rings, pendants, bracelets – the 'Indigo', 'Pink' and 'Verdancy' earrings, with a broad colour palette and simplified butterfly contours. But my absolute favourite is her collection of unique rings which are designed around large gemstones: heart-shaped rubellite of 25.09 cts, oval amethyst of 28.90cts and succulent oval citrine 33.74cts.
After founding her namesake brand in 2005, Jessica decided that she would not simply create elegant, high quality jewellery, but also weave into each of them some kind of sub-text; a message from Mother Nature herself. She took on the responsibility "to create a link between the precious stones and those who come into contact with the finished piece, so as to enlighten their souls and encourage more compassion, care and sharing to the world. There is spirit and magical power embedded in the precious stones that are connected to Mother Nature. My mission is to give back what I have received from nature to everyone I encounter".
With 25 years of experience as a jewellery designer, Jessica Fong has spent the last 13 of them on running her own brand - Jessica Fong and has already exhibited her jewellery in different countries all over the world, including the USA, Italy, Middle East, Switzerland and China.