This year, Van Cleef & Arpels have expanded the watch universe with a marvellous piece of high art jewellery: the Rubis Secret watch bracelet. It was first seen at the haute horlogerie exhibition SIHH in Geneva, where it was one of the most exciting pieces on display.
The Rubis Secret watch bracelet is made from white gold, diamonds and rose gold, decorated with 115 fine quality rubies weighing an average 151.25 carats, and is equipped with a quartz mechanism. The 115 red stones were sourced from Mozambique, a feat which, of course, was not accomplished overnight but was the work for several years by Van Cleef & Arpels gemmologists. The stones were subject to a careful selection process to ensure that they matched perfectly in colour, equal distribution of hue across all the faces – something you don't always get with rubies – and structure.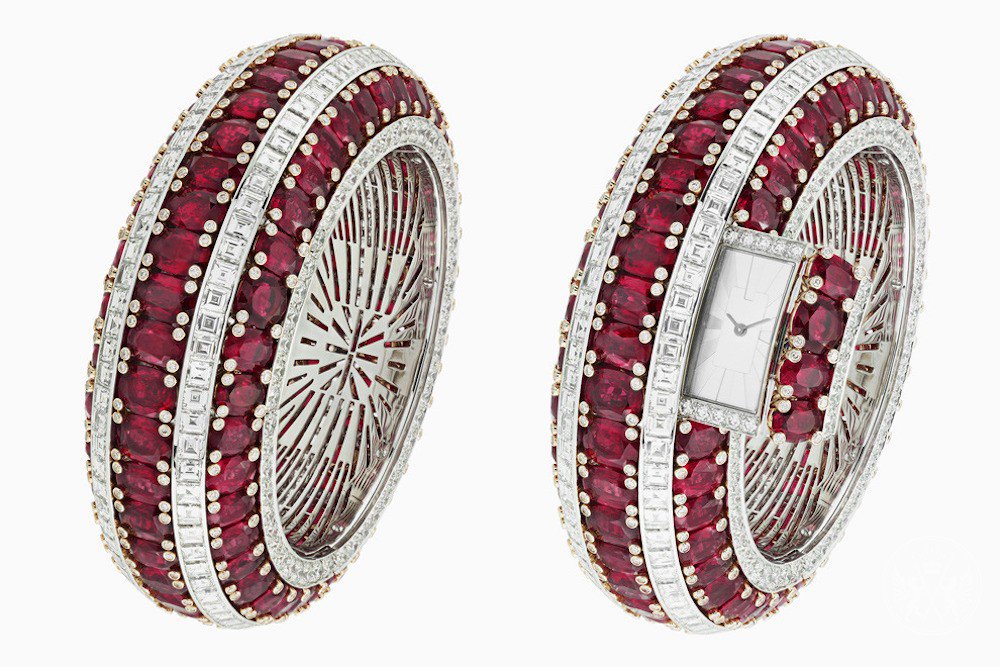 Sourcing all the different stones was not the only challenge which the brand's jewellers faced – they also had to set the various cuts of stone, ranging from oval to cushion, on the surface of the jewel in a way which ensured they achieve a uniform appearance. The result is simply stunning: the rubies, laid out in three rows, create a voluminous bracelet which shimmers and plays in the light, lending a unique character to the brand's new creation. They may achieve a harmonious look, but each stone on this secret watch is unique, shading and enhancing those around it, and together with the diamonds they create an unparalleled symphony of shape and colour.
The watch-bracelet lives up to its name thanks to a little plate made of white gold which conceals its unique technical quirk: a miniature secret watch hidden delicately within the bracelet, revealed by pressing carefully on the ruby stone hinge. In order to conceal this neat little feature, the designers have fitted the watch face as closely as they possibly could to the interior surface of the secret compartment in the bracelet, so that when it pops out it slides literally within a hundredth of a millimetre of the inner wall without the stone and metal coming into contact. It is no surprise that this sort of impeccable technique, masterful craftsmanship and spotless technical precision were required to bring the jewellery house's unique vision to life because, after all, aren't these precisely the qualities everyone thinks of when you mention the name Van Cleef & Arpels?
Completion of this secret-bearing watch, a veritable masterpiece, took the brand's designers more than a year, 1500 working hours to be precise. The effort has undoubtedly paid off; the result has wowed Van Cleef & Arpels staff and SIHH salon visitors alike, and it continues to inspire anyone lucky enough to witness it art first-hand, a true marvel of jewellery and watch art.