Years of work spent developing her business allowed Sarah to gain invaluable experience, and in doing so she gained the confidence to create the jewellery that reflected her vision of beauty: luxury sets and cocktail pieces with large diamonds, gemstones and rare pearls. In this interview, Sarah Ho talks about her latest collections, entering the Asian market and using unexpected colour combinations in her pieces.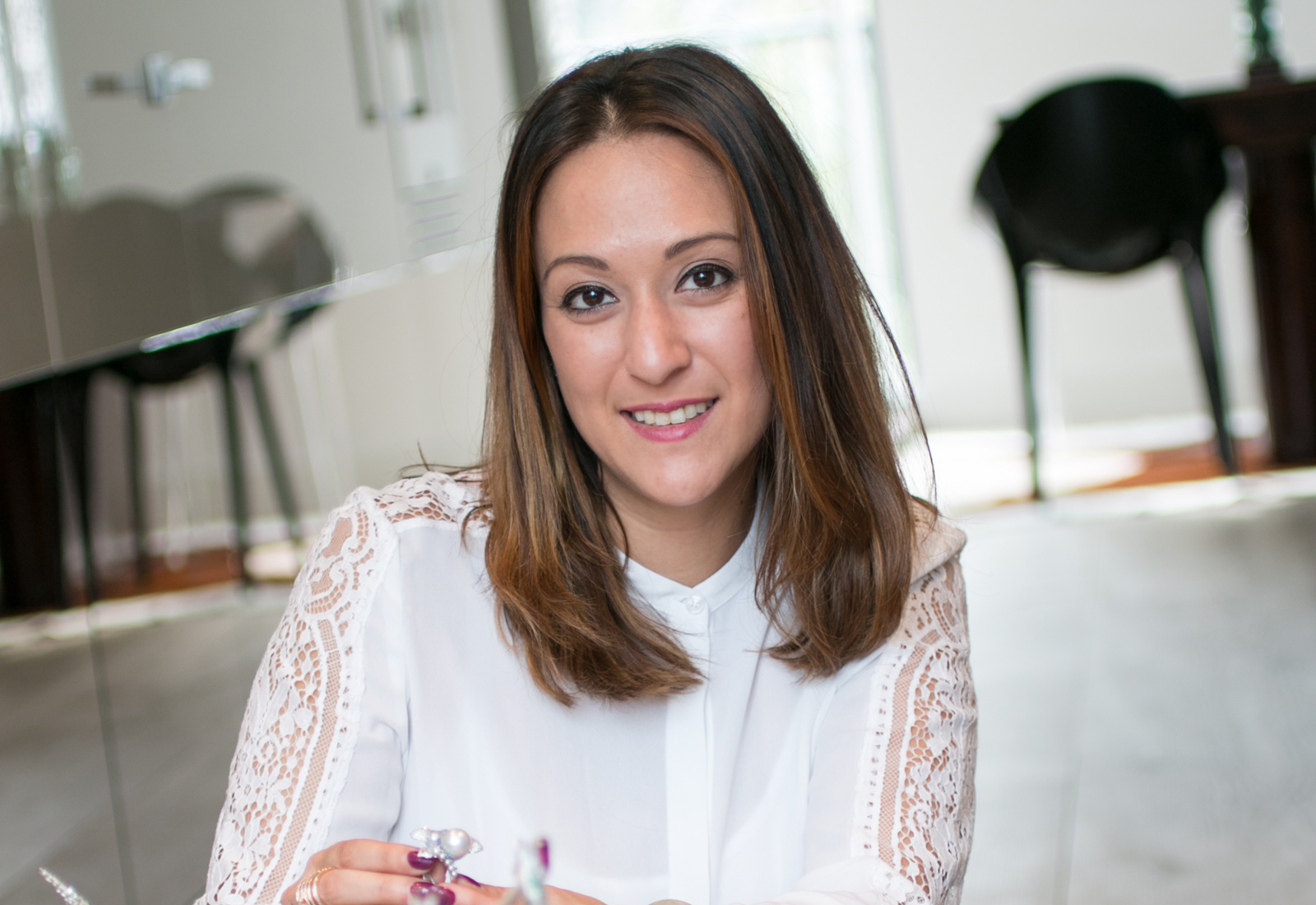 KP: High Jewellery is what you've always wanted to do, so what was stopping you from the outset of your career?
SH: Working with important materials is not as easy as selling a friendship bracelet and starting on something like this in the first ten years of my career was simply impossible. Initially, we worked only with gold, but 3 - 4 years later ventured into silver to follow the trend at that time. I remember feeling like two people, as my heart wanted to do high jewellery while my business head focused on keeping the company afloat. The more I kept on doing this, the more the company started to go in different directions. I think it confused the clients, as one customer could spend £20,000 and another just £200. So I stopped working with silver as this was not the direction for me.
KP: What gave you the confidence to finally dedicate yourself to high-end jewellery rather than 'bread and butter'?
SH: I don't know for sure. I think it's the time it took me to get there, as well as all the mistakes I made and solutions I found along the way.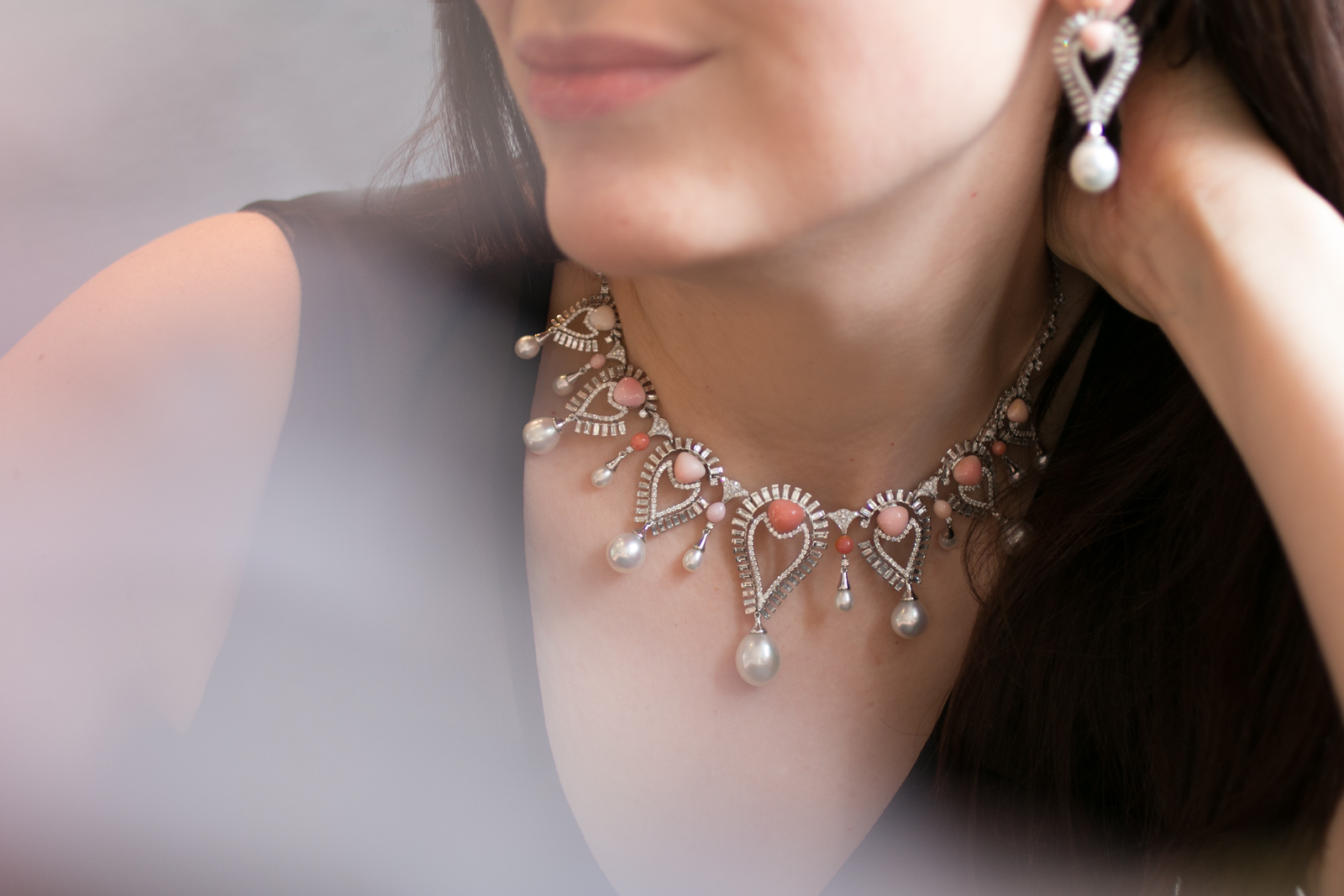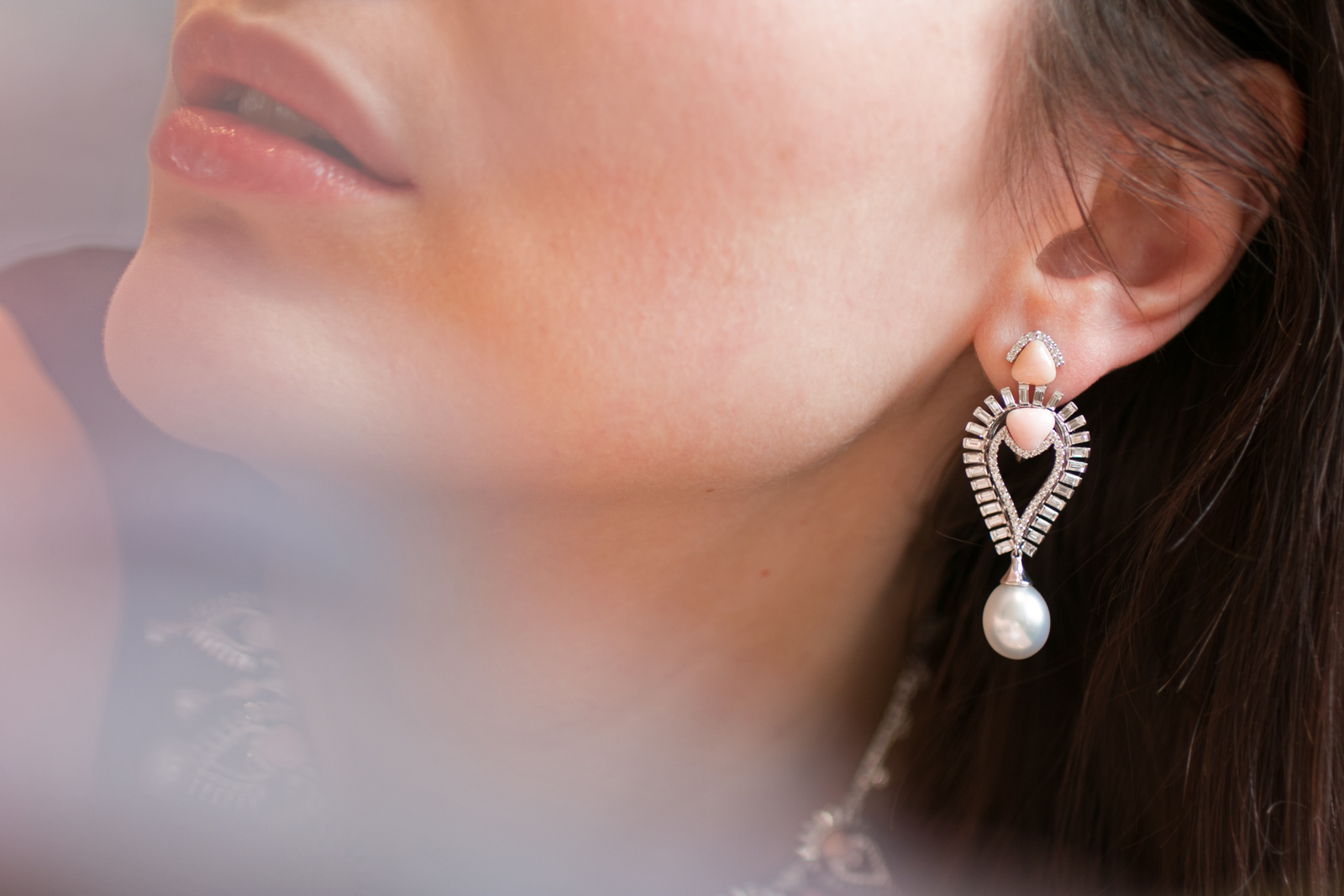 KP: I remember first meeting you a few years ago when you already had a couple of important pieces.
SH: The couture line started in 2011 when I did first couture piece to test the water, celebrating our 5th anniversary : it was the Aurora Suite and then the Paradis Earrings. Once we started getting a bigger following in Asia, more and more clients appreciated our fine jewellery line.
KP: Is that when you changed the name Sho Jewellery to Sarah Ho?
SH: Yes. Anyone could have been the designer behind that brand – it wasn't personal enough.
KP: You mentioned a strong following in Asia. How do the tastes of Asian and European women differ?
SH: Before, when our pieces were very much targeted at the U.K., it was all about creating a design out of gold and then sprinkling it with diamonds. With Asia, it is all about big stones – the bigger the better, the more unique the more desirable. So we had to create a lot of new designs featuring statement stones.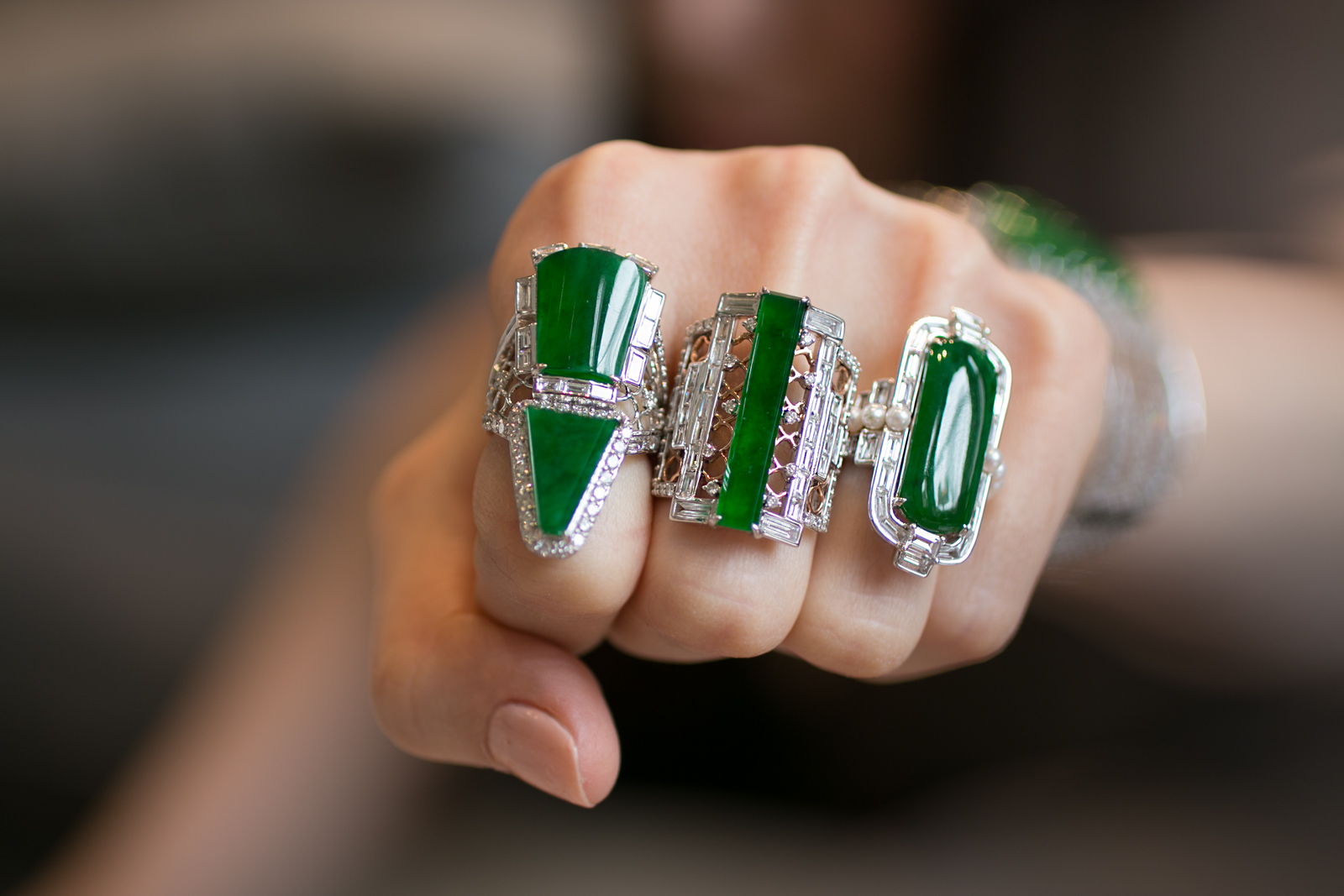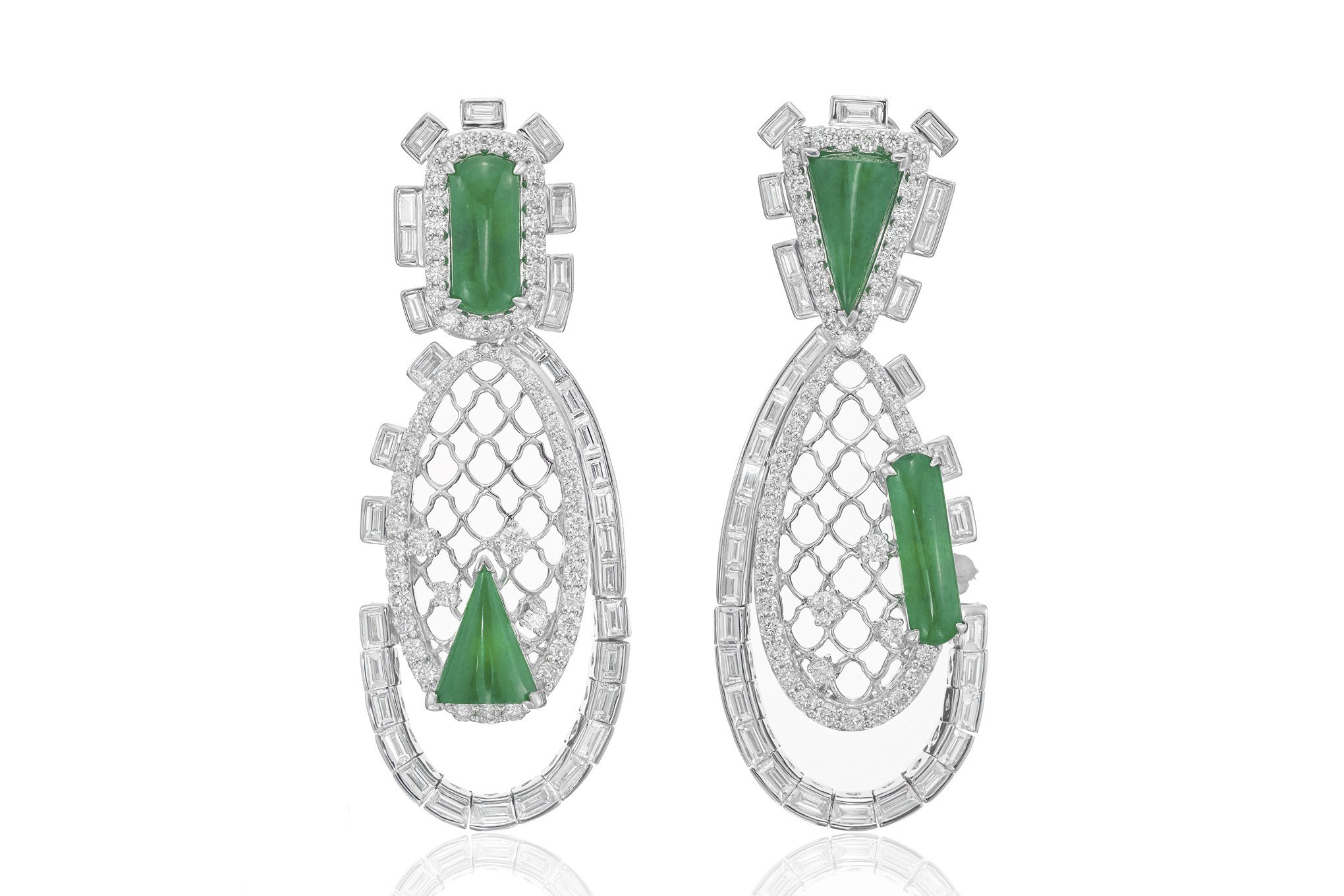 KP: Like your new jade line?
SH: Yes. It's my first time working with jade, which turned out to be a real challenge. My supplier in Hong Kong provided me with a parcel of green jade in unconventional shapes, all looking like lose ends. I had to put them together in a collection which turned out to be a difficult task, especially considering that jade is still perceived as old fashioned in Asia. That's why I wanted to bring in my Western side: being a London-based designer with Asian roots. I chose my love of the Art Deco Era as an inspiration and ended up creating modern pieces where jade still plays an important role. I feel that I succeeded in making something that's appealing to the younger generation in Asia.
KP: Are you trying to do the same thing with pearls, which were once also considered old-fashioned?
SH: Yes, that's right. I love all pearls, and especially rare conch pearls and have been using them in my designs since my first couture pieces. You see something very special in the latest collection: triangle conch pearls in a necklace, ring and earrings. There are around 18 of them that took a long time to collect. My supplier was putting them aside one by one for years.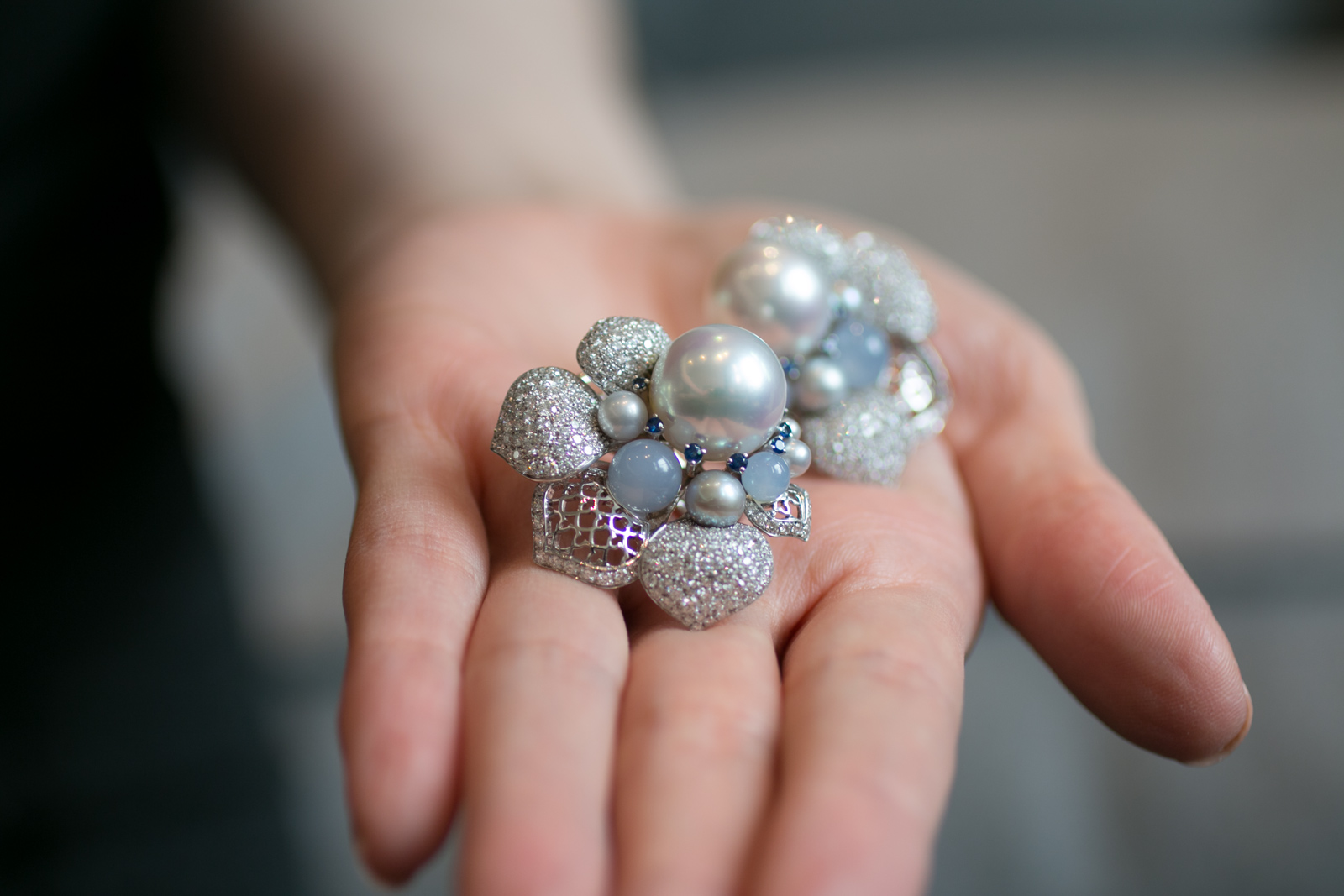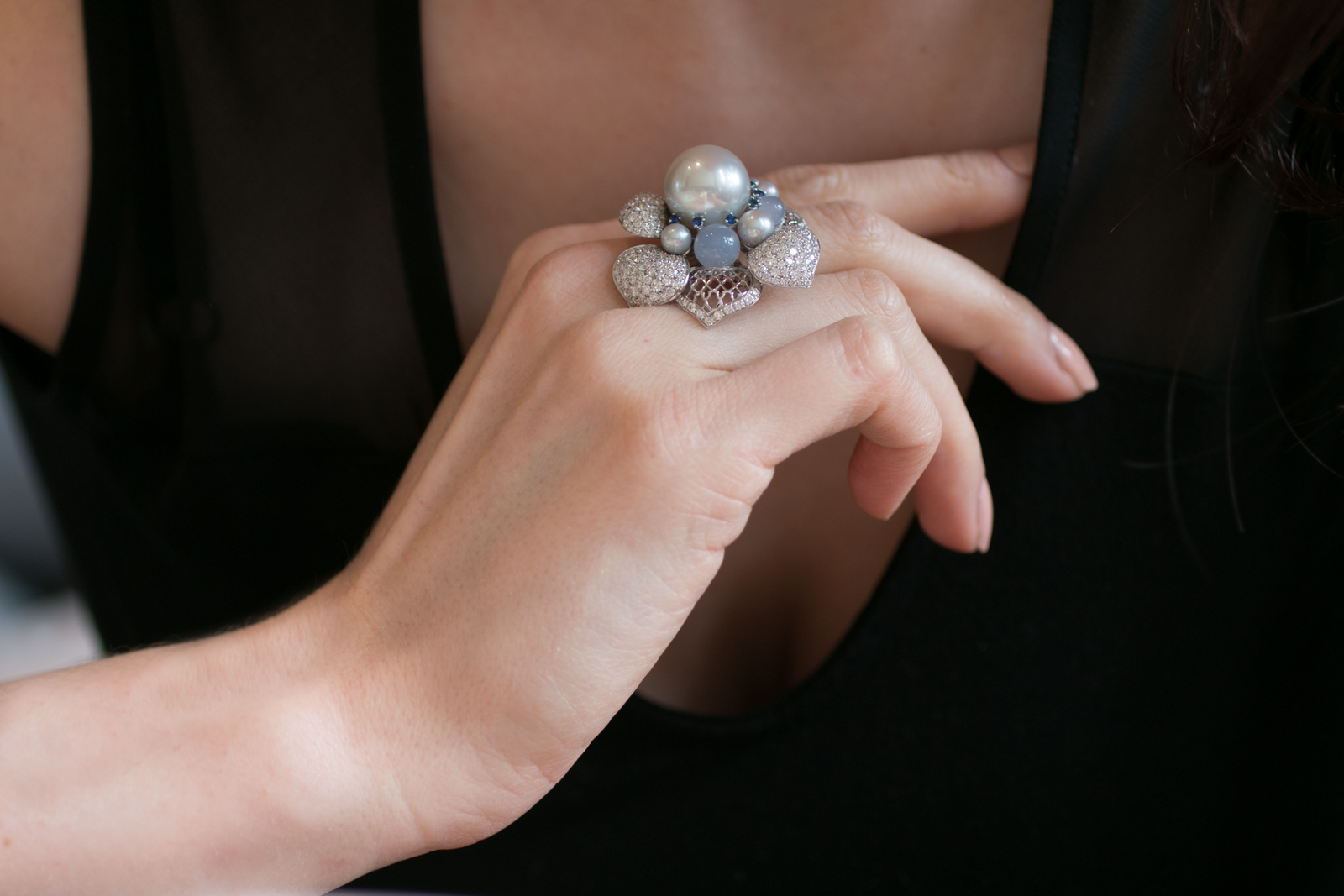 KP: Tell us more about the Lily and the Peony.
SH: These new pieces are from the Hidden Garden Collection, which is linked to a chapter of my life when I was growing up. Connecting my memories with jewellery is something I have been doing since the very beginning. When I was small there was this one place we would always go, and lily reminds me of that. Peony is another important flower for me because it was in my wedding bouquet.
KP: You have some very unusual colour combinations in these collections.
SH: I like to use unusual blends of colours, maybe because of my fashion background – it's reflected in my designs. Sometimes I put together stones that you don't expect to see side by side, like accents of green emeralds next to golden pearls and pink opals. Certain colour combinations can make a jewel younger and edgier so that a person of any age could wear it. Creating elegant timeless jewellery for any age and style is what I aim to do.