The Genevа-based company, Piaget, has debuted three highly artistic works: Piaget Altiplano Feather Marquetry, Piaget Altiplano Double Jeu Lacework and the cuff-watch, Lacework, and it is to these which I want to turn your attention. These weren't the only Piaget jewellery models on display at SIHH, however the others don't compare in their originality and uniqueness. They owe their beauty first and foremost to the authors of the rarest artistic techniques which I want to acquaint you with further.
For several years already I have observed how Piaget has never ceased to search for newer and newer ways to interpret its key symbols, including the captivating Peacock and the tender Rose. They appear in unusual and vivid images, demonstrating the heights of craftsmanship achieved by the jewellers and the limitless creative freedom of the House's designers. However, combined with this Piaget works on the preserving and revival of forgotten crafts as well as conducting an endless search for talented craftsmen. It is in partnership with exactly these people that innovative techniques are often born. An example of this is the watch Piaget Altiplano Double Jeu Gold Lacework and the cuff-watch Gold Lacework, created together with Sara Bran and Piaget Altiplano Feather Marquetry made together with Emilie Moutard-Martin.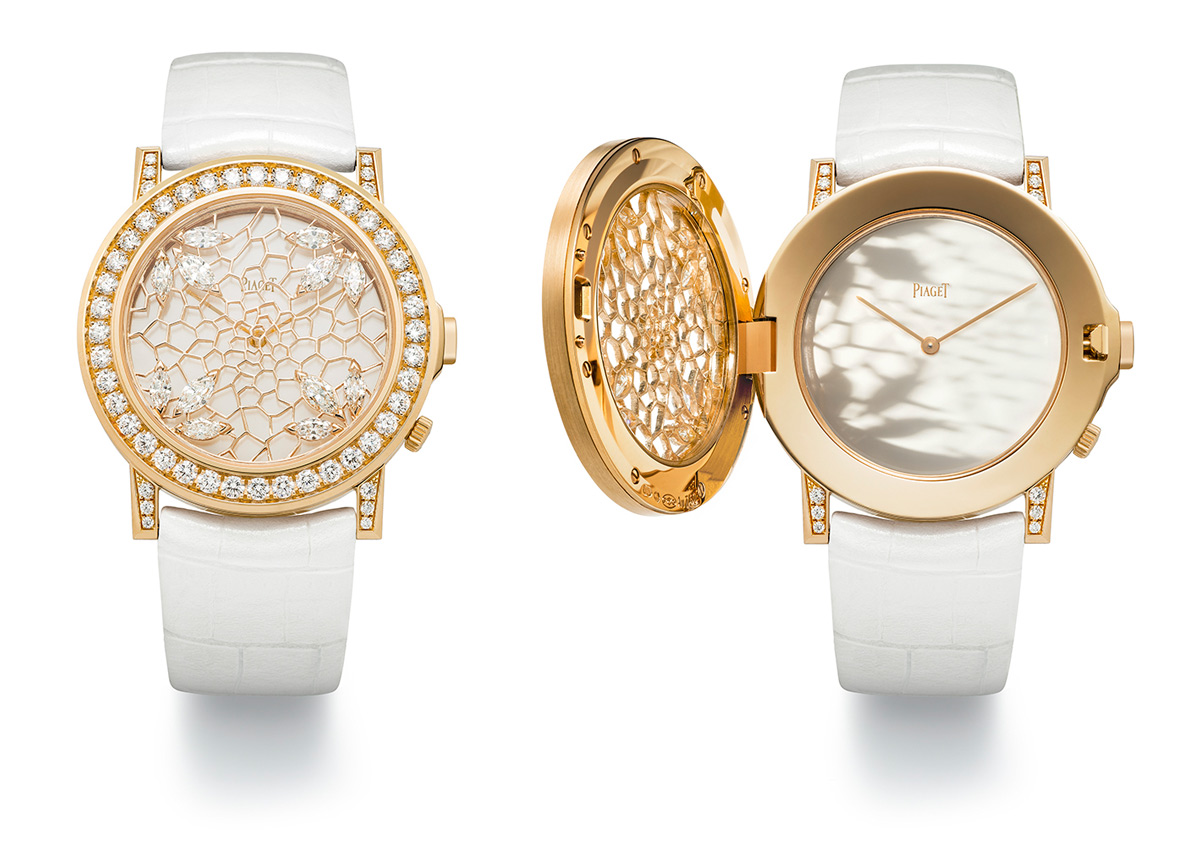 Sara is a skilled jeweller and specialist in weaving the finest gold lace. She herself devised this method when she was engaged in stone carving and making monumental sculptures, becoming fascinated in lace products. "I started to make lace from gold in order to inspire new life in textile work and give durability to their decorative value," explains Sara Bran, revealing the main idea of a completely new artistic craft.
Sharpened chisels recreate a light drawing on a plate of gold, a saw blade and hacksaw continues to animate the sketch. Gradually cutting off all that is unnecessary, Sara draws her sculptural lace. And now, the watches Piaget Altiplano Double Jeu Gold Lacework and cuff-watch Gold Lacework serves as an example of this technique.
The model Altiplano Double Jeu with its two superimposed casings has been released as a limited edition of 8 copies. The top module is decorated with an exquisite gold pattern and encrusted with 12 marquise-cut diamonds with a total weight of approximately 1.6 carats. A special button opens the patterned case to expose the minimalist design of the white dial and hands, which work in unison with a hand-wound 430P movement. The body is made of 18 carat rose gold with 52 round-cut diamonds weighing a total of 2.3 carats.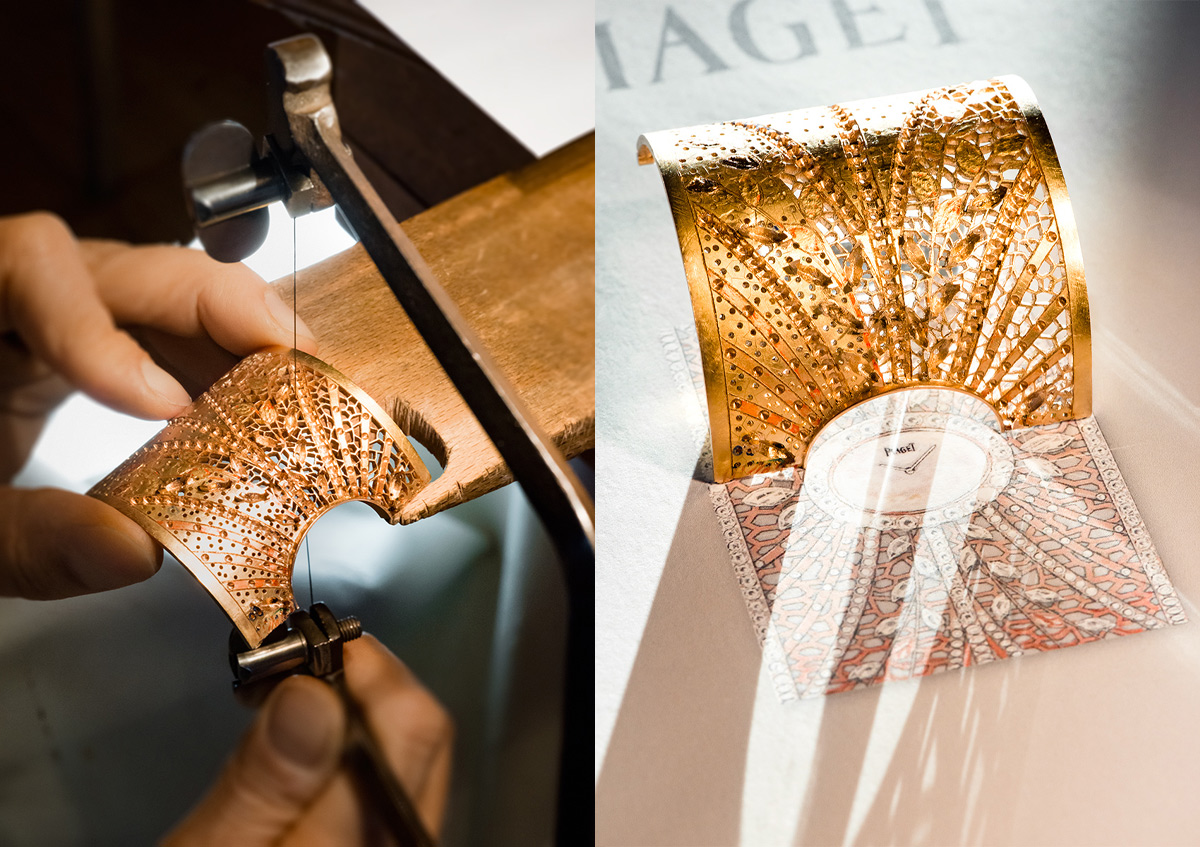 The cuff watch Gold Lacework is designed to show the time on a dial made from opal but it is still an exquisitely decorated jewel in the first place. Decorative lace made of rose gold gently wraps around the wrist and glitters with 382 round-cut diamonds weighing around 11 carats and 30 marquise-cut diamonds with a total weight of around 5 carats.
The talented craftswoman Emilie Moutard-Martin took part in designing the fairylike Piaget Altiplano Feather Marquetry wrist watch. Emilie is a jewellery creator and artist who since 2012 has worked with feathers. Light and dynamism are two words that can be used to describe her work. In order to create the watch model she carefully selected feathers according to their purity of colour, density and texture, washed them in soapy water and steamed them to give durability. She then carefully cut the feathers by hand, giving them the required shape. After they have been smoothed, Emily gently places the feathers in the right places, deftly alternating contrasting shades and laying out certain geometrical patterns. Thus she was able to achieve the sense that an actual peacock, the hero of legends and symbol of immortality, is spreading its magnificent tail of dazzling feathers right on your wrist.
Magnetic attraction is added further to the watch by the casing made from 18K white gold, decorated with 78 round-cut diamonds weighing approximately 0.71 carats and a unique dark blue strap made from calf skin with a satin finish, inspired by high fashion trends and also distinguished by the skilful decoration of feathers.
These three models have become the epitome of exquisite beauty, presented in the unmistakeable style of Piaget.