I like to play with different materials and textures, different colours etc. When I see something that is really out of this world and eye-catching, I want to do something with it. – Ornella Iannuzzi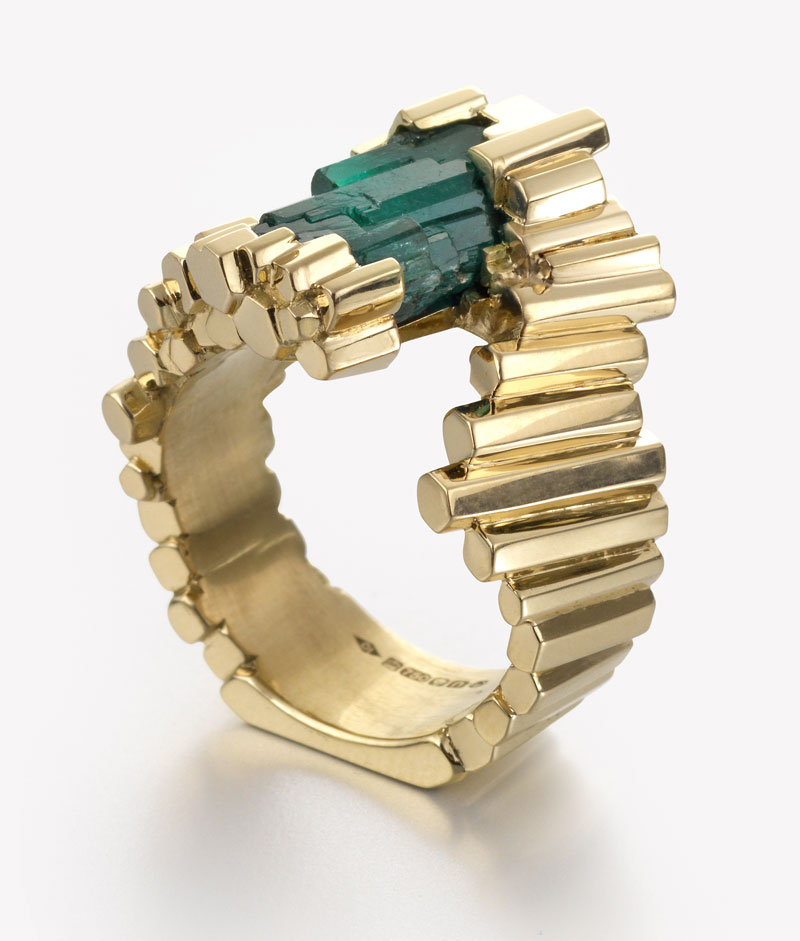 An 18K gold ring with an emerald crystal, Les Exceptionnelles collection
Ornella Iannuzzi comes from France, has an Italian name and lives in London. She is exotic by nature and so is her jewellery, which is organic and sculptural with harmonious composition of colours and textures.
What is particularly striking about Ornella's jewels is the stone settings. Not just structures to hold gemstones in place, they always represent elaborate compositions that becomes an integral part of Ornella's complex designs.
"I have very high quality expectations of my work," says the designer. "And it's not mass production; every piece is unique. I am very careful to make sure that everything is perfect, down to the smallest detail."
When I ask Ornella to give me an insight on how her collections are born, she shares with me that "a ring is usually my starting point for everything as I guess I like to make rings the most. However, the actual source of inspiration is initially the stone, like in Les Exeptionnelles collection. Gems guide me as to which pieces I should make with them and what the general design is going to be.
I have always been studying different varieties of coral, looking at different forms of it. So for my Coralline collection, I was actually influenced by coral-inspired pieces that I had already made for my Abyss line. The original pieces were pretty bold, dramatic, and heavy so I reduced them a bit. The pieces in the collection are still pretty big, but with pearls. It meant that they could appeal to people who are usually more interested in traditional jewellery; I thought I needed something of a more commercial range."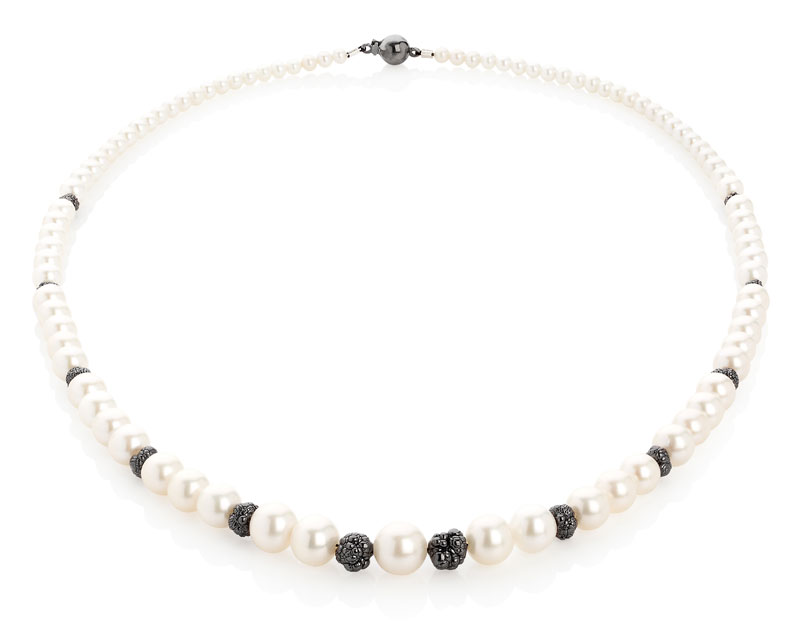 A pearl and silver necklace from Les Corallines collection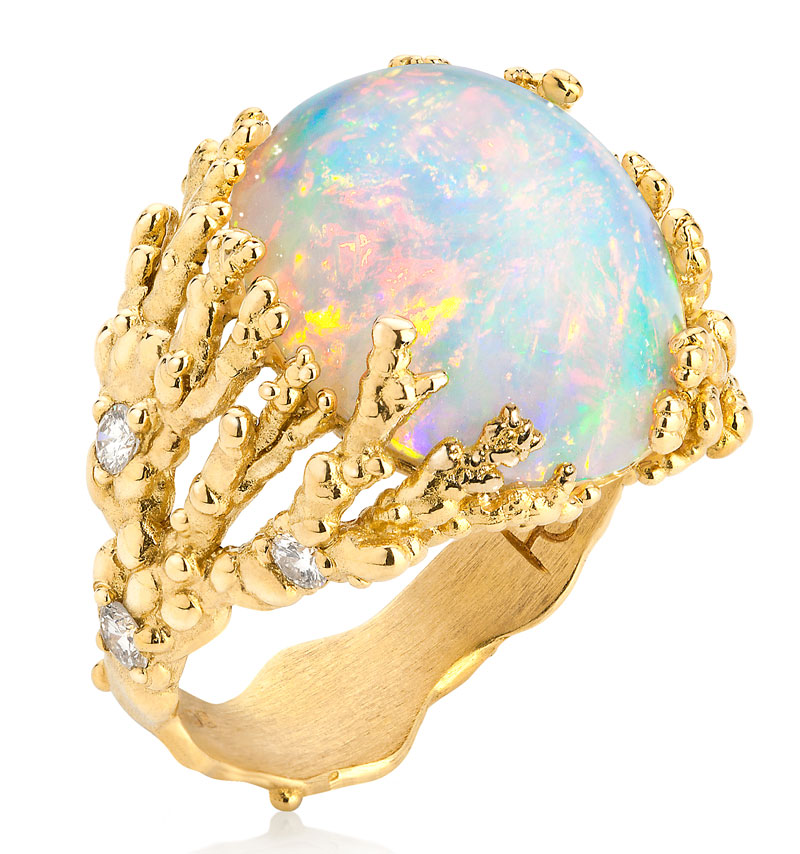 Coralline ring with diamonds and an opal set in 18K yellow gold
Ornella then tells me about her recent collection – The Coralline. "It is a diffusion line which was launched in 2013. The pieces have different variations of colours and stones: there is silver, vermeil and black rhodium jewels with pink, white or dark-grey pearls."
"The whole collection is very versatile and can even be worn as bridal jewellery. For example, this string of fresh-water pearls: it has modern twist to it, it has classical look with an edge". I then discovered that Ornella is a big fan of opals which she successfully incorporated in her coral designs.
"An opal bead is a 360 degrees of pleasure when you look at it. There is not a side which is not attractive and it is very frustrating to have to keep the gemstone only in 1 position. I wanted opal beads to roll around and display the rainbow of colours, so I incorporated them in my Coralline collection."
"I actually fell in love with opals in 2009 when visiting one of gemstone exhibitions. In 2010 I visited Ethiopia to make sure that the rough materials are ethnically sourced and this is when I started getting ideas of what I can do with opals. I really went for bold colours like black, chemical green, orange, and red. In that case, I was referring back to the place where the design was originally inspired. Opals contain lots of water and therefore correspond well to the theme of the Coralline collection."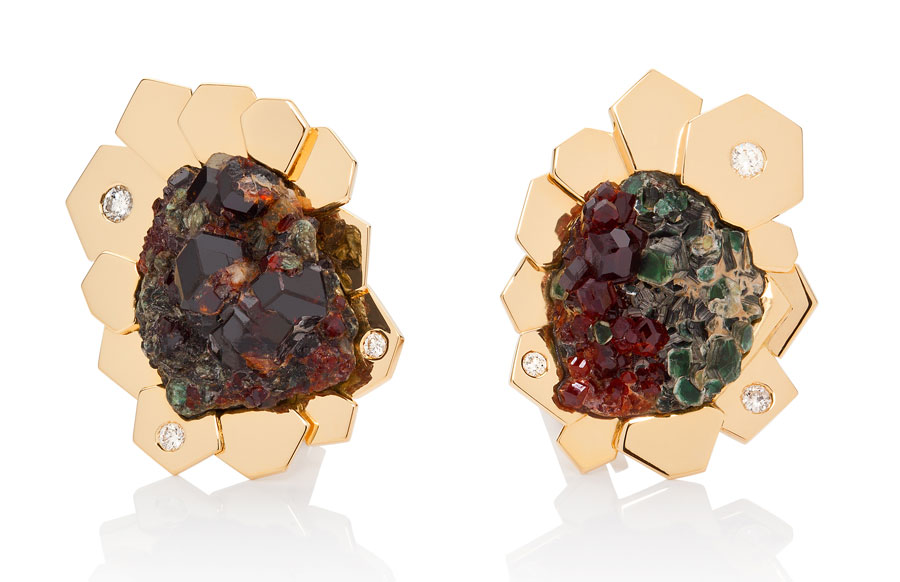 Gold earrings with diamonds and rough garnets, Les Exceptionnelles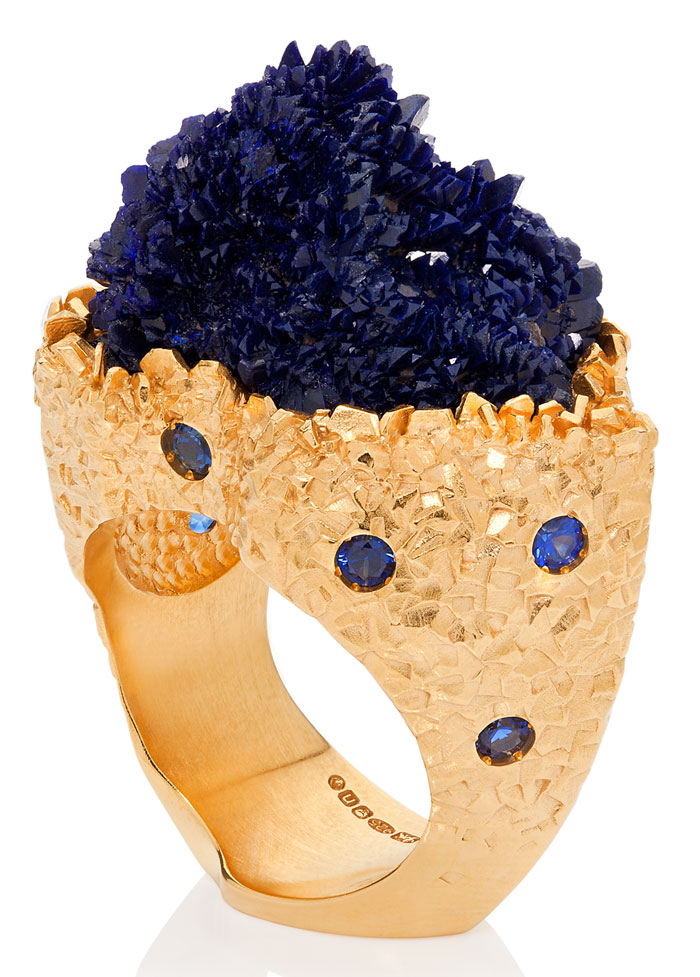 One-of-a-kind gold ring with azurite
With her coral inspired designs Ornella brings something different to the every day jewellery. However, it is not what put the designer's name on the map. Ornella is mostly known for her work with gem minerals which she sources and turns into striking one-of-a-kind jewels.
"My special pieces are in a way miniature sculptures, which are all unique. They are based on minerals and precious stones in their natural state, the way they are found in nature, not carved or polished. Here we have some emeralds, rough diamonds, rock crystal, garnets, aquamarines, I also worked with some demantoid garnets, azurites. I really wanted to introduce in a way new stones to jewellery…there are lots of amazing specimens out there which are even more beautiful than when they are carved." KP
Photos are courtesy of Ornella Iannuzzi
ornella-iannuzzi.com