Chinese New Year is always celebrated with real verve. In the past, an entire month used to be devoted to it. Now the festivities last all of 15 days, each teeming with symbolism, traditions and customs. People take great care over not only decorating their homes, but also adorning themselves. Red and its many shades are considered traditional. So how do you mollify the Rooster to ensure that your next 12 months are full of health and happiness? The most colourful jewellery depicting this bright and beautiful bird is bound to help.
The Italian Designer Roberto Coin devotes a considerable amount of his time to creating animal pieces for his collections. You could assemble an entire zoo from his work: there are parrots, monkeys, pigs, rabbits, buffalos, crocodiles… and, of course, the lively rooster shown on a ring made of white gold, encrusted with black, orange and yellow sapphires and diamonds. The bird's magnificent mottled plumage represents a beacon of growing prosperity. The ring was hand-made and dedicated specially to the forthcoming celebrations.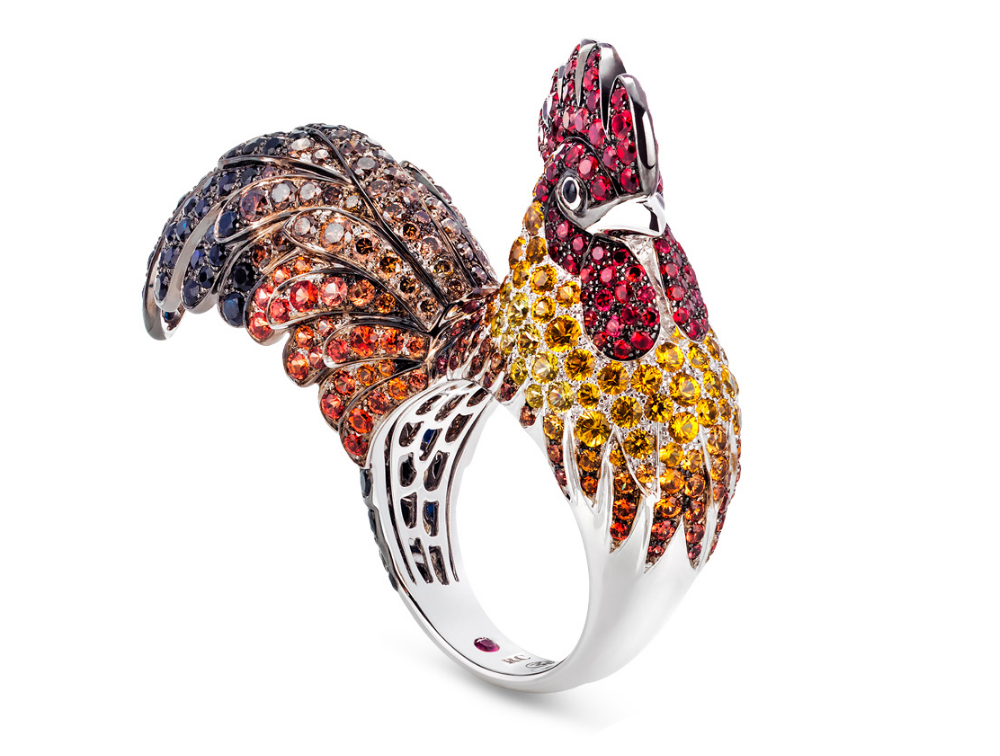 Russian brand Master Exclusive is also specially prepared for the Chinese New Year, a jewellery maker that continues to indulge its clients with endless new creations inspired by flora and fauna. Its collection includes two varieties of a brooch that represents the striking bird: the first is a rooster made with diamonds, opals and a fresco of multi-coloured enamel; the second is finished with a pear-cut London topaz and a small citrine briolette which the rooster is holding in its beak.
Mario Buzzanca is famous for his entertaining ideas, which often involve depictions of animals made from baroque pearl surrounded by precious stones in a pavé setting. It is this sea mineral, with its unusual shapes, that has marked a turning point in the approach taken by this Thailand-based jeweller to his designs. Luscious and fresh, baroque pearls embody joy, sea freshness, exuberance and an inexhaustible source of inspiration. Such is how the designer's rooster pendant turned out: a small bird looks out, extremely pleased with itself and ready to seize the day with its grasping pink gold claws.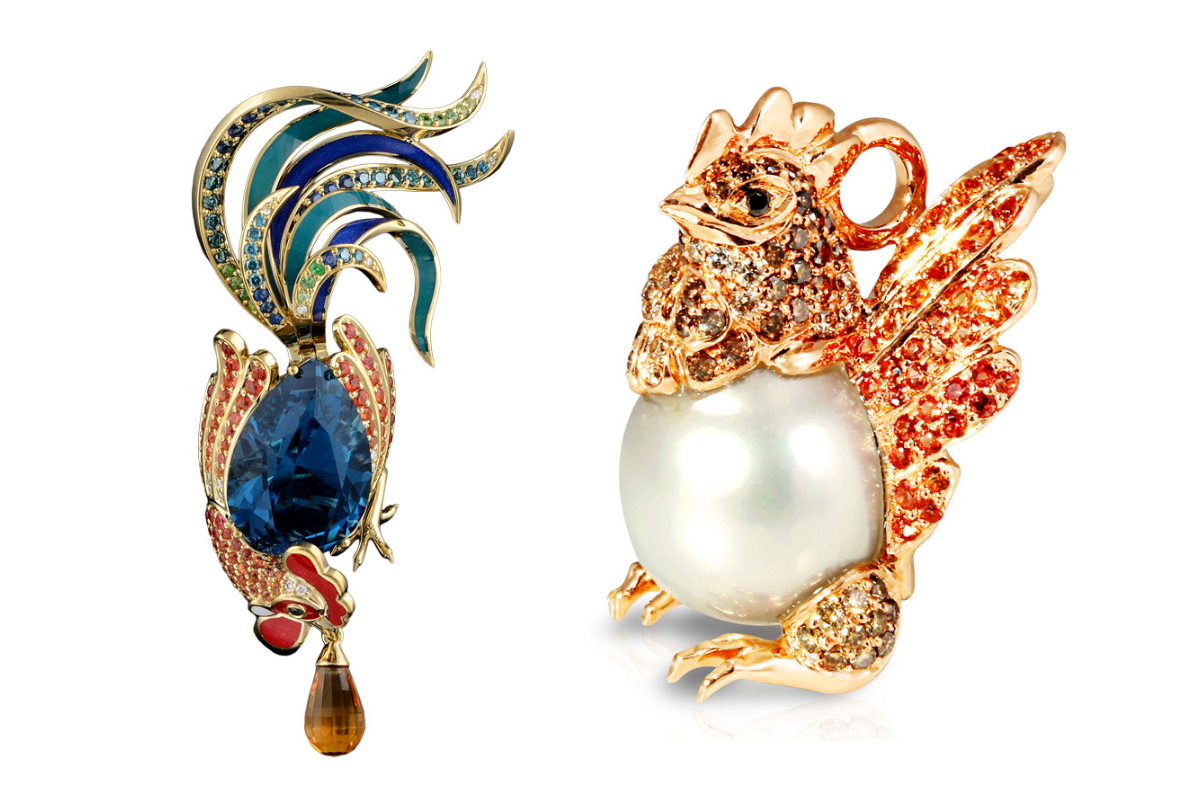 Annoushka released a limited edition – only 25 reproductions – minimalist pendant made of yellow gold with brown and black diamonds. There is a particular meaning attached to this piece: it is a talisman symbolising justice and virtue. The beginning of the year of the Rooster also coincides with the launch of Annoushka's first boutique in Hong Kong at the Mandarin Oriental, the opening of which will take place in February 2017.
Perhaps the most fiery alternative lives on the "Animal Farm" of French jewellery designer Lydia Courteille. Her ring in the shape of a rooster's head, holding a glistening opal of multiple shades (green, blue, orange, pink and yellow, amongst others) in its beak, looks exquisitely mischievous and unbelievably strident. The head itself is encrusted with blazing opals, crimson rubies, black diamonds, red garnets and extravagant sapphires.