If you've read my previous articles on the luxury jewellery brand Harakh, you will know it is on a mission to change the perception of Indian artistry. It's a brand with spirituality at its heart that is enriched by the techniques and treasures of its home region. But simultaneously, it uses modern technology to bring a contemporary twist to its high jewellery, including distinctive design styles and a strong use of monochromatic gemstones, notably colourless diamonds.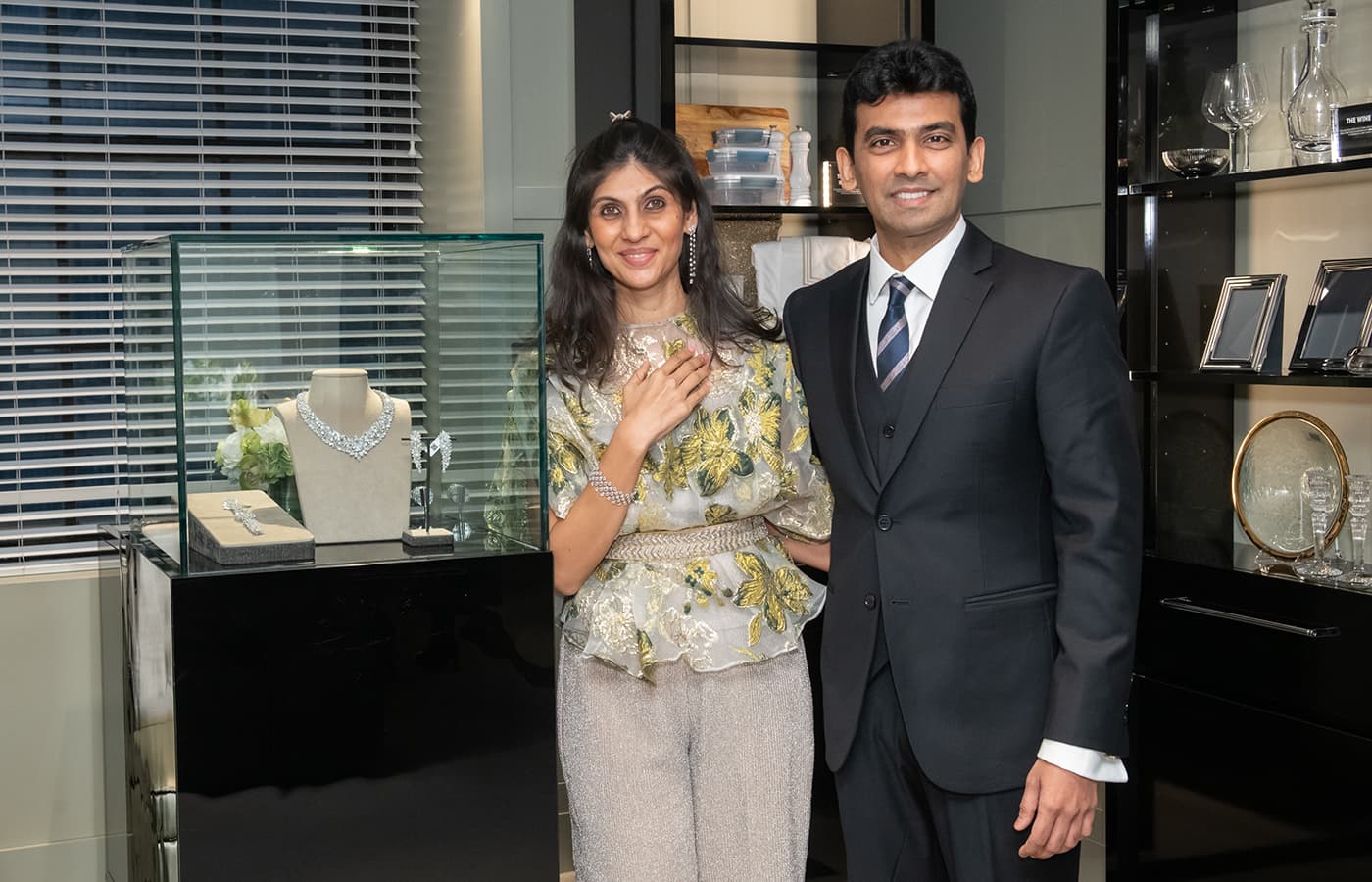 In his own words, the brand's founder Harakh Mehta is interested in sharing a "deep sense of joy and happiness" with the world. His pieces are even stamped with a special logo – a single tear of joy – that captures his ethos perfectly. Perhaps this philosophy attracted the iconic department store Bloomingdales when it was planning its 150th birthday celebrations! Naturally, the shopping destination wanted to make a splash, and what better way to do that than with myriad clusters of colourless diamonds with a total weight of 150 carats, one for each year in business.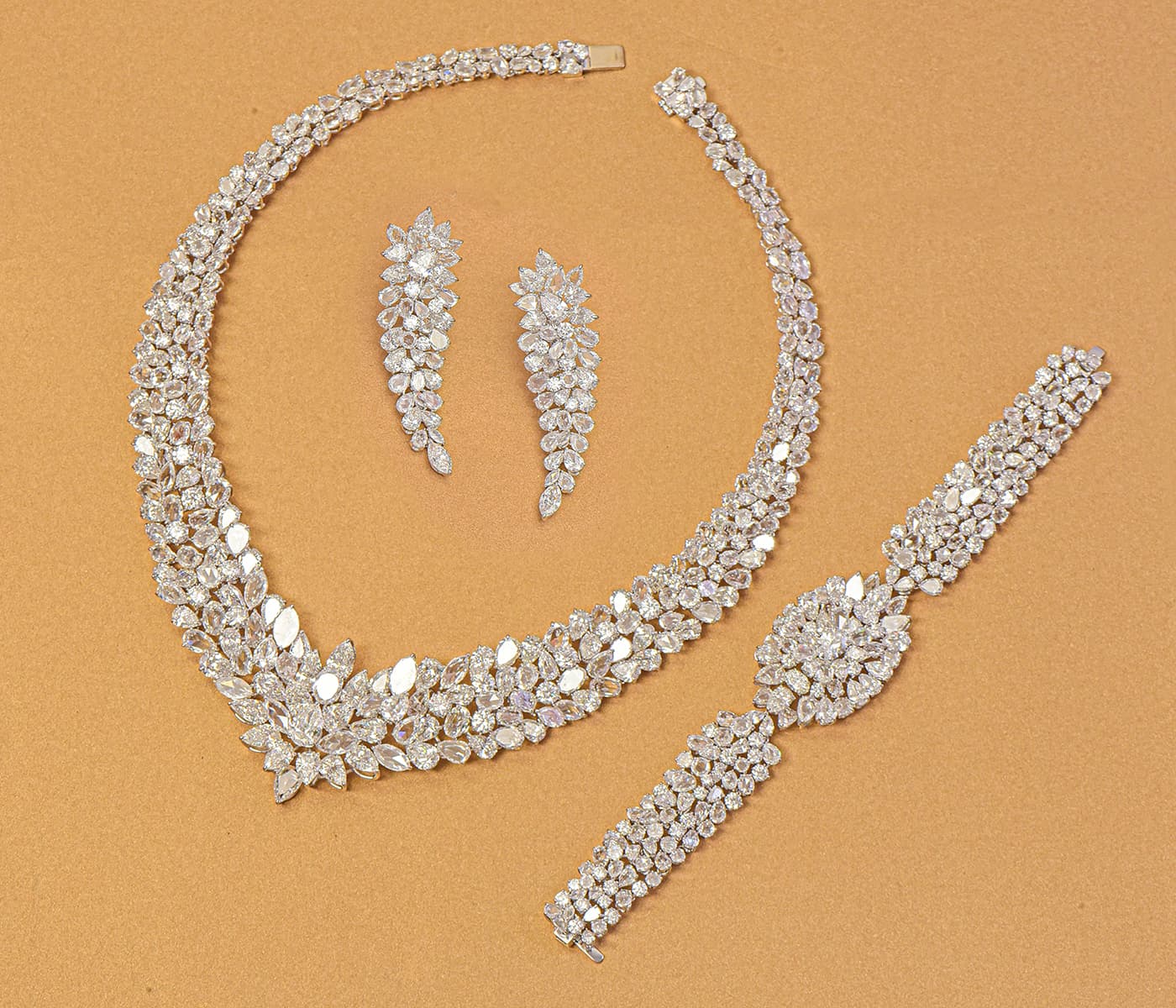 "All my design inspirations come from moments of JOY that I have experienced throughout my life. Each collection has a specific story that led to its creation. That moment of JOY was then translated into wearable art–the result is these sparkling jewels that you see today," Harakh Mehta
The exclusive, one-of-a-kind suite consists of a necklace, a bracelet and a pair of earrings, all handcrafted to mark Bloomingdales' milestone. Design inspiration for the pieces came from the Harakh Cascade collection, which seeks to capture the flow of a waterfall down a mountainside in fluid lines and swells of varied cuts of diamonds.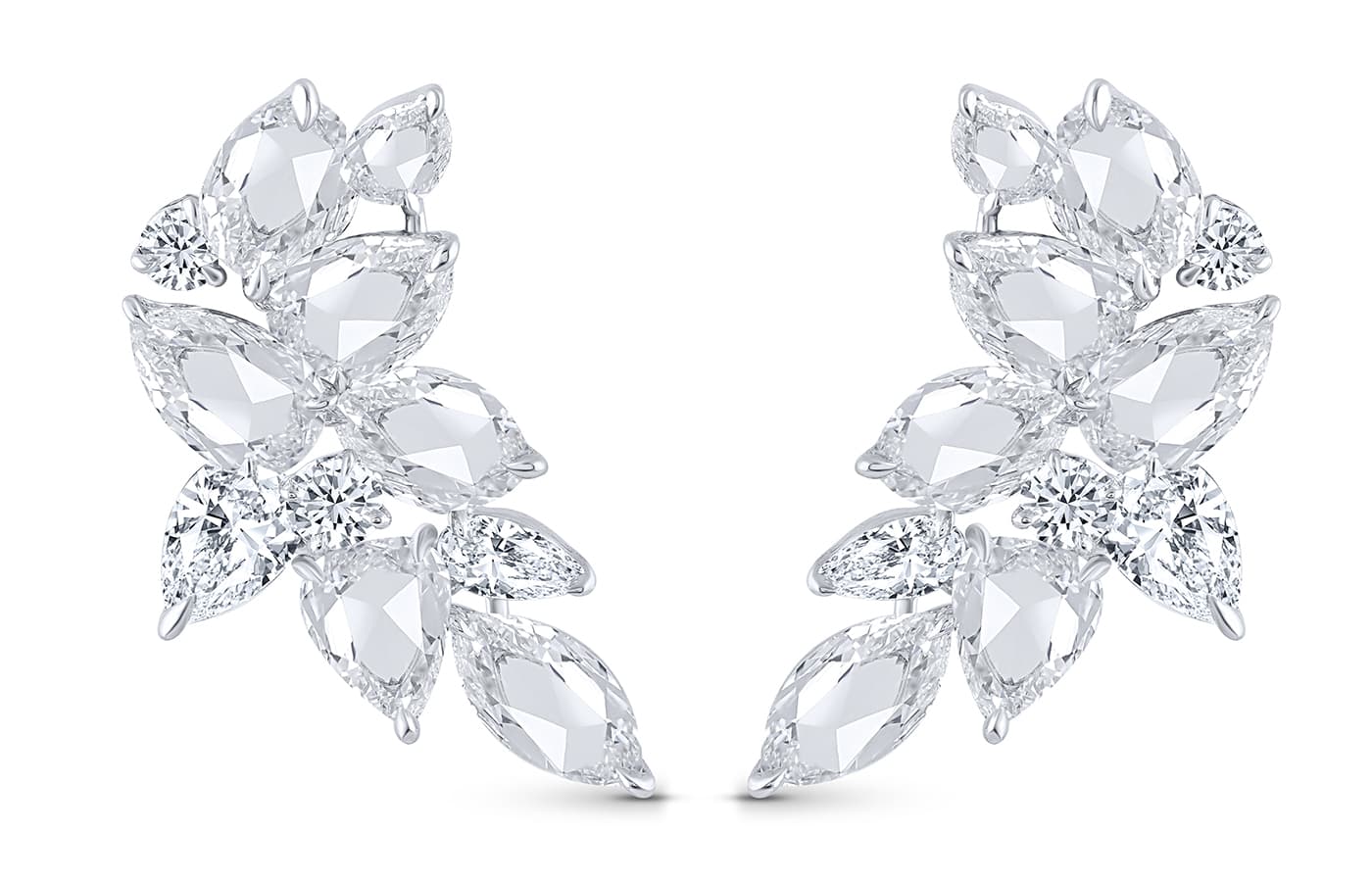 The set is crafted in 18k palladium-alloyed white gold to give a bright, white appearance and is studded with diamonds ranging from D to F colour with IF to VS2 clarity grades. In the mix are round brilliant-cut diamonds, pear- and marquise-shaped diamonds, all interspersed with the signature Harakh rose-cut round, marquise, oval and pear-shaped diamonds. These are held in place with minimal metal settings, allowing the cascading clusters of stones to appear like they're floating atop the skin. Each piece also has a special acknowledgement of Bloomingdales by incorporating a floral 'bloom' of diamonds. You can see this at the apex of the necklace, the centre of the bracelet and the lobes of the ears, which look like hanging garlands of diamond flowers.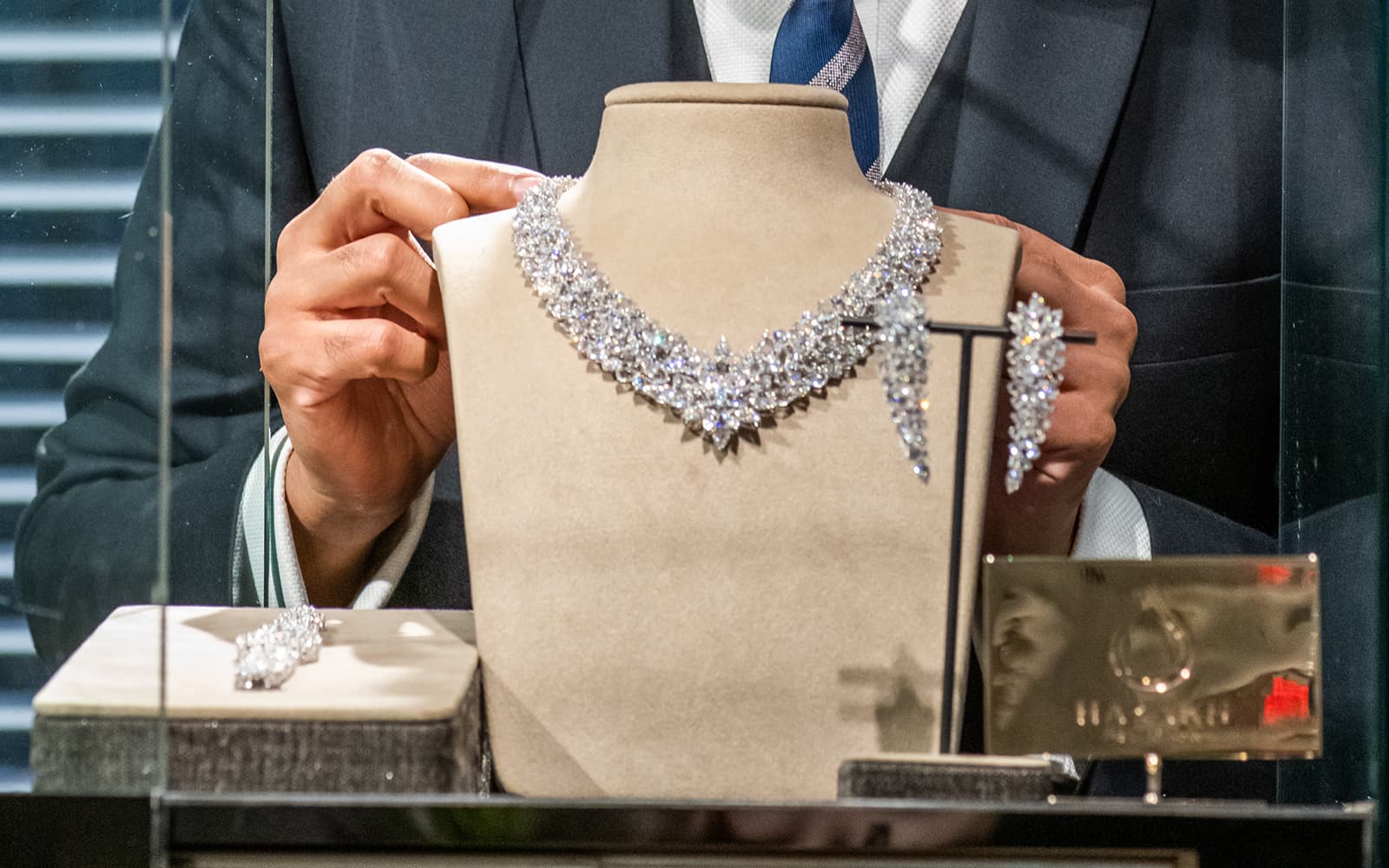 The star of the show is undoubtedly the necklace, set with 100 carats of diamonds. The bracelet contains 32 carats, while the earrings offer a further 18 carats. The entire ensemble is accompanied by 70 individual GIA Certificated Diamonds.
"To celebrate the 150th anniversary, we desired to create iconic pieces that paid homage to our rich history. For the first time ever, we created a jewelry suite that is comprised of 150 carats of diamonds to echo the store's 150 years in business," says Marissa Galante Frank, fashion director of accessories and beauty, Bloomingdale's.
The pieces required some 10,000 hours to complete, including the time spent designing, sourcing the stones and crafting the finished suite. It's also worth remembering that each stone was specially cut to fit the contours of each design and that stones were sourced from six continents across 12 months. According to Harakh, there are certified Canadian diamonds in the mix, special shapes cut from rough sourced in Brazil, Africa and Australia, and re-cut stones from the Bourses of Antwerp, Mumbai and New York.
All three high jewellery pieces were formally unveiled by Harakh Mehta at the flagship Bloomingdales boutique on 59th Street in New York City on November 15, 2022.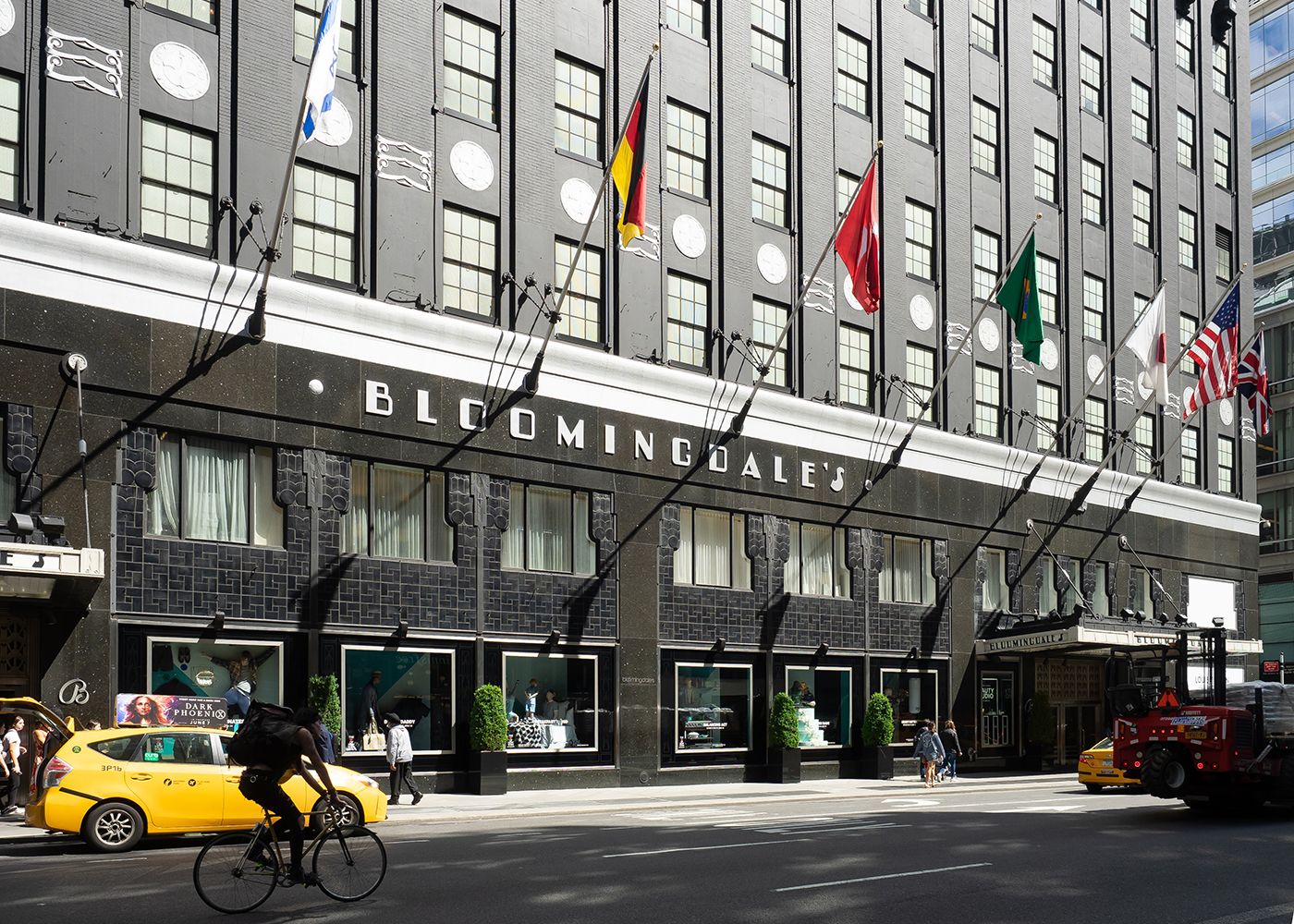 Besides the three high jewellery pieces, Bloomingdales also commissioned Harakh to create a line of fine jewellery exclusively for its 150th birthday. Harakh turned to its Frangipani collection and designed 5 exclusive pieces, comprising of two rings, a pair of earrings, a pendant necklace and a bangle, all set with exactly 150 diamonds. Harakh Mehta says, "Known as the flower of immortality, the frangipani fits perfectly with the celebration of the 150th birthday!" The pieces are available at select Bloomingdales locations as well as online.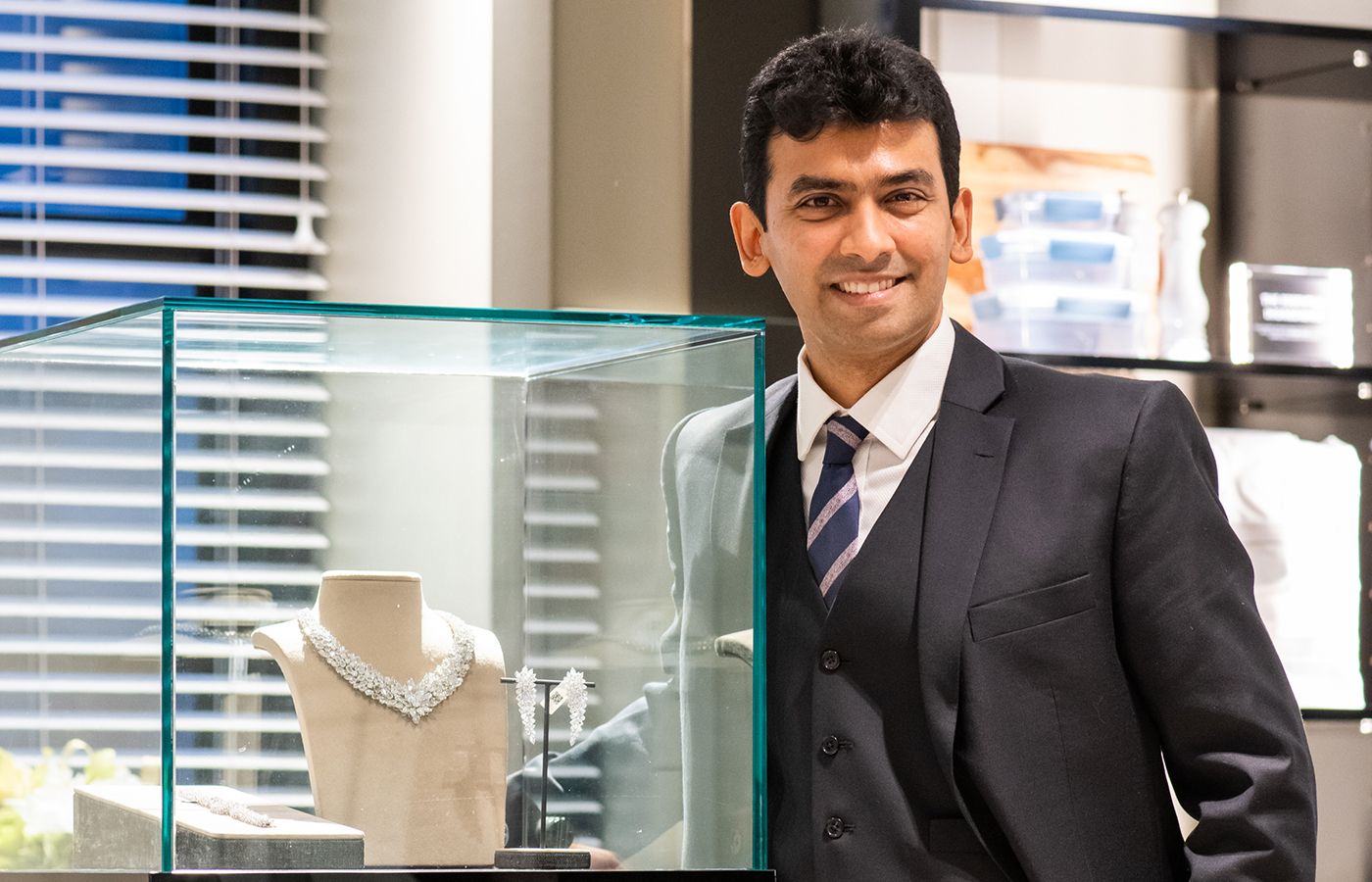 I hope you will join me in raising a glass to Bloomingdales on the occasion of its 150th birthday… long may its reign as a destination for luxury continue.