Before we consider the new creations launched at the 2023 Couture show (the brand's third showing), I would like to invite you to read previous articles on KaterinaPerez.com to immerse yourself in the HARAKH story. The brand was founded in 2017 by Harakh Mehta, a fourth-generation jeweller originally from Mumbai, and is now based in New York City. It specialises in High Jewellery creations using D-F colour stones, which are handcrafted in India, drawing upon centuries of traditional craftsmanship, knowledge, and jewellery experience. I've written about HARAKH both for its skill in crafting contemporary Indian-inspired jewellery and for its close ties to the luxury landscape in New York. Just last year, I shared the special diamond jewellery suite the brand created to celebrate the 150th anniversary of Bloomingdale's department store, incorporating exactly 150 carats of diamonds.
This blend of cultural influences and traditional-meets-modern craftsmanship is an essential ingredient in the brand's latest Drops of JOY collection, which was first unveiled in June 2023. It's no coincidence that JOY is capitalized here… the word 'harakh' actually means 'joy' in Harakh Mehta's native language Gujarati, and it's a "guiding principle" for all the brand's ranges. Drops of JOY is a capsule collection of 10 spiritually significant charms crafted in 18k gold with colourless diamonds of exceptional colour and clarity. Each one references a meaningful icon or talisman, including sacred Ashtamangala symbols – a series of eight sacred signs that feature in numerous Indian religions.
These symbols evoke protection, strength, and wisdom, but in nuanced and poetic ways that Western audiences might not immediately understand. However, I perceive this as part of their appeal. I want to discover the story of each three-dimensional charm, turn it over in my hands, and sense its energy for myself. If we dive a little deeper, the word 'harakh' is more than simply 'joy'. It refers to the kind of overwhelming happiness that can bring tears to your eyes. For that reason, each Drops of JOY charm contains a signature HARAKH pear-shaped diamond at its northeast corner – a location that's believed to welcome positive Feng Shui energy.
"From its very inception, the HARAKH brand has always been about celebrating moments of joy! As our fans and collectors experience their own moments of joy, we wanted to offer them tangible amulets with powerful messages of goodness, strength, and warmth evoked by the auspicious symbols of both Eastern and Western philosophy," Harakh Mehta.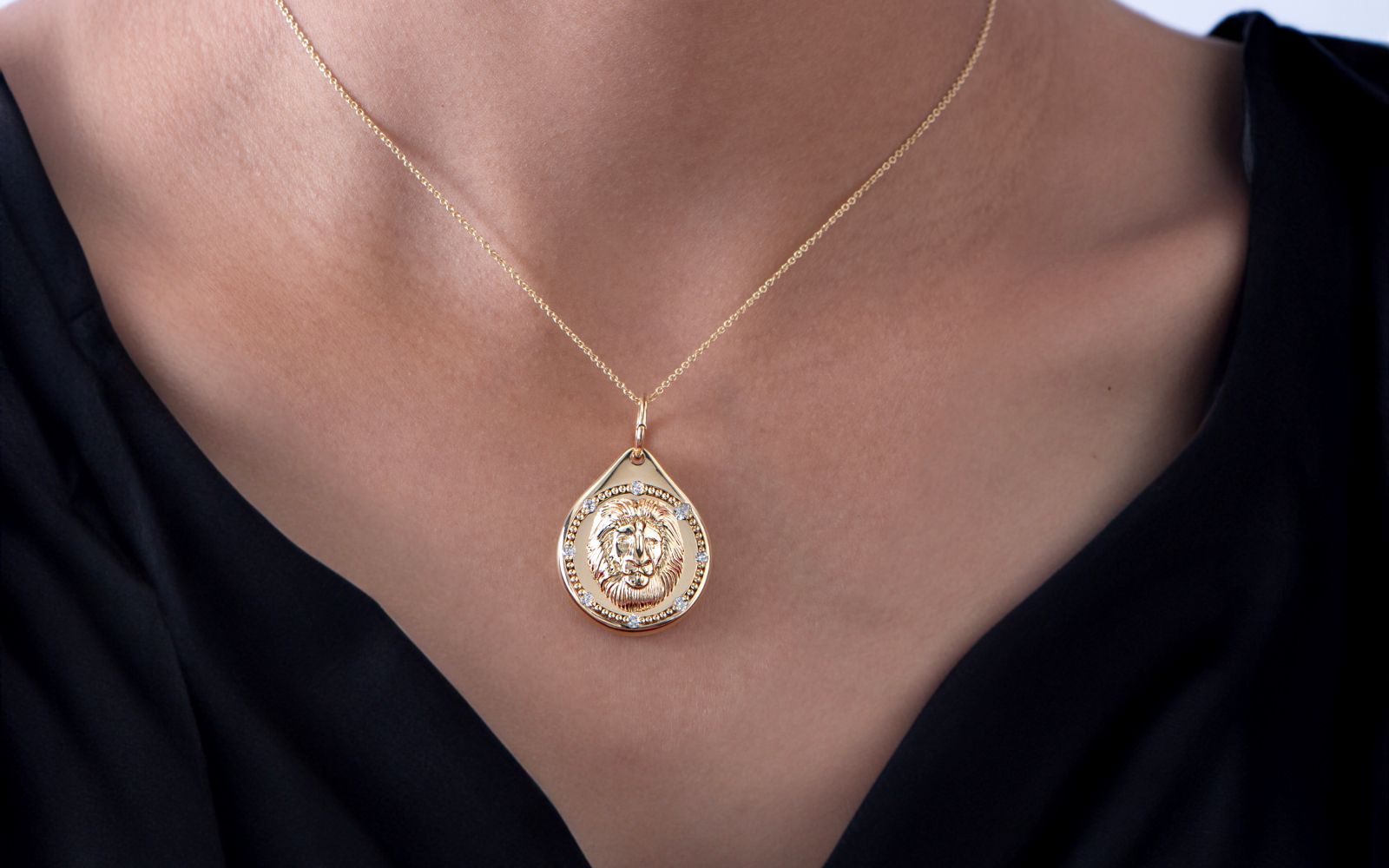 Of the ten pieces, a handful are ready to be unveiled. There's the Parasol with a bird's eye view of an open umbrella, tipped with a diamond, in a more abstract reimagining of the Ashtamangala umbrella (often used to symbolise the teachings of Buddha); the Conch Shell to promote an awakening of self-awareness, and the Divine No. 9, which is considered a sacred and lucky number in many cultures. The remaining styles feature the blooming Lotus for resilience, the 'Wheel of Law' for serenity, the unbreakable Vajra (a legendary and ritual weapon) for confidence, the Endless Knot for balance, the Lion's Head for courage, and the Kalasha – a treasure vessel – for attracting prosperity.
Harakh Mehta tells me: "This collection is a huge step in our brand evolution. Until today, our inspirations were my own experiences of joy, but now we want to empower our collectors to create their own moments of JOY with tangible amulets to be worn as talismans. We had invited several of our loyal collectors to share their own moments of joy and, reflecting on these, I thought of the sacred Ashtamangala symbols that have been used for centuries in India to invite positive energy and re-interpreted them for 21st-century global citizens."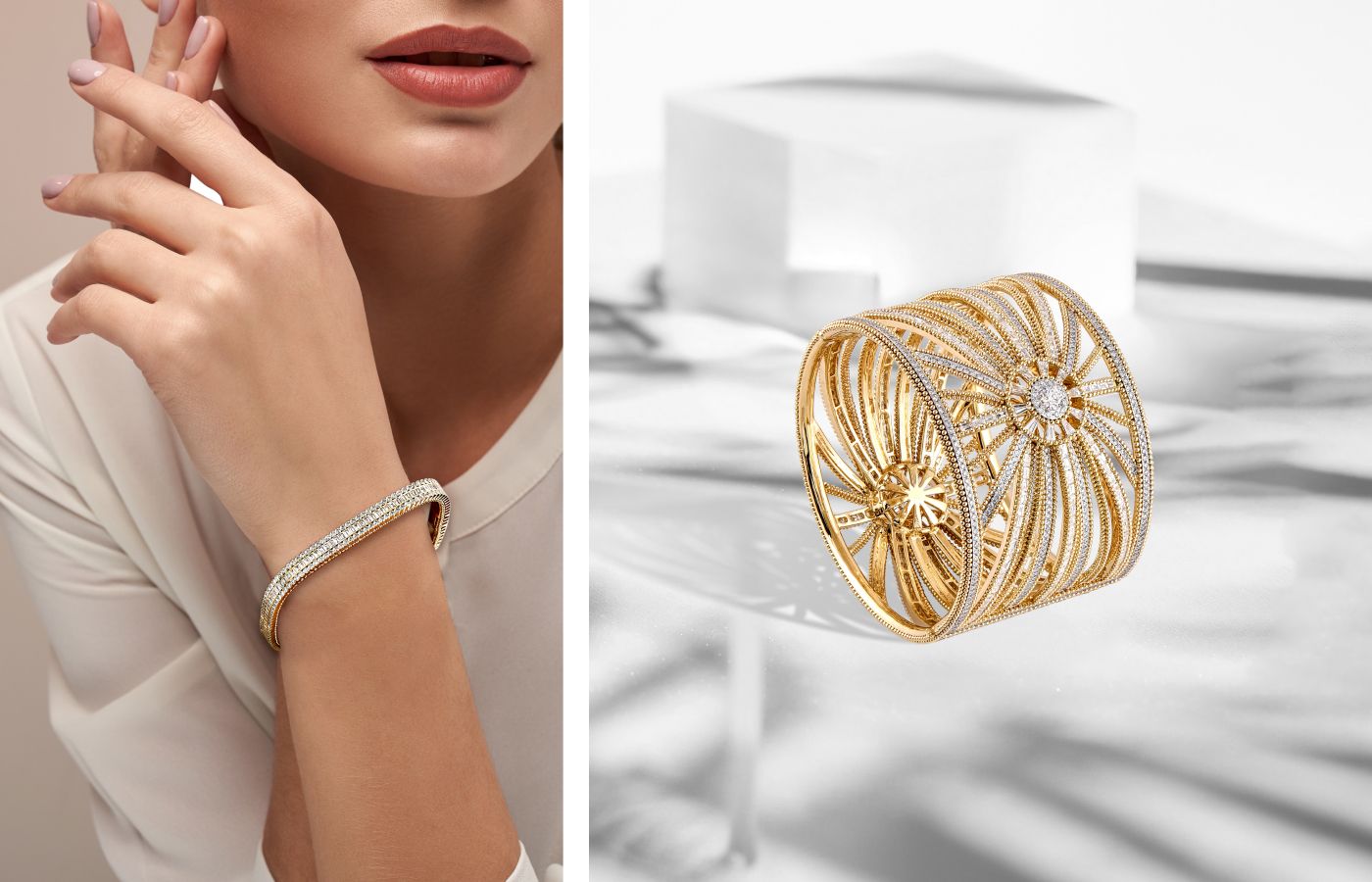 Another important feature of these new jewels is the use of pota – an intricate pattern of raised metal beadwork rooted in artisanal Indian fabric embellishment. Fantastic examples can be found in the HARAKH Sunlight collection, which also garnered attention at the Couture show. This 18k yellow gold offering is inspired by long and beautiful Indian summers, captured in the diamond-set 'paper clip' bracelet, plus new pieces like the Sunlight Rays pendant and Sunlight Rays earrings with baguette and brilliant cut diamonds. I also can't forget the Frangipani threader earrings, studded with rose-cut diamonds in 18k rose gold, that really brought the romance to Las Vegas! In real life, these flowers are famed for their fragrance, so there's something special about how these earrings float around the ears – a common spot for long-lasting perfume application! In India, the frangipani is a symbol of immortality, which has perfect parallels with the longevity of diamonds.
As a long-time observer and admirer of HARAKH, I was pleased to witness such an evocative collection at the Couture show. I can imagine myself desperately trying to choose between the Drops of JOY charms, deciding which spiritual attribute I require at each given moment: strength, positivity or courage. And this is combined with the promise of D, E and F colour diamonds with VS, VVS or IF clarity. I can't imagine not feeling uplifted with such a treasure around my neck.