With so many new jewels presented by Le Vian at JCK Las Vegas, it's hard to know where to start! Fortunately, I gave myself an advantage by selecting one Le Vian creation for my 'Best of JCK' round-up, which you can read here. I was blown away by the sheer size and proportions of a Le Vian amethyst necklace from the Couture High Jewellery Collection. It's set with 192 carats of grape-coloured amethysts, 30 carats of Chocolate Diamonds, and three carats of 'Vanilla' Diamonds, all set in a rich and warm 18k rose gold framework. Of course, this wasn't the only Le Vian High Jewellery piece to turn heads in Las Vegas, so let's look at some more jewels below.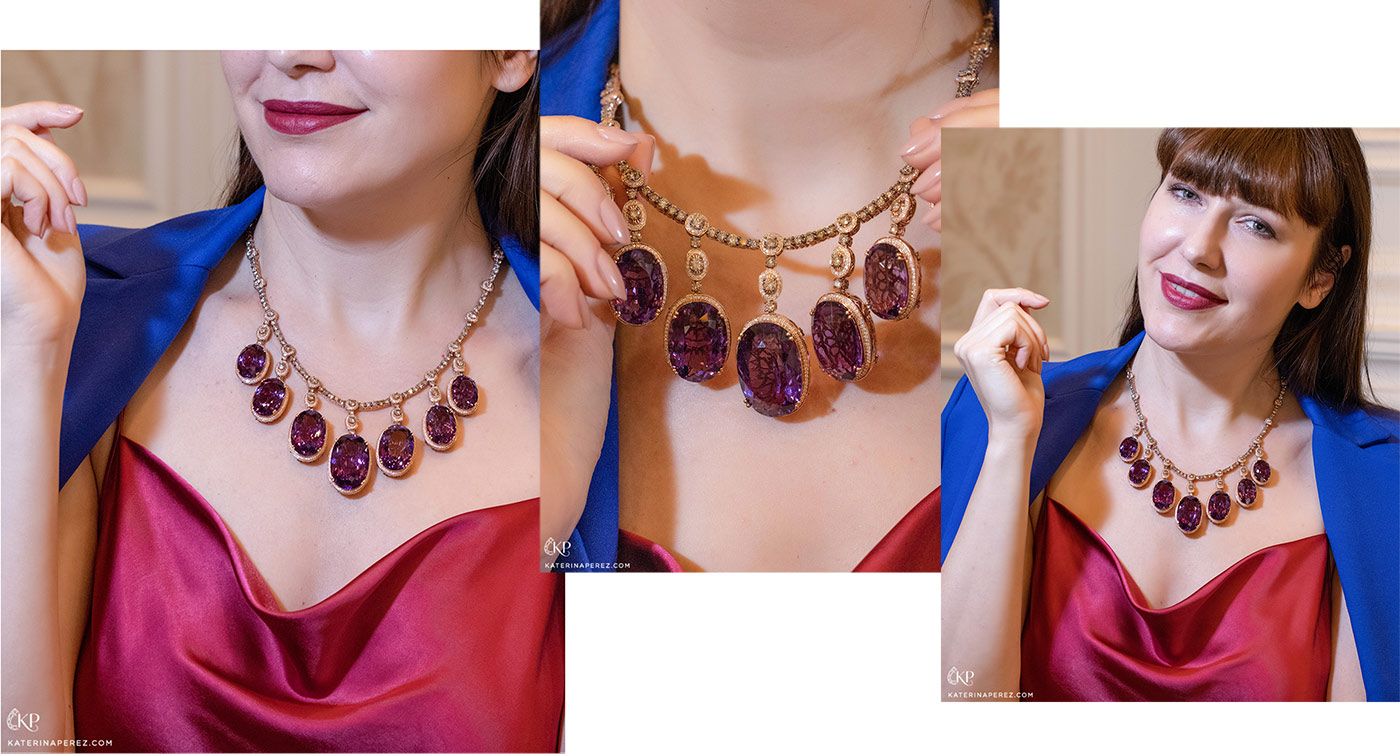 Le Vian Couture High Jewellery Collection
Colour abounds in this high-end collection of jewels, including fancy-colour diamonds, precious gemstones, unusual gem materials, bi-colour tourmalines and much more. I am naturally drawn to the oceanic hues of peacock aquaprase – a new type of chalcedony discovered this century. The Morgan earrings feature 30 carats of oval-shaped cabochon peacock aquaprases, set with Vanilla and Chocolate Diamonds, while the Artista necklace boasts 114 carats of cabochons and nearly nine carats of diamonds.
If blues are your forte, then the Le Vian Couture Collection boasts beautiful sapphires and tanzanites. The Elsie pendant is set with a 2.98-carat pear-shaped cornflower Ceylon sapphire, plus rows of blue sapphires and colourless diamonds in platinum, while the Maise ring boasts a similarly vibrant 3.03-carat pear-shaped corundum. The Grace ring contains what Le Vian calls a 'Blueberry Sapphire' of 3.21 carats, so named for a subtle shift of purple, coupled with baguette- and round brilliant-cut diamonds and Chocolate Diamonds. The same descriptive term of 'Blueberry' is also associated with the brand's tanzanite jewels, including the Aliyah earrings with two cushion-shaped gems of 28.82 carats total and the Zahra necklace with 173.91 carats of graduated cushion-shaped tanzanites in an alternating flower motif. I must also mention the brand's Paraiba tourmalines, especially a 7.12-carat heart-shaped Paraiba ring with rows of oval-shaped and round brilliant-cut diamonds for 2.78 carats.
Where there's blue, there has to be a green counterpoint! Le Vian excelled with an emerald ring in this Couture Collection featuring a 14.99-carat Costa Smeralda emerald surrounded by 4.32 carats of diamonds. It's temptingly called 'The Jackie' perhaps to evoke the emerald and diamond engagement ring that was famously worn by Jackie Kennedy Onassis.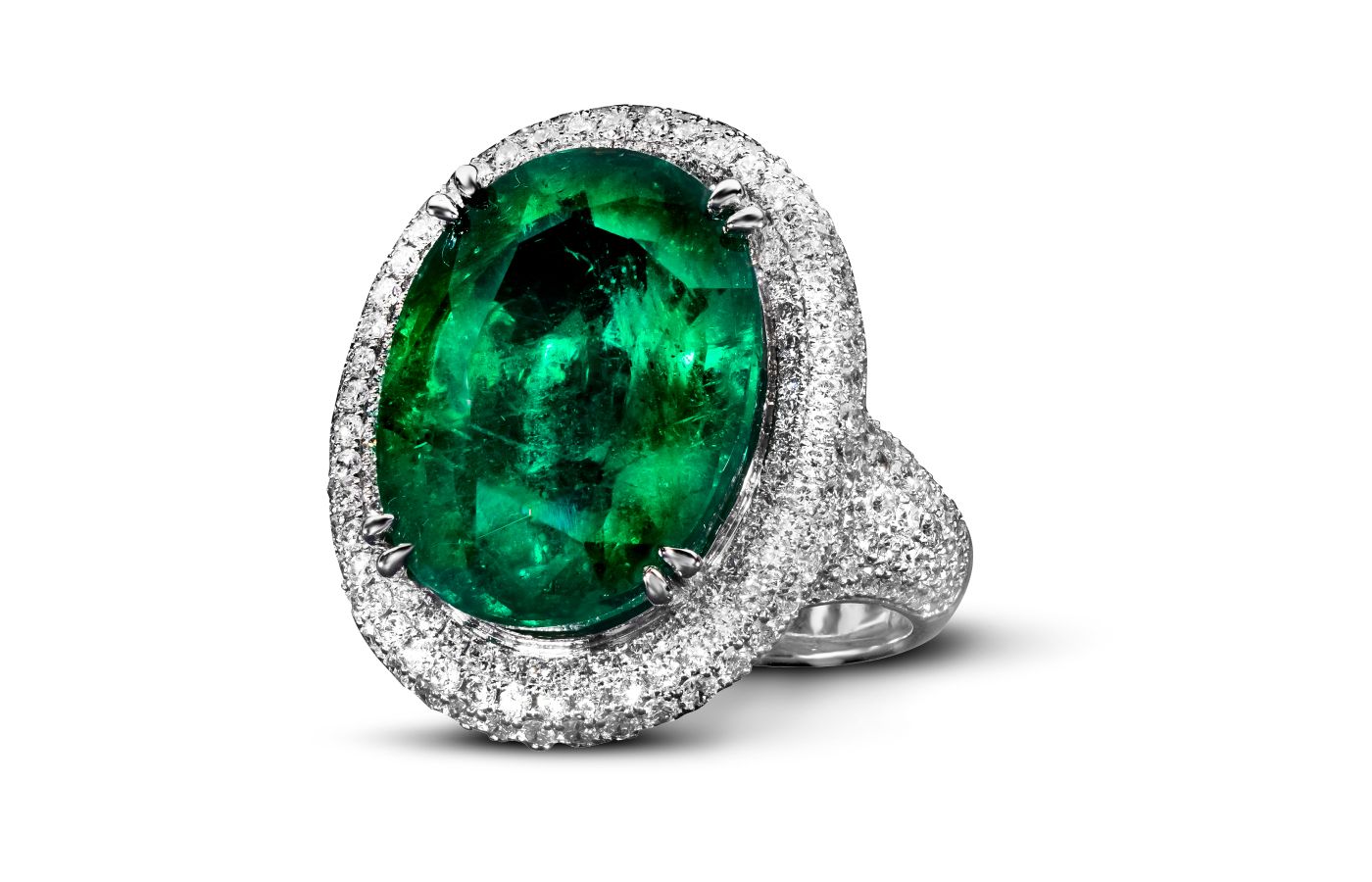 Elsewhere, the Couture Collection contains some less traditional gemstones, such as fiery orange opals, pastel morganites and watermelon tourmalines. Some highlights include the Erykah pendant with what Le Vian calls a 'Neopolitan Opal' cabochon of 14.77 carats, accented with diamonds. There's also the Maxine ring with a 5.93-carat opal cabochon and the Felicity ring with a 12.84-carat opal centre stone, both surrounded by Vanilla and Chocolate Diamonds.
And let's not forget some fabulous fancy colour diamonds that also play a significant role in the Couture Collection. The Cordelia ring features a GIA-certified 1.8-carat radiant-cut light pink diamond that's internally flawless, flanked by trapezoid-shaped and round brilliant-cut diamonds set in 18k rose gold. Chocolate Diamonds, which have been a mainstay of Le Vian since 2000, also shine thanks to the Anastasia ring with a 3.48-carat round brilliant-cut fancy brown centre adorned with multiple rows of diamonds in 18k gold. Finally, there are two fancy yellow diamond pieces I would like to draw your attention to: the Heloise ring with 1.2 carats of natural light yellow to fancy light green-yellow diamonds plus 1.2 carats of fancy light pink diamonds, both set in platinum and 18k rose gold; and the Solana ring with a two carat light yellow oval-shaped diamond centre, radiating with rows of colourless and yellow diamonds in platinum and 18k gold.
Le Vian Red Carpet
The Le Vian Red Carpet event at JCK Las Vegas is a tradition for the brand, which sees guests attend a presentation revealing the top trends for the following year. It live streams the red carpet arrives and conducts interviews, just like a Hollywood event, so there's lots of opportunity to spy incredible jewellery! In fact, this was the brand's 24th annual red-carpet catwalk, hosted at the Venetian Hotel in Las Vegas, welcoming collectors, VIP clients, global retailers, press, independent jewellers, influencers… the list goes on! My favourite part of the event was a segment hosted by nine members of the Le Vian family – the next generation guiding the brand forward. It's easy to forget that Le Vian is still a family business with all that connection and sentiment at heart. On the night, Le Vian revealed the seven trends destined to shape 2024, which I have outlined below.
Le Vian 2024 Trends
The Le Vian 2024 Trend Forecast is split into seven 'sentiments', each underpinned by a selection of the brand's coloured gemstone and diamond jewels. First, Escape evokes the yearning to be beside the seaside with swaying palm trees and uplifting sunshine. This trend is captured through sea creature-inspired jewels, with sapphires, turquoises, tanzanites, anchor motifs, pearls, aquamarines and peacock aquaprases.
Next, we step into the world of Renewal, inspired by the joy of spring rebirth, blossoming flowers and exuberant natural blooms. Pieces are built upon the concept of a garden party, with wearable gemstone flowers, bees and butterflies, set with emeralds, champagne diamonds, pink sapphires and carved gemstone leaves.
"As always, we at Le Vian remain in tune with the emotions and energies of our time. From Escape, with sea creatures and nautical symbols fashioned using dazzling blue and green gemstones, to our Modern Romance collection, inspired by passion and brought to life through flaming gemstones and joyfully sparkling Chocolate Diamonds, we continue to derive constant inspiration from the world around us," Eddie LeVian, CEO, Le Vian.
Is there anything more tempting than a trend entitled 'Passion'? According to Le Vian, we should "stoke the fire burning within and celebrate vitality, passion and joy with deep, flaming red rubies and garnets," coupled with morganites, opals and Chocolate Diamonds. Think grown-up romance rather than a teenage crush! Up next is Brilliance, which draws inspiration from stained glass windows and intricate tiled mosaics with an Italian flair. Interestingly and distinctive cuts come into play here, with marquise-shaped gems in jewel shades, juicy opals and checkerboard patterns. Bold is the trend for all those who want to stand out from the crowd. It's said to be inspired by the 'Balayage trend' in haircare, whereby the colour is graduated through the lengths to create a subtle gradient from roots to ends. Think shifting shades of blue sapphires, champagne to Chocolate Diamonds, and whimsical pink tones.
The final two 'sentiments' are Anywear Everywear and Distinction. The former is all about accessible and versatile jewels that seamlessly transition from day to night (stackable bangles and rings in shades of gold), while the latter centres on bright, outlandish gemstones that draw attention, including aquamarines, tanzanites, Paraibas and, of course, fancy colour diamonds. There really is something for everyone.
Amazingly, we could have spotlighted more High Jewellery creations in this article! This is a prolific offering from Le Vian, proving that the brand's creativity is an almost limitless resource from which it can draw. As for the 2024 trends, I am excited to see how dominant colour and personality are in these predictions. For all of us who love the creativity of jewellery, there's no better way to step into a New Year than adorned with precious gems!