What starts as a simple retail space can quickly become an intriguing escape from reality when guided by the right hand. In December, I travelled to a French ski resort Megève to step inside one such space that's drawn from the imagination of art jeweller Philippe Guilhem. It's a boutique and exhibition space located on the main square that is dedicated to his Mashandy Collection – a pairing of the names of his two children, Masha and Andy, with his wife, Maria Verchenova. An unusual feature of the boutique is the arts from Oceania (mostly masks and statues) that are displayed alongside the jewels inside and out of the display cases. These weaved in original artefacts celebrate ancient cultures and were kindly provided by Anthony JP Meyer, the founder of the Meyer Oceanic Art & Eskimo Art Gallery in Paris, who collaborated with Philippe on merging Primitive Arts, Antiques and Fine Jewellery.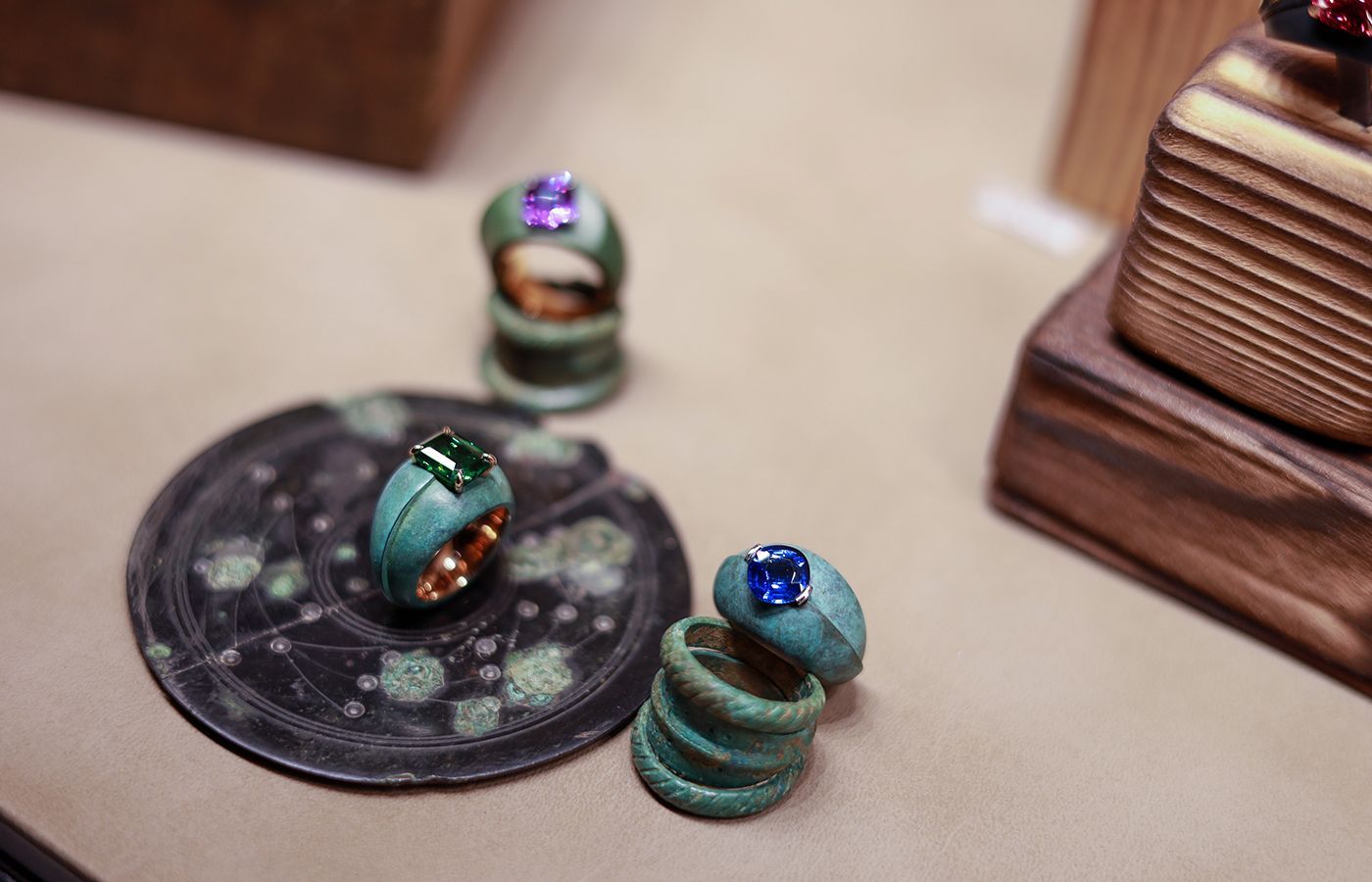 The space in Megève is moody, earthy, and befitted with dark wood, stone, and lowered lighting to hint at a time when hunter-gatherer was a common job description among humans! It's not quite stepping back in time, but there's something enticing about seeing high jewellery pieces presented alongside art and sculpture from many generations ago!
To understand this new home of Mashandy, you need to know more about Philippe's collections. When I first met him a few years ago, he started his line as a series of sculptural rings crafted from bronze, rose gold and collectible coloured gemstones. Each creation had its own architecture, like a bridge sweeping across a river, and captured this in naturally patinated bronze (mottled shades of brown, tan, blueish-green and moss green) coupled with smooth interior surfaces of gold. It's not surprising, therefore, that Philippe Guilhem has been described as the "alchemist of bronze"! The next phase in the development of Mashandy jewellery was the introduction of coloured titanium, which I wrote about in detail in November 2021. This continued in the same sculpted spirit but with the types of bubble-gum pink and mint green hues that can only be achieved through anodizing titanium. Of course, these were similarly paired with cushion, oval and Asscher-cut gemstones like rubies, sapphires, and spinels, all with significant carat weights.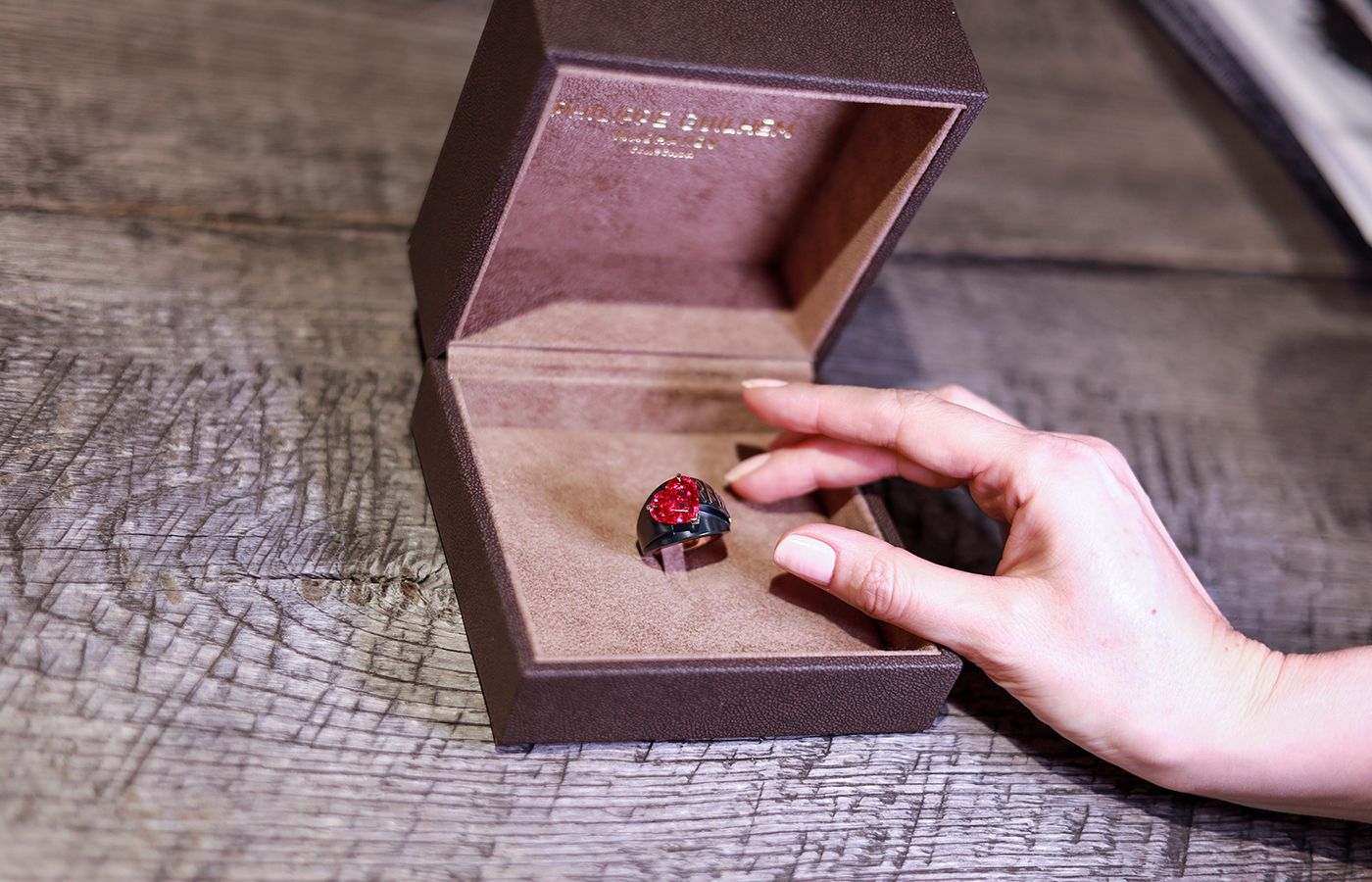 "It was my wife Maria who planted the seed for the Mashandy Collection in my mind," Philippe explains. "Together, we wanted to breathe new life into jewellery by imagining unique pieces rich in symbolism and history. Today, this simple idea, which has become a veritable life's work, is unfolding in new directions."
One of these new directions has led to the opening of the Mashandy boutique, which aligns with the third phase in the story – Mashandy Origyne. This collection of pieces takes all the codes of the previous two iterations and adds even more depth, symbolism and spiritualism to the concept. In Origyne, Philippe returns to the material he's most synonymous with, bronze, but adorns it with golden lettering in ancient languages from across the globe. This lettering spells the word 'origin', thus reinforcing the theme of the collection and providing a unique high jewellery window into the past. He explains: "Mashandy Origyne is a testimony to the evolution of our civilisations, their sources, their exchanges and their mutual enrichment."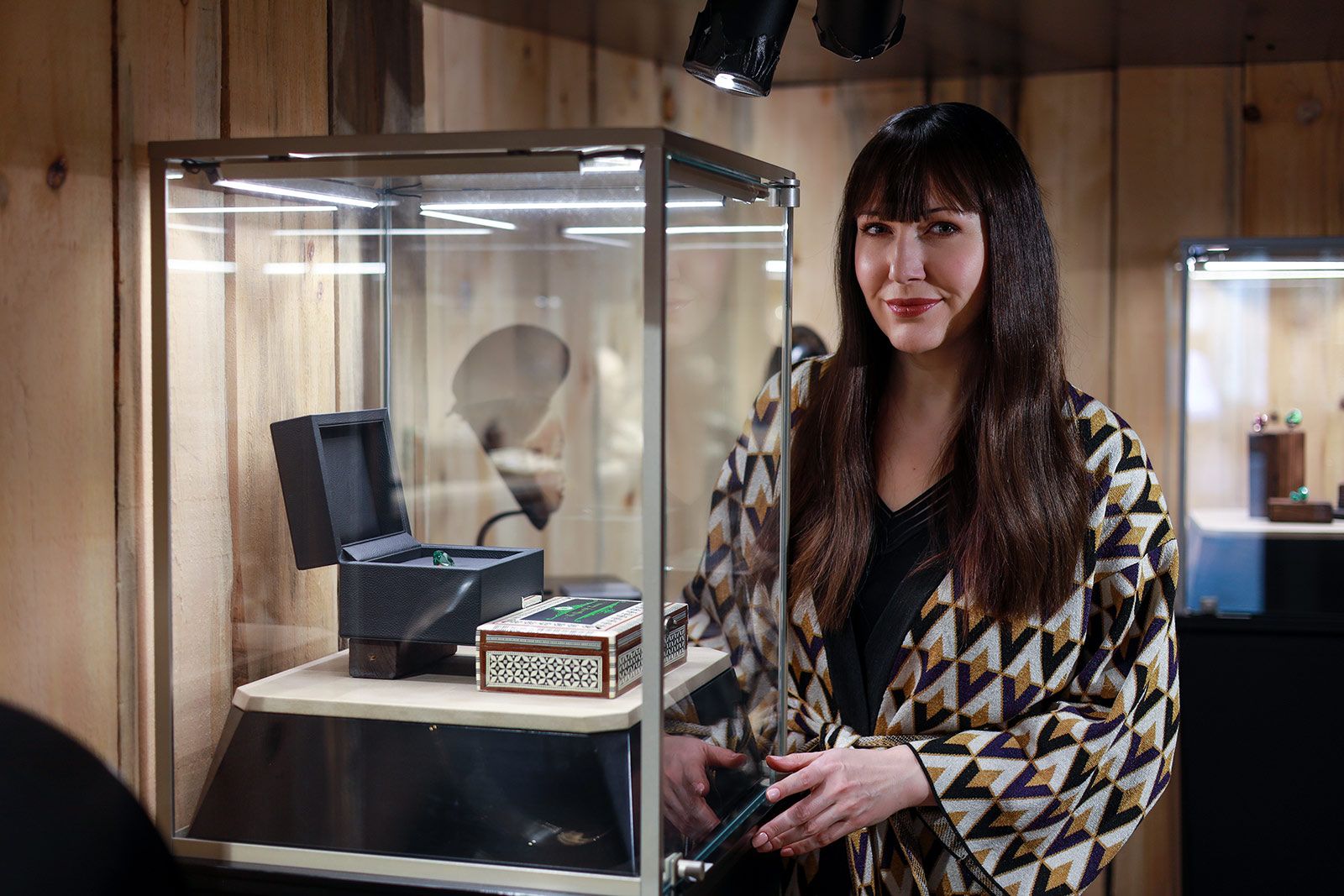 It isn't easy to articulate the numerous facets of storytelling that provide the foundations of this offering. For example, the 'Y' in Origyne symbol that is seen on the boutique facade is similarly shaped to the Runic symbol for 'life', which is reminiscent of a tree rising from the ground and represents knowledge and growth. In fact, each piece within the collection has a 'Y' in its name for this very reason! There's also the continued influence of African artworks, the spiritual significance of two materials (bronze and rose gold) working in harmony, and the significance of each language that's inscribed on the patinated surface.
"My designs hover somewhere between the worlds of jewellery and art," Philippe Guilhem.
One of my personal favourite Origyne pieces is the Vya ring with a 6.44-carat orange spinel atop chestnut brown bronze. This pop of bright orange is juxtaposed against Egyptian hieroglyphs, written in gold, that transport me to the 1920s and the search for King Tutankhamun's tomb. Elsewhere, the Romya ring boasts a 4.38-carat violet sapphire with writing in Sanskrit, while the Myklos ring heralds a 4.71-carat tsavorite paired with cuneiform language from Mesopotamia. Other pieces feature Chinese characters, Runic characters, Arabic script and others.
Nestled among the Mashany Origyne creations are loose gemstones with special significance, not only for Philippe but for enthusiasts such as me. Philippe travels directly to mine sites to source special gems, such as rubies, sapphires and spinels, from Myanmar, Sri Lanka and Madagascar. He purposefully chooses the richest and brightest hues, not only for their quality but to provide the ideal contrast to mottled bronze or vibrant titanium. As one magazine put it: "He works a kind of alchemy that art lovers and aficionados of high jewellery appreciate."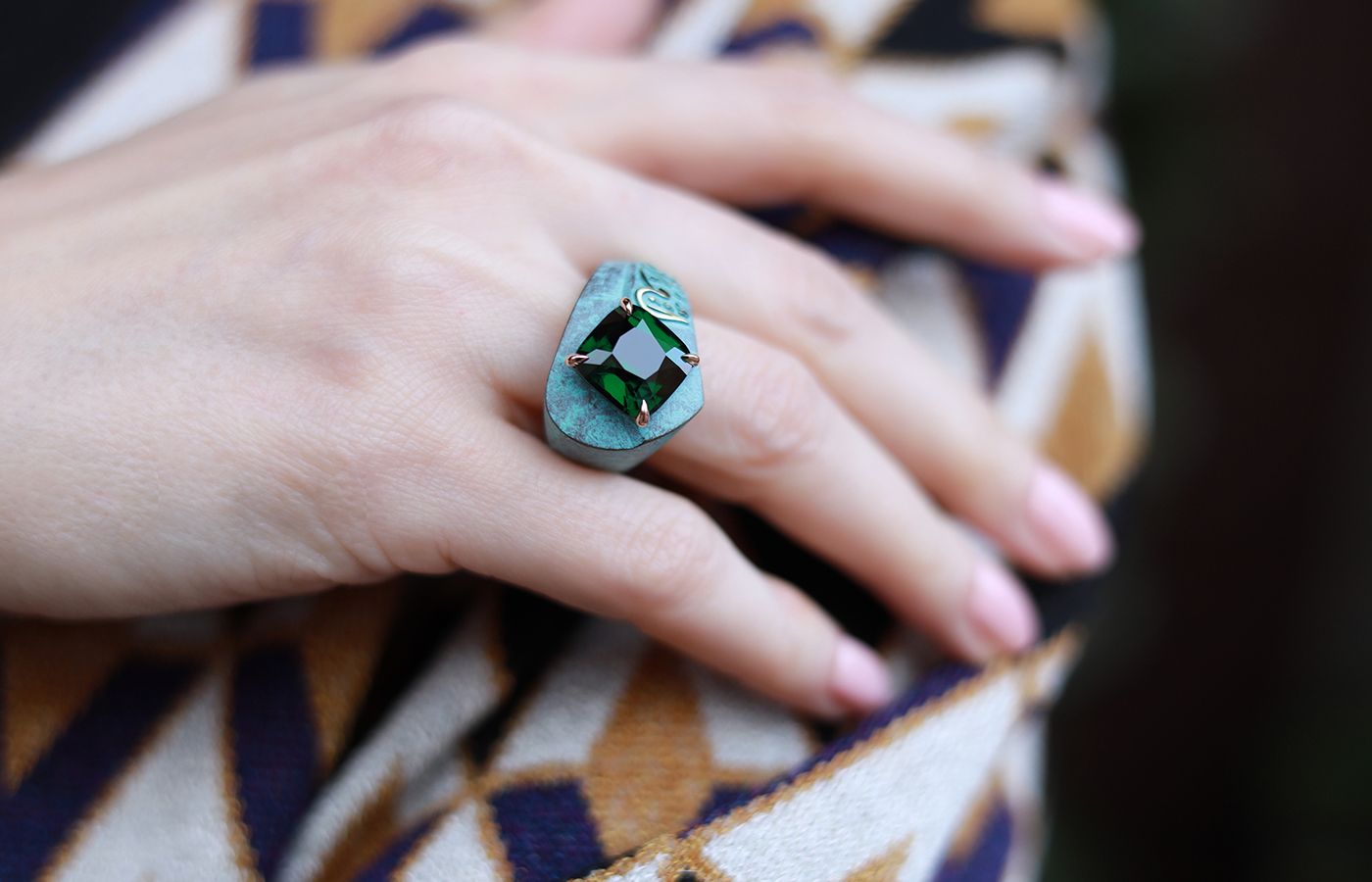 The highlight of this mineralogical collection is the Queen of Africa – a 73-carat flawless tsavorite from Tanzania in East Africa. It's rare to find saturated and clean tsavorite with such significant proportions. Trust me when I say I have seen nothing like it before! These are the types of remarkable gems that Philippe sources for his Mashandy creations, his standalone Philippe Guilhem boutique (also in Megève), and his clients in the jewellery sector.
If you are preparing to ski in Megève this season, I recommend visiting this intriguing and beautiful high jewellery destination. Whether you're invested in linguistic history, fascinated by architecture, or drawn by the allure of large coloured gemstones, there's something for every high jewellery fan.