Matching the aquatic astrological number representing the star sign Cancer, Chaumet has created 69 one-of-a-kind high jewellery pieces for its new Ondes et Merveilles collection. This is the first time in the Maison's history that it has dedicated an entire collection to the sea. It takes us to the four corners of the earth via nine chapters, each one bringing to life diverse aquatic bodies through various rare coloured gemstones, with an intense focus on pearls and other precious materials.
The first seven chapters focus on the literal colours and textures of various aquatic bodies (from oceans to gulfs and streams) and the animals and treasures found within these depths, whilst the eighth chapter is a figurative interpretation of beachside living and how mankind enjoys the seaside. Finally, the ninth chapter is a delightful surprise, honouring those who live at sea. Keep reading to find out!
Unlike its previous high jewellery collection Déferlante, which was fully focused on diamond designs, this latest offering from Chaumet takes a deep dive into colour. It features daring combinations of gemstones and enamel, including creations with three or more colours that follow a wider trend in the world of high jewellery. Famed for its mastery of high jewellery necklaces, let's take a closer look at the colourful showstoppers of this maritime collection.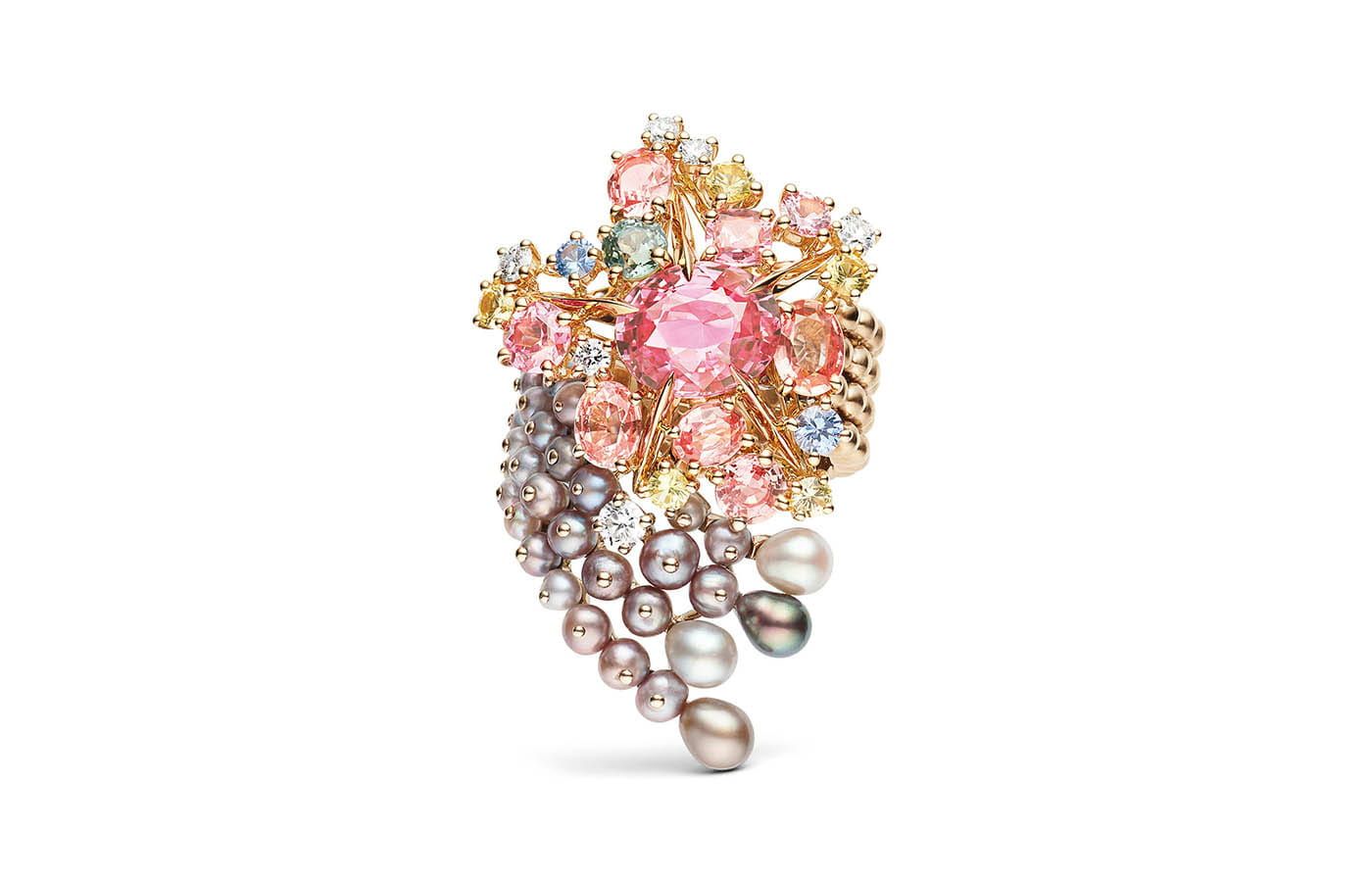 Gulf Stream
High jewellery lovers are first introduced to the whirling world of colour in Ondes et Merveilles through a jewellery suite inspired by the Florida Gulf Stream. The Gulf Stream Parure, composed of seven one-of-a-kind pieces, focuses on the pairing of contrasting cold and warm colour scales. From sea green to deep orange hues, these pieces bring to life the unexpected forms and colours created in this body of water.
A high jewellery necklace is set with a vivacious and bright 26-carat mint-green Colombian emerald, in contrast with a calming deep blue sapphire from Madagascar. For an even stronger juxtaposition of colour, a second high jewellery necklace is set with a 19.84-carat black Australian opal bursting with energy alongside a soft elongated cabochon-cut emerald. These gemstone pairings bring to life the uncertainty of these waters, with sudden bursts of movement and colour representing the life teaming within.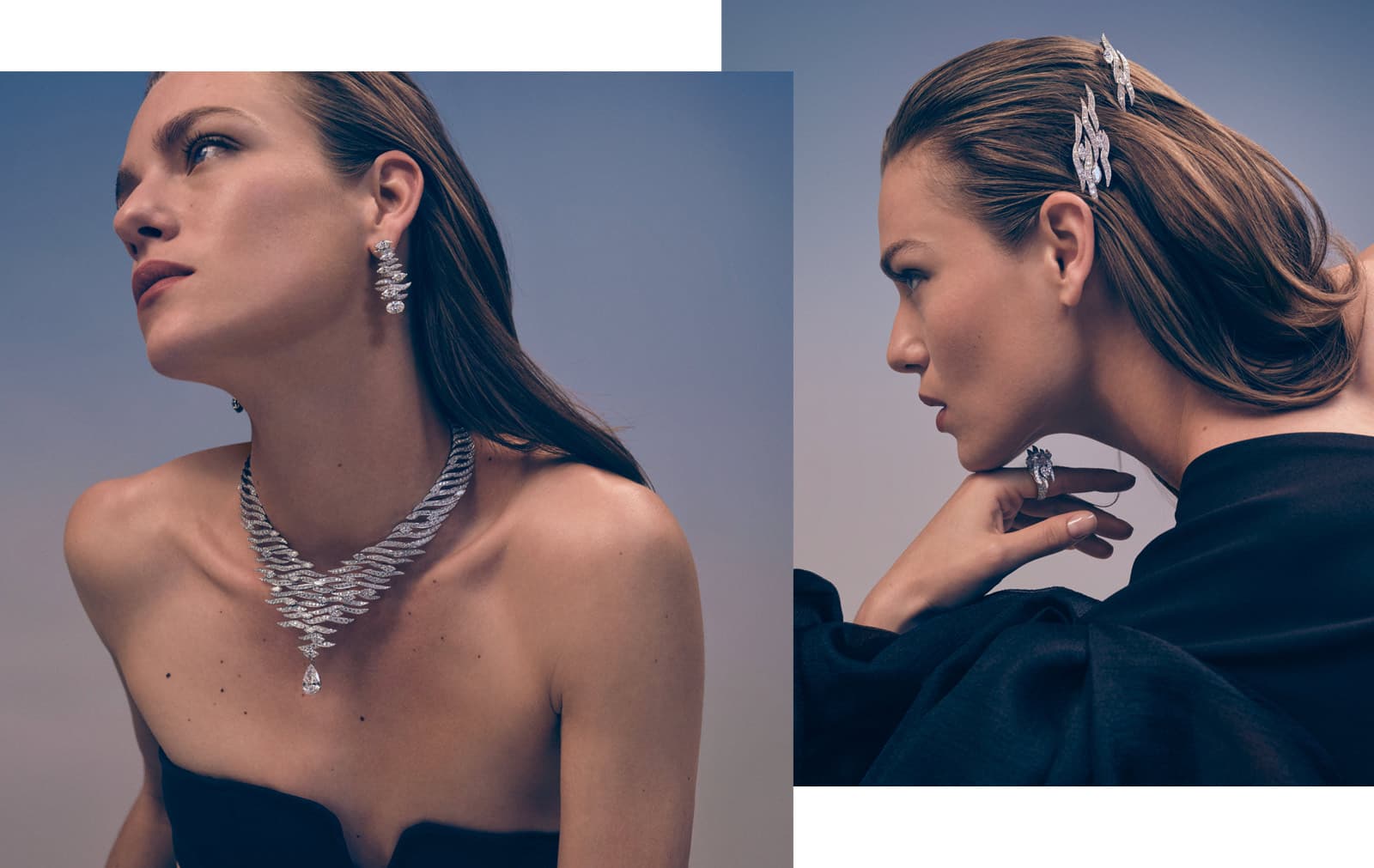 Escales
In complete contrast to the previous high jewellery suite, the Escales Parure brings attention to Chaumet's masterful understanding of monochromatic gems and colour blocking. Inspired by various ports of call such as docks, coves and harbours, the highlight of this particular suite is the Escales collar necklace. Created from white and rose gold, this structured piece is set with a series of five perfectly paired 6.08-carat oval orangey-red spinels. Rare in their red-brick hue and fiery intensity, the in-house gemologists and artisans of the Maison went to painstaking efforts to ensure the symbiotic setting between each of these gems. A more discrete but equally important gem series in this piece is the three 2.19-carat marquise-cut diamonds set sporadically around the collar. Each diamond symbolises boats docking on a marina.
Galets d'Or
Maison Chaumet brings us ashore with the Galets d'Or Parure. Inspired by simple pebbles, this suite is full of warm tones and textured gold inspiring in the wearer the tranquillity associated with the seaside. Rose and white gold are merged with hand-carved textured grooves to recall the softening effect of waves caressing the stones' surfaces. The satin-finished metal is set with sweet pinkish and orange gemstones to evoke the warmth of the sunlight as it slowly heats the pebbles, basking in the sunshine. The highlight of this suite is a Golden Pebbles ring, set with an exceptional 22.39-carat oval morganite, Padparadscha sapphires and brilliant-cut diamonds.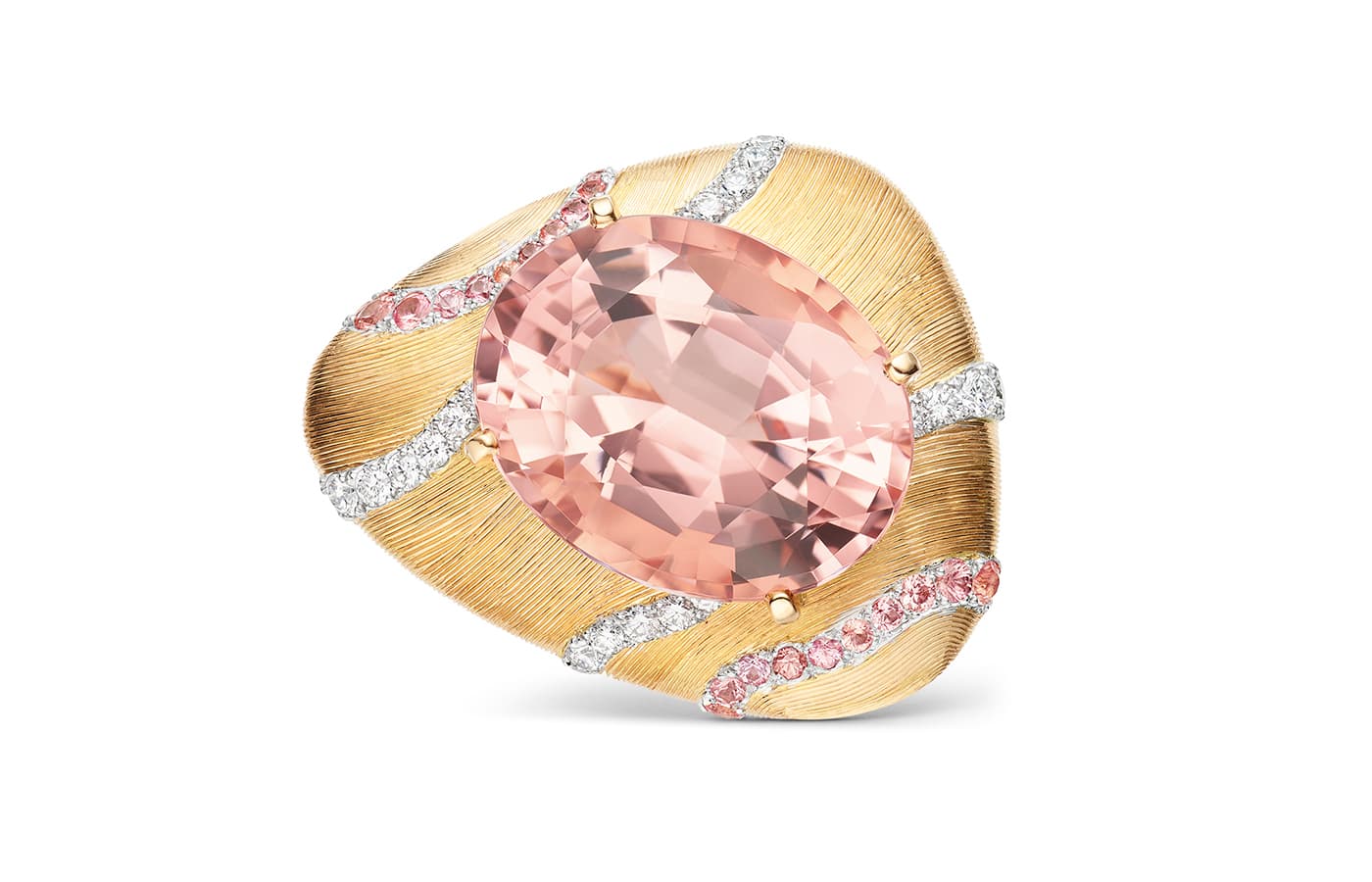 Sous le Soleil
From the nature found onshore to its inhabitants, the Sous le Soleil suite illustrates the relationship between beachfront waters and human interaction. Inspired by juicy fruits served at picnics on the beach, red parasols to protect us from unwanted rays and the endless array of shapes one can create in the sand, this suite is filled with radiant, tangy-hued gemstones and warm yellow gold. In an interpretive take on the Art-Deco aesthetic, the Sous le Soleil sautoir links raspberry-coloured rubellites, mandarin garnets and disks of vaporous pink chalcedony. The star gem of this high jewellery necklace is a 22.09-carat oval rubellite, alongside two oval-cut vivid orange Mandarin garnets of 7.46 and 4.59 carats.
Encres
Lastly, we must mention the ninth chapter of this stunning collection – Encres. An ode to those who travel the high seas, Chaumet has prepared a lovely surprise for those who appreciate enamel. The Maison has transformed the symbols traditionally tattooed on sailors into five sculptural unisex brooches embellished with diamonds and painted with colourful scenes. These beautifully proportioned statement pieces were designed to be enjoyed by both women and men in love with the aquatic theme.
From thematic references to diverse materials, the collection explores the world's oceans, gulfs and seas through a uniquely creative lens. We cannot wait to see what the next chapter will bring.