The power of Instagram never ceases to amaze me. When I received a fateful message from Mahmood Qannati, I had no idea it would lead to the debut of Qannati high-concept objet d'art and timepieces. As we discussed his thoughts in those early days, Mahmood showed me images of the sinking Titanic and a space station on the moon… not something we would typically associate with high jewellery! In each of our conversations, I was struck by Mahmood's passion for his concept and the imaginative creativity of his ideas. I became equally invested in seeing the project come to fruition and hoped to witness first-hand the disruptive potential of his objets d'art.
Now, in the images contained here, you can see the universe of Qannati in full colour!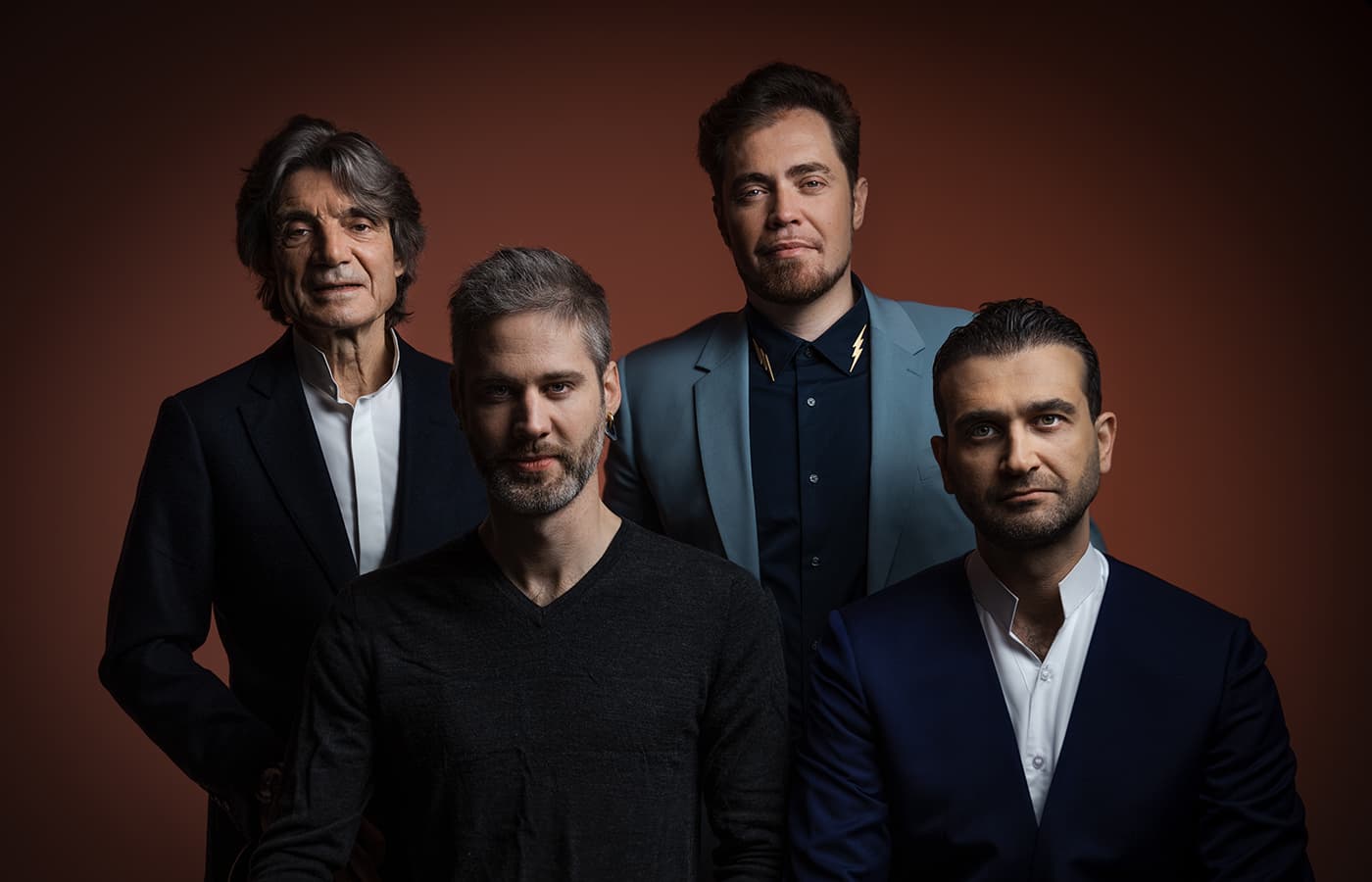 Firstly, let me introduce the creatives at the centre of the brand. First, there's Mahmood Qannati, an entrepreneur and marketing professional born and raised in Bahrain. He calls me jokingly 'the Godmother of Qannati' because I helped him from the beginning, even before he formally founded Qannati Objet d'Art in Place Vendome, Paris, in 2018. In those early days, Frédéric Mané also joined the team and offered his gift for inventive designs, which he presented through powerful hand-drawn sketches. Finally, Frédéric welcomed a third creative to the fold, Jothi-Seroj, a master jeweller and sculptor who can translate ideas into three-dimensional sculptures using alchemy and a host of precious and unconventional materials. With all the puzzle pieces in place, the brand was born and officially launched in July 2022 during Haute Couture Week.
"The brand engages in art, jewellery and horology, depicting the perfect marriage of history, mythology, technology, luxury and design."
Its core source of inspiration is ancient Mesopotamia and French art and craftsmanship. This historical region of Western Asia covered modern-day Iraq, Iran, Turkey, Syria and Kuwait and incorporated various cultures and belief systems. In many ancient artefacts, Mesopotamian kings were pictured wearing bracelets on both wrists as symbols of divinity, power, and knowledge. That's why you'll find timepieces in the Qannati collection and timepiece-shaped bracelets without a dial containing complex, miniaturised worlds beneath domed sapphire crystal.
Diving deeper, the Qannati brand philosophy and design identity are inspired by the sacred geometry of the 'Flower of Life' – an overlapping pattern of circles that appears throughout time as a repeating motif in art, sculpture, objects, and architecture for thousands of years. Using this as a creative starting point, the brand built its Celebration of Time collection. There's the Big Bang condensed into a bracelet, watches celebrating dinosaurs, gladiators, motor racing and space travel! And consider the materials… fossilised dinosaur bones, meteorite rocks, parts from F1 cars and the Discovery Space Shuttle, ancient Roman coins, carbon fibre, Ethiopian opal cabochons, raw diamond slices, natural freshwater pearls, Oregon sunstone, agate and ruby, to name a few. In addition, there are some rarer and more unusual minerals, like Larimar (the blue variety of pectolite found in the Dominican Republic), rainbow ammolite from fossilised ammonites, and peridot that's still embedded in its volcanic lava matrix.
"Welcome to the art of time-keeping. Time is different for those who dare."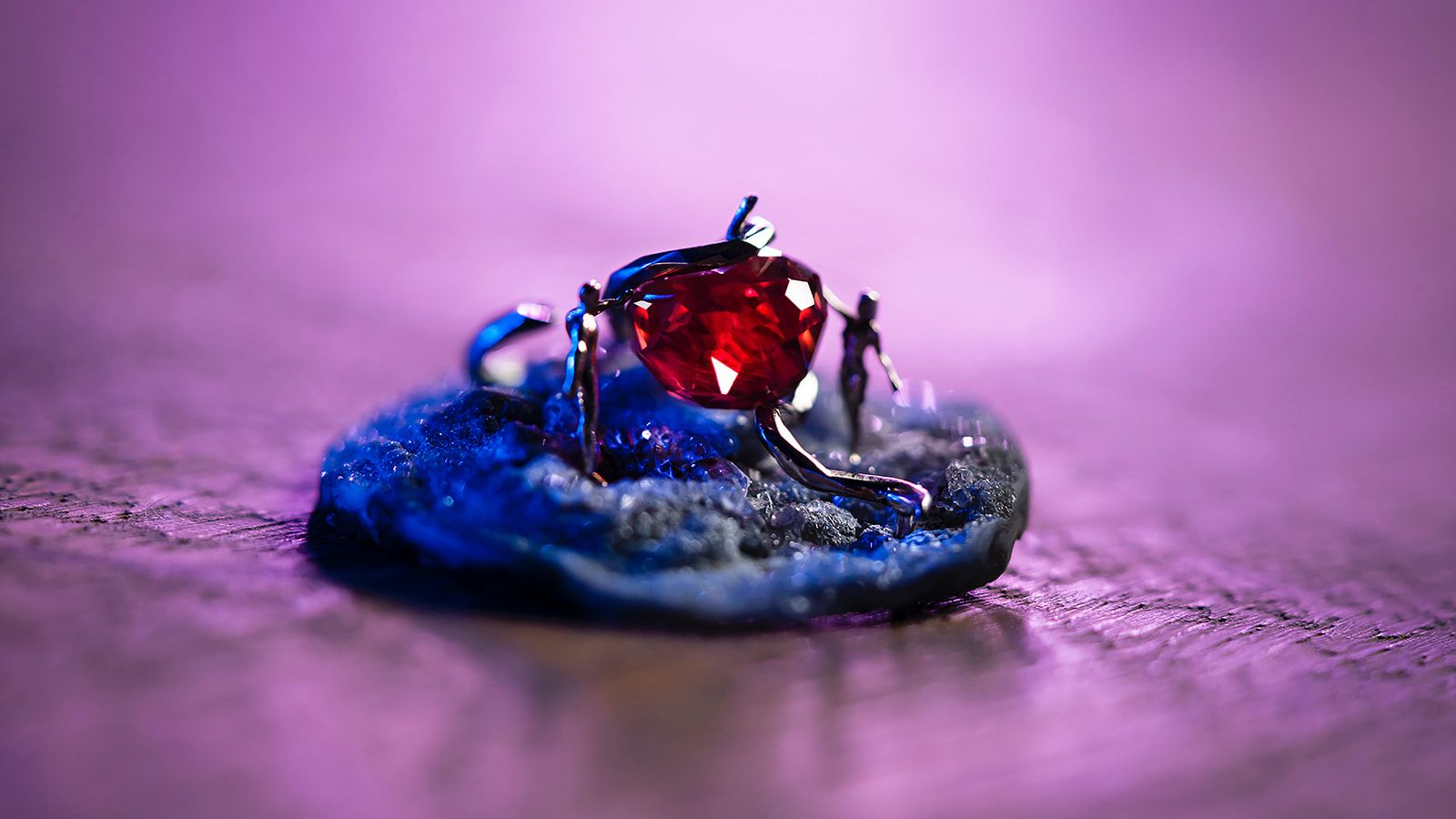 The collection tells each of its stories in two parts: the Eternity Bracelet and the Quantum watch. These complementary pairs, six in total, can be worn together in true Mesopotamian fashion, one on each wrist or worn alone. Some remarkably diverse leathers are used for straps, too, to continue the theme via colour and texture - from seabass and frog to python, stingray, and alligator. And let's not forget another unique element – the "buckle universe" – which transforms the clasp of each piece into a decorative element set with a meteorite fragment, racing car carbon fibre, aluminium mesh, and mother of pearl, among other materials depending on the inspiration of the watch face. So, in summary, each piece tells a story in three ways, the main universe, the strap and the buckle universe.
The Gladiators Eternity bracelet, for example, houses a miniature of the great Italian Colosseum under sapphire crystal glass with an authentic Roman coin from 124BC used to decorate the buckle. The other half of this story – the Gladiators Quantum watch – features a softened octagonal titanium case coated in gold PVD, and adorned with a Seabass skin leather strap, rough diamonds, and bronze fighters locked in battle on the dial.
The crowning element of the Celebration of Time collection is the thirteenth piece, which Qannati describes as an "iconic masterpiece". It will forever remain in the Qannati private collection. Titled Alpha, this Eternity bracelet tells the story of the birth of the universe with a black opal meteorite smashing into raw diamond slices, natural magnetic sand, round and baguette-cut black diamonds and dusted with meteorite powder. This cosmic event is set in a domed carbon fibre case and finished with a raw diamond-set bracelet. There is also a hidden element that makes this bracelet unique; a special magnet changes the structure of the magnetic sand and modifies the internal design without opening the dome.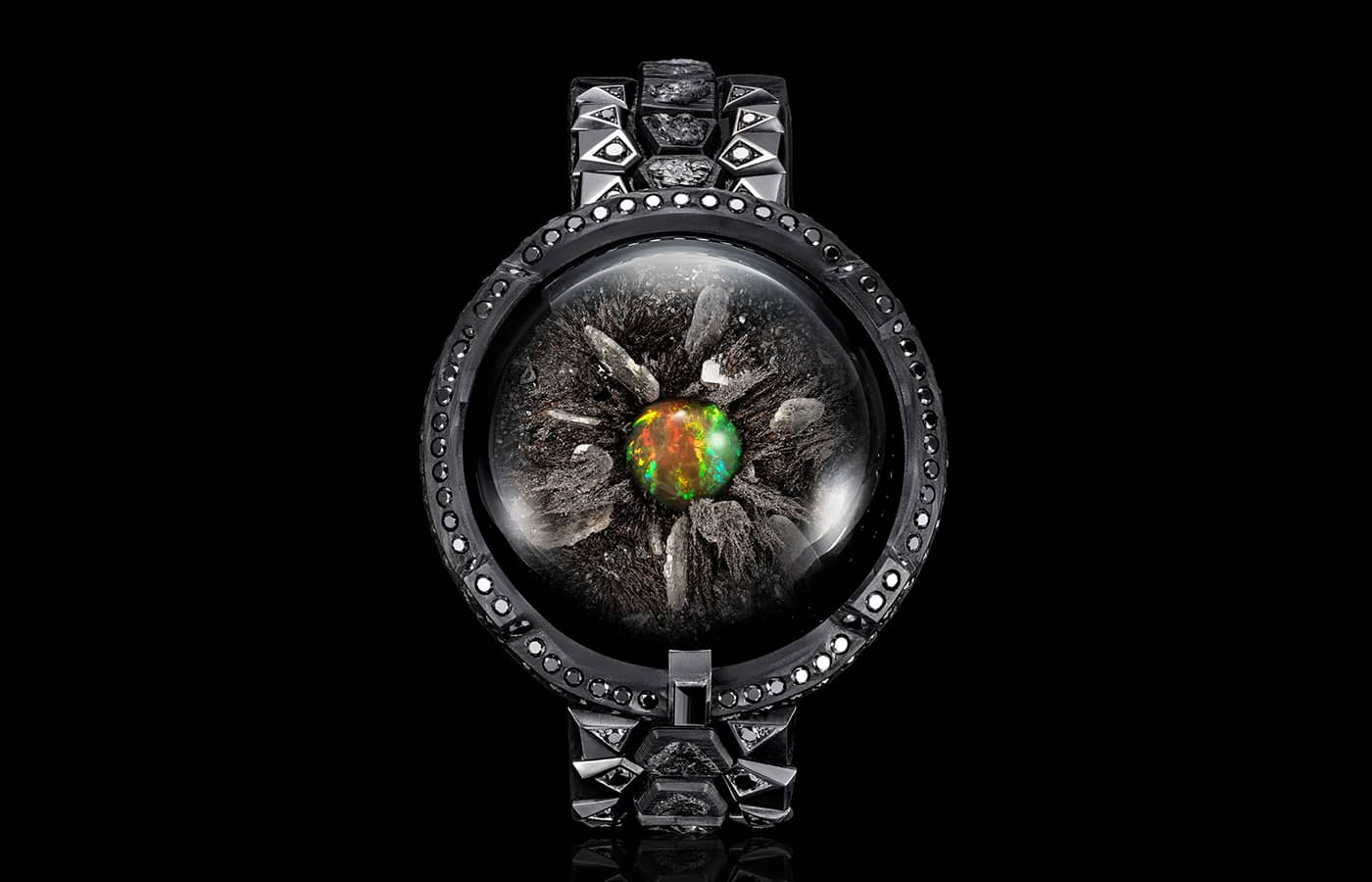 So, that is the short story of Qannati, which I hope you enjoyed. When I was celebrating the brand launch at Caviar Caspia in Paris, I couldn't help thinking, 'What if I hadn't spotted that message on Instagram in January 2019?' I would not have had the opportunity to be involved in such a fantastic origin story! Qannati has stretched the creative thinking of many individuals in the high jewellery art space and has allowed professionals like Mahmood Qannati, Frédéric Mané and Jothi Seroj to demonstrate the limitlessness of their imaginations and talents. I look forward to seeing what other miniature masterpieces emerge from the Qannati vault as it continues to evolve.