"I launched Wings of Wisdom with the intent to go further than just creating a collection of beautiful objects," explains Catherine Mugnier, who established the brand in 2021. "With what we've all been through in the last couple of years, the aftermath of these unprecedented times is a thirst for answers. As more of us search for answers and journey inwardly, there's a huge shift in attitude towards the mystique which has largely influenced the collections."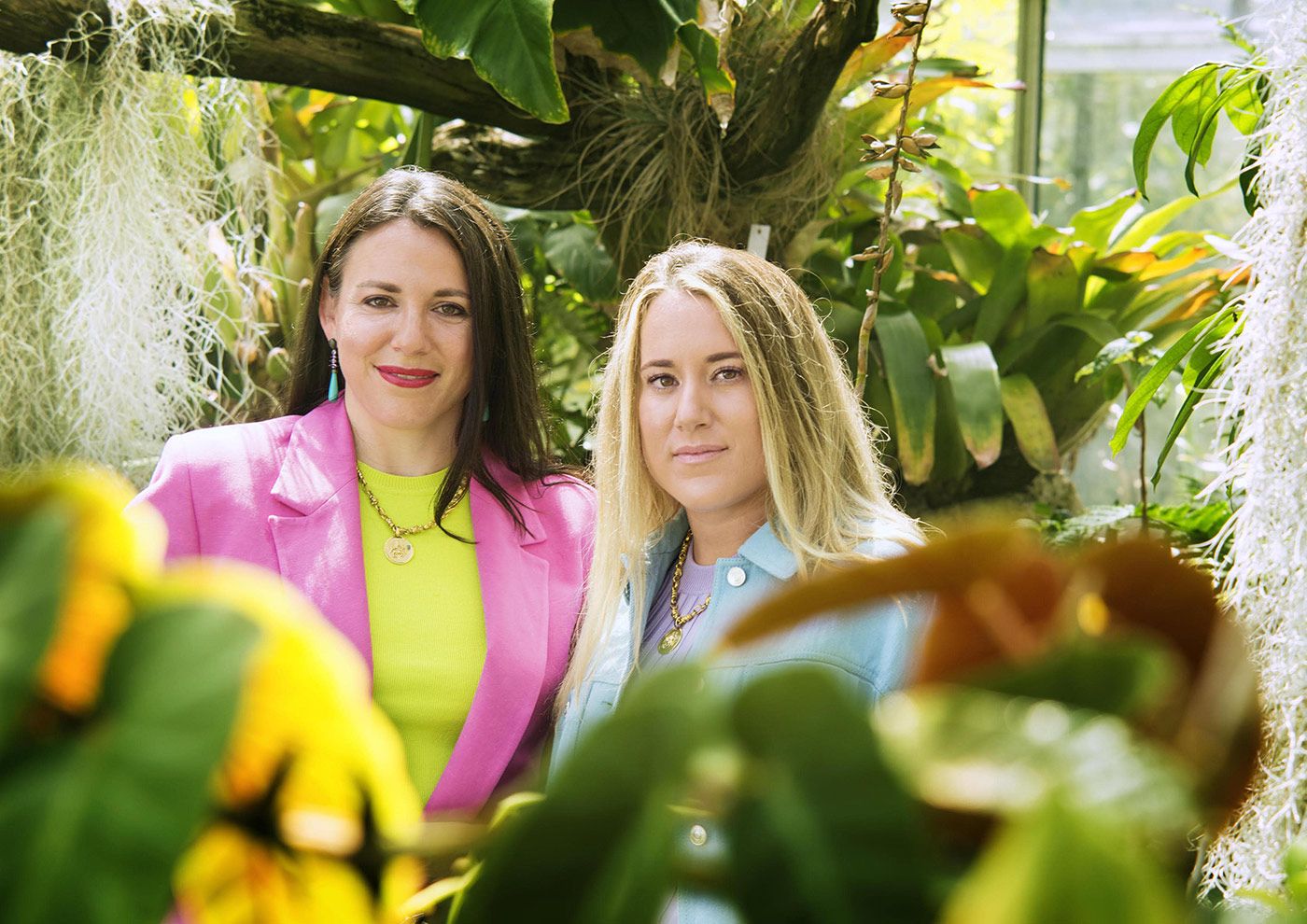 Wings of Wisdom offers apparel, candles and now, fine jewellery in collaboration with Maison Belmont. Fortunately for Mugnier, it's all in the family! Her sister Sarah is the woman behind Maison Belmont and the two have been able to use their shared history and ideas to forge a new collection which is described as "not for the fainthearted". It includes pieces that are said to "help reach your highest truth" through talismanic combinations of gold, precious gemstones and enamel. Below, you will find highlights from a recent conversation I had with Mugnier about her brand, its origins, and this new jewelled addition to her offering.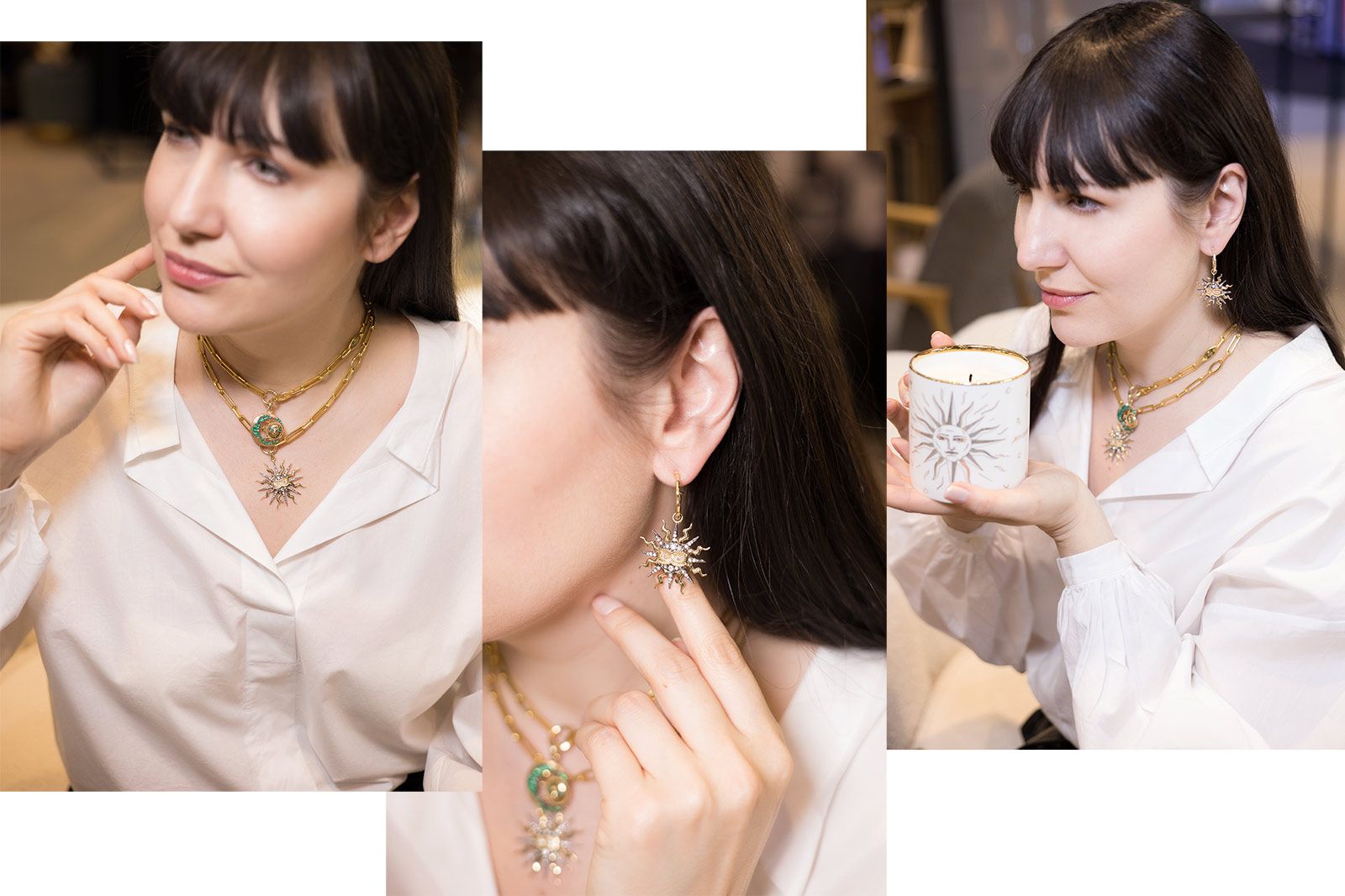 Katerina Perez: Why was now the right time to launch a fine jewellery brand?
Catherine Mugnier: The brand is designed to empower people to live with meaning and purpose, to rise above the mundane; an invitation to fully trust the process of life. I think we can all do with a bit of letting go of control and embracing the journey feeling reassured and making the most of it; wearing our fine jewellery pieces inspires you to do just that. That's the essence of Wings of Wisdom.
Our pieces are delicately crafted and evoke a certain romanticism but are not for the faint-hearted. They embody strong messages and mantras, are charged with intention and are beautifully crafted in 18k gold and precious stones. I like to call it holistic luxury, for the caviar hippie – a connected free spirit who doesn't want to necessarily compromise on a comfortable lifestyle and is committed to buying less but buying better.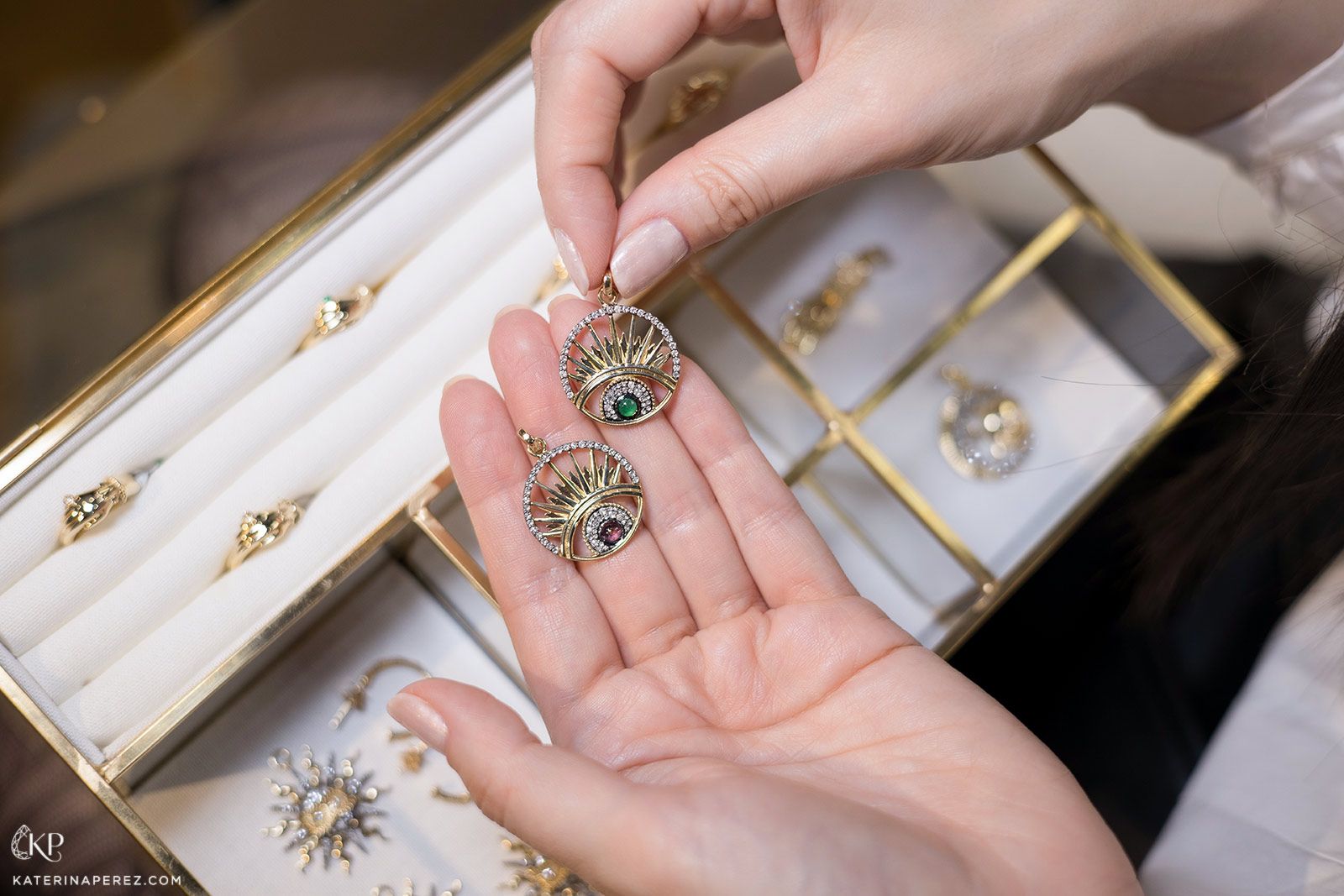 KP: You have collaborated with Maison Belmont, which is your sister's brand – can you explain more about this family connection to jewellery?
CM: My sister and I have been raised in a family that relishes and has really come to love all forms of art, while also having a deep appreciation for craftsmanship. Our mother and grandmother were often taking us into their dressing room and showing us their jewellery pieces while putting some last touches of make-up. We listened to the dancing gold earrings, to the pearls rolling on their necks or their colourful accessories giving them so much joy. This image of jewellery making them simply happy is still a feeling that we experience every day.
Sarah, who's been working in the luxury industry for 15 years, is passionate about jewellery. She has worked specifically in the jewellery business and is a GIA Graduate Gemologist. It was more than natural to work together on this collection and bring our own personalities for one common goal: to give emotion and meaning to what we design.
KP: Where does the name 'Shifted Paradigm' come from and what does it mean?
CM: A shift in paradigm is experienced when someone's mindset is totally changed from one belief to another. To create this shift, I wanted to use the power of symbols to embody a particular message that would change one's environment for the better. I also think symbols transcend borders, and cultures and have no land, understood by all and feared by none. That was the start for my sister and I to bring to life our first collaborative fine jewellery collection.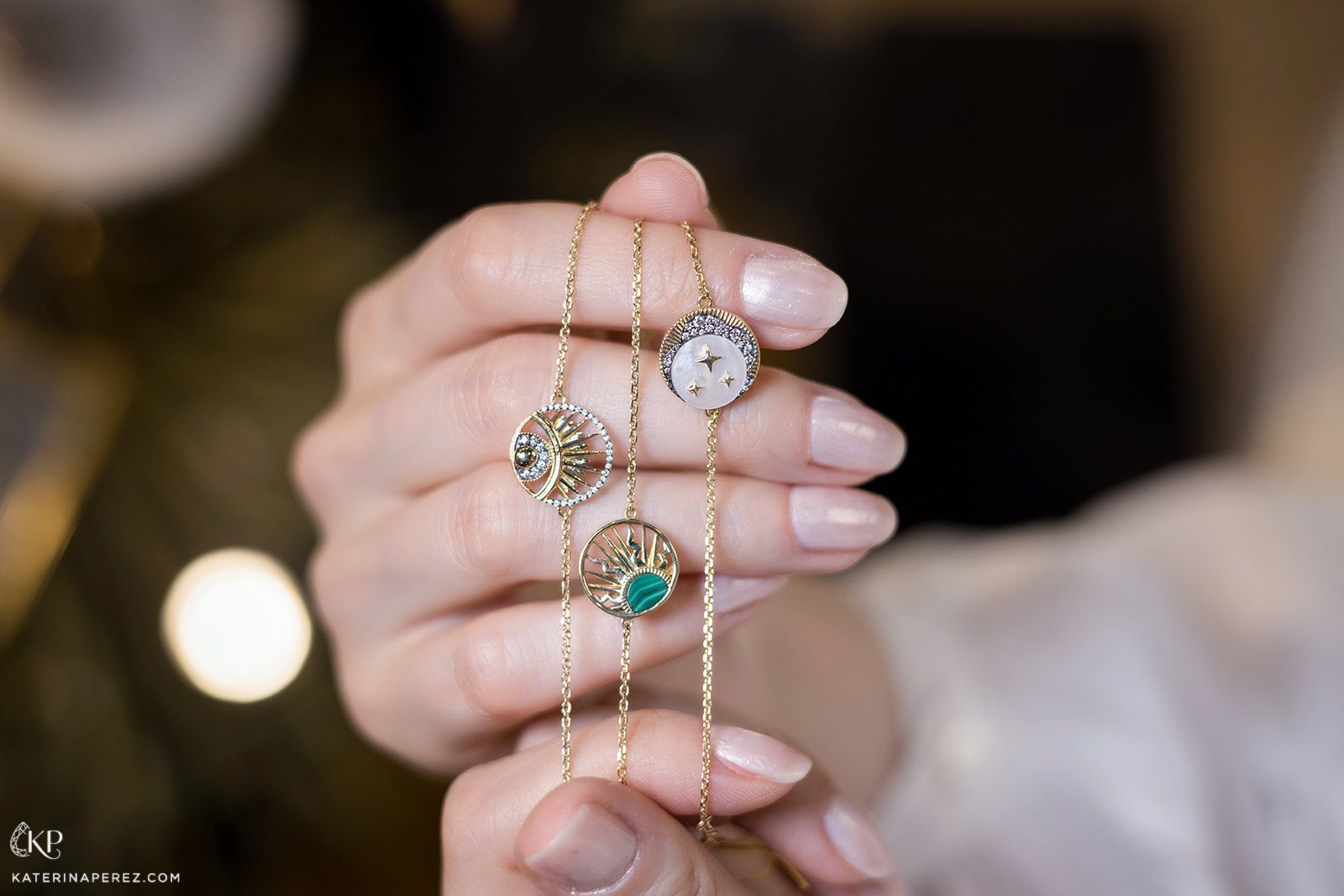 KP: What inspired the 24 pieces in the collection?
CM: For the design of the pieces, I selected an assortment of symbols that resonated with me the most: the sun, the moon, the protective eye and the helping hand. Each of these symbols represents a particular message of hope, a distinctive mood and aura.
One of our popular pieces, complete with our gold link chain, is inspired by the sun, a universal symbol of positivity, energy, and warmth – the lamp of the world! With the sun-inspired pendant, I wanted to encourage our community of Wowsers to wear this piece and seize the day with a positive attitude – having the right mindset can be incredibly powerful in pulling in an abundance of positive outcomes in one's life.
Our piece de resistance is our Memento Mori ring. Entirely personalised to realise your vision, an ode to the renaissance era, a conversation piece atop your finger ingeniously created to hide one's own secret message. There's much more to it, but we can't reveal all our secrets in one go…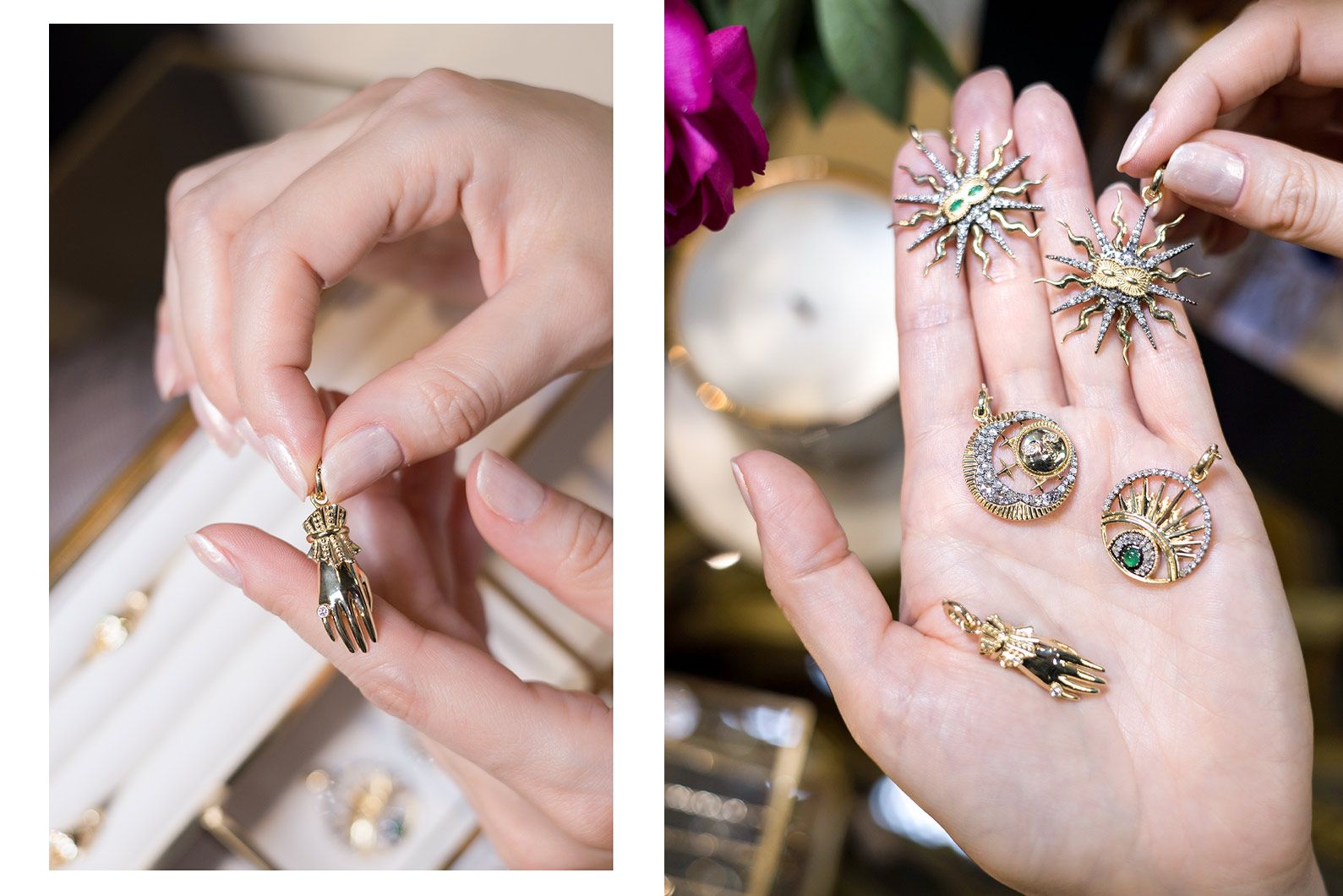 KP: Your pieces are crafted in Istanbul, Turkey. Was there something about the craftsmanship and artistry here that specifically appealed to you?
CM: Sarah has been living in Istanbul for more than three years and has deep know-how of the city's history embedded in jewellery's craftsmanship. Turkey has such a rich and important historical background, with such a mix of cultures and identities. It gives a city like Istanbul a certain mystery… it's an old soul that gives such positive energy and creative thinking.
Antique jewellery has patina, has a story to share but above all, it holds a recognisable aesthetic that gives more character to the piece. We felt Istanbul was the perfect fit to create this collection. When you take a real look at our pieces, you will notice we use 925 silver that is blackened and set with old-cut diamonds, like on the Shine Bright pendant for example. This is typically an antique jewellery aesthetic that we love.
KP: Can you pinpoint some of the collection's stand-out pieces and describe the creative thought process behind them?
CM: One day, when researching historic jewels for her Maison Belmont pieces, Sarah showed me a picture of an antique ring, dating back to 1631 to the Renaissance era, her favourite epoch. Renaissance was about employing the humanist method in study and called for realism and human emotion in art. This philosophy is in fact the inspiration for our Memento Mori ring.
During these times, a Memento Mori ring was a love ring, composed of enamel, precious stones, engraving, and the ultimate creative prowess was that it could be split open into two rings, never to be separated, a symbol of eternal love. We can call it a double ring, that holds a very intimate and unique story. And here we were, we had it, our conversation statement piece!
We immediately decided that this piece would be the most customizable piece of the collection: the customer can co-create her or his ring with us, by choosing the colour of enamel, the central coloured stone, and of course the personal engraving that looks like a secret message that only the wearer knows about.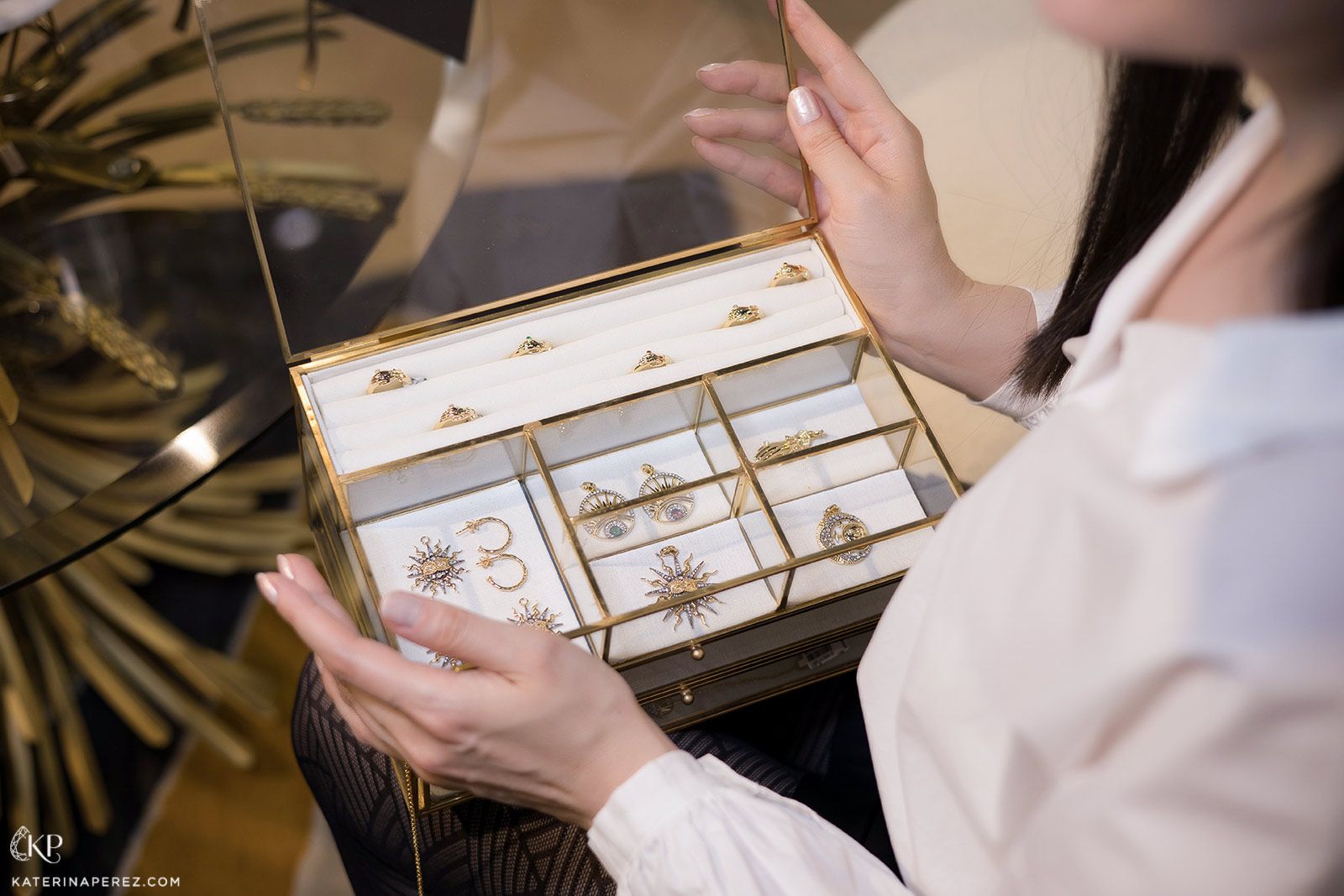 Looking to the future, expect to see a second collection in SS23 that's "colourful and sweet and still very much inspired by symbolism". With such an enlightened ethos behind the brand, it will be interesting to see how Wings of Wisdom continues to explore its quest for truth in precious and miniaturised forms.