Under the creative and artistic direction of Alexandra Mor, 'The Protagonist' marks a three- year partnership between Salon Art + Design and the jewellery designer. Although the exhibition first began in 2014, Mor first conceptualised the new direction of Vogue Italia's event in 2017. The New York-based designer chose to use the tagua seed as an emblem of environmentally sustainable jewellery materials as it is considered the botanical alternative to ivory. Through her ambassadorial role in the annual exhibition, Mor has encouraged other designers and brands to participate - focusing on those who use alternative materials and utilise mindful creative practices.
For 2019, 'The Protagonist' will present 15 leading jewellery designers and apart from Alexandra Mor's latest creations you will see jewellery by Alessio Boschi, Alexander Laut, Liza Borzaya, Feng J, Amedeo by Faraone Mennella, Lydia Courteille, Munnu the Gem Palace, Neha Dani, Yair Shimansky, Chiara Passoni and a few others. Each of them will showcase five to six creations, featuring materials such as recycled gemstones and precious metals, as well as reclaimed wood. Alexandra Mor has chosen the event to present an incredible natural hexagon crystalline eternity band called 'Honoring the Earth'. It is embellished with 15 rough Muzo-mined Colombian emeralds weighing 15.27 carats.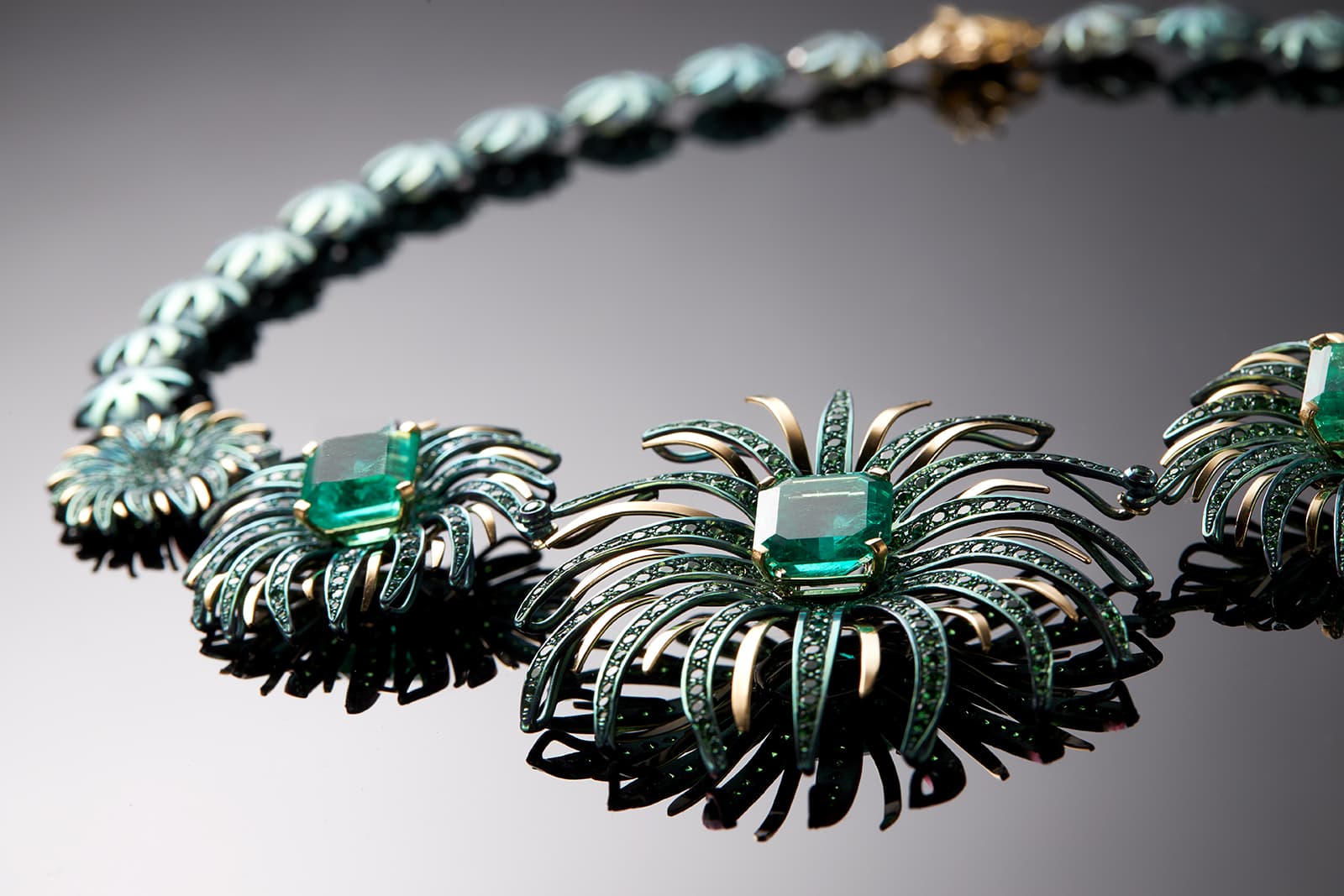 Another example of unfaceted gems in jewellery comes from Neha Dani's latest galactic inspired 'Shristi' collection. The Indian designer will exhibit the 'Arunima 'earrings and 'Vruta' cuff that centre around water and fire opals set in vibrant titanium.
A true rising star of the jewellery industry - Chinese designer Feng J. - as well as the award-winning Italian jeweller Alession Boschi will showcase their tribute to nature in flower inspired jewellery. Alexander Laut and Karen Suen will wow the audience with spectacular gemstones that their jewellery is famed for while Amedeo along with Lydia Courteille will demonstrate outstanding gem carvings in their creations.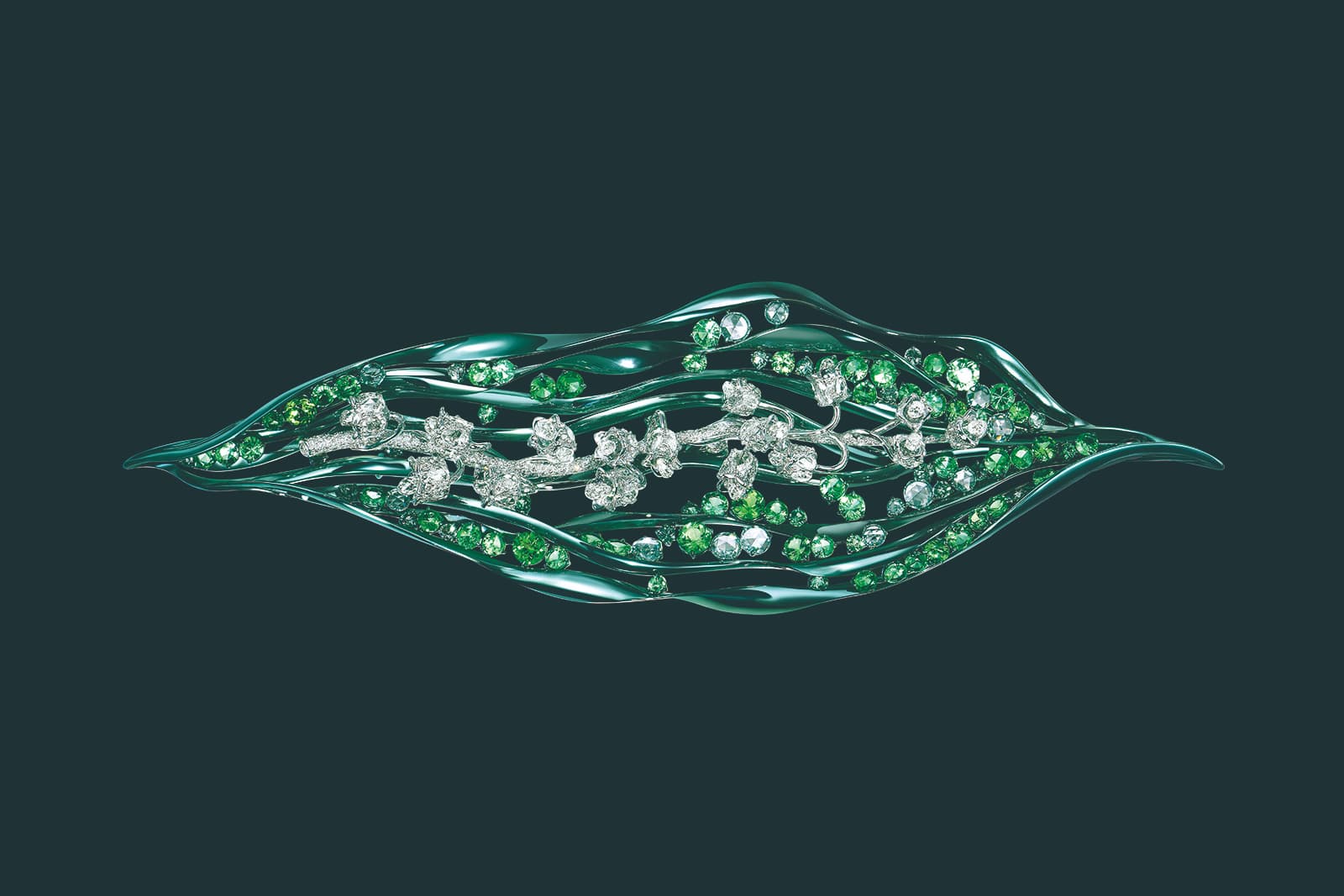 Another highlight of the exhibition is the Russian designer Liza Borzaya who will present her highly detailed enamel jewellery at The Protagonist for the first time. I am sure Chiara Passoni's jewellery won't be left unnoticed, as it is embellished with 5 million year-old shark teeth, as well as sapphires and diamonds.
"Our intent with this show is to inspire and lead our industry, retailers and collectors alike. Our curated group of fine jewellery designers is pioneering the way to a transparent fine jewellery industry. We are changing practices and using sustainable, environmentally friendly and responsibly sourced materials without compromising value, craftsmanship, aesthetics or quality," says Alexandra Mor.
'The Protagonist' will open to a VIP salon of attendees on the 14th November, including the press, stylists, buyers, fine art and jewellery collectors. During the four-day exhibition, Vogue Italia will also host a panel event, where a discussion around the urgent importance of ethical practices in the fine jewellery industry will take place. Not only will the exhibit display and promote these ethical and sustainable values, but it offers a further incentive of donating 10% of all proceeds from sales at Salon Art + Design to The Rainforest Alliance.