Dani's jewellery collections always tell a story, and as her renown within the fine industry grows, the intelligence behind her inspirations and artistic concepts continues to evolve. The 'Shristi' collection encompasses a bracelet, two pairs of earrings, two cocktail rings and a necklace in two distinct colour palettes. The ring and earrings centering around fire opals are set in yellow titanium, and accented with yellow and orange diamonds, as well as delicate beads and cabochons of blue sapphires.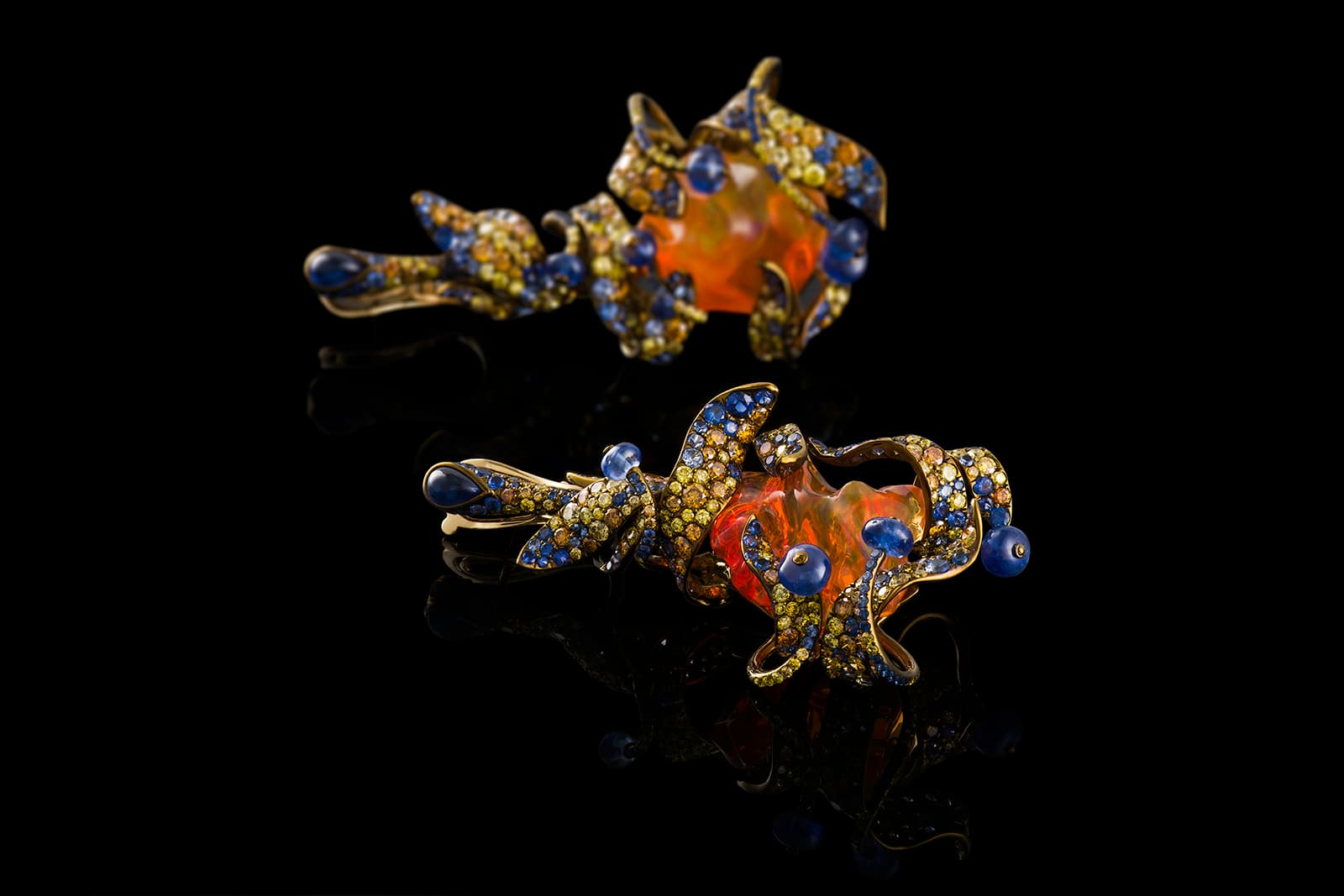 The other half of the 'Shristi' universe colour spectrum features a necklace, earrings, rings and bracelet with baroque shaped water opals, framed by a blue titanium structure - which reflect the ephemeral nature of superstellar nebulae. Their curved surfaces are pavéd with Paraiba tourmalines from Brazil and Africa, purple sapphires from Madagascar, tsavorite garnets from Kenya and blue sapphires from Sri Lanka and Myanmar. The necklace, bracelet and earrings from the collection are also finished with rare bullet cut diamonds set in fine slivers of titanium. I spoke to Neha to understand the creative process behind this art jewellery collection...
Katerina Perez: The energy of the Universe is an unusual theme to explore in jewellery. Tell us about the inception of this collection...

Neha Dani: This collection started off with the idea of the Universe protecting and taking care of us. We can't plan everything in our lives, especially the fact that we are often guided by something unexplainable to take the right path. For example, I didn't intend to study gemmology specifically, but this fascination with gemstones was simply irresistible. Having graduated from GIA, the doors started opening for me that eventually led to founding my own brand. I feel like I just let this cosmic energy take care of me and things started happening...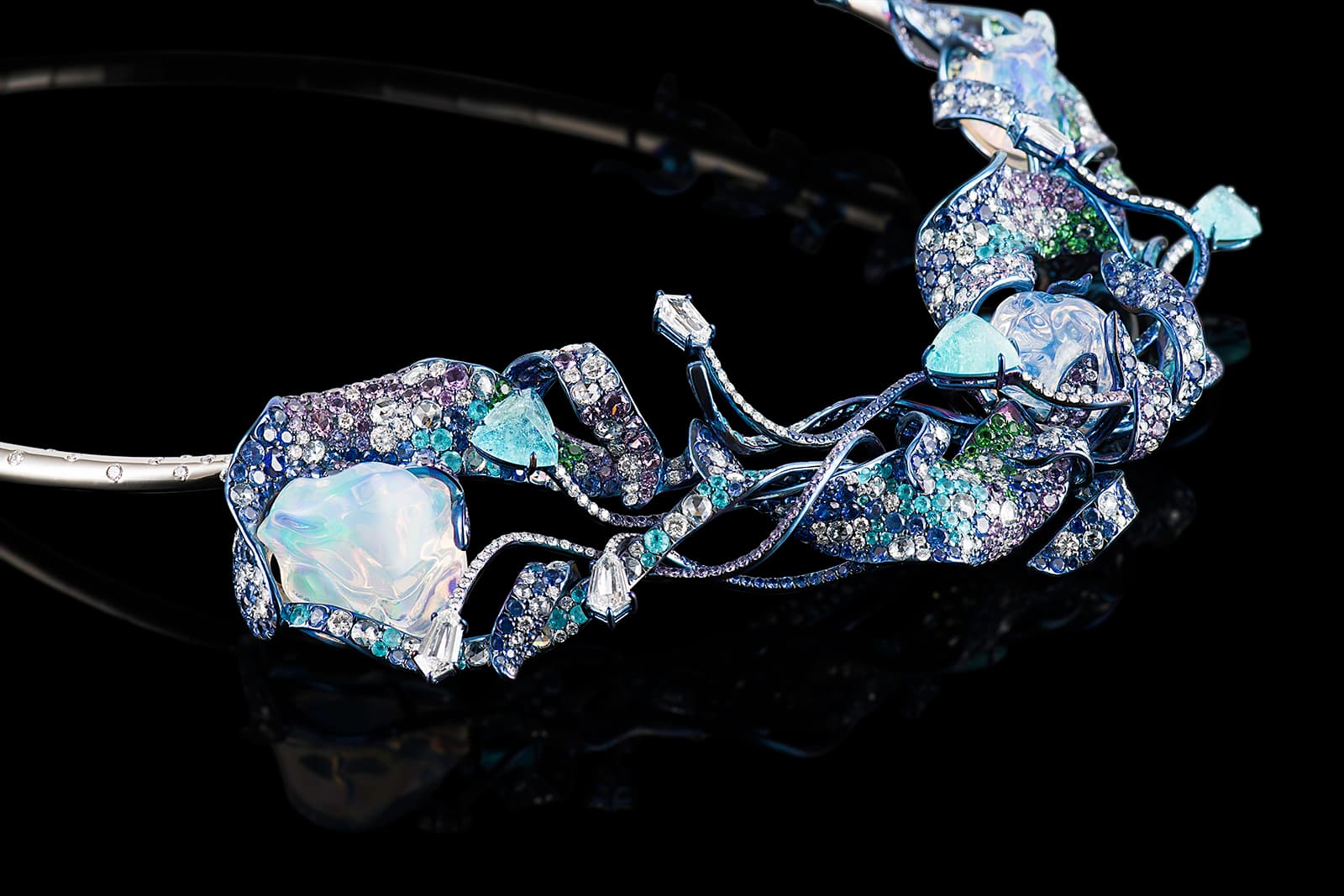 KP: Opals take the centre stage in 'Shristi' collection, but did you consider using any other gems in the beginning?

ND: They were my choice from the start. I used baroque opals with lovely play-of-colour as focal points in my designs, as I felt they represented the idea the best: water opals symbolise one's soul, while fire opals represent the spark within us, our zest of life. Also, an opal's colours resemble the colours of nebulas – cosmic energy that we cannot see, and only get reference images from NASA by satellite.
KP: How did you decide on the other coloured gemstones used in 'Shristi' jewels?


ND: I spent a lot of time looking through stones and choosing a colour palette that would have complementing gems. I felt that the vibrant Paraibas best offset the water opal, while tsavorite garnets enhanced its colour. For the fire opal, I was looking for gems of contrasting colours - so blue sapphires seemed like a perfect choice paired with yellow and orange diamonds that brought the flame feeling in.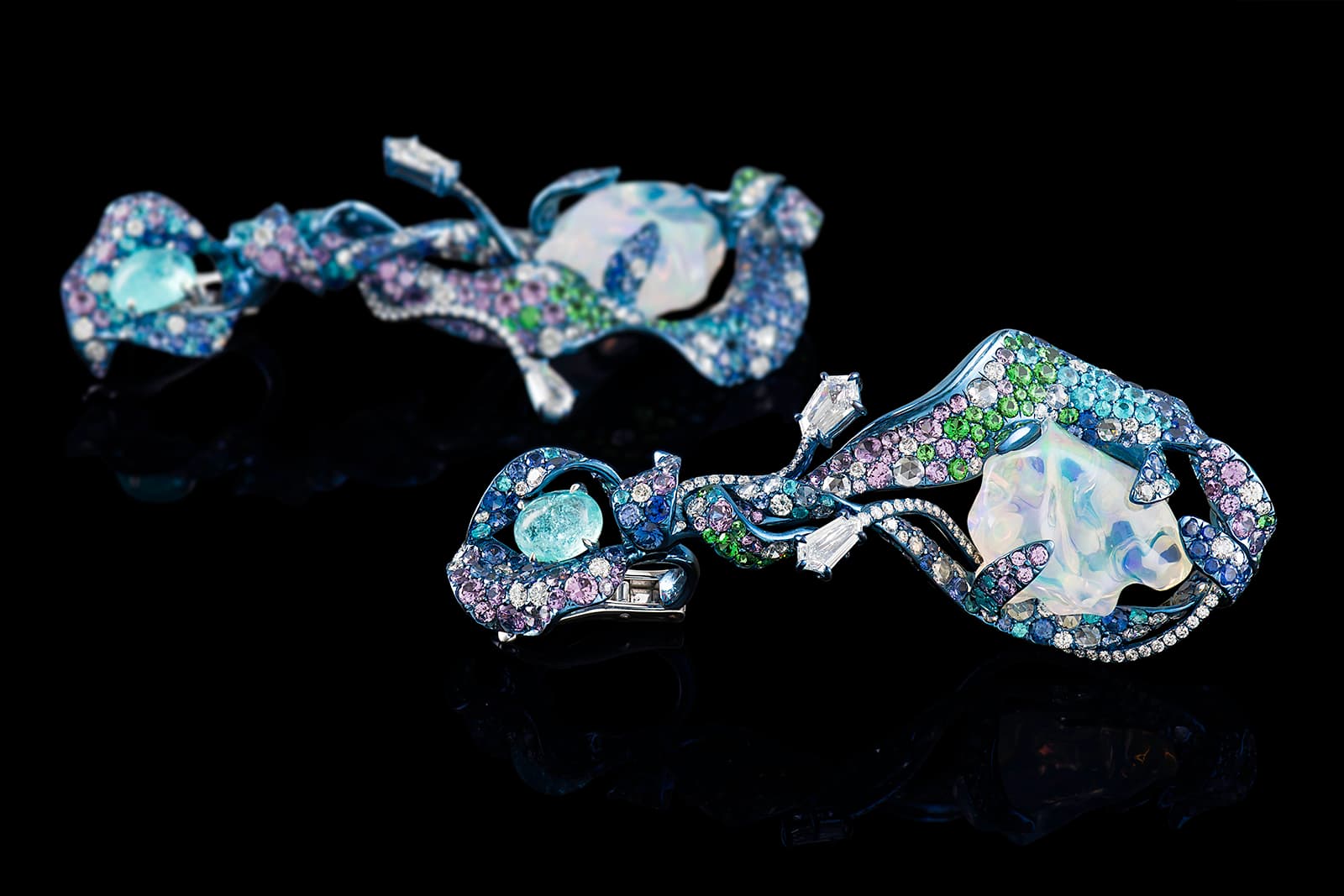 KP: What were the main challenges you had to face in bringing to life such intricate jewels?


ND: First of all, it is creating the actual wax models that we had to re-do a few times to achieve perfection. Then the 'Shristi' collection jewellery had to be cast in silver to plan the articulation, understand the volume and ensure comfort for wearing as they are so multi-dimensional. Once the silver prototype was confirmed, we had to separate it into smaller parts for setting gemstones on curved surfaces which is an extra complication of my designs. The necklace had 60-70 parts to it - maybe more - when it finally went into casting.
KP: How about setting gemstones in titanium? I have heard that its no small feat...

ND: Yes, it was the hardest part of the final stage. This metal is far more brittle and therefore more difficult to work with than gold. If titanium snaps during the jewellery-making process on has to re-cast the whole piece from scratch.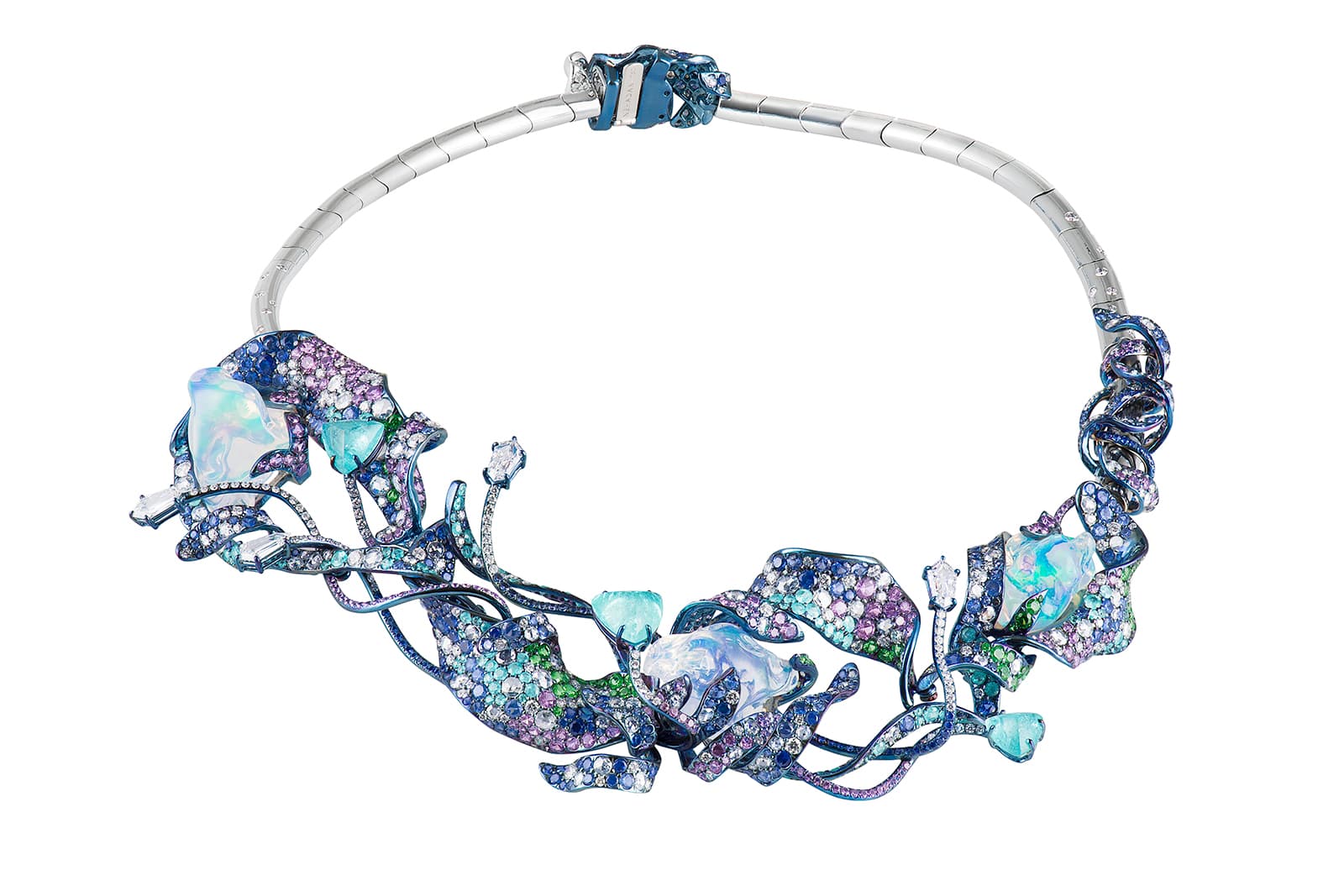 KP: I can only imagine the time put into creating a collection like this.


ND: Yes, as with most of my jewels that are made in volume, production takes a while since it is not only about beauty but also comfort in wearing. With the 'Shristi' collection, it took us about 4-5 months to carve the whole collection in wax, and then around 7 months of manufacturing and fabricating.