At the Oia Treasures Gallery, the work of roughly twenty seven contemporary Greek designers can be seen, brought together under the platform A Jewel Made in Greece, which is founded by the jewellery designer Mary Samoli. The the owners of the gallery Flora Koutsi and Takis Panagopoulos say that they choose to display jewellery artists with the unique vision of design. Each of the participants makes pieces out of silver, gold, precious and semi-precious stones in their own style. The variety and stylistic breadth is areflection of how far Greek jewellery design has come over the course of the last century.
"We would say that the style of jewellery, and in effect jewellery making, has changed quite abit in the last few years. Greek designers seem to have started, somewhat timidly, unleashing themselves from creating traditional pieces such as simple gemstone rings or standard pearl earrings. People seem to be drawn to more exciting and strange shapes that reflect their character and temperament. Designers are, in turn, seeking a greater freedom of form and using a wider range of materials," comments Labros Papageorgiou, who, together with his wife Semeli, founded the Labros&Semeli brand.
The work of these Greek designers serves as direct confirmation of these comments. Despite the fact that their native culture is the most powerful source of inspiration for Labros & Semeli, the couple does not use antique techniques to create their pieces and does not try to imitate traditional jewellery either, something which isn't rare in Greece. Instead, their work represents the femininity and sensuality of a real Greek woman.
Classic beauty, as perceived by those that dwell in the southern European country, is alluded to by Katerina Kouloubourou from KK Jewellery Lab. As chief designer of the brand, she creates delicate work made of gold, precious and semi-precious stones with simple geometric features. "The Greek Kallos is the classical beauty that has survived throughout the centuries and remains the focal point for us Greeks. Modern Greek jewellery designers have thus the great privilege of being part of that eternal beauty, of that simplicity, those clean lines, those Doric temples and that enchanting sun, but, at the same time, that amazing feeling of responsibility to be true, to be authentic to their heritage in order to translate it into our modern lives," explains Katerina in relation to the unique design of Greek jewellery and its formation of the past centuries.
The height of jewellery art in Greece occurred in the Mycenaean period between the sixteenth and eleventh centuries B.C. At the time, craftsmen learnt how to goldsmith, and what's more the designs they created were often fairly complex, using engraved metals and making intricate reliefs. Traditional earrings, pendants, bracelets and brooches from that period are also fashioned with gold embossed motifs, usually depicting flora and fauna, gods and national ornaments.
I was eager to discover what decorative features could be considered typical for Greek jewellery, apart from meander that is recognised all over the world. Alexandra Itouna was the one answering that question for me. She creates one-of-a-kind pieces of jewellery and fundamentally different from the last.
"The typical jewellery techniques that are still used nowadays are the art of granulation and filigree work, as well as chain making from gold wire and hammered gold. When it comes to decorating metal, pearls, hard stones and carved stones (both intaglios and cameos) are often used. Historically, sardonyx was used to make jewellery for generations because the contrast between black and white came out beautifully in the stone. In terms of decorative motifs, plants and animals have always been popular, and many impressive jewellery pieces featured animal heads or snakes."
I personally noticed that, aside from the decorative elements described above, Greek designers usually use geometric figures and forms, both voluminous and flat to decorate their pieces. These are undoubtedly echoes of the past; in their use of Egyptian geometric formulae, the Greeks have developed an entire science. They have tried and tested a wealth of different approaches, systematising geometric perceptions, inventing proofs and theories. More on this was described by Annie Archimandritou: "Our culture's deepest belief, over the centuries, is that mathematics and geometry accurately express the beauty of nature and the universe: let's not forget the Golden Ratio sign "φ"! Throughout ancient Greek architecture, the rules and ratios of geometry have always drawn austere lines. Take a look, for instance, at the Cycladic architecture with its white cubes placed one above the other. Later on, we can see the clean forms of the Byzantine temples, icons and mosaics. Finally, our timeless popular geometric art motifs, some of which are reminiscent of pixelated images, were invented centuries ago! All of these are embedded in jewellery too."
As you can see, there is a certain reverence in the attitude of Greeks to jewellery designs. They are considered an integral part of the country's culture, the personification of beauty and a long-standing tradition passed from generation to generation. So does that mean that people only wear family heirlooms in Greece, you ask? Evangelos Tsoukalas, as a representative of a generation of designers that follow fashion trends, had more to say on that: "Heirloom jewellery has become what we call in Greece "οικογενειακά κειμήλια" - a family's priceless possessions. This in turn means that the jewellery was usually of value and therefore worn on special occasions. As time progressed, this tradition has been "updated" and modernised to suit today's living style. Modern women wear jewellery on a daily basis rather than simply on special occasions. Powerful and hardworking, they buy jewellery that predominantly expresses their personality and fits their style," explains Evangelos.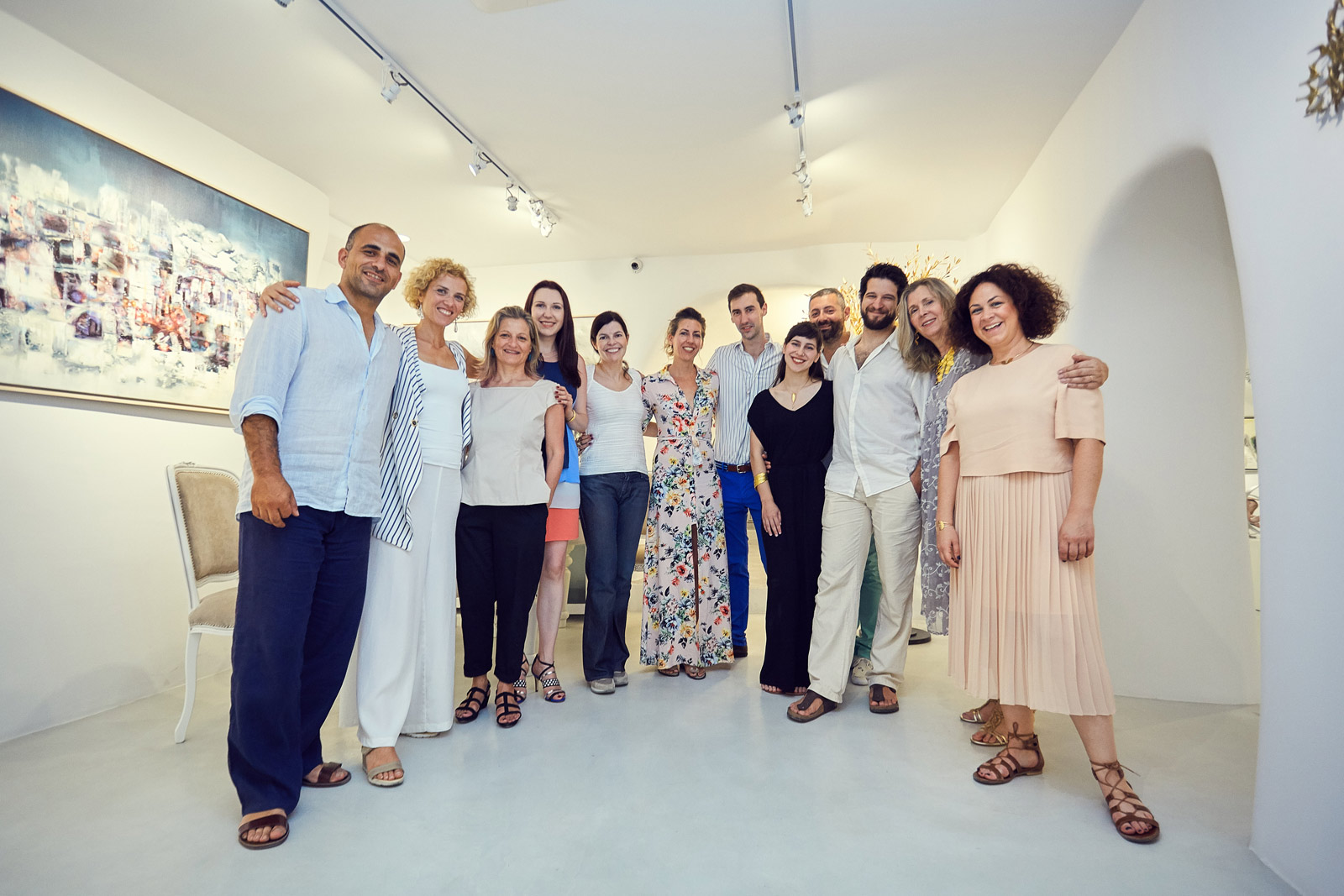 A few days in Greece opened up a completely new culture to me, one which I can see through the prism of jewellery art. I hope that after reading this you also feel closely acquainted with these Greek designers and encouraged the desire to see their work for yourself when you next visit this stunning country.