Annoushka Ducas is a perfect example of a modern woman. Being a busy mother of four and a loving wife, she simultaneously runs a successful multi-million business – Annoushka jewellery brand. He ability to constantly multitask while leading a very fast-paced lifestyle made me choose Annoushka Ducas to talk about who the woman of the 21st century and the role of jewellery in her life.
Katerina Perez: Who do you think the modern 21st century woman is?
Annoushka Ducas: I guess the modern woman is a very busy person, working, doing her own business, she is fairly confident and much more responsible for her own decisions and spending I guess.For example, in the past, it was rare that a woman actually wanted to buy herself jewellery, but now she doesn't have to wait for her husband or boyfriend to give her what she likes.
K.P.: So it is ok that men buy jewellery less for their partners? Or should we just give more hints to a man?
A.D.: Of course, we should never stop trying. It is fact that women buy more and more of their own jewellery. But I do not think that we appreciate it any less when our other halves present us with gifts; it is still very romantic.
K.P.: Does your husband treat you to jewellery even though you know much more about it than he does?
A.D.: Yes he gives me jewellery, but he always feels a bit nervous about it. The thing about men shopping for jewellery is that they are much more loyal. Once he knows that you like jewellery from a particular place, he will keep on returning there, as men go for a safe option. Women care more about what comes from which brand.
K.P.: Jewellery has always played an integral part in womens' lives. Why do you think it is so important to us?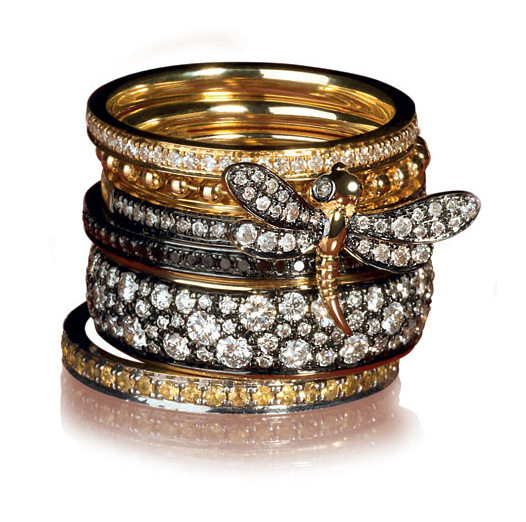 A.D.: Because it is a way of self-expression, expressing your individuality, your feelings, jewellery speaks for you. It is also very much about memories as things go by.
K.P.: Talking about expressing oneself. Do you feel like jewellery is still mostly bought for occasions rather than for fun?
A.D.: No, I really do not think so, as we sell lots of jewellery here to impulse buyers. For example, we had 2 customers this morning who were just passing by, came in and ended up purchasing a ring and a pair of earrings just because they liked them. Having said that, I do believe nowadays that people have to make a choice when hesitating between purchasing, say, a handbag and a pair of earrings. They would buy either one or the other, not both.
K.P.: So if they are to choose jewellery over something else, do they see it more as an investment?
A.D.: Yes, I think it is an investment by virtue of the fact that our jewellery is made of 18k gold and precious stones etc. But for me it is not only about the high grades of diamonds and precious stones. It is more about if this piece of jewellery is me, does it "speak" to me, is it something I am going to want to wear all the time, is it something I want to give to my kids? Not so much from a financial perspective, more of an emotional one.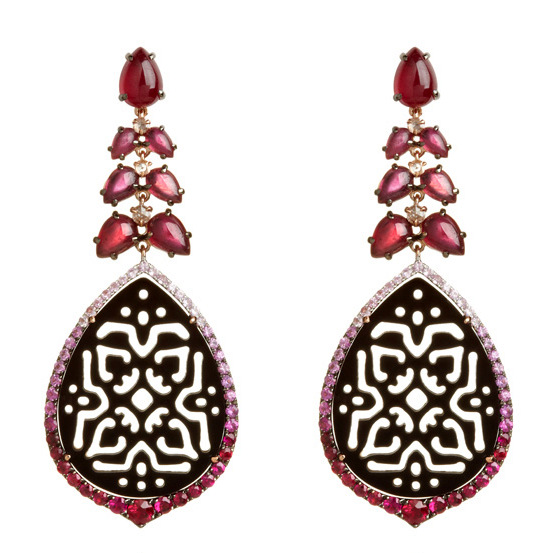 Created in 18ct rose gold and set with 16.48ct hand carved onyx, 10.68ct pear shaped African ruby, 2.74ct pink sapphire and 0.24ct rose cut diamonds, these stunning Alhambra Onyx Earrings will look beautiful with your favourite cocktail or evening dress.
A.D.: Well, I guess some of us have. It is difficult to say because everyone who comes to Annoushka loves jewellery and wants to buy jewellery and maybe if they cannot afford it they will save up for it or they will ask for it. I think jewellery is still very aspirational.
K.P.: It seems to me that at times we feel under pressure to buy top quality jewels and make this public. Do you agree?
A.D.: I don't think people have to buy bigger stones and more expensive jewellery to show them off, although it does happen. I think people who are sophisticated and confident do not care about the size of a diamond, they just want to love their jewellery. Now people wear more interesting stones, and the more confident and sophisticated you are the less you need a big rock on your finger.
K.P.: Big rocks are certainly not about Annoushka jewellery. The more your clients get to know the brand, the more educated about gemstones they become.
A.D.: Yes, it is really happening. I have been running Annoushka for 4 years and before people did not know what, for example, silver diamonds are. Now everyone is looking for something new.
K.P.: Nowadays it is not easy to always stand out. Does it feel like some sort of race to find something exclusive, something that others do not have?
A.D.: I think at times people do feel a bit like that. However, it depends on how you wear jewellery: I wear it in one way and you in the other. I stack rings and you might wear just one. It is about how you interpret the jewellery you wear.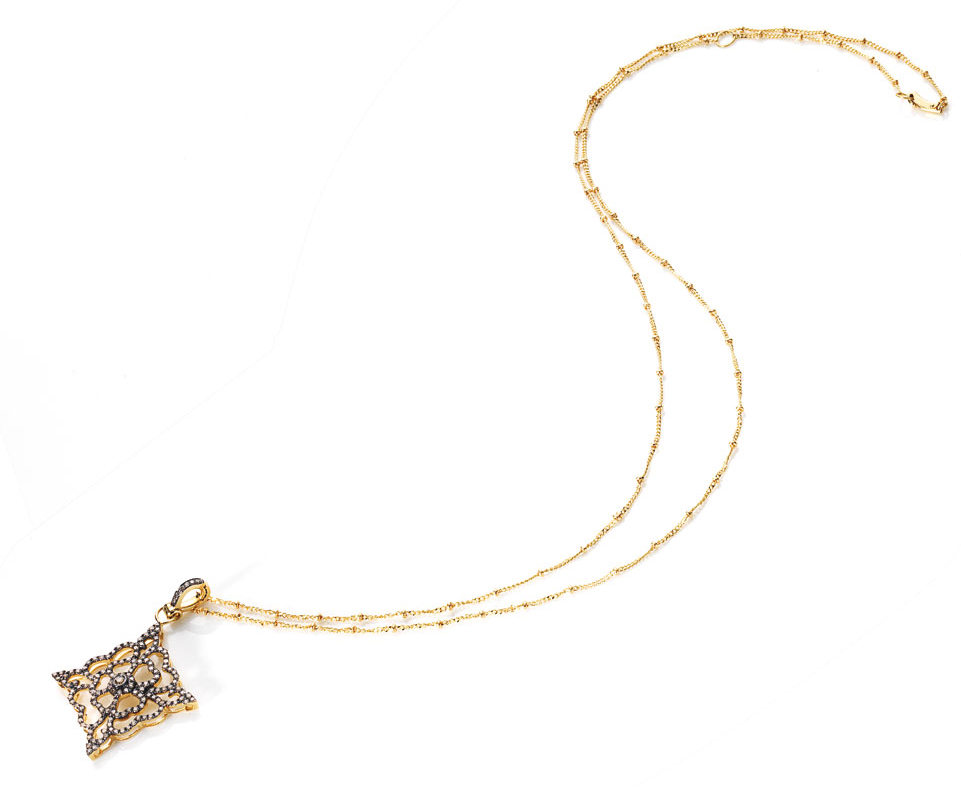 Created in 18ct yellow gold, micro-pavé white diamonds and delicately finished in black rhodium, the Lattice Rose Drop Necklace captures the magical balance between light and dark that you find in the intricate patterns of lattice doors, screens and windows in different cultures.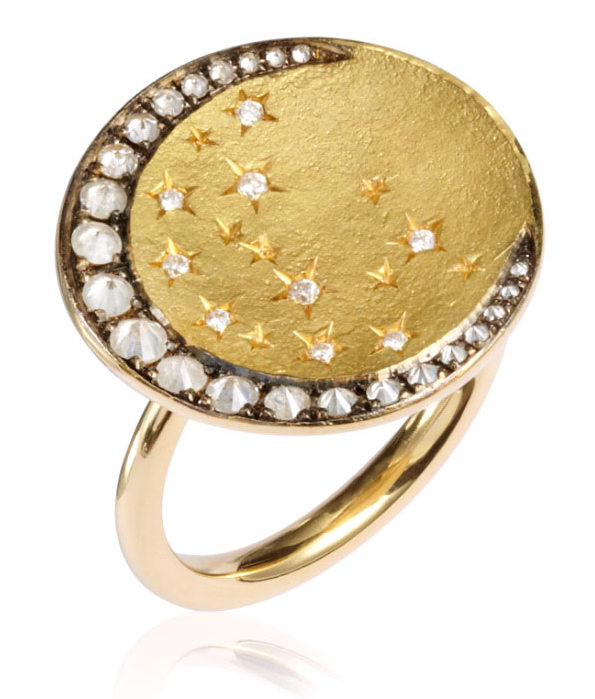 Created in 18ct yellow gold and diamond, the Stellar Moon Ring will look beautiful worn alone or stacked with our Eclipse Eternity rings.
K.P.: So what is your philosophy?
A.D.: To me it is all about dressing up the jeans, not dressing up a cocktail dress. Everybody know how to do it, how to dress up a black tie, gala, but is it much more difficult to dress up your day-to-day clothes. When I design jewellery, I design it to be worn all the time, not just be put in the drawer. Here everything works with everything; rose gold, yellow gold, I have got a bit of white gold. My whole philosophy is that jewellery should be very approachable, very warm and feminine.
K.P.:I feel that your jewellery "says" that it is no longer just luxury; it is something you can enjoy every day?
A.D.: Yes, this is definitely something you should enjoy every day. It becomes a part of your wardrobe, where before it wasn't as much. You have to treat it the same way as you treat your clothes – you can layer your jewels and mix colour.