Once you have seen rings, earrings and bracelets by Arman Suciyan, you will agree that they look like small silver sculptures; sometimes decorated with multi-coloured sapphires and at other times with diamonds. Arman's pieces, simple or elaborate, are striking. Two or three-finger rings, ear cuffs and bangles are thought through to a millimetre, so much so that even the statement pieces are comfortable to wear. What grabbed my attention is how Arman works with precious materials to help him convey a design idea. It is linked with a story about a fictional goddess who travels through the solar system and discovers new worlds. In this interview, Arman talks about his early life, internship, design ethos and his imaginary heroine.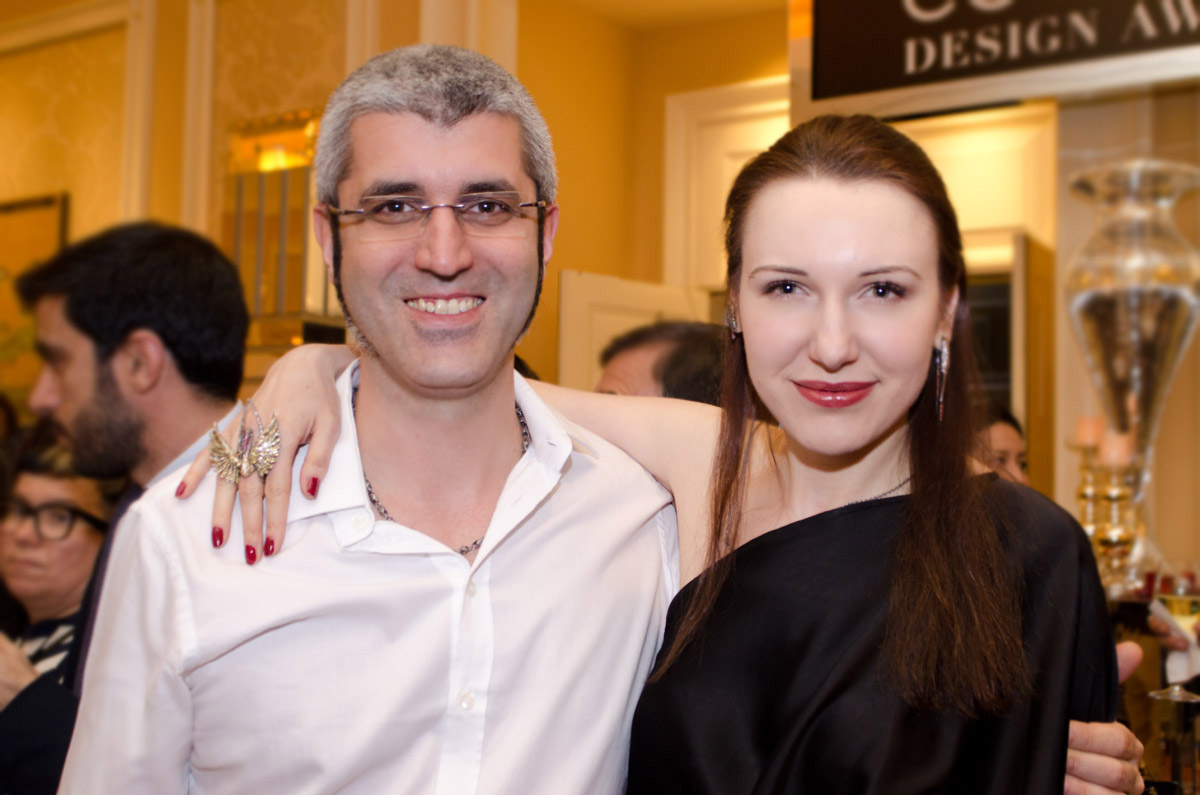 K.P.: How did you get started?
A.S.: As a child, I was quite good at drawing and making things all by myself. Years later, my parents suggested that I learn the art of goldsmithing. So, at the age of 15, I became an apprentice to a goldsmith in the Grand Bazaar.
K.P.: How did your apprenticeship go?
A.S.: The apprenticeship opened up a whole new universe – sometimes challenging, sometimes fascinating as I embarked on a discovery of its secrets. As an apprentice back at that time, you were expected to watch your master when you are not running errands for him. So, I spent most of my time observing the craftsmen at work in the workshop. After a while, I came across wax modelling and took a special liking to the medium. I then converted my desk at home to a small workbench and began making wax carving for myself. The material's plasticity fitted my sculptural way of thinking.
K.P.: You worked with fourth generation fine jeweller Misak Toros, what skills did you pick up from him?
A.S.: Four years after I started being an apprentice I was introduced to Misak Toros and soon joined his workshop. He was probably the only person in the late 80's who designed his own jewellery with a distinct, yet personal style. Here, I was introduced to fine jewellery and learnt the process of design and craft as well as began working with both platinum and 18k gold.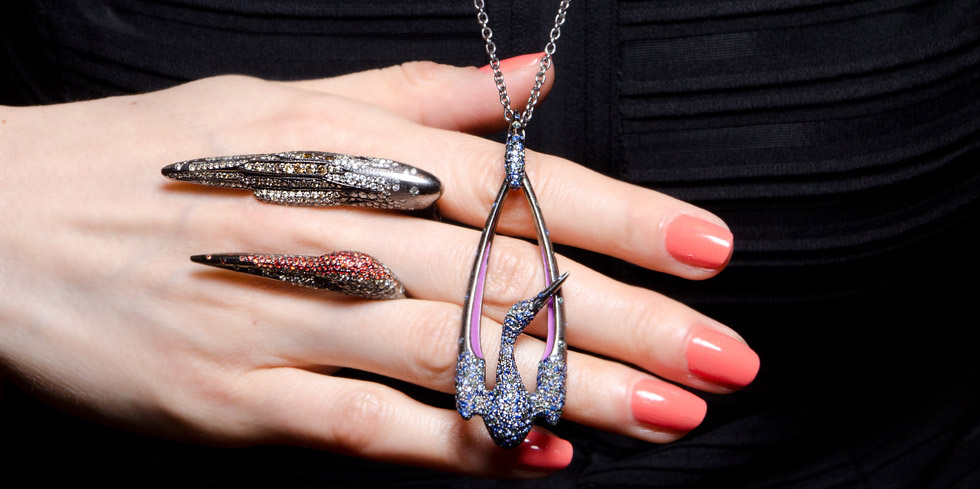 K.P.: Did learning from Misak help you to develop your own style?
A.S.: I consider myself lucky that I had the chance to see and study the design sketches and mould used by his ancestors some of which dated a 100-years. Misak would often tell me the stories about some of the jewellery. His multidimensional artistic personality (he was a theatre actor, director, classic guitar maestro and composer) came to the fore in his jewellery. Unlike the accepted traditional designs back then, Misak's design approach was abstract. My time at his workshop helped build a strong foundation in jewellery making, design and art.
K.P.: Then you worked with another outstanding jeweller–Stephen Webster. How did you hone your creative skills during the 10 years that you worked with him?
A.S.: After a year of work experience, while at the Kent İnstitute of Art and Design in Rochester Kent, I began working with Stephen Webster as a part of his specialist craftsmen. It was a huge step for me, both personally and professionally. I deeply value Stephen's bold approach to jewellery designas well as the importance he gives to quality and craftsmanship.
K.P.: You create jewellery inspired by the mysterious intergalactic goddess, a key figure in your collections. How did this image come about?
A.S.: Something about the way Kurt Vonnegut described the beauty of the Titanic bluebirds, in his book 'Sirens of Titan,'stuck in my mind. It set me thinking about travelling through space and time. I often wondered about other galaxies. I am fascinated by nature and her creations. I'd like to think my intergalactic goddess breathed life into all that we call nature. Though the novel's characters and plot are very different from my imaginary goddess and her mission, Vonnegut's book fired my imagination. It became an inspiration that led me to create my collection.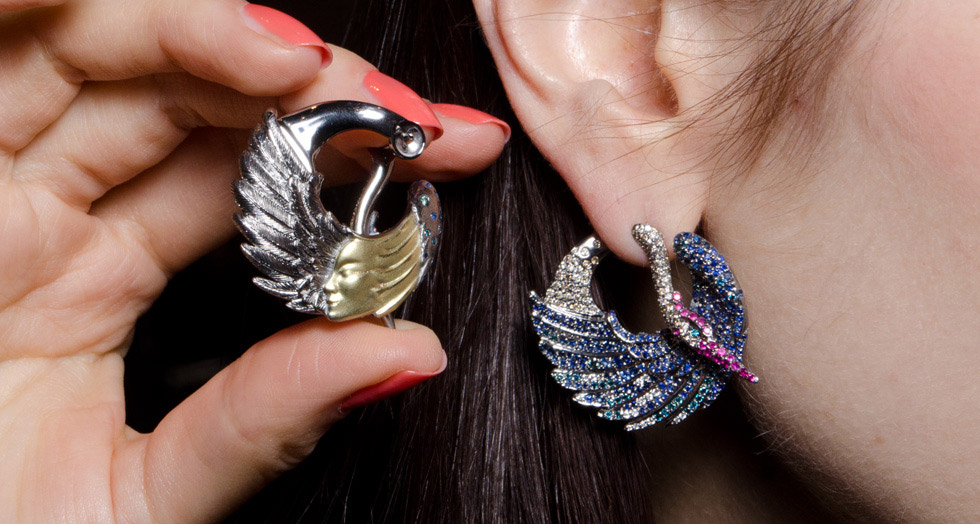 K.P.: According to you, your goddess can transform herself into birds which you embodied in rings. Was there any particular reason why you chose an owl, a swan and a crane?
A.S.: It is hard for me to visualise a heroine or goddess without wings like an angel. Birds are truly celestial creatures and I envy their ability to fly anywhere, defying borders. For this same reason, throughout history as well as in mythologies, birds tend to occupy a very special place. They are thought to be a connection between divinity and terrestrial life. Each bird is symbolic –the owl is a symbol of wisdom, the crane a symbol of longevity and the herons are sacred to the Egyptians.
K.P.: Many of your pieces are minimalistic, modern art objects or miniature sculptures. Who is your favourite artist and why?
A.S.: I have always been fascinated by forms – sculptures, made by the elements of nature. While working with Misak, I saw him using the same principles in his works. It is difficult to talk about my favourite sculptor, as there are so many. I revere the works of Turkish Sculptor İlhan Koman, who worked with diverging and kinetic geometrical forms. His most famous work in Istanbul is a sculpture titled 'Mediterranean.' I admire British artists Henry Moore, Barbara Hepworth for their organic abstractions. I also love the works of Anthony Gormley, Tony Cragg, Marc Quinn, Kate McGuıre and Katsuyo Aoki. And of course, nature – she has shaped everything for millions of years and continues to do so.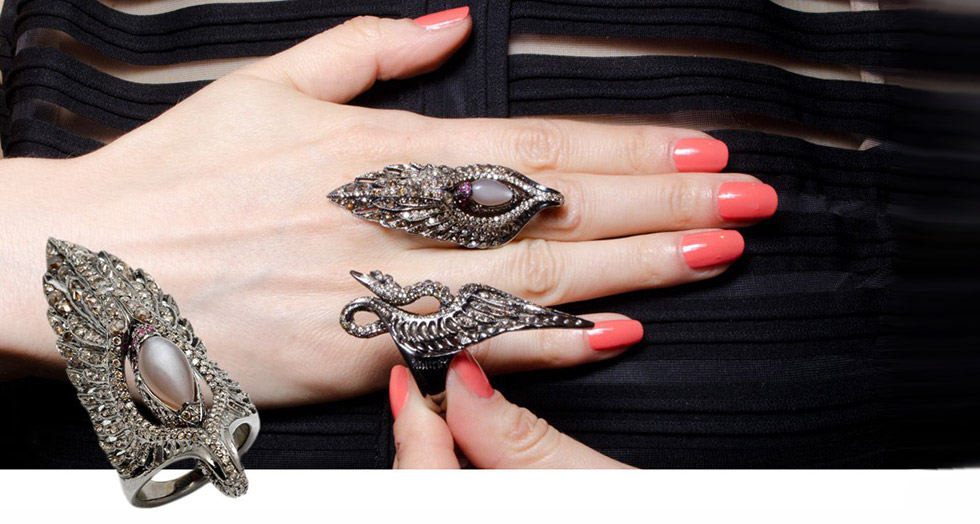 K.P.: Having worked in Milan, London and now that you live in Istanbul, how do you balance such strong global influences with Turkish aesthetics?
A.S.: I think my Turkish heritage has evolved to accommodate many different cultural inspirations and references that are a result of my studying, working and living overseas for many years. I find it very enriching. There are these layers, one on top of the other, that have merged to form something unique. The important thing for me is my ability to express this uniqueness through my work.
K.P.: When you started off, the world wasn't too drawn to Turkish design,but things have changed over time. Has this helped you as a designer?
A.S.: Yes, definitely. Now I think there is a very well illuminated road in respect to past for anyone who wishes to venture onto the design scene with a distinctive personal style.
K.P.: What is the newest project that you are working on?
A.S.: Other than filling my goddess' jewel box with more glamorous, empowering pieces, I would like to explore the different aspects of my muse's creative and mystical powers in my forthcoming designs.
Photographer: Lordale Benosa