A perfect example of such a jeweller is Michael Koh, who founded his jewellery brand Caratell in 2004. He creates exquisite and elaborate jewels that surpass many European designers and brands in their refined aesthetics. Michael has a special approach to the creation of each piece and works through every small detail of design idea until a beautiful piece of jewellery is born, worthy to become a family heirloom.
KP: Where does the name of the brand come from and what does it mean?
MK: As you know 'carat' is the unit of weight for all gemstones, and we believe every gem and our creations have a story to tell. Therefore, the brand's name is a combination of 'carat' can 'tell.'
KP: How did your brand Caratell come about?
MK: My wife, Achillea, and I are both trained in design. So in 2000, Achillea joined me and we decided to develop our own unique jewellery style – different from the usual commercial design. After being a manufacturer and wholesaler for many years, we wanted to make a change in the jewellery market. However, our creativity and design were not well received by traditional retailers, and they tried to discourage us. In fact, our friends and relatives supported us greatly and encouraged to build our own brand. That's how Caratell was born.
KP: You've been in the industry for nearly two decades. What have been the most enriching skills and experience you have garnered during this time?
MK: In the last 20 years, after taking my first step in jewellery-making, I have learned and mastered the skill in all specs of manufacturing. It allowed me to stretch my creativity further. My curiosity did not stop with fabrication, but expanded into exploring gem mining and understanding the property of gemstones as well as their origin. With that I was able to get hold of rough gemstones and think of different ways to bring out their beauty. Another skill I have learnt is the art of lapidary, which allows me to incorporate carved gems in my designs. In the Verge collection, I cut gems in an unconventional way and retained parts of natural inclusions that add to the design's beauty. The settings of Verge jewels are meant to follow the contour of uniquely shaped gems that make each piece different.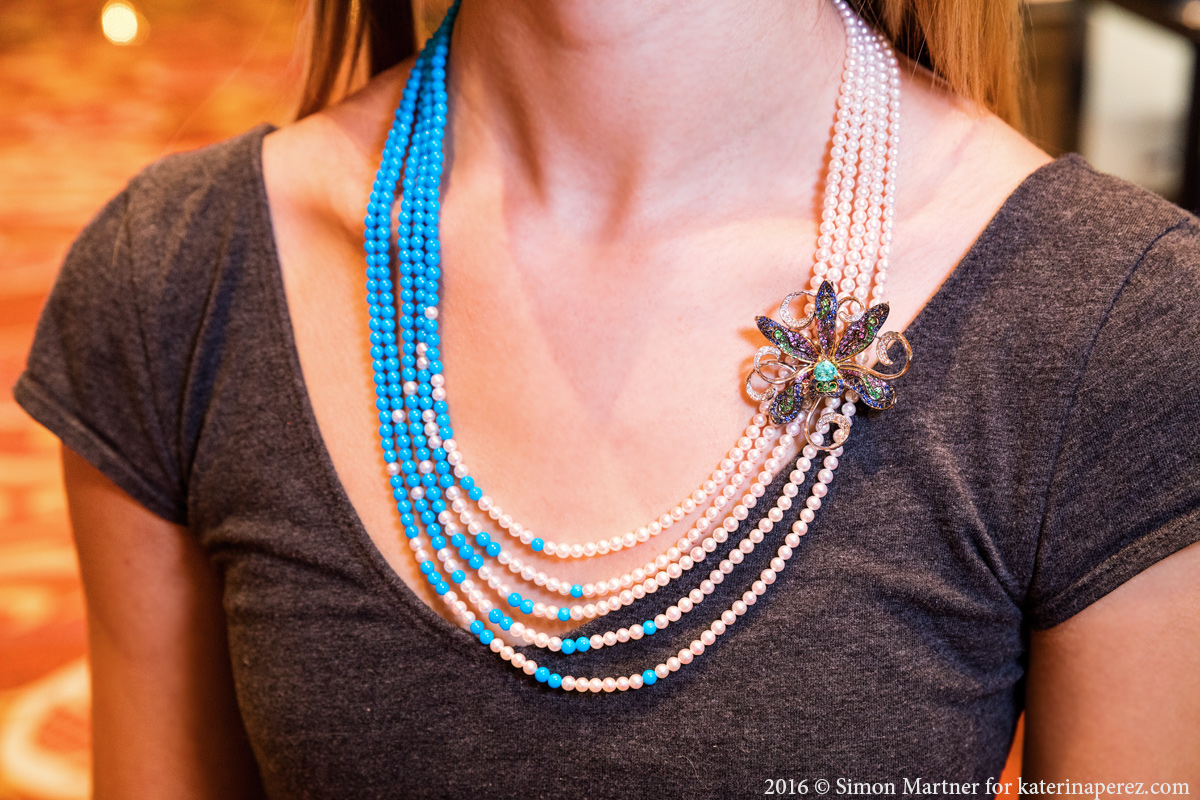 KP: Do you see an increasing demand for one-of-a-kind jewels now as compared to when you started off?
MK: Technology has advanced so much in the past 20 years that the skill of making jewellery by hand has been gradually replaced by machines, leaving us as, probably, the last legendary group of handmade jewellery masters in Singapore. We have definitely noticed an increase in demand of handcrafted pieces, as there are more discerning clients who admire works of art and appreciate the amount of time and effort spent on meticulously crafting the jewellery. Once a customer told us that she felt there was so much life and soul in each piece we created. This gave us a lot of encouragement, as we are trying to preserve traditional handcrafted jewellery arts. We also noticed an increase in unique bespoke jewellery that says a lot about the client's style and character.
KP: What key challenges do you and other designers often face in Singapore?
MK: Singapore is more known as a financial, medical, shipping and educational centre. It does make it difficult for jewellery designers to get recognition and we all have to put in double the effort to make us stand out. Most local people would never associate arts and designs with Singapore, so they prefer international brands and designers, and that's why we would like to expand overseas. Another challenge we face is the cost of fabrication: since it is a dying art in Singapore, most factories have moved elsewhere due to high costs and lack of skilled craftsmen. We are indeed lucky to have been able to retain our workshop for 20 years, and this is where we exercise control to reduce the chances of being infringed upon in terms of intellectual property.
KP: Caratell was the first Singapore-based jeweller invited to exhibit within the Designer Galleria at the Hong Kong International Jewellery Show. How has such recognition helped your brand?
MK: Well, receiving compliments and being recognised by new clients and the media in the international market definitely gives us a lot of encouragement. We take pride in being able to let the world know that there are artists and designers in Singapore. It is from this international platform that we get to better understand ourselves and our position in the industry. We have been told that we have a fusion style of 'East meet West,' which is quite unique for Singapore as we are multinational country.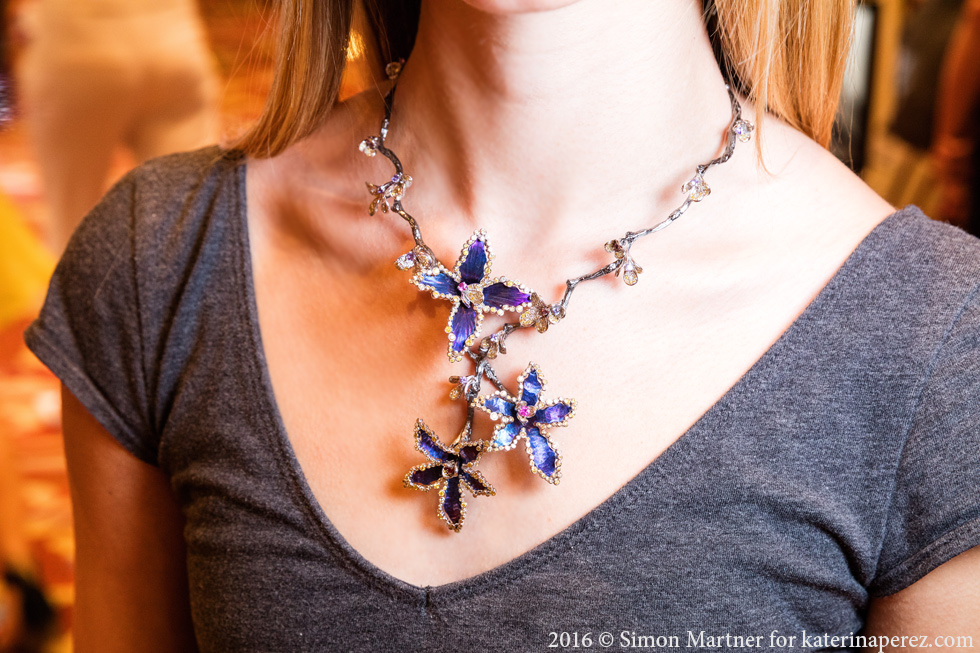 KP: What sparks your creativity overall?
MK: From anything to everything – history, painting – the tangible and intangible inspires us, although we are mostly inspired by nature and architectural structures such as the Eiffel Tower, Gardens by the Bay, Ion and Marina Barrage (Singapore iconic architecture). Sometimes, we let our imaginations go wild and create designs based on movies like Avatar, Matrix and Inception. At times, our inspiration comes from the gems itself. Once, while holding a very thick green tourmaline, I realised that its beauty lay on the pavilion. In fact, it looked very much like the Eiffel tower, that's why the ring's design had the stone set in reverse with the structure of the Eiffel Tower. Another example would be the Gooseberry design, as the gooseberry was first thing that came to my mind when I held the intense orange 47-carat melo pearl. So, I decided to use the vein structure to create a raw look for the design. My latest creative concept is based on features of great paintings such as Van Gogh's Irises, Monet's lilies and Picasso's cubism.
KP: Tell me about the Ever Foliage necklace that bagged an award. What was the design inspiration for it and why did you choose jade?
MK: When I held this beautiful Type 'A' green Jadeite Jade, I wanted to create something that has a link to nature and Chinese culture. After research, I decided to use a pine tree that is known as one of the '3 friends of Winter.' The pine symbolises longevity since it is an evergreen tree that can endure severe winters. What fascinated me most is that pine trees have a strong 'character,' yet they portray a soft look with their fine needle leaves. This prompted me to find an unconventional way of setting the tapered diamonds to achieve the right look for the necklace.
KP: What is your vision for Caratell?
MK: We plan to develop Caratell into an international brand known for fine quality gems, exquisite designs and an artful tradition of handcrafted jewellery. Most importantly, we want to nurture a brand that is highly looked upon for undying honesty that helps customers understand and appreciate what they buy. We would be delighted if overseas retailers, who share our passion for design and views, evince interest in showcasing our brand in their boutiques.