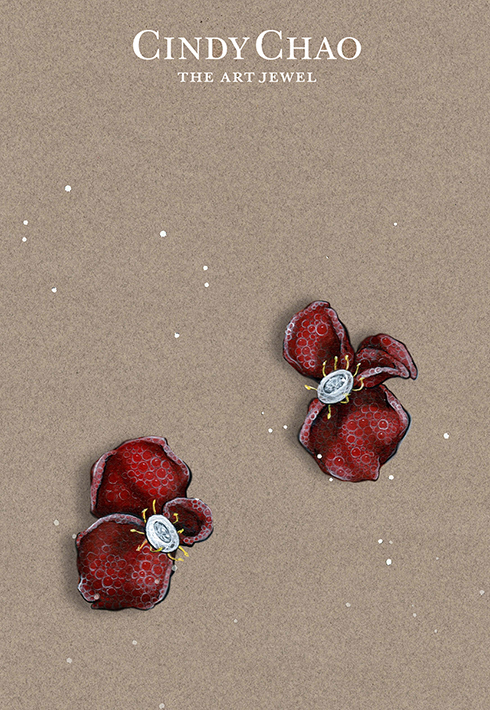 Cindy Chao is a name well-recognised by jewellery collectors all over the world. Celebrities, including the likes of Asian actress Zhang Ziyi, flock to this artist jeweller when they need something unique to wear on the Red Carpet.
A very special set consisting of Ruby Rose Earrings and Brooch was originally created for Zhang Ziyi's gown for the 69th edition of MET Gala in New York earlier this year. What caught my eye is a touch of silver used to create a striking visual effect and emphasise the contrasting black and red colours of the piece. The same technique was used in the original pair of Rose Petal earrings that was made with blue sapphires and presented in Paris in January 2015. Since it was the first time that Cindy used silver in her designs, I wanted to learn why she chose this material and how it helped translate her vision into such spectacular jewels.
Cindy Chao loves to experiment and plays around with materials, colours and light. Having created Ruby Rose pieces for her Four Seasons collection, she said the decision stemmed from her belief that "silver in combination with sapphire really adds a sense of mystery and mystic."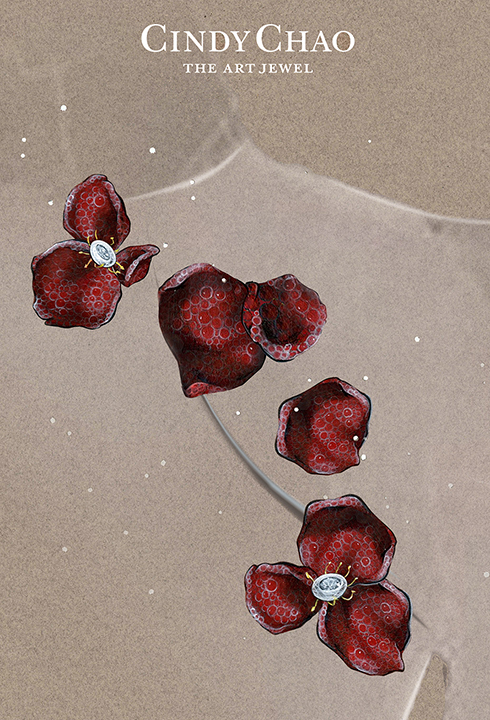 If the craftsman needs to translate Cindy's drawings into a concrete form, he would need a handmade hammer to shape a jewel exactly as the designer wants. Moreover, when it comes to setting the gemstones in titanium, the procedure is much more complicated and time-consuming than setting gems in gold. So Cindy's titanium masterpiece jewels would take couple of years to craft. With the Ruby Rose Petals earrings it took not much less than that: about a year-and-a-half to make (from the drawing to the final piece). "I start off work on most of my pieces with a wax sculpture which I carve myself. Once I have it, I then work with the stones and look at the colouration. For the blue sapphire Rose Petal earrings, I considered different gradients of gemstones to make the petals more alive. Also as you can see, there is no symmetry, the left and the right earring is always a bit different. I believe nothing in life or nature is exactly the same," says Cindy. And this philosophy is reflected in all her designs.
Cindy wants to make her nature-inspired jewels as life-like as possible. To achieve this, she adorned the bejewelled petals with different calibres and colours of sapphires or rubies in case of the second pair of earrings, complementing them with some white diamonds. "Imagine you are looking at a real flower – a rose or a lily. You will see gradients of pink and a bit of yellow. To achieve a natural effect, I used more than 20 different colours of sapphires in the petal earrings." If you take a closer look at the red ruby petal earrings you will also notice a wide spectrum of colours – from dark crimson red to deep blood red and pink.
In the centre of each earring, lie oval diamond surrounded by lacquer-covered stems. Cindy saw the diamonds and wondered how she could play around with them, although sometimes she has a special design and looks for the perfect stone. "When I carve wax, I know what I want to achieve. Even if I have a gemstone in my possession, I don't use it until I find the right inspiration. Some stones have to wait a bit for the right moment," she admits.
Having worked with silver and having achieved the effect she desired, Cindy is not going to stop experimenting. "Since these pieces work well with silver, I will expand this line further," she says.KP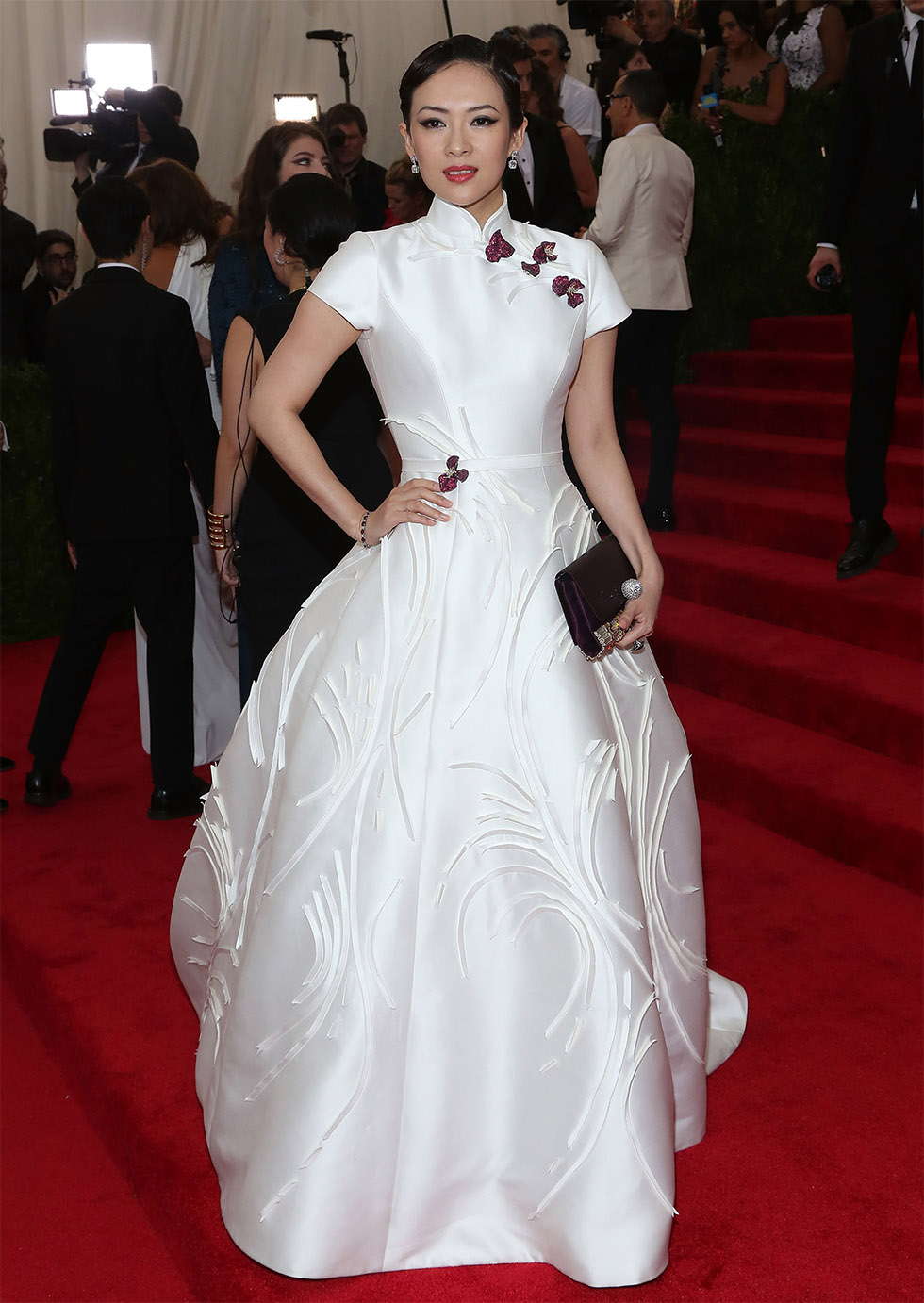 NEW YORK, NY – MAY 04: Actress Zhang Ziyi attends "China: Through the Looking Glass", the 2015 Costume Institute Gala, at Metropolitan Museum of Art on May 4, 2015 in New York City. (Photo by Taylor Hill/FilmMagic)