During the Renaissance period, architects, artists and sculptures such as Raphael and Michelangelo discovered new horizons, turning their attention to questions of culture, beauty, nature and art. As they brought these concepts together, they travelled beyond the frontiers of primitive understanding and began creating new forms of art with their hands. Belvedere in the Vatican, Tivoli's Villa d'Este, Villa Lante in Bagnaia and the Boboli Gardens in Florence are enduring illustrations of these new theories and ideas.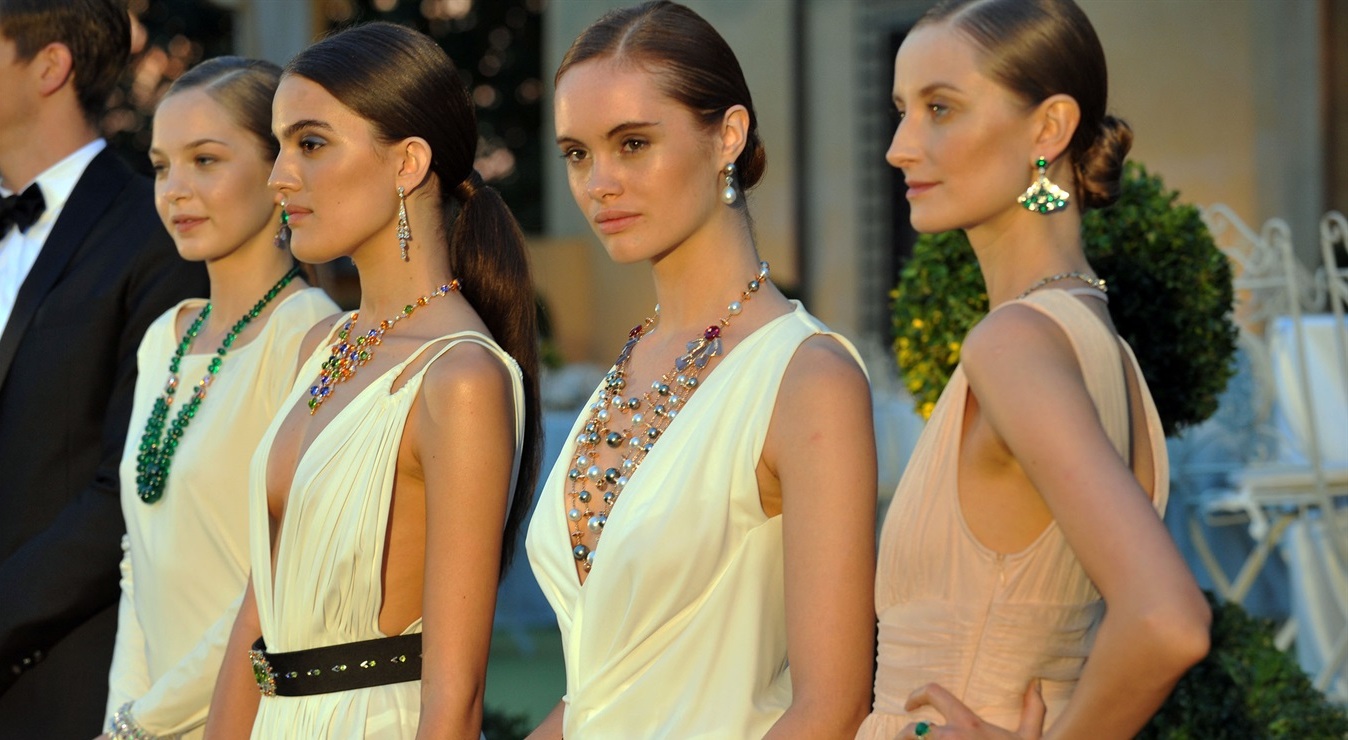 Giardini Italiani is an artificial creation in which nature itself plays the same role of the colourful palette as paint in a fresco or the marble in creating a statue. Like the great architects of the Renaissance, the designers of Bulgari see nature not as a series of shapes and patterns to imitate but rather as a great companion of art. Thus, they embark on a continuing dialogue with nature, creating haute-couture jewellery which arguably stands on a par in terms of artistry with the masterpieces of garden design from the Renaissance. In this particular dialogue, gemstones and precious stones combine to form unique pieces of jewellery which reflect nature as a higher form of art.
The sweeping geometry of verdant hedges and flower beds finds itself recreated in the Sparkling Hearts necklace (above) with fancy – cut diamonds and in the Geometry of Time watch. Sculptural evergreens are brought to life in the Hidden Treasures earrings (see above on the left) which feature four exquisite Zambian emeralds with the total weight of 143 carats. They were cut from one 400 carat rough stone, meaning the crystal, not just the colour, matches perfectly.
Inspired by the musicality of Italian fountains, the Water Symphony necklace (the sketch on the left) is a melody which sparkles around a central 45.57 carat sapphire counterpointed by a smaller 3.65 carat sapphire. It should be pointed out that this is quite an achievement, as finding two different sized sapphires so similar in colour and tonality is practically impossible.
The gold and diamond necklace, Spring Encounter, is an ode to the eternal rebirth of nature, while the Love's Paradise necklace, featuring a 125 carat sapphire and 33.18cts of diamond, draws on the idea of the garden as a space of delight and paradise for those lucky enough to enjoy it.
The Blue Iridescence necklace, with its set of extraordinary sapphires, weighing an average of almost 200 carats, had barely been released when it won the "Fine Art of High Jewellery and Timepieces Award" from the National Institute of Jewellery Design and Parsons School of Design. The awards ceremony was held in Paris at the start of July during Paris Haute-Couture Fashion Week. I hope you enjoyed viewing these new designs and will remember this pleasant stroll through Bulgari's wonderful Italian gardens.