Filippo is the fourth generation member of a family that has been involved in the purchase and sale of precious stones for years. Today, the family business continues with Filippo's father having very close ties to India and Sri Lanka and handling a part of the sales and operations in Italy. Filippo's cousin cuts gems and manufactures jewellery in Valenza and Bangkok. The three men of the family deal with their own business but put their resources together when needed, and can find almost any gem for their clients. However, this is not the most valuable factor in the trade. It is the passion that Filippo Gay has for his profession and his tireless search across the globe for those rare, almost non-existent unique mandarin garnets, tourmalines, tsavorites, paraibas, peridots, spinels and many other stones.
In this interview, the young man explains what makes him different from other precious stone dealers and how he built his career from scratch.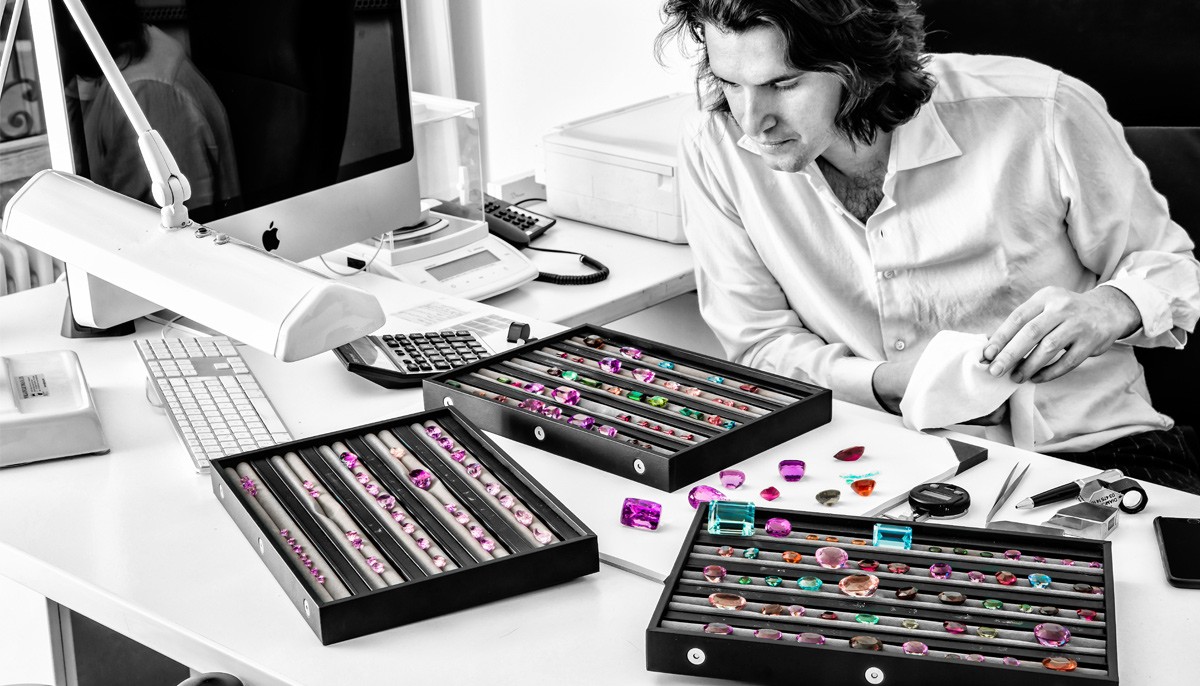 KP: How did it all start for you?
FG: I started without much money in the pocket. The only stones I could buy were tourmalines and garnets. I was frustrated with all those stones that I wanted, but couldn't buy. At 20, I went to live in Bangkok to study gemmology. After graduation, instead of going back to Italy, I stayed on in Bangkok for 10 years and this is where I learned the trade and also fell in love with the country and its people. Every weekend, I would go to Chantamburi, one of the major gem markets in Thailand, where cash and a calculator are the only tools available to trade. I was cheated several times but this was the best way I could learn and I guess it is part of the game. Very early on, I felt the need to differentiate myself from others in the trade; I started looking for stones that were very scarce or not so hot in the market as opposed to the more commercial ones like ruby, sapphire and emerald. I began buying the stones I could afford and my dad successfully sold them in Europe. By doing this, I gained confidence and managed to buy more important stones. Very quickly I got hooked on to the gemstone trade.
KP: Did having a father as a gem dealer help you in your business?
FG: Yes for sure. I had been exposed to the beauty of stones from an early age. I use to hear stories of how my great grand father sold natural pearls and diamonds in Italy and hid them in the ground during the war. When I was a kid, instead of going on vacations, I travelled with my dad to buy stones – I went with him to Thailand, Sri Lanka, Jaipur and many other places. Every summer and every Christmas, my dad would go to all these dealers and I would sit next to him, while he inspected and bought the stones. I learned all along the way – how to do business and how to negotiate. Soon, I learned how to work with different people.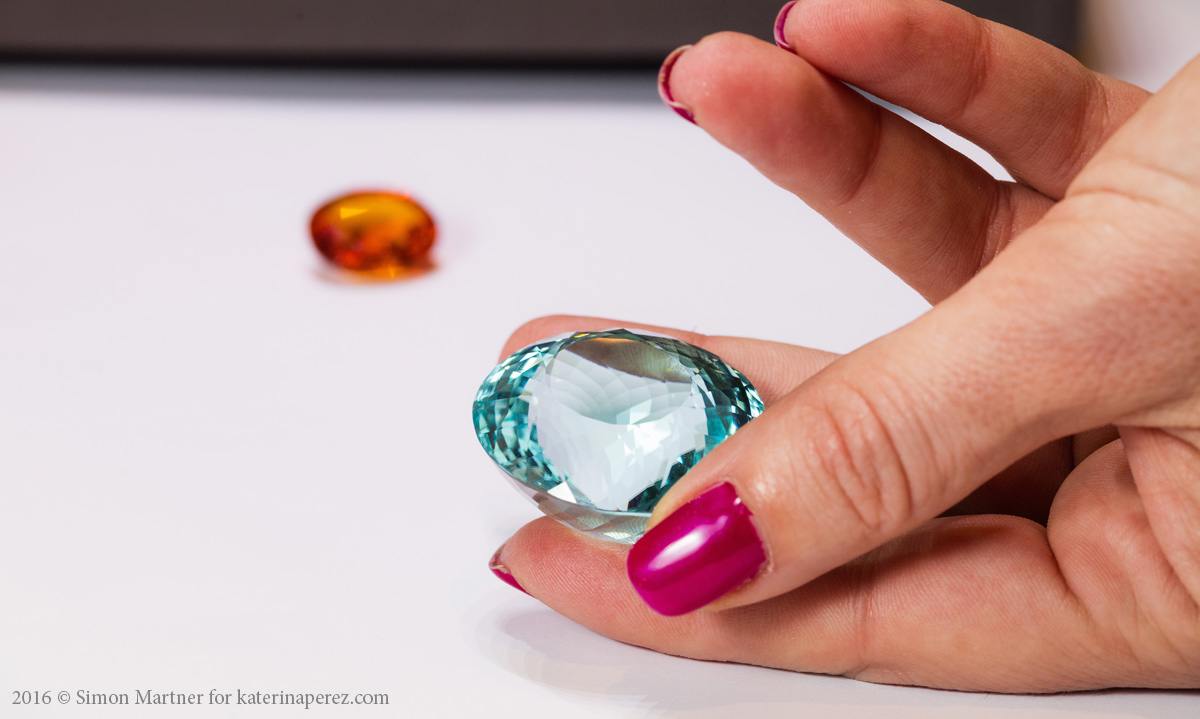 KP: How do you choose the stones?
FG: The scenario is very simple: I buy stones because I love them and get inspired by their beauty, while always keeping in mind my clients' tastes and needs. But what I love most are rare and peculiar coloured tourmalines. Tourmaline has always fascinated me, as it comes in almost every shade imaginable, including pinkish-red, turquoise blue, dark green and many others.
KP: What helps you to establish market trends?
FG:I look thoroughly at the current market by attending international trades shows, looking at the trends in the high-end jewellery segment and follow many auctions. Then, I make my own opinion on the market trends and buy accordingly. Moreover, I do things differently than most dealers: I am in close contact with the source and when there is a new production, I am one of the first few to know. Thus, I have to the opportunity to buy the rough. Also, I travel to countries likeAfghanistan, Nigeria, Madagascar and Brazil…my passion for stones has no limits and I am committed to finding them wherever they are.
KP: What happens to the beautiful roughs you find?
FG: Rough is a very different business than finished and cut stones. Finding a good rough is extremely difficult and you need a lot of patience, as access to such roughs is limited. Once I get my hands on a nice piece of rough I send it toBangkok and have my gem-cutter examine it. I occasionally sell roughs to gem-cutters or brands directly.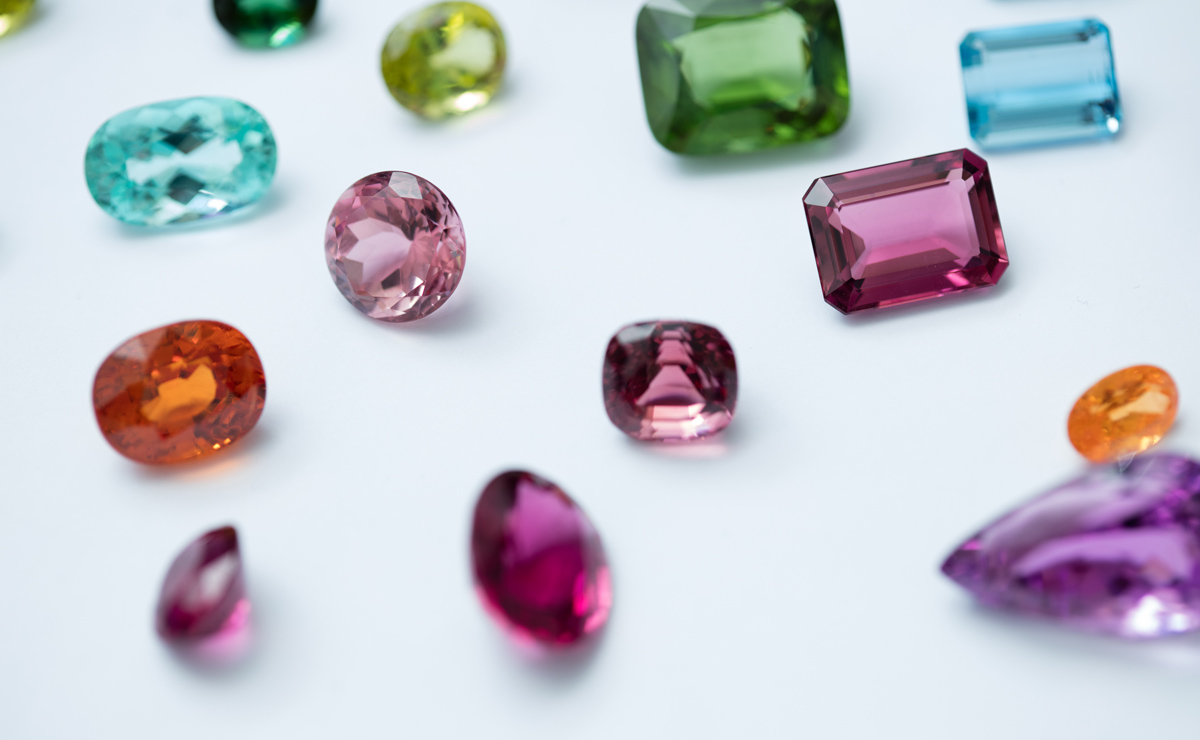 KP: You mentioned buying and selling rough gems. What else sets you and your stones apart?
FG: Well I don't deal with the typical most known coloured gems. Nowadays, everyone has a nice ruby or a nice emerald, but not such a big variety of other coloured stones, which are different yet not so expensive. People are very knowledgeable about coloured gems and the demand for amazing colours is stronger than ever. I currently deal with a lot of Paraiba tourmalines – fascinating, super rare and valuable gemstone – that can command prices higher than diamonds. There is only one Paraiba mined for every 10,000 diamonds. What's fascinating about Paraiba tourmaline is that you can't find the turquoise, greenish blue, vivid emerald green, bluish-violet in any other gemstones. I also try to match stones in pairs or sets of different colours and improve their cut and general appeal.
KP: Are stone layouts in demand?
FG: Yes, especially when it comes to selling at exhibitions. For example, customers in Basel don't have much time and they like to get an idea of the creative possibilities and the total cost.
KP: Now that you are back at your Geneva office would you call your Basel debut a success?
FG: I would like to think so; a lot of people were highly interested in what I offered. I played a lot with colours and a wide range of precious and semi-precious material. By going to Basel, one of the most well-known exhibitions, I took a risk and it has paid off.