The art aficionado's collection includes the whole spectrum of art objects from drawings, manuscripts, a range of utensils, clothes to coins, watches and jewellery. After the collector's death in 2004, his children Arun and Suresh brought all these objects together and opened the private Gyan Museum in which to display them in Jaipur. I went to visit the museum the day after my arrival in India – I just couldn't wait to see all the treasures and, with their help, become more familiar with the country's wonderful history and culture.
I remember Arun Dhaddha saying that, in India, after parents pass away, their belongings do not always go to the next generation; valuables often have to be sold on. However, Gyan's collection was of such importance from a historical and cultural perspective that his children considered it their duty to present it to the wider public. Akhil Dhaddha, one of the collector's grandsons, stressed that the Gyan Museum is the first private museum in Jaipur with such a range of antiques and jewels. More than 2,500 hand-made exhibits from across the ages, the most ancient of which are as much as 3,000 years old.
What I found most interesting was the fact that everything on display in the museum reflected the feelings of just one person, a true aesthete with an unbelievably well-developed taste. Gyan Chand Dhaddha travelled all over the world discovering many new and interesting things, but he was very exacting when it came to adding objects to his collection. The ability to judge the sublime allowed him to select the very best, be it an exquisitely embroidered 19th century shawl that belonged to a maharaja, an elegant 18th century painted illustration of the goddess Lakshmi, a 17th century Mughal turban sarpesh with carved emeralds or a wristwatch designed by the pre-eminent Swiss retailer Patek Philippe.
The museum's jewellery collection includes a wide range of jewellery and antiques embellished with precious stones. Bangles, jewels designed to adorn hair and clothes, earrings that can be clipped to ears and fastened to hair introduced me to the traditional ways of wearing jewellery in India. Arun showed me bracelets that are usually worn for weddings. Amongst them were items of an incredibly small size that, as it turned out, were made for children, married at the age of six or seven.
Thanks to the treasures on display at the Gyan Museum, it is possible not only to track national traditions, but also the evolution of jewellery designs over time. For example, the maharajas wore statement gold jewellery, often encrusted with weighty gemstones. Bedecked with several pieces all at once, they truly demonstrated their wealth. An example of the typical jewellery worn during the Mongol Empire which can be seen at the Gyan Museum is the large diamond necklace made using the kundan technique and natural pearls from the Iraqi port of Basra. There is also a simple brooch with diamonds and a flawless blue sapphire weighing 25 carats – this is already something of an homage to modern fashion-forward trends.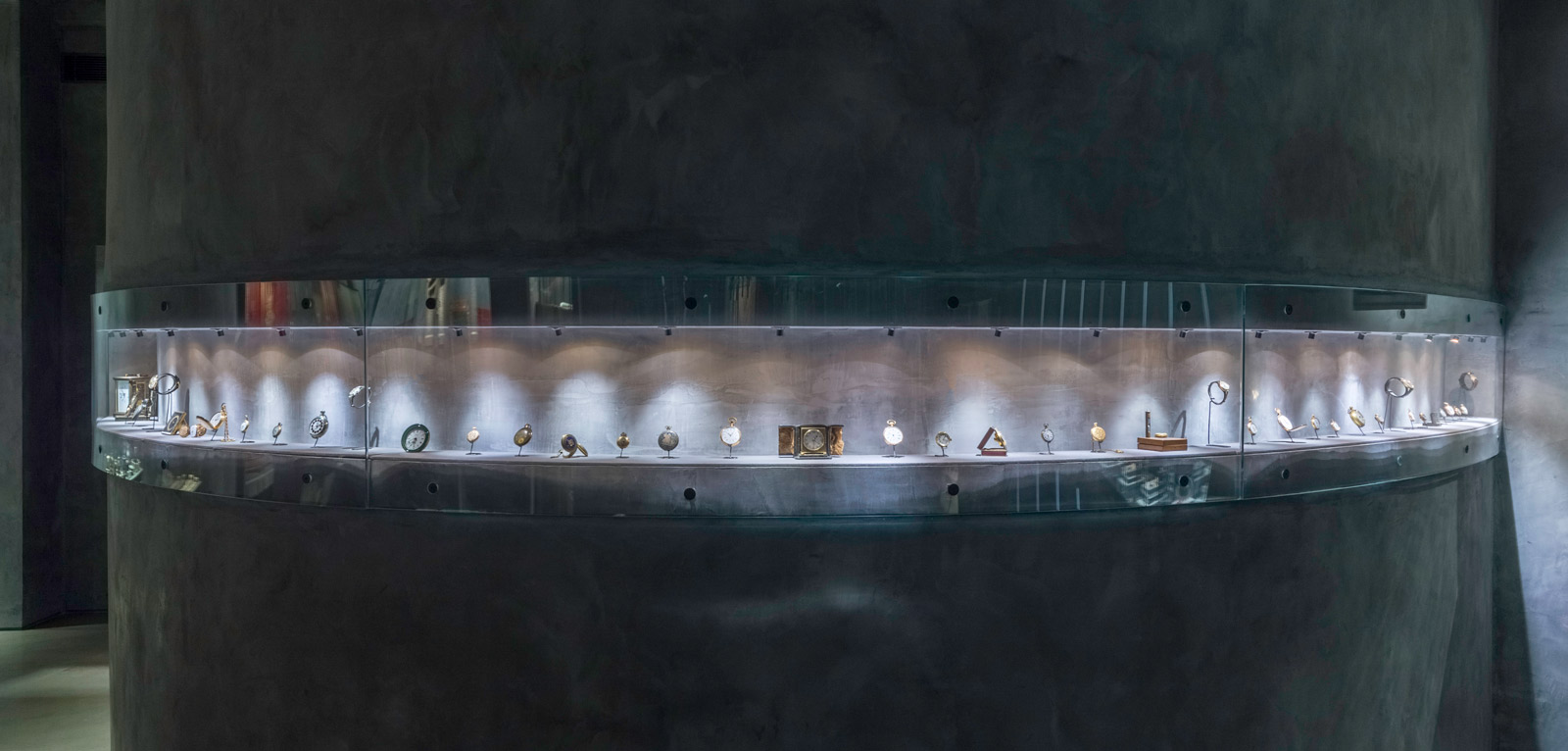 Traditional "kundan" and "meenakari" techniques are given their own display. This includes rings and brooches, magnificent gold necklaces and chokers with typical flat "polki" diamonds and enamel, as well as hair pieces that look like ornate pendants often worn on the left side of the head. In India, emeralds and rubies are particularly valued. Amongst the exhibits at the Gyan Museum, you will find natural Burmese ruby beads and a casket with huge emeralds embellished with exquisite engravings – you regularly come across engraved stones in Indian jewellery.
I absolutely loved the layout of the museum where there is a harmonious synergy between the historical objects on display and the laconic modern architecture. The concept for the building was created by French designer and friend of the Dhaddha family Paul Mathieu. He gave each art form its own space, splitting the round "treasure trove" into several sections. The real forte of this open space lies in the fact that there are several secret "hidden" rooms and an entirely separate gallery: a library of the personal items and photographs that belonged to Gyan Chand Dhaddha.
One of the most valuable personal objects owned by the collector is an agate pendant with a quatrefoil. This flourish was formed on the stone naturally, something which only rarely happens. It is thought that such a stone can bring happiness, and so Gyan wore it around his neck for his whole life. After that, his son Arun followed the tradition wearing it for several years.
Now the quatrefoil serves as the logo of a contemporary Gyan jewellery brand launched by Arun and his nephew Akhil. One can see some contemporary treasures once out of the museum main hall. Turn left and you will find yourself at the luxuriously decorated showroom where Gyan Jewellery can be enjoyed.