Let's start with a small historical digression and go back to the reign of Queen Victoria. If you look at paintings of her and other members of the royal family during public holidays, you will notice many brooches, pendants, earrings, bracelets and hair pieces. Such a colossal demand for jewellery created fertile ground for the rapid development of jewellery art: jewellery of the Victorian era, which spanned six decades, is distinguished not only by a variety of styles, motifs and designs, but also by techniques.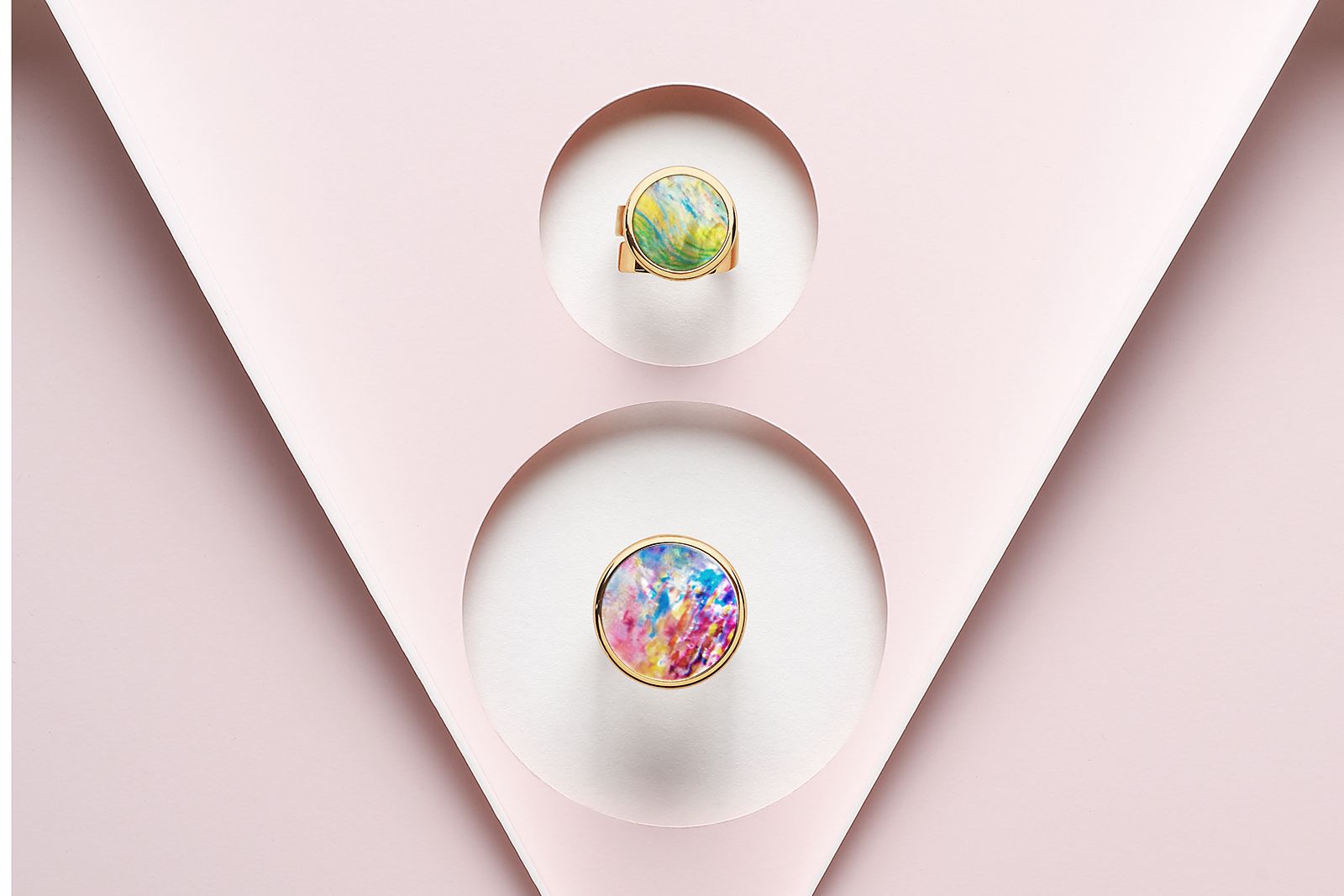 One of the most popular 'subjects' was the depiction of flowers, landscapes, portraits, or even entire scenes from myths or the painter's imagination in enamel. In the past, this could have become part of a brooch, bracelet, pocket watch or any other piece of jewellery, but let's see how this idea is being transformed by various jewellers today.
While attending lectures on art history, the designer got acquainted with a unique enamel technique that originated in Russia two centuries ago. It took her years of searching to find a master craftsman, one of the finest in the world, who could personally hand-paint the jewellery she conceived.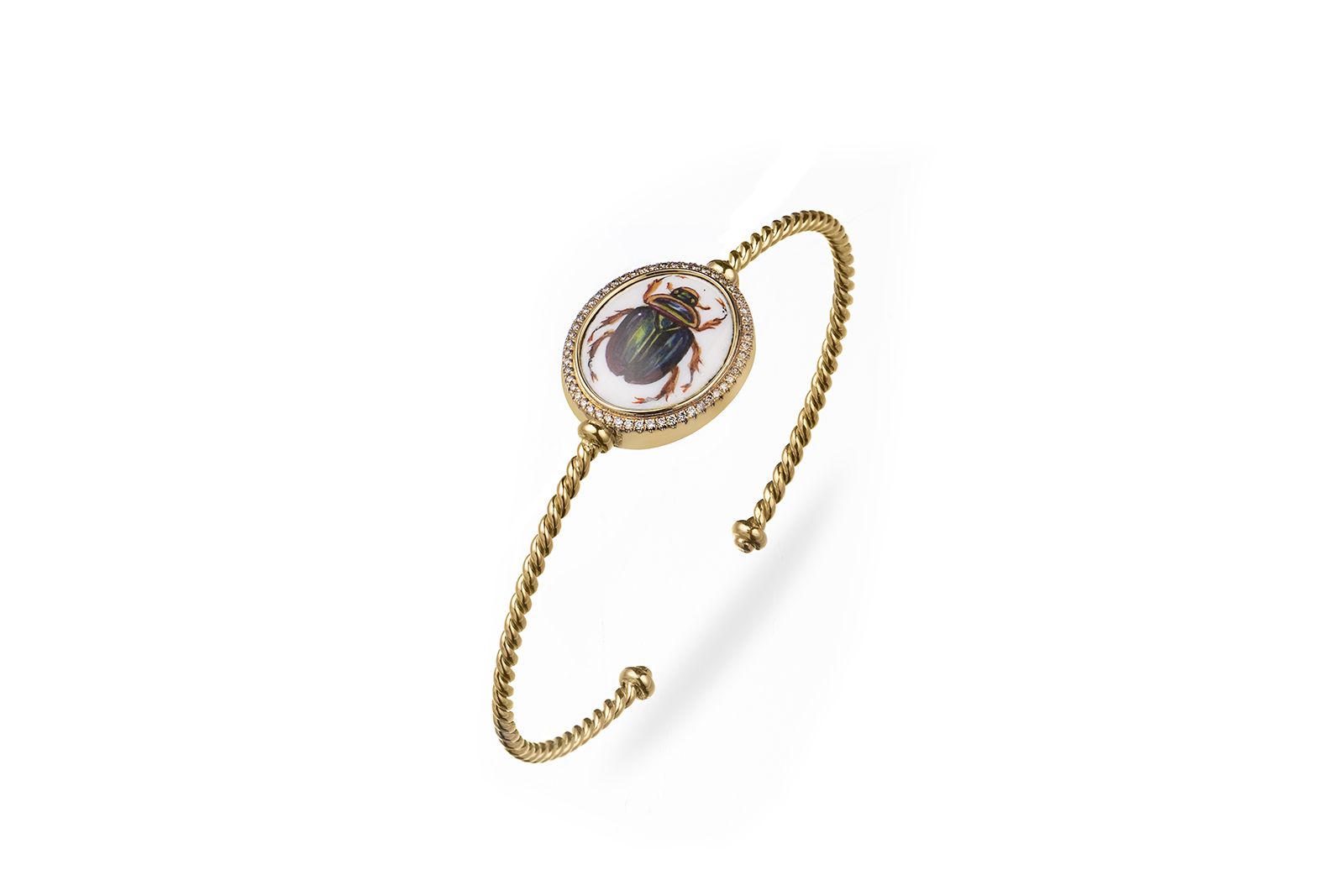 "Inspired by the mesmerising and mysterious language of symbols and their magical properties, I first started making Meanings jewellery as customised talismans, and over time they grew into a collection," explains Penelope. "Only a few years later, a certain set of universal symbols formed a capsule collection intended for women of all generations, races and religions. Hand-painted enamel symbols, individually created in Russia by a famous icon painter, are designed to attract harmony, security, love and positive energy. A new code for general spiritual communication."
These symbols are the peacock, an icon of vision, integrity and beauty; the scarab beetle – a symbol of the beginning, the heavenly cycle and rebirth; the butterfly, which is a token of transformation and openness to the world; and the hummingbird with its representation of balance, happiness through honesty and freedom through love.
Prior to launching her own brand, Anna Macchieri Rossi had been creating watches for renowned luxury brands including Cartier, Bulgari and Tiffany & Co. for over 12 years, and Jaeger-LeCoultre where she became familiar with the technique of hand painting. In fine watchmaking, we often see mother-of-pearl painting on dials, so it is not surprising that this concept was the inspiration for Anna Maccieri Rossi's work.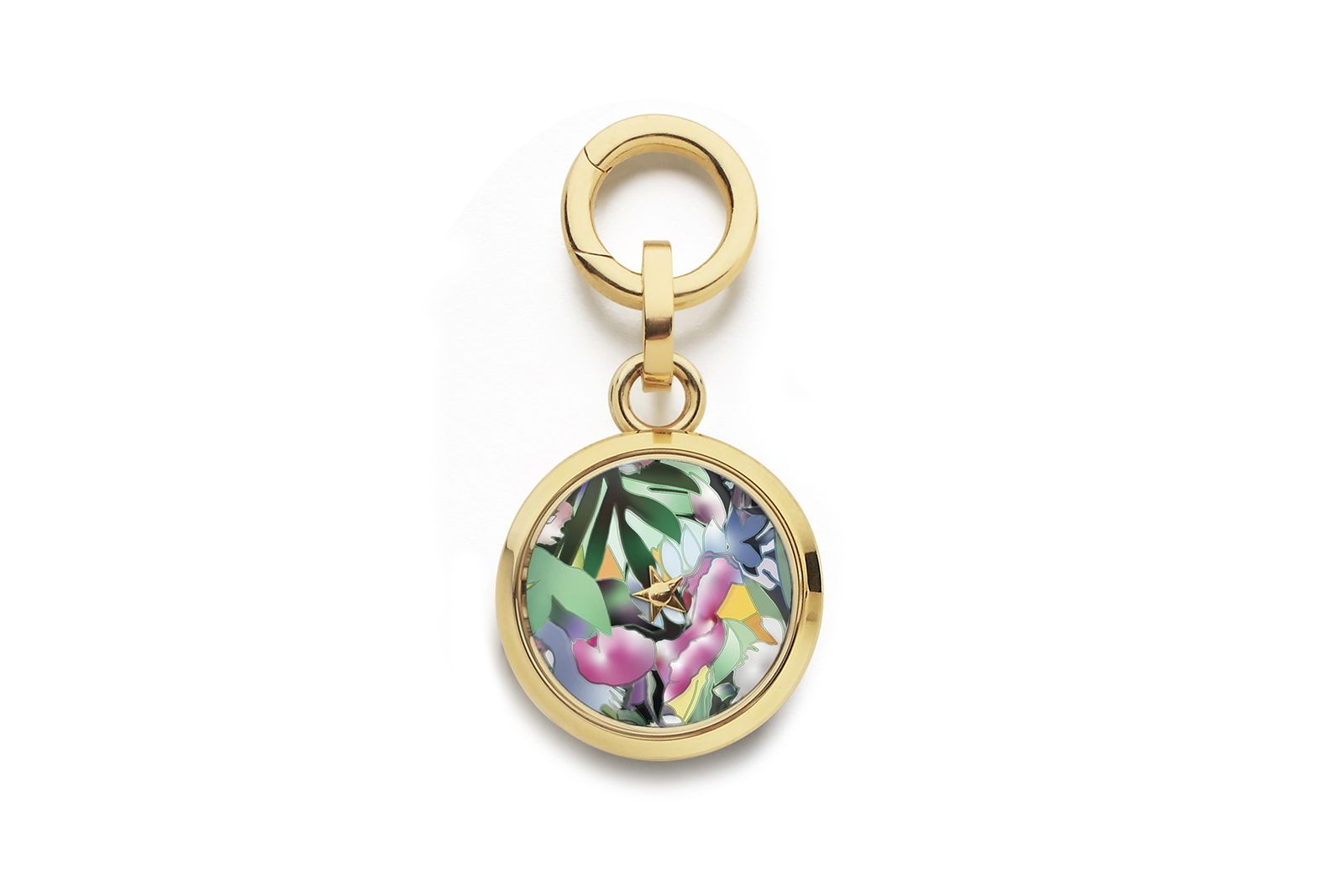 "I love creating works of art that express poetry and magic, and this painting technique allows you to create so many extraordinary and completely different things. All of them are made and painted by hand by my craftsmen in Italy," says Anna.
For her philosophical creations, this technique also means no limits, because its possibilities are truly endless!
Many people are familiar with this Los Angeles brand for its jewellery made with uncut stones, but recently Jacquie's collection has also included hand-painted rings and pendants. The painting is done by an artist in Germany, and it can take him a month and a half to finish a drawing! Why so long? He starts by carving the desired motif on the back of a transparent rock crystal cabochon using the tools he has made himself, as well as a special oil-based paste and fine diamond dust. Then he paints this peculiar intaglio with a thin layer of oil paint. The final stage is a backing made of a thin mother-of-pearl plate that shimmers slightly and favourably highlights the pattern.
The jewellery brand Lito uses a wide variety of techniques in its work, but for the collection "Tu es partout" ("You are everywhere") the emphasis fell on freehand drawing. The 80 items in the collection are inspired by an apotropaic talisman: an eye that helps to achieve inner balance and preserve life values. Blue, green, brown, violet and yellow eyes are depicted on enamel pendants, rings, bracelets and earrings made of different shades of gold, with and without diamonds.
"This is a surreal charm that has a different meaning for everyone. This traditional symbol of protection turns into a constant reminder: keep your eyes open, look, observe, create, live and find beauty everywhere," reads the company's website.
The Brazilian designer Silvia Furmanovich, who venerates the rich cultures of the world, is a true creative alchemist. Her work is founded on a passion for craftsmanship and meticulous attention to detail, a love for natural materials and a choice of sophisticated techniques. In her works you can find drawings on wood, now an iconic material for Silvia. Her painted jewellery is incredibly bright and expressive, similar to objets d'art to which anyone can relate.
The Eye of Love collection is a modern interpretation of the popular 18th century jewellery practice of depicting the painted eye of a loved one. These signs of love were popular during the time of George IV but over time they have lost their relevance. Now, Cathy Waterman brings them back to life! She was inspired to take this step in her 2012 exhibition "The Look of Love", which was held at the Birmingham Museum & Art Gallery. The designer is currently collaborating with a local artist in Los Angeles, who hand-paints pendants and rings using a photograph of a loved one's eye. All Cathy Waterman jewellery is handcrafted in Santa Monica using recycled metals and stones only from ethical sources.
OUROBOROS is a UK-based fine jewellery brand founded by Olivia Young. Her pieces are made in Jaipur, India, using traditional techniques and styles, including styles of miniature painting that can be traced back to the Moghul period. In fact, the technique has become so refined by a handful of artisans that details as fine as human hair can be applied – the practitioners time each stroke with their breaths to ensure the perfect finish. The OUROBOROS Modern Miniatures collection features two-sided hand-painted designs inspired by the art of Jaipur and set in 18k yellow gold. Some pieces have bright pops of rough sapphires set into the gold in celebration of India's gemstone riches.
According to Professor Semir Zeki, a neuroscientist at University College London, when we look at beautiful works of art, our brains react in the same way that they do when we fall in love. Perhaps the success of hand-painted jewellery, therefore, is that it aligns with art so closely and fires these same love connections in our brains? I believe this is a good explanation for the emotive power of such jewels.